I wrote in my article, "Gold Awakens From Slumber", that there were early signs XAU/USD was stirring from the drowsy state it has been in since August. Written on October 15th, I advised going long gold (GLD) at 1,217, with a take profit target at 1,300, accompanied by a stop loss at 1,165.
Since then, XAU/USD has been roused, and has popped 16 points higher to 1,233. Month-end is coming, and investors should pay close attention to XAU/USD's price action. If XAU/USD closes strongly for the month of October, it could be very indicative that we will see 1,300 levels really soon, which is a highly psychological level. Along with that, it implies that the market sentiment is souring very rapidly.
Weekly Chart: XAU/USD

From the weekly chart above, note that XAU/USD has broken out of the 1,180 to 1,215 range that has largely bound the metal's price action since August.
Monthly Chart: XAU/USD

Looking at the monthly chart, October is turning out to be a tremendously strong month for XAU/USD. Going into month-end, if price action manages to rebound with such magnitude and force to post a full-bodied green candlestick, the probability is in favour of this market going much higher in the months ahead going into Q1 2019.
The reasons for XAU/USD's ascent have been obvious. Equity markets have been experiencing intensely painful selling pressures. The S&P 500 has erased all of its gains this year, and is now down about 1.5% for the year. The Nasdaq Composite is holding up better, and is still up about 2% for 2018, but has fallen close to 12% from its all-time highs.
Weekly Chart: S&P 500

Weekly Chart: Nasdaq Composite

The reasons for the weakness in equity markets are many-fold. As I had detailed in my previous article, the roadmap ahead is dotted with many catalysts that may give rise to XAU/USD strength. Italy's budget situation, trade war tensions, and US inflation creeping higher... all these should be supportive of XAU/USD. These factors have no doubt contributed to equity weakness.
The EU Commission has recently rejected Italy's budget proposal, and has given the country 3 weeks to make changes, US-Sino trade tensions remain on the boil, and higher inflation has supported the Fed's decision to rapidly tighten its monetary policy. Of course, Quantitative Easing and low interest rates have been highly supportive of asset prices, and with the end of the great QE experiment coming to a close, this can only inject more volatility into equity markets.
Looking at Treasury yields (IEF), it seems XAU/USD's bullish price action is also supported by falling US 10-year Treasury yields. While still on an uptrend this year, 10-year yields have fallen sharply from its 2018 highs of 3.25 to 3.07 in a span of 3 weeks. As investors panic-sold their equity positions in the past 2 weeks, the markets have bought into safe-haven US Treasuries.
Weekly Chart: US 10-year Treasury Yields

I will now detail a very important point that will probably cause XAU/USD to rapidly hit my price target of 1,300 in the coming months: the market is extremely short Treasuries. Jeff Gundlach has noted that short positioning in 10- and 30-year Treasuries is now the highest in history, and could cause quite a squeeze. Essentially, the market is aggressively betting that the Federal Reserve would continue to raise interest rates, thus pushing up Treasury yields.
CFTC Net Positioning shows US Treasury shorts at all-time highs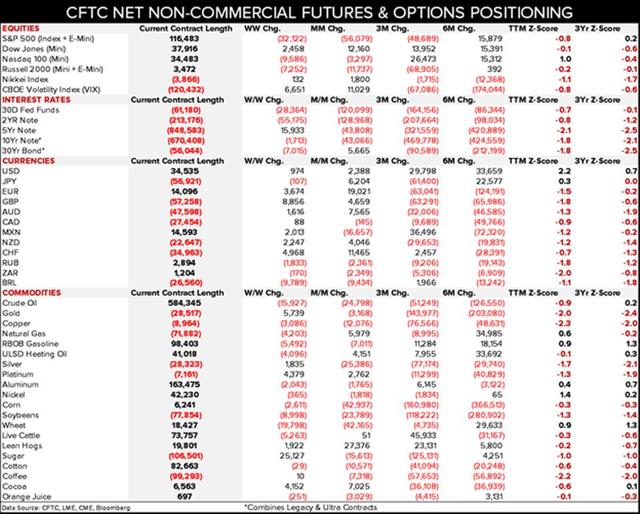 However, what if the economic growth slows and soft equity markets continue to fuel a push towards safe-haven Treasuries? A huge group of investors are going to be caught extremely flat-footed, and it would spark off a mad rush for a narrow exit, which should see XAU/USD benefit tremendously in such a scenario due to its similar safe-haven status.
Once again, I advise investors to buy XAU/USD at market. It pays off to be contrarian at the right timing and bet against market consensus, and there are strong odds right now that the short US Treasury trade might be an extremely painful one for a large group if investors. A short squeeze may be right around the corner, and this may well be the fuel for the yellow metal to skyrocket.
Disclosure: I/we have no positions in any stocks mentioned, and no plans to initiate any positions within the next 72 hours. I wrote this article myself, and it expresses my own opinions. I am not receiving compensation for it (other than from Seeking Alpha). I have no business relationship with any company whose stock is mentioned in this article.