The past many days have seen intense selling in pot stocks. The biggest companies have seen selling ranges of 30-45%, significantly reducing their respective valuations. With some companies, I have not only been an advocate of lower, more realistic valuations, but I have also participated in the selling. Still, with others, I have been a buyer. For now, after such big losses, the logical question is: Where is the bottom? With some stocks, I think the valuations are below market value. With others, there is far more room to go lower. Below you will find my take as to where I think pot stocks should be valued and the reasons why, as well as one indicator I created to put all of the pot stocks into perspective with their valuation versus production capability.
To start, here is a look at the MJ ETF showing the collective damage done by the past week's selling: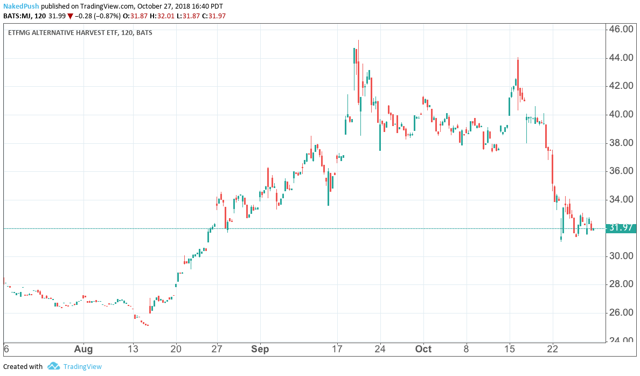 A word on methodology for this analysis
I take a value investment approach with stocks. I start my analysis looking at the forward earnings of a company and compare that to the risk-free investment of the 10-year yield on the US Treasury. This is the benchmark I use when evaluating a stock. If I cannot get a valuable return from a stock compared to what I can get from the 10-year Treasury, then I simply do not invest in that company.
I do, however, step out on a limb from time to time and invest in emerging stocks such as cannabis pharmaceuticals companies that are bringing newly developed drugs to market. An investor needs to evaluate potential market share and revenue and project where the stock should be. This is no easy task. But, by sticking to my prudent rules, I have been relatively successful.
From time to time, I run across stocks that I feel are priced at levels that I consider irrationally exuberant. I will take shorts on these stocks and have done so recently with a great deal of success. In a sense, I have zero emotion to any stock. I can easily sniff out when investors have lost sight of prudence.
I wanted to look at the biggest pot stock companies by market share and show how far away from reality a company's stock is on a percentage basis. I also wanted to look at one thing that investors seem to have lost touch with: potential revenue. The metric I am using for this is simple: How much capacity can the business produce in a year and what is that capacity worth?
I determine how much will be the expected revenue based upon the price of cannabis in Canada (I am using $5.19 USD per gram). Then I presume a 20% profit margin based on that given revenue. The final step is to figure on 15-times earnings to determine what the market capitalization should be. Finally, I subtract out cash on hand and then to see how current capitalization compares to revenue growth potential.
Here is the breakdown:
Total annual capacity
Multiply by $5.19 per gram for revenue
Multiply by 20% for net revenue
Multiply by 15 for expected valuation
Subtract cash on hand
Figure price target based upon expected valuation divided by total shares
There is one more indicator that I am bringing into the equation: Market capitalization/kilograms of production capability. This is the key indicator that really pulls everything together. It is simple math, just divide the market capitalization by the total kilograms of annual production capabilities. When you see the massive diversity of range companies have, it really begs the question of where these valuations come from. Mostly, a plant is a plant. While there are costs involved in growing these plants, it all boils down to one simple fact that it is just a plant. There should be some correlation of the market capitalization between what a company can produce and the revenue they generate from that. And the correlation should be fairly consistent throughout the industry.
I used this methodology with Canopy Growth (CGC) and Tilray (TLRY) just recently and determined that their respective valuations were so far beyond realistic perspective that the only logical thing to do was go short, and so I did (more on that below). Whereas comments against this line of thinking proved to be myopic, those trades were very successful and done so with a great deal of confidence.
The companies I have listed are large and generally the biggest pot stocks being traded. While these companies represent the largest cannabis plays out there, they are more "pure plays" in the sense that these companies are geared more towards the recently adult-use legalized Canadian cannabis market. I have excluded the pharma companies, such as GW Pharma (GWPH) and Cara Therapeutics (CARA) despite their market capitalization (both of which I am long). Further, there could be a few honorable mentions to add to the list as well (Cronos (CRON), but they are more of an investment play than producer).
I will note a disclaimer on each stock; some I am long, some I am short. The listing is given in the order of the stock that sold off the least since the most recent spike higher to the stock that sold off the most during this period. Capacity is derived from potential capacity in the very near future (a lot of companies have facilities coming online in the next 3-9 months).
Should you be new to reading my material, you should also note that I have homes in both Denver and San Francisco - although, I am currently in Mexico. Because of my home in Denver, I have had the opportunity to watch the cannabis market from a front-row view. I have many friends in the industry. I know what works and how things will play out, hence, my ability to profit like I have over the past two weeks.
Aurora Cannabis (ACB)
Potential Annual Capacity: 430,000 kg
Potential Revenue Annually: $2.231 Billion
Potential Profits Annually: $446 Million
Expected Market Capitalization: $6.695 Billion
Cash on Hand: $89.3 Million
Current Market Capitalization: $8.955 Billion
Market Capitalization/Kilogram of Capacity: $19,486
Valuation Differential: 23.82%
Price Target: $6.94
Aurora gets the prize for selling off the least over the past week, a mere 31.25% from the recent spike higher. The stock hit a recent high of $16.00 but is now just below $10.00. For now, I do expect Aurora's stock to come down lower further.
I recently went long Aurora and am going to buy more as the market moves lower. If I liked the stock at higher prices, I love it even more at lower prices. This is a stock that I think will return rewards later down the road. So, any selling is an opportunity to go long.
Still, however, this stock is above its potential value since its production capacity is only 430k kg annually. Based upon what they will be able to produce, the company's stock should be down to about $6.50.
Aurora continues to expand its operations in Europe and South America and develop its footprint in the hemp segment. They have a large global reach and want to dominate as much as they can by being the low-cost leader.
What investors fail to keep in mind is that price of marijuana will come down. Aurora is in the process of building a facility in Medicine Hat, Alberta, that has the distinction of being the sunniest place in Canada. The facility will utilize that potential by using solar panelling to power their lights. This will keep costs very low, something that is appealing to me.
Whereas some companies are merely expanding, I think Aurora is expanding and developing smartly. This will reap benefits in the long run with a product that consumes a great deal of energy (the industry runs their grow lights all day long). Because of the positioning of this company and their focus on costs, I believe the company is well positioned moving forward to compete against other producers who have not made similar moves to keep costs low.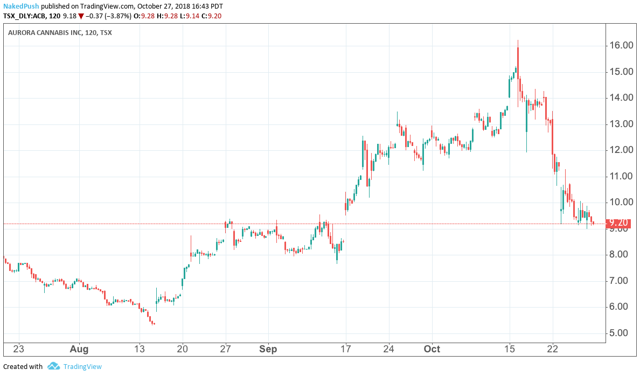 I will maintain my buy orders all the way below where the current price lies. I will also hold on to this stock for many, many years.
Potential Annual Capacity: 230,000 kg
Potential Revenue Annually: $1.193 Billion
Potential Profits Annually: $238 Million
Expected Market Capitalization: $3.581 Billion
Cash on Hand: $59.8 Million
Current Market Capitalization: $2.967 Billion
Market Capitalization/Kilogram of Capacity: $12,903
Valuation Differential: -$18.8%
Price Target: $14.23
Aphria is another company that I like very much and have bought. But, my reasons for this stock are a bit different than other rationale: The company is likely to get a partner and a pop higher in the stock (the company is in talks with Altria (NYSE:MO), the maker of Marlboro, for a potential equity stake). I still believe this will happen and I believe that Altria is going to have to pay a premium for this equity stake.
The stock sold off this week from its most recent highs to the tune of 34.3%, a recent high of $16.00 to the current price of $12.00. But, it is my belief that any deal will push the stock above its most recent highs, and then further. Then there are the numbers to factor in. The company is undervalued based upon what they will be able to produce and revenue they can generate from that.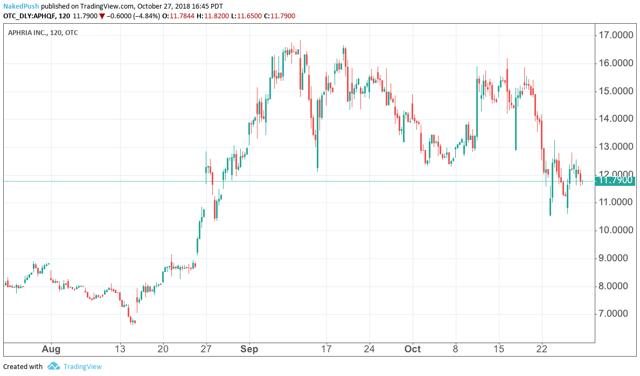 Just based on revenue alone, the company's stock should be much higher. If an investor were to factor in a major purchase of stock by a company in an industry that is desperate for growth, then the potential for an additional 15-25% move higher exists. I think this stock has a lot of room to move upward.
Canopy Growth
Potential Annual Capacity: 500,000 kg
Potential Revenue Annually: $2.595 Billion
Potential Profits Annually: $519 Million
Expected Market Capitalization: $7.785 Billion
Cash on Hand: $657 Million
Current Market Capitalization: $8.955 Billion
Market Capitalization/Kilogram of Capacity: $17,910
Valuation Differential: 6.57%
Price Target: $33.64
Canopy Growth got themselves an investor by the name of Constellation Brands (STZ), the distributor of Corona beer and many others. Constellation bought an equity stake in Canopy Growth, and Constellation paid a rich premium for that equity stake. This gave Canopy Growth a valuation that took the phrase Irrational Exuberance to a whole new level (although, they are not the worst offender on that list). With a recent spike up to $59.00, the company was valued at $12 billion. However, the company had yet to be profitable. And, when you look at the numbers above, considering the 500k kg. of production possibility that put their market valuation potential at just slightly less than double where it should have been. Based on this level of irrational exuberance, I took a short position in Canopy from $55.25 all the way down to $37.50. As of now, I have taken off a good chunk of the trade.
The selling may be coming to an end soon. Because of the steep decline from the recent highs of $59 to where the stock is now, Canopy Growth is finally priced about appropriately. Still, the 6.57% of valuation differential between what it could produce and sell is about another $5.00 too high. I have buy orders sitting below the current market.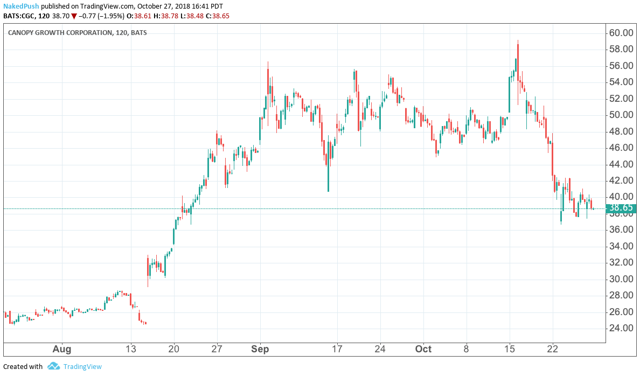 I am not a chartist that lives and breathes by technical analysis. However, there was a price gap going back to August when too many people were rushing into pot stocks pushing prices to a whole new level of euphoria. Those days look like they may be over with and some sensibility can be imparted into the market. However, that gap in August is glaring at me, I think it might get filled. I have buy orders below that level.
The Green Organic Dutchman (OTCQX:TGODF)
Potential Annual Capacity: 116,000 kg
Potential Revenue Annually: $602 Million
Potential Profits Annually: $120.4 Million
Expected Market Capitalization: $1.806 Billion
Cash on Hand: $281.9 Million
Current Market Capitalization: $757.3 Million
Market Capitalization/Kilogram of Capacity: $6,529
Valuation Differential: -72.86%
Price Target: $6.82
This is a company that while it has been on my radar I have yet to sit down and make a proper investment decision. Now that I have done this little summary of pot stocks, this company sticks out to me and I want to get to know a lot more about why the stock has pushed so low. The extremely low valuation is on the complete other end of the spectrum.
There is one issue, but it fails to answer why the company's stock has been pressured as much as it has. The company is having some challenges in getting their facilities up and running. I do not see this as a harbinger of terrible times ahead but an issue that is likely to get resolved quickly.
Given their facilities potential, and the potential that Canada may, in fact, be hard pressed to produce all the pot necessary to meet demand, I believe that Green Organic may be a prime target for being purchased by a much larger company looking to establish itself in the new cannabis sector.
The company can produce 116k kg. of pot annually. If they do produce that and sell at levels above, then revenues would be $600 million. Looking at the numbers I have above, this company is a steal at their price. Plus, just look at the mountain of cash the company has on hand.
Here is something else that does not make much sense: Aurora Cannabis owns shares in the company (Aurora participated in Green Organic's IPO). However, recently, Aurora passed on purchasing additional shares of this company and exercising options they have. That may have more to do with Aurora's cash on hand versus anything else.
If Aurora has expansion plans then I wonder why they would bother to spend anything on building their own facilities when you look at the relative cheapness of Green Organic's market capitalization. But, now statement as to why the company passed on the option exercise rights, just that they did pass.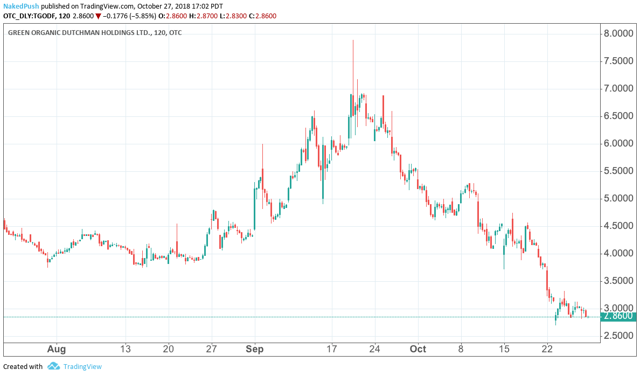 My general take on this stock is that they are the cheapest cost company per kilogram of production. Any larger company that wants to get into this sector would be well advised to look first at Green Organic Dutchman.
Tilray (TLRY)
Potential Annual Capacity: 145,000 kg
Potential Revenue Annually: $752.6 Million
Potential Profits Annually: $150.6 Million
Expected Market Capitalization: $2.257 Billion
Cash on Hand: $25.3 Million
Current Market Capitalization: $10.1 Billion
Market Capitalization/Kilogram of Capacity: $69,428
Valuation Differential: 344.79%
Price Target: $24.24
I am not sure where all of the hype came from with this company. The stock pushed as high as $300.00 a share, pushing valuations beyond the realm of reality. I went short at $160.00 via an options play. Twice. The first time I got out fairly quickly as I was amazed at how fast the trade went profitable. I figured the stock might head back upwards, which it did. Then I went short again - I am still short this time.
Considering what this company can produce in one year's time, and considering what revenue can be generated from that production capability there is no one who can give me a convincing argument as to why this stock is trading where it is. Simply, the numbers do not add up with Tilray.
The company will have - as in future tense - the ability to produce 145k kg. of cannabis. You can only sell that amount of product for so much and generate only so much revenue from those sales. From that, the company should have a reasonable valuation. Instead, the stock is sitting at a valuation that is 344% above what my methodology would consider a reasonable revenue valuation. This is nonsensical. And, that is why I will remain short this stock until the target of $25.00 is hit, a price that has a long way to go until we get there.
Then there is another factor to consider with Tilray: the company is not even profitable. Last year, Tilray posted a loss of -$7 million in net profits. Most of the industry has a considerable way to go until they are profitable, and when you consider Colorado's success and the profitability of those companies, then you know that Canada's companies will get there as well.
It would be an entirely different subject if you took Tilray's valuation in a context of its potential sales and what the company has in cash; they only have about 3 year's worth of cash burn. If Tilray were sitting on a mountain of cash and were highly invested throughout the industry, then I could see the potential of a high valuation. After all, having cash might mean the company could invest in more production capabilities whether that be building the facility themselves or by buying into other companies. But, the company only has about $25 million in cash. Again, the numbers do not add up with Tilray.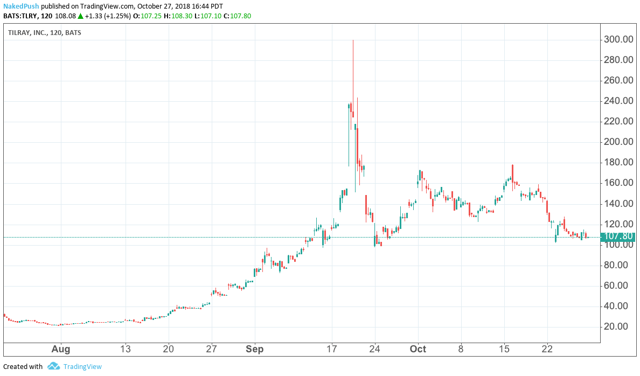 The only way the numbers will make sense for Tilray is if the company's stock were to fall considerably to reach a point where the valuation coincided with revenue potential. For anyone who bought the stock at any price above the current price, that may be a painful experience. But, it is well past due.
However, there is a phrase in the markets that often pops up from time-to-time: Guilt by association. Tilray is the associated stock that all other pot stocks are going to be sold off because of. My thinking on this stock is that once we break below $100.00 a lot of individuals who are "long and wrong" are going to be forced out and a wall of sell orders will push this stock lower. When that happens, other stocks are likely to get pressured lower.
The good news is that the guilt-by-association factor will bring stocks back to levels that are attainable and reasonable. However, I do think all stocks are going to come down whether they should or not. That would be a prudent opportunity for some astute and patient investors.
Potential Annual Capacity: 108,000 kg
Potential Revenue Annually: $560.5 Million
Potential Profits Annually: $112.1 Million
Expected Market Capitalization: $1.681 Billion
Cash on Hand: $89.6 Million
Current Market Capitalization: $873.6 Billion
Market Capitalization/Kilogram of Capacity: $8,088
Valuation Differential: -23.82%
Price Target: $8.51
From a selloff perspective, Hexo sold the most last week with a 46% drop from recent highs of just over $7.00 to current levels of ~$5.00. The thing is, based on their production capacity of 108k kg. of pot annually, and the $5.19/gram price, revenues, and profits would push this stock to a price above the price it sold off from. I would price this stock above $8.50.
Hexo has about 25,000 production capability right now. Their capacity will multiply by a factor of four soon once their new facility comes online. Once again, this is a company that should be trading at a much higher level. And, the revenue is already being inked in deals: Hexo has signed a deal for an additional 25,000 to produce cannabis for Quebec.
So, while they are already producing and selling the first 25,000 capacity they have, they now have sales for the additional 25,000. This alone would push the price of Hexo's stock to $4.00 (adjusting the above numbers for 50k of production). The stock is already touching that level. Any additional sales would merely push the revenue and profits higher from this level, and by extension, the stock price: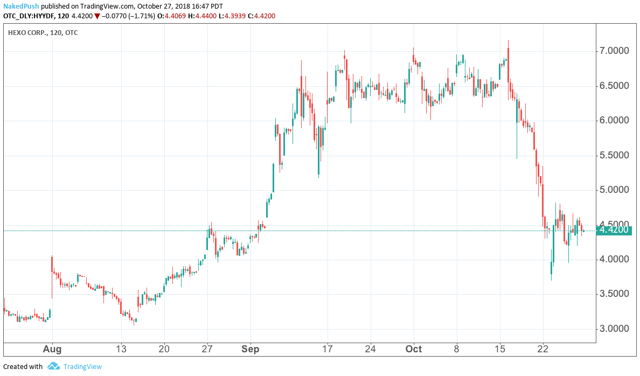 Hexo's stock has potential from this very point and should be positioned to move higher. I believe the stock has every reason to be supported. However, the 800 lb. gorilla in the room is still Tilray, which once the selling pressure from that starts, will very likely push this stock much lower. That will be a buying opportunity.
Conclusion
While some of the pot stocks are priced appropriately, there may be a little too much euphoria in other stocks. How is it that one company is valued at such a price/per capacity whereas another company is valued at 10-times that first company. This metric will come more in line as time moves forward. For now, though, the valuations of these companies are skewed. Prudent investors will make moves to protect their earnings and stocks will sell off.
In general, I do not think the selling is over. I blame this on the stocks that are priced too richly based upon what they can produce and what they can earn from that production. I also think that when Tilray starts to sell heavily, it will bring all of the pot stocks down to earth. This is both an opportunity and a painful process.
I am a big believer in the cannabis industry and have invested in it. But, I am also pragmatic; I do not believe this has been embraced by the rest of the market, however. But, once this bloodletting is done with, practical investing can then take place. Until then, I have no qualms with profiting from fool-hearted irrational exuberance.
Disclosure: I am/we are long APQF. I wrote this article myself, and it expresses my own opinions. I am not receiving compensation for it (other than from Seeking Alpha). I have no business relationship with any company whose stock is mentioned in this article.
Editor's Note: This article discusses one or more securities that do not trade on a major U.S. exchange. Please be aware of the risks associated with these stocks.