Global Net Lease(GNL) is an exceptionally high yielding REIT. At the current share price of $20, the dividend yield is a staggering 10.6%. Even better, it is paid on a monthly basis. It is then no wonder that the REIT is very popular among high income seeking investors.
We have ourselves been invested in the company in the past and been optimistic that the dividend could be sustained in the long run. In August, our thesis broke when the management did exactly what we were fearing by issuance more shares and we were lucky enough to sell our positions at a slight gain at the time.
Today, we are increasingly pessimistic about the company and treat it very carefully. Stakes are very high, and we would not be interested in holding common shares without a dividend yield of at least 13% to compensate us for the abnormal risks. We have lost trust in the management and believe that their latest actions are representative of why you should avoid this company at the current stage.
We expect more pain ahead for common shareholders and find way better superior alternatives for high-income seeking real estate investors.
Why we are staying away from GNL for now:
Management says one thing and does another.
Earlier this year, we had a phone call with the CEO and CFO of GNL to discuss their future plans to secure the high dividend payout and other concerns that we had at that time.
I save you the 30-min long conversation, but the one thing that struck us the most is that they were eager to explain how their shares were trading at a massive discount to NAV. The discount accounted to 20-30% back then and they even mention that a share buy-back program could perhaps be suggested to the board to create value.
Fast forward by a few months, and the company is announcing a new share issuance program in order to buy more properties. This is a clear sign of what we like to call " empire building" or put differently, maximizing assets under management for the sole purpose of earning higher fees for the manager, even if it comes at the expense of shareholders.
Selling shares at 80% of NAV to buy more properties at par to NAV makes no sense. It destroys value on a per-share basis, and the fact that the management is doing it anyways is a massive red-flag for us. At such a low share price, the management should do the opposite, namely sell properties to buy back shares if it wanted to do what is right for shareholders. Unfortunately, this would lead to lower "asset management fees" and therefore, the management appears to be more interested in doing what is right for them.
It does not matter how cheap a REIT appears to be if the management keeps destroying more and more value. This is what is happening today, and it is a deal breaker for us at this point.
The payout ratio is dangerously high.
Before the share issuance of August, the dividend payout ratio of GNL was already too high at 103%. This has always been our largest concern because if the company was to cut its dividend, we would expect the share price to drop significantly as income-seeking investors panic and run for the exit.
In the past we had thought that the company could perhaps get away with the high payout ratio because it enjoys very long lease terms with most of its tenants, and therefore the cash flow is expected to remain resilient in the coming years. Paying a bit over 100% is doable if cash flow keeps coming in consistently, and you have enough liquidity to fund what is leftover.
However, with the latest acquisitions financed through the issuance of discounted shares, we expect a dilutive effect (unless perfect execution) that could cause the payout ratio to rise even further.
And most importantly, since the management was willing to issue more shares at a large discount to NAV; we do not feel comfortable as it tells us that they will do it again as soon as the opportunity presents itself.
Eventually by following such actions, the dividend is at high risk of getting cut.
We prefer to earn a consistent 5%-8% yield with some growth than a 10%+ yield with a negative growth rate.
A double-digit yield feels very nice, but if it causes value destruction, what good is it at the end of the day? REITs that yield over 10% are generally companies that have significant issues and destroying value in one way or another. We believe that GNL is one of them, as value keeps getting transferred from the shareholders towards the manager through fees that continue to increase over time as more shares are issued.
You should avoid such situations, and if you want a recent example of what can happen in extreme cases of conflicts of interests, look no further than Government Properties Trust (GOV) and its proposed merger with Select Income (SIR):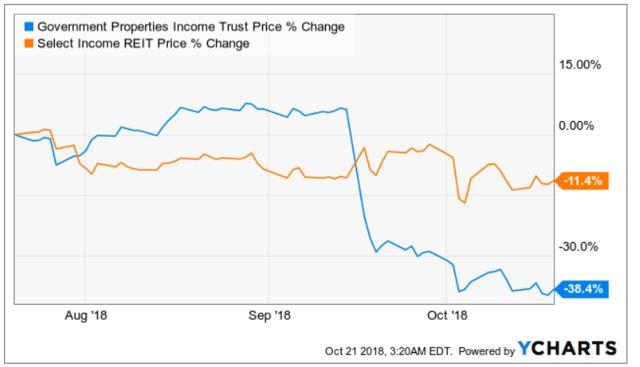 In short, the transaction is great for the management, but makes little sense for shareholders, and the result is clear in the share price performance.
This is why within our Core Portfolio, we much rather own solid REITs that yield anywhere between 5-8% on average. Good examples here would include the following three holdings of ours:
Spirit Realty Capital (SRC): 6.3% dividend yield
Iron Mountain (IRM): 7.3% dividend yield
Medical Properties Trust (MPW): 6.8% dividend yield
Our diversified REIT portfolio has today an average yield of 8.1% with a safe payout ratio of just 73%. There is really no need to chase the extra 2-3% of yield if it puts at risk the value of the company.
By focusing on companies that can sustain a 5-8% yield in the long term and keep growing cash flow at a moderate rate, investors would be much better off than buying shares of companies such as GNL, GOV or SIR; despite the higher initial yield.
Interest rates are rising
We have often argued that REITs can perform well in times of rising interest rates and that investors should not worry about it. This is true for most REITs which are conservatively financed, have growing cash flow and a safe liquidity position. But none of this is true for GNL:
The company uses more leverage than average.

Its cash flow is not expected to grow as it keeps issuing new shares and making potentially dilutive investments.

The payout ratio is very tight, and the liquidity situation is getting more and more dangerous.
The one advantage of GNL here is that it has access to very cheap debt in the European market, where about half of its assets are located. Still, we believe GNL will be more affected by future interest-rate-related sell-offs, as it is perceived as a struggling REIT with no growth and a risky dividend.
Bottom Line
GNL appears to be very cheap when you compare it to other net lease REITs like Realty Income (O) or STORE Capital (STOR), but once you pay closer attention to the direction the company is moving (dividend cut), we believe there is still more pain ahead of shareholders.
In Part 2, we will explore why we are instead buying the 7.2% yielding preferred shares of GNL for our Core Portfolio, and why it represents a far superior investment in this space over the common shares.
Author's note: If you enjoyed this article and wish to receive updates on our latest research, click "Follow" next to my name at the top of this article. On November 29, we will attend the Nordic Real Estate Forum 2018, a leading real estate investment forum in the Nordic and Baltic region of Europe. We will provide exclusive coverage of the event through our Seeking Alpha page. Follow us to avoid missing out!
About High Yield Landlord
High Yield Landlord is one of the largest and fastest-growing communities of real estate investors with over 150 members. We provide a comprehensive service ranked among the very best in uncovering high-yielding securities of undervalued real estate companies. Subscription includes:
A real-money portfolio funded with $50,000 currently yielding 7.6%.
Timely BUY & SELL alerts for simple portfolio emulation.
A wealth of data and market intelligence on REITs, mREITs, and other real assets.
If you are looking for the newest and most profitable real estate opportunities, you have come to the right place. For a 2-week free trial, click HERE.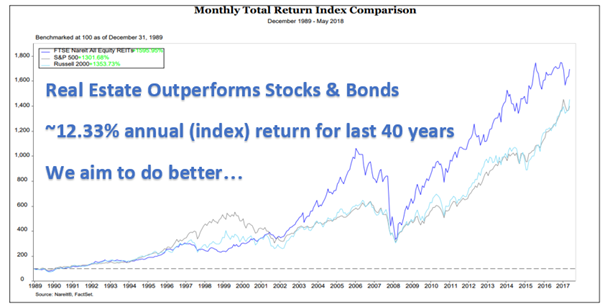 Disclosure: I am/we are long IRM; SRC; MPW. I wrote this article myself, and it expresses my own opinions. I am not receiving compensation for it (other than from Seeking Alpha). I have no business relationship with any company whose stock is mentioned in this article.