Market Intro

Asian Markets, Tuesday Close
Asian markets (EWJ, FXI, EWY) did not follow the tone of the intraday drubbing that US stocks (SPY, DIA, QQQ, IWM) took in the tumultuous Monday session. European equities (EWG, EWQ, VGK) were down modestly, but also failed to exhibit anything akin to real panic.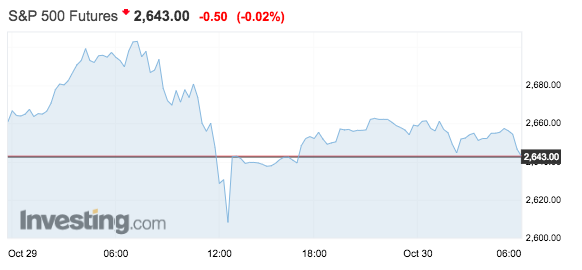 S&P futures traded over a decent range in the overnight session: 2639 through 2664, before settling very near to the level where they opened after the Case-Shiller figures indicated softness in the residential real estate price growth trend.

Gold (GLD) is off lows put in during September (around $1170), but is still not exactly acting as a great hedge to the equity drops exhibited throughout most of the year in international equities (ACWX) and now here in the US.
Thoughts on Volatility

Not that the original Scott Wren quote is implicitly saying so, but it should be clear that the Fed is absolutely not in the business of targeting equity levels (or, at least, it shouldn't be). Investors take risk when they buy risk assets, stocks (AMZN) most certainly included.
Chair Powell is increasing rates because the economy is strengthening. That's the right move, irrespective of how asset markets choose to digest that news.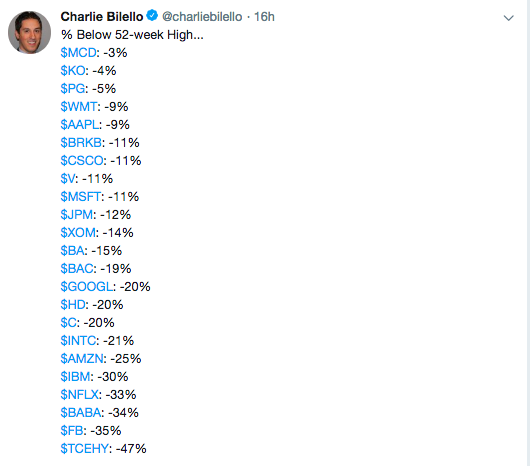 What we largely have for the time being is a plunge in mega-cap names. I think it is quite possible that we have a difficult time making a full recovery any time soon in light of this fact… is Netflix (NFLX) going to increase by 50% "just in time for Christmas" so that the S&P can get another crack at the 3000 mark? Anything is possible, but I'm not holding my breath.
To get a true recovery, another segment of the market is going to need to partner with the former mo-mo names to boost overall S&P market cap.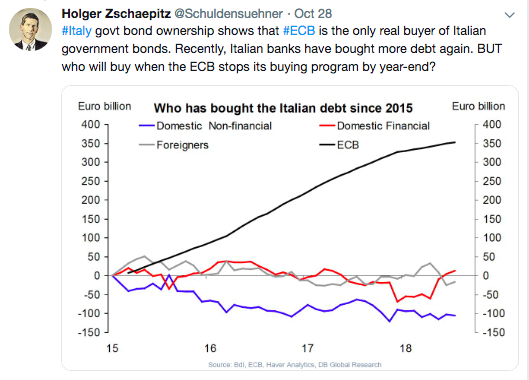 The US earnings picture may be pretty decent (though not across the board). The US economy looks primed to achieve an annual real growth rate north of 3%, something it has not done in quite some time. Traders and investors do, however, need to keep an eye on international developments. We may well find that the US will not be able to inoculate itself against troubles that originate elsewhere.
Term Structure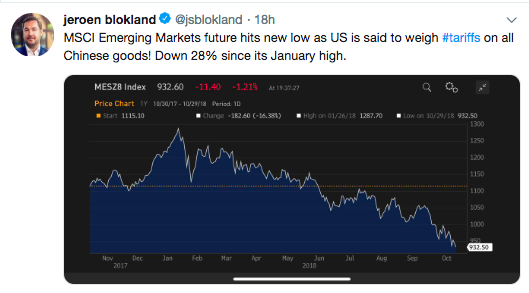 In line with the preceding paragraph, the emerging markets space (EEM) has really taken a beating over the last 10 months. It may well be the case that those who look to short vol (SVXY) may get better opportunities at some point in other markets, as it is possible that US investors could just be in the opening salvos of what turns out to be a more prolonged increase in realized and implied volatility…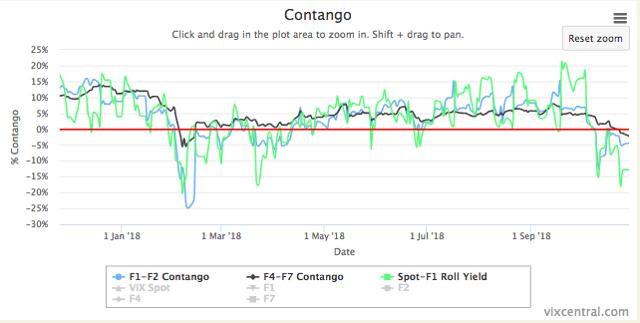 "Backwardation" (literally or figuratively) is pretty much the state of the VX futures market across the board. Vol shorts need to be quite careful here, insomuch as some may take on an entitled sense of what the market "has to do". I contend that vol longs (VXX, UVXY) are much in the same place that vol shorts have been in for much of the past seven years: longs own the market, for the time being.
That roll yield is significant.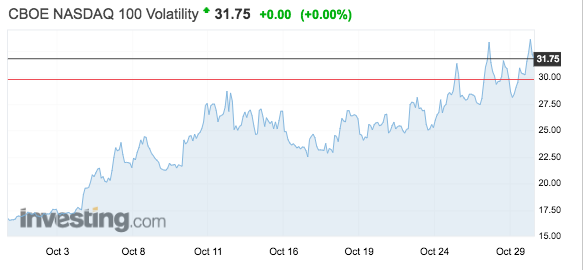 Of course, the real source for high realized volatility at present is the NASDAQ. For those who take regular positions in volatility-related products, keep an eye on this index. If and when NASDAQ volatility starts to nosedive, I think the S&P vol shorts will get a strong chance of at least momentary gains.
Finally, be careful about leveraged vol products that contain a daily rebalance: that's basically anything other than VXX, long or short.
Conclusion
If this is your first time reading Market Volatility Bulletin, thanks for giving it a try. If you're a regular, we thank you for your ongoing contributions in the comments section.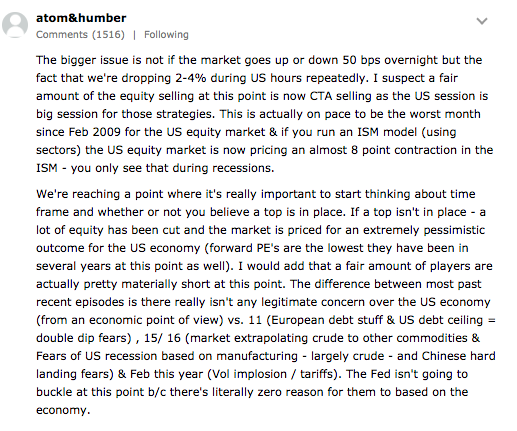 This quote comes from yesterday's bulletin, and is truncated. Atom&Humber is not in agreement with my assessment that overnight ranges are one of the major drivers as to why the vol situation has not been resolved. This is likely an 'extent' question over various factors leading to the whirlwind market we're seeing.
The comments on CTA selling interest me quite a bit, as it is not enough to have a change in the content of information: players need to be changing their game plans in order to effect this kind of change in the intraday picture.
I think A&H makes a strong point about asking where we are in the economic cycle, though I believe he and I differ quite a bit on just how important the economy is in charting out the trajectory of asset prices. I am in the camp that most (but not all) of this bull market has not been built on earnings and economic growth, but rather low rates and low vol: take away either, or especially both, and in my view the economy and earnings will take a back seat in terms of where prices head.
Thank you for reading.
Please consider following.
Disclosure: I/we have no positions in any stocks mentioned, and no plans to initiate any positions within the next 72 hours. I wrote this article myself, and it expresses my own opinions. I am not receiving compensation for it (other than from Seeking Alpha). I have no business relationship with any company whose stock is mentioned in this article.
Additional disclosure: I actively trade the futures and options markets, potentially taking multiple positions on any given day, both long and short. I also hold a more traditional portfolio of stocks and bonds that I do not "trade". I do believe the S&P 500 is priced for poor forward-looking returns over a long timeframe, and so my trading activity centers around a negative delta for hedging purposes.