Hyper-growth food delivery giant GrubHub (GRUB) has seen its stock drop more than 40% off recent highs due to a double headwind. First, markets entered sell-off mode in October on concerns regarding slowing economic growth, higher rates and rising costs. Second, GrubHub gave a weak fourth quarter guide with respect to margins, and that freaked out investors.
All together, GRUB stock has lost 40% of its value in just a few weeks. At these levels, the long-term bull thesis on GRUB stock looks compelling, but it hinges on two things: Margin improvement and subdued competition. If margins bounce back from near-term compression and competition remains a non-factor, GRUB stock will roar higher from here. But if margins remain depressed and competition continues to eat away market share, GRUB stock will have a tough time heading higher even from depressed levels.
We have faith that GrubHub can maintain market-leading online food delivery leadership and that new investments will help the company maintain that leadership. We also have faith that margins will rebound in the future thanks to robust revenue growth. As such, we think GRUB stock can rally from here. But we also acknowledge the margin and competition risks, and aren't yet willing to buy the dip with both hands. Instead, this feels like an opportunity to take some nibbles first.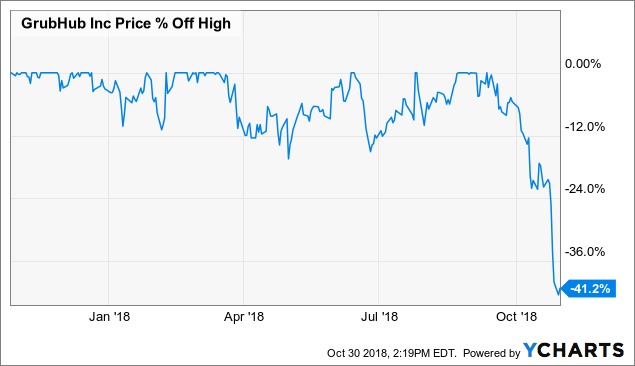 GrubHub is the leader in the red-hot online food delivery market which has grown by leaps and bounds over the past several years due to secular trends such as the rise of the at-home and gig economies and accelerated digital service adoption. The combination of these trends has provided a huge tailwind for GrubHub, and the company has consequently sustained large revenue growth over the past several quarters.
This large revenue growth isn't going anywhere anytime soon. The online food delivery market comprises just 5% of addressable restaurant spend. That's a small digital penetration rate. For all retail sales, the digital penetration rate is nearly 10%, while for things like apparel sales, the digital penetration is nearly 30%. As such, with such a low digital penetration rate relative to other industries, the online food delivery market has tremendous growth prospects over the next several years.
Those huge growth prospects have attracted multiple competitors into this space. While GrubHub has maintained a leadership position in this market despite rising competition, the company is rapidly ceding market share to faster growing yet smaller peers like UberEats, DoorDash, and Postmates.
Eventually, this trend of consistent market share erosion will be a problem for GrubHub. But not yet. The online food delivery market is growing so rapidly that even amid market share erosion, GrubHub is growing at an impressive and sustained rate. Last quarter, revenues rose over 50%, active diners rose by nearly 70%, daily average grubs rose by over 35%, and gross food sales rose by 40%. Those huge growth rates are inline with what GrubHub has reported over the past few quarters, so not only is growth big, it's resilient despite market share erosion.
Thus, revenue growth isn't the problem at GrubHub. The online food delivery market is growing so rapidly and has so much growth left that it can accommodate multiple hyper-growth players for a lot longer. Instead, the problem is margins. Management gave a huge down-guide for fourth quarter EBITDA margins due to increased investment to maximize growth. Specifically, the company is rapidly expanding delivery services to new markets (100 new markets in Q4, versus 100 through the first three quarters of 2018), and significantly upping advertising spend to grow brand awareness. The sum of these growth investments is expected to weigh significantly on margins in Q4.
This down EBITDA guide is largely why GRUB stock fell 40%. A 40% knock-out from a down EBITDA guide for one quarter seems harsh. But investors are worried that the down guide is part of a bigger trend. Namely, management is upping growth-related spend at the same time that competition is aggressively stealing share. In other words, these moves seem defensive, and if they are, higher spend may be the new norm, and lower margins may be here to stay for longer. If so, GRUB stock will have a tough time rallying, even from this depressed base. After all, the forward earnings multiple is still at 50, vs. a market-average forward multiple of under 16. In order to justify that premium, you need not only robust revenue growth, but healthy margin expansion, too.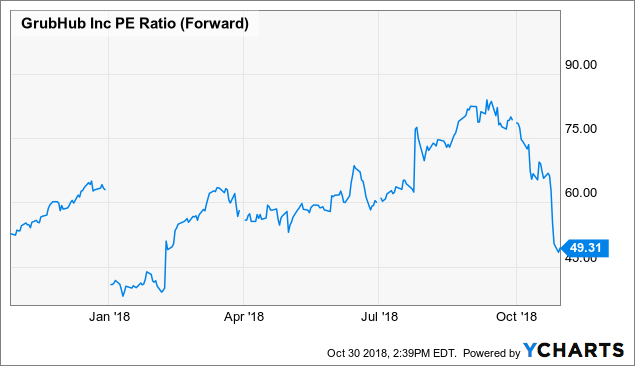 Investors are worried competition will dilute the margin expansion part of the GRUB narrative, and as such, have been selling GRUB stock in bulk. But, realistically speaking, we don't see competition killing GrubHub's margins as the most likely outcome. Margins are being dragged down by two things: Market expansion and increased marketing. Market expansion is a near-term phenomena, and once GrubHub has expanded everywhere, that spend will no longer be in the financials, regardless of competition. Meanwhile, increased marketing will likely persist as competition ramps, but it's very unlikely that marketing spend growth keeps up with revenue growth in the long term. Revenue growth was over 50% last quarter and should remain in excess of 20% considering the online food delivery market's sizable growth prospects.
Thus, we have a tough time seeing GrubHub's margins being permanently depressed. Instead, we think Q4 margin compression is just a near-term phenomena which will supercharge growth in a competitive environment, and that over time these expenses will phase out and margins will come roaring back.
From this perspective, we think now is a good time to start buying the dip in GRUB stock. You have a secular growth stock with promising long-term growth drivers that has dropped 40% over the past few weeks due to margin concerns which shouldn't hold up for much longer. As such, it looks like a near-term rebound is in the cards.
Disclosure: I am/we are long GRUB. I wrote this article myself, and it expresses my own opinions. I am not receiving compensation for it (other than from Seeking Alpha). I have no business relationship with any company whose stock is mentioned in this article.