Advanced Micro Devices (AMD) couldn't have picked a worse month to report misunderstood revenues. The market plunged 3% on average during the day prior to releasing mixed Q3 results. The market wasn't going to parse the data before selling the stock in after-hours trading leading to roughly a 30% collapse on October 24.

Source: Seeking Alpha quote page
At this point, the stock isn't likely to rally until some of the noise clears up surrounding what most in the market mistakenly viewed as weak guidance. My investment thesis on AMD has always focused on 2019 and beyond which hasn't changed, providing a superb opportunity to pick up stock on this dip now into the $16s a week after earnings.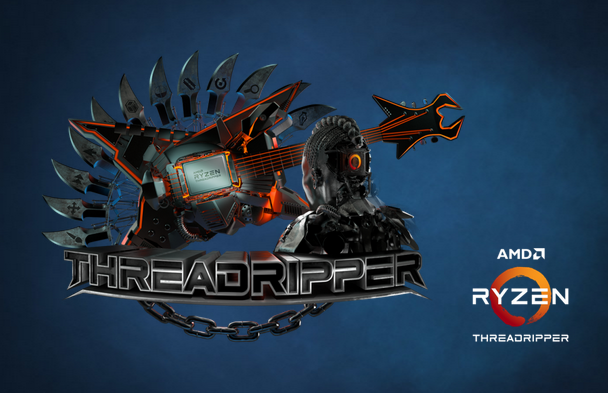 Image Source: AMD website
Misunderstood Revenue Story
A big part of the bullish revenue story with AMD is based on 7nm products that will hit the market soon. My previous research had constantly focused on the fact that the story wasn't about Q3/Q4 revenues.
The market still expected bullish numbers due to a ramp in data center chips and potential market share gains in PCs as Intel (INTC) struggles to meet demand. The only problem was the headwinds caused by negligible GPU revenues from blockchain, weakness in consoles and the confusion surrounding adjustments to accounting standards. Neither a focus of 2019 growth, but all an impact on reported 2018 growth.
As a result, Q3 revenues were weak with AMD reporting $1.65 billion in the quarter. The company had guided toward $1.7 billion, plus or minus $50 million. Technically, AMD hit within their prior guidance range, but the stock didn't previously surge above $30 on expectations of hitting the low-end revenue target.
The more troubling part to the market was honestly the Q4 guidance. The company provided the following numbers:
revenues = $1.45B, +/- $50M
gross margins = 41%
Where the story gets highly confusing is the shift from the accounting standard that placed the Q4'17 reported revenues of $1.48 billion to only $1.34 billion. In addition, the blockchain business is expected to dip from ~$150 million last year to $0 this Q4. In essence, the core revenues were somewhere around $1.2 billion last Q4 and the guidance for this year is around a 20% increase. The market is much more focused on analyst estimates up at $1.59 billion, though the context around those estimates are lacking.
The biggest question is whether analysts were wrong placing revenue estimates up at $1.59 billion. Is it possible that these research departments were just assigning growth to the reported numbers from last year, not the ASC 606 adjusted numbers? The quarter always is weak and a decline from Q3 levels of $1.65 billion should've been expected to exceed the $1.59 billion estimate considering the loss of $150 million worth of revenue from blockchain.
The key to the story is the 7nm chips come to the rescue as 2018 comes to an end. Per CEO Lisa Su on the Q3 earnings call:
We remain on track to launch the industry's first 7-nanometer datacenter GPU this quarter. Customer interest in the product is strong based on its performance and differentiated feature set, and we have already secured multiple datacenter wins with shipments expected to begin in the fourth quarter.

We began sampling our next generation Rome server chip broadly across our customer base in the third quarter. And the feedback on this leadership product is very strong. As a result, cloud and OEM customers are engaging earlier, deeper, and more collaboratively with us on both Rome, and our long-term data center roadmap.

The second generation of EPYC, our 7-nanometer CPU, will ship in 2019.
In the wake of Q3 results, analysts have lowered forward revenue estimates. Both 2019 and 2020 revenue numbers were cut in the range of $200 to $300 million.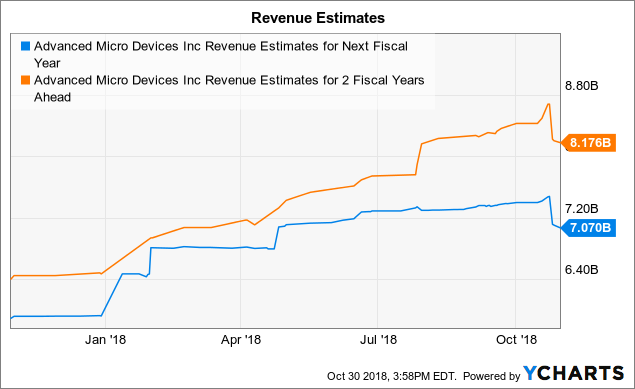 The analyst community appears wrong here. As my previous article highlighted, the opportunity to grow data center market share by 5 percentage points in 2019 adds over $1.15 billion in additional revenue alone from a market of $23 billion. The upside potential by 2020 is for AMD to capture 20% of a market reaching a market size of $25 billion. The company has the potential for $5 billion in sales from Epyc 2 chips in the data center that would amount to over $4 billion in additional revenues above the 2018 levels. Currently, analysts only forecast a $1.6 billion jump from 2018 levels of $6.5 billion.
The market doesn't appear to accurately forecast the company just reaching double-digit market share target for data center server sales, much less the upside potential for reaching market share levels similar to the last cycle. My bullish forecasts don't even factor in growth in the PC sector and a potential for GPU sales to rebound on a blockchain renaissance.
Don't Forget Margins
Any sign of real weakness in the business would come through in the margins. The strong Q3 margins and guidance for higher Q4 margins further highlights that the market is too focused on the slightly confusing revenue story.
A company under pressure doesn't report the highest gross margins in years. The Q4 guidance for gross margins of 41% is incredible considering AMD was all the way down at 34% last year.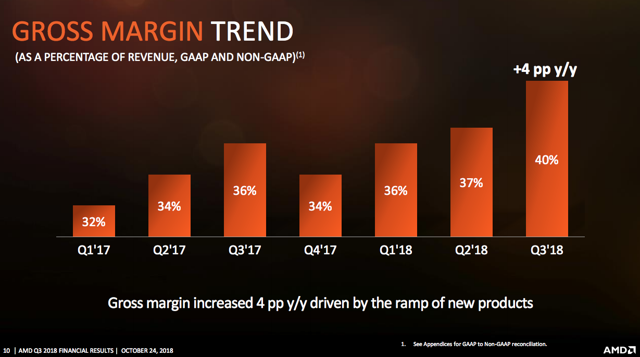 Source: AMD Q3'18 presentation
These margins are a sign that the market is confused on revenue expectations. The long-term financial model is continuing to improve even with short-term headwinds.
Takeaway
The key investor takeaway is that my previous target of 2020 revenues of $10 billion and an EPS of $1.50 based on 45% gross margins remains conservative, if anything. The Q3 results and Q4 guidance don't alter these estimates because the big uplift in sales comes from 7nm products not even on the market yet.
My recent articles suggested that investors should continue holding onto any positions based on my May 2018 bullish call when the stock was sub-$12. The point was that AMD still has plenty of upside. My new call is for investors to actually add to or build positions on this dip to $17 based on a misunderstood story.
Disclaimer: The information contained herein is for informational purposes only. Nothing in this article should be taken as a solicitation to purchase or sell securities. Before buying or selling any stock, you should do your own research and reach your own conclusion or consult a financial advisor. Investing includes risks, including loss of principal.
Disclosure: I/we have no positions in any stocks mentioned, but may initiate a long position in AMD over the next 72 hours. I wrote this article myself, and it expresses my own opinions. I am not receiving compensation for it (other than from Seeking Alpha). I have no business relationship with any company whose stock is mentioned in this article.