Credible approaches to ratings of companies' environmental, social and governance behavior performs a unique service for investors by revealing data that traditional financial analysis doesn't capture.
Every time I eat out, I say a quiet hosanna for New York City's health department. Not only does it set basic cleanliness standards for restaurants, it requires every establishment to display its letter grade right there in the window. When was the last time you willingly bought lunch at a "C"?
Credible grading systems play an equally important role for investors by opening a window into corporate "kitchens." Third-party research firms have financial data sets stretching back decades. They provide crucial information that would be difficult for any but the deepest pockets to obtain on their own, and, importantly, create a framework for comparison, be it letters, numbers, stars or some combination. Try to imagine assessing the credit risk of a corporate bond without information gathered by the major rating agencies.
Yet, a growing number of investors are finding that traditional financial analysis - based on cash flow, book value, assets versus liabilities and so on - may not adequately account for certain contingencies that might affect a company's likelihood of success. What would be the impact of internal fraud, a natural disaster or persistently unhappy employees? How diverse is a company's workforce, and how safe is its data?
ESG data are helping to answer these types of questions. ESG ratings providers use sophisticated analytics to measure sustainable corporate behavior, drawing on data from governments, agencies, company disclosures, social media monitoring and other sources. The results say a lot about how well a firm manages idiosyncratic and systemic risks. Traditional metrics like book value aren't good indicators of ethical business practices or vulnerability to climate change. (Consider that risks to blue-chips like Wells Fargo (NYSE:WFC), Equifax (NYSE:EFX) and Volkswagen (OTCPK:VWAGY) were captured in their ESG ratings before their respective controversies hit the headlines.)
The data can also reveal opportunities for upside potential: companies investing in green building, faster transitions to low carbon or renewable energy, for example, or addressing educational needs. Research has found that companies with high ESG ratings have a lower cost of capital and lower earnings volatility.1
Teach your parents well
ESG company ratings, and ESG investment fund scores, play a benchmarking role at the portfolio level, too. Knowing where a fund or index sits on the sustainability spectrum can help investors set expectations for performance and volatility.
The chart below compares the MSCI ESG quality scores of four iShares ESG equity ETFs against their benchmarks' "parent" indexes. The quality score reflects how well a portfolio's underlying holdings can collectively manage medium- to long-term risks and opportunities.
The Lipper percentile measures how that quality score ranks against other funds in the same peer group, with 100% as the best score.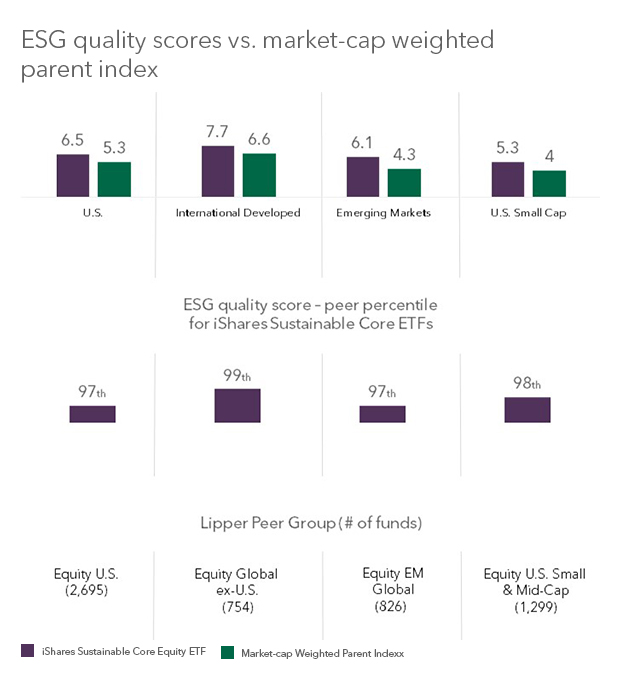 Past ESG metrics are not indicative of future results. Please see footnote for details.2
There are some interesting patterns to note. Developed markets outside the U.S. - Europe, Canada and Japan - tend to score high even in their parent indexes, reflecting a greater focus by these countries on ESG issues. Markets with the widest disparities between parent and corresponding ESG ETF, such as emerging markets, are often harder to analyze generally - suggesting that ESG data could add even more value here
Aligning purpose and performance
Of course, while ESG ratings can function as a valuable and additive analytical tool, for many investors they also provide a mechanism to align their personal values with their financial goals. Some 76% of women and 84% of millennials are interested in ethically sourced investing, according to a Morgan Stanley survey.
As a result, sustainable assets in mutual funds and ETFs, while still relatively small, are poised to grow significantly in coming years. We believe we're at a tipping point for ESG ETFs, in particular; BlackRock is projecting fund assets to grow from some $25 billion today to more than $400 billion a decade from now.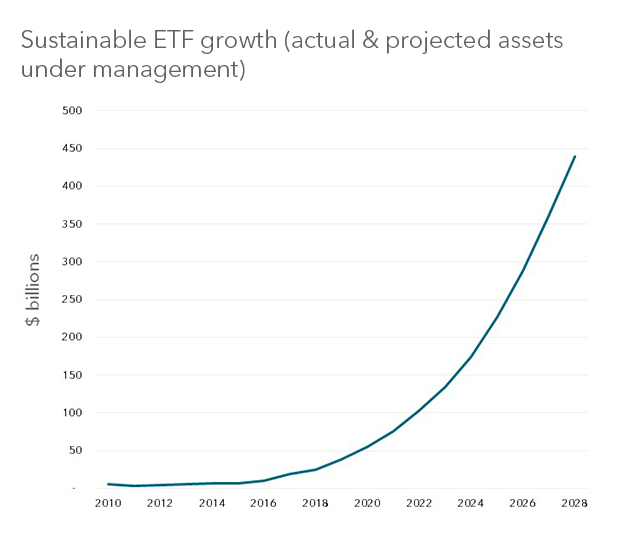 As of 8/31/2018. Sources: SIF, Morningstar (through 2017), BlackRock (2018-2028). Actual AUM from 2010-2017; projected AUM 2018-2028. There is no guarantee that the projections will come to pass.
It's worth noting that sustainable investing isn't a new concept; the first socially responsible mutual fund was launched 30 years ago. The iShares KLD 400 Social Index ETF (NYSEARCA:DSI) launched in 2006, and its index, the MSCI KLD 400 Social Index, has a track record back to May 1990. Until recently, however, so-called green funds were viewed as niche products – pricey and delivering subpar returns. Today, the landscape couldn't be more different. Even as demand grows for funds that can marry purpose and performance, technology is continually evolving what's possible and increasing choice for investors.
ETFs are making it even easier to bring sustainability to the core of a diversified portfolio - at low cost and across stocks, bonds and countries. iShares launched one of the first sustainable ETFs, the iShares MSCI USA ESG Select ETF (NYSEARCA:SUSA), in 2005. Today, the fastest-growing products in the suite include funds that seek to track optimized indexes, designed to have similar risk and return characteristics of their parent indexes. Financial sacrifice isn't part of the mandate.
I'll have what they're having
I still hear a good deal of skepticism about ESG ratings. Major providers sometimes have different ratings for the same company, measurement frameworks haven't been standardized and there can be a good amount of missing data. The body of ESG data is still narrow compared with those of the major credit rating agencies. But the latter offer a model for the future: more standardization, higher-quality and more complete datasets and more expansive, voluntary participation by companies in providing timely transparency on ESG issues.
ESG index providers are rapidly innovating and enriching their intelligence. MSCI, for example, has more than 140 researchers doing quality work on companies, industries and the array of environmental, regulatory, demographic and other externalities that could hinder or help long-term performance. Long story short: ESG data aren't perfect, but they are helpful and they are improving rapidly.
As that information becomes more widely available to investors, greater transparency will enable better choices - just as those giant letter grades posted in restaurant windows help improve our dining experiences. ESG ratings aren't everything yet, but they'll tell you whether the menu is worth sampling.
1 Lower cost of capital: From the Stockholder to the Stakeholder: How Sustainability Can Drive Financial Performance. University of Oxford and Arabesque Partners, March 2015. Available here (pdf). Less variable earnings: Jeff Dunn, Shaun Fitzgibbons and Lukasz Pomorski, Assessing Risk through Environmental, Social and Governance Exposures. February, 2017. Available here (pdf).
2 Sources: MSCI (indexes), MSCI ESG Fund Metrics (funds), as of 8/31/2018. Fund holdings as of 7/31/2018. US compares iShares MSCI USA ESG Optimized ETF (NASDAQ:ESGU) (99.0% of securities covered by MSCI Research) and the MSCI USA Index (99.0% covered); International Developed compares the iShares MSCI EAFE ESG Select ETF (NASDAQ:ESGD) (99.6% covered)and the MSCI EAFE Index (99.6% covered); Emerging Markets compares the iShares MSCI EM ESG Select ETF (NASDAQ:ESGE) (99.6% covered) and MSCI Emerging Markets Index (96.7% covered). US Small Cap compares the iShares MSCI USA Small-Cap ESG Optimized ETF (BATS:ESML) (97.7% covered) and MSCI US Small Cap Index (98.0% covered). The indexes shown are the parent indexes of the indexes that the funds seek to track. There may be material differences between the fund's index and the index shown including without limitation holdings, methodology and performance. The MSCI ESG Quality Score measures the ability of underlying holdings to manage key medium- to long-term risks and opportunities arising from environmental, social, and governance factors. The MSCI ESG Quality Score is calculated as the weighted average of the underlying holding's ESG Scores. It is provided on a 0-10 scale, with 0 and 10 being the respective lowest and highest possible fund scores. MSCI rates underlying holdings according to their exposure to 37 industry specific ESG risks and their ability to manage those risks relative to peers. These issuer-level ESG ratings correspond to an issuer-level ESG Score. The ESG Quality Score Peer Percentile measures how a fund's overall ESG Quality Score ranks relative to other funds in the same peer group. This peer group is based on the Lipper Global Classification and reflects the funds that are in the MSCI ESG Fund Metrics coverage universe. 100% represents the best score. To be included in MSCI ESG Fund Metrics, 65% of the fund's gross weight must come from securities covered by MSCI ESG Research, the fund's holdings date must be less than one year old, and the fund must have at least ten securities. Past ESG metrics are not indicative of future results.
This post originally appeared on the BlackRock Blog.