By Stacey Morris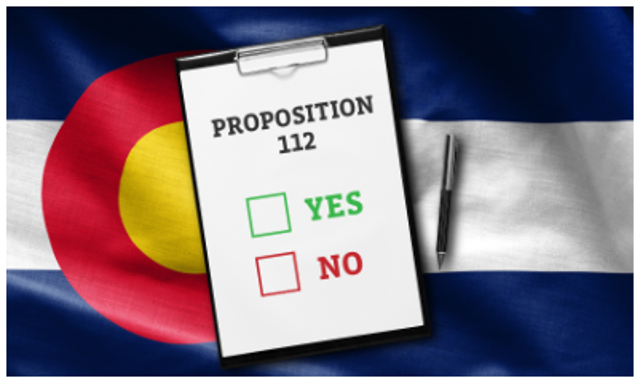 Energy analysts and investors have been closely monitoring the political climate in Colorado as Election Day approaches on November 6th. Proposition 112 (or Initiative 97) will be on the ballot and could have implications for the future of energy production in the state if it passes. Portions of the Niobrara-DJ Basin and Piceance Basin are located within Colorado, and the state is a significant oil and gas producer. Last year, Colorado was the sixth-largest oil-producing state and the eighth-largest for natural gas production, and the production value generated by oil and gas development in Colorado was estimated at $10.9 billion.
Any potential impact to oil and natural gas production has repercussions for midstream companies providing pipeline takeaway capacity from Colorado as well as gathering and processing and water services in the state. Today, we'll discuss what Proposition 112 is, what companies have said about it, and which midstream companies have exposure to Colorado.
What is Proposition 112?
Colorado's Proposition 112 "proposes amending the Colorado statutes to require that new oil and natural gas development be located at least 2,500 feet from occupied structures, water sources, and areas designated as vulnerable" (source). This distance is often referred to as a setback. Today, wells must be 500 feet from a home or occupied building or 1,000 feet from high-occupancy buildings like schools or hospitals. Proposition 112 does not apply to federal land, which accounts for 36% of the land in Colorado. Of the non-federal land in the state, 85% would become inaccessible if the 2,500-foot setback was implemented, according to an impact assessment from the Colorado Oil and Gas Conservation Commission (COGCC), which is a division of Colorado's Department of Natural Resources. In Colorado's top five oil and gas producing counties combined, 61% of the surface acreage (94% of non-federal land) would become unavailable.
Initiatives like Proposition 112 are not new in Colorado. In 2016, a 2,500-foot setback rule (Initiative 78) did not receive enough signatures to make it on to the ballot. Proposition 112 has made it to the ballot, but will it pass? A simple majority is required for passing, and the industry has spent prolifically to prevent that majority from materializing. Based on numbers from Ballotpedia, campaign contributions opposing Prop 112 amounted to over $21 million as of earlier this month compared to just over $1 million raised in support of the measure. Both gubernatorial candidates oppose the measure, but the governor does not have veto power when it comes to initiatives voted on in a referendum.
If passed, Proposition 112 would apply to oil and gas activity permitted on or after the effective date. Likely as a precaution, permitting activity in Colorado has noticeably increased in recent months, as shown below.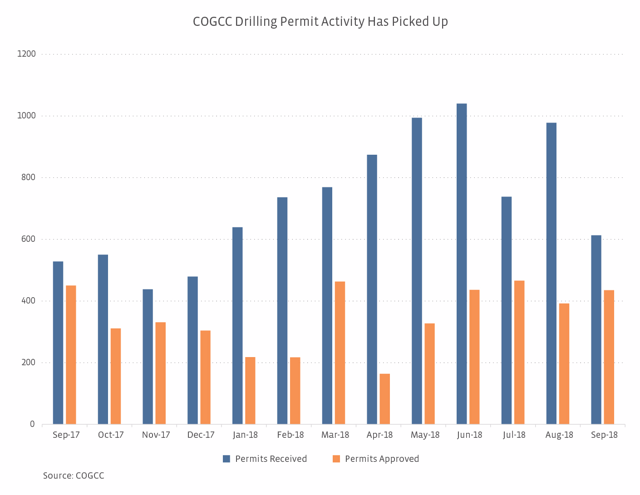 On a related note, Amendment 74 (Initiative #108) is also on the ballot and "requires the state or a local government to compensate a property owner if a law or regulation reduces the fair market value of his or her property" (source). While not wanting to open another can of worms on Amendment 74, if both Proposition 112 and Amendment 74 pass, it would be easy to see where things could get messy. Keep in mind that Colorado's governor must provide a balanced budget to the state legislature, which is then required to adopt a balanced budget. Oil and gas producers pay significant taxes, including severance tax to the state that averaged $144 million net per year for fiscal years 2013-20171. Local property taxes for oil and gas producers in aggregate were estimated at nearly $500 million last year.
What have companies said?
For the most up-to-date commentary, the best source will likely be 3Q earnings calls from E&Ps and midstream companies, as mentioned in our earnings preview from two weeks ago. These calls will largely be held later this week and next week. When asked about Proposition 112 on its 2Q call, the CEO of DCP Midstream (DCP) discussed how Colorado voters had opposed these types of measures in the past. Noble Energy (NBL) included the slide below in its presentation for the Barclays conference in September, which highlights estimated impacts if Proposition 112 is implemented. NBL also notes that the Colorado legislature can amend or eliminate the proposition even if it is passed. This Colorado Sun article also notes that the legislature could make revisions if passed, but changes to ballot measures have been rare historically.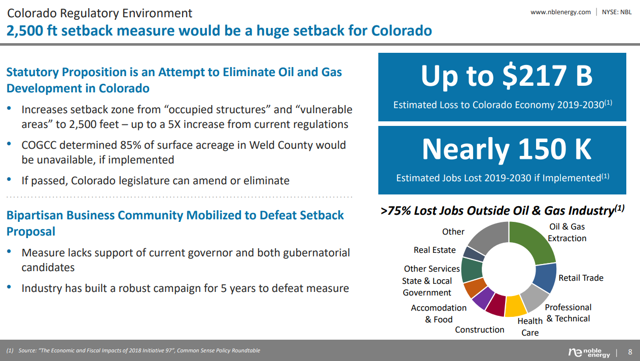 Which midstream companies have exposure to Colorado?
In the midstream space, examples of companies with exposure to Colorado include DCP, Noble Midstream Partners (NBLX), SemGroup (SEMG), Tallgrass Energy (TGE), and Western Gas Partners (WES). This list is not exhaustive. For example, Williams (WMB) has assets in Colorado and Plains All American (PAA) does as well, but the size and diversity of their businesses help insulate them from Proposition 112 headline risk. The graph below shows indexed price performance of some midstream names with Colorado exposure compared to the Alerian MLP Infrastructure Index (AMZI). TGE is the only name of those included to have outperformed the AMZI Index for the period shown.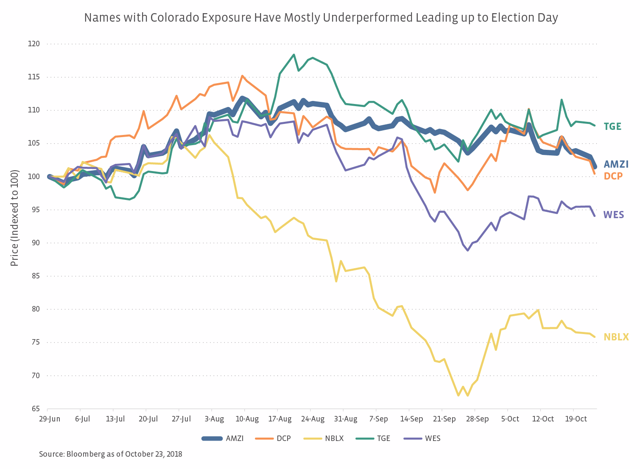 Bottom Line
Colorado's Proposition 112 represents yet another manifestation of headline risk that has weighed on the MLP and midstream space this year. Even if passed, lengthy litigation would likely ensue. If passed and ultimately implemented, it would take time for production to be negatively impacted as the backlog of previously permitted wells are drilled. If it does not pass and another legislative compromise is not introduced, a similar measure may be on the ballot in 2020, again creating uncertainty for investors.
Footnote:
1 In 2017, net severance collections were negative $14.2 million as refunds exceeded collections.
Disclosure: © Alerian 2018. All rights reserved. This material is reproduced with the prior consent of Alerian. It is provided as general information only and should not be taken as investment advice. Employees of Alerian are prohibited from owning individual MLPs. For more information on Alerian and to see our full disclaimer, visit http://www.alerian.com/disclaimers.
Stacey Morris is the Director of Research at Alerian, which equips investors to make informed decisions about Master Limited Partnerships (MLPs) and energy infrastructure. Ms. Morris engages with the investment community to increase awareness of the Alerian Index Series and support broader understanding of the role that midstream assets play in North American energy markets. Ms. Morris was previously the Investor Relations Manager for Alon USA Energy, overseeing investor communications for the corporation and its variable distribution MLP, Alon USA Partners. Prior to Alon, she covered the integrated majors and refiners at Raymond James as a Senior Associate in the firm's Equity Research Division. Ms. Morris graduated summa cum laude with a Bachelor of Science in Business Administration from Stetson University, and is a CFA charterholder.