By Joseph V. Amato, President and Chief Investment Officer - Equities
The expansion is aging, but major shifts for investors are just underway.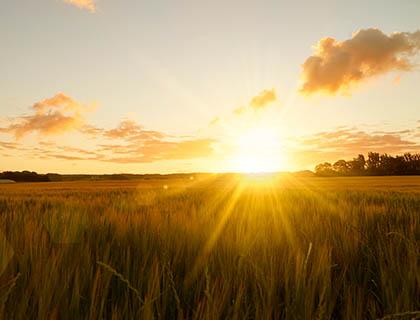 Markets have been showing strains that are closely tied to the aging economic cycle. A key trigger for October's volatility was strong U.S. data and its hawkish implications for central bank policy. Interest rates moved sharply upward and many risk assets downward. This was familiar territory for global markets, which have suffered under a cloud of slowing growth and trade fears, but more unusual for U.S. investors, who have been relatively insulated from such concerns given U.S. earnings momentum supported by tax cuts and deregulation.
Bond investors are concerned about both policy rates and unwinding of central bank balance sheets, and are leery of a U.S. federal budget deficit that will likely hit over $1 trillion next year. Higher short rates are making U.S. Treasuries less appealing to foreign investors who have to hedge their currency risk. All of these are dampening forces and may suggest that the healing could be more anemic than after the February market swoon.
That said, the overall economic picture in the U.S. is quite strong and potentially supportive of U.S. stocks. Consumer confidence remains high, business activity and hiring are healthy, and unemployment is at a 50-year low. GDP is expected to come in at nearly 3% this year, even as inflation remains largely under control. In our view, the current expansion is likely to remain in place for now, with a possible rotation from growth to value stocks and other beneficiaries of late-cycle expansion. A caveat is that overly aggressive rate hikes or destructive trade wars could end things early.
Overall, the environment is likely to be fluid and at times volatile, and requires heightened focus from investors. Still, it will be important to keep perspective and think about the long term - particularly given the "seismic shifts" we anticipate over the coming decade. As discussed in our cover story, key trends include the lingering effects of the post-crisis debt explosion, the blurring line between emerging and developed markets, the growth of private investments and the explosion of technology, all of which have potentially profound implications for investment methods and opportunities. The other topic in this issue looks at down-markets and ways to prepare for them.
I hope you enjoy this issue of Investment Quarterly. As always, please do not hesitate to contact your Neuberger Berman representative with any questions or comments.
Highlights 4Q18
From the Asset Allocation Committee
U.S. Equities: The U.S. has maintained strong economic growth despite weaker trends in Europe and China, and is expected to benefit from solid corporate earnings on the back of tax reform. Although our 12-month outlook for the segment is neutral overall, we modestly favor small and mid-caps on a relative basis given their more domestic sales mix. Trade tensions and potentially waning benefits of tax reform are among the risks.
U.S. Fixed Income: Although rising interest rates are creating headwinds for most investment grade bonds, we favor Treasury Inflation-Protected Securities (TIPS) given inflation risks tied to wages and trade tensions. Although neutral on high yield overall, we favor short-duration high yield, especially relative to bank loans, given their wide credit spreads and relatively low sensitivity to rising rates.
Non-U.S. Developed Market Equities: In Europe, key business activity indices have settled at lower levels, which could suggest slower growth, but the ECB remains accommodative even as it prepares to wind down its quantitative easing program. In Japan, a weaker yen could boost corporate earnings, and the Bank of Japan remains committed to its yield targeting policy.
Emerging Markets: We maintain our overweight view for both debt and equity, despite short-term volatility and negative sentiment related to global trade tensions. While acknowledging the risk of a further leg down, we believe that the emerging markets sell-off was overdone and presents an opportunity.
Hedge Funds: Diversification into uncorrelated, low-volatility hedge funds can provide a thoughtful approach to managing risk in periods of increased correlation. More dispersion across assets, as well as clearer trends in certain markets, could create opportunities for long/short funds.
Private Equity: Despite elevated valuations, a modest portfolio allocation to private equity and debt may be attractive relative to publicly traded stocks and bonds, providing a likely illiquidity premium and lower mark-to-market volatility.
This material is provided for informational purposes only and nothing herein constitutes investment, legal, accounting or tax advice. This material is general in nature and is not directed to any category of investors and should not be regarded as individualized, a recommendation, investment advice or a suggestion to engage in or refrain from any investment-related course of action. Investment decisions and the appropriateness of this material should be made based on an investor's individual objectives and circumstances and in consultation with his or her advisors. Information is obtained from sources deemed reliable, but there is no representation or warranty as to its accuracy, completeness or reliability. All information is current as of the date of this material and is subject to change without notice. Any views or opinions expressed may not reflect those of the firm as a whole. Neuberger Berman products and services may not be available in all jurisdictions or to all client types.
The views expressed herein may include those of the Neuberger Berman Multi-Asset Class (MAC) team, Neuberger Berman's Asset Allocation Committee and Neuberger Berman's Investment Strategy Group (ISG). The Asset Allocation Committee is comprised of professionals across multiple disciplines, including equity and fixed income strategists and portfolio managers. The Asset Allocation Committee reviews and sets long-term asset allocation models, establishes preferred near-term tactical asset class allocations and, upon request, reviews asset allocations for large diversified mandates. Tactical asset allocation views are based on a hypothetical reference portfolio. ISG analyzes market and economic indicators to develop asset allocation strategies. ISG consists of five investment professionals and works in partnership with the Office of the CIO. ISG also consults regularly with portfolio managers and investment officers across the firm. The views of the MAC team, the Asset Allocation Committee and ISG may not reflect the views of the firm as a whole, and Neuberger Berman advisers and portfolio managers may take contrary positions to the views of the MAC team, the Asset Allocation Committee and ISG. The MAC team, the Asset Allocation Committee and ISG views do not constitute a prediction or projection of future events or future market behavior. This material may include estimates, outlooks, projections and other "forward-looking statements." Due to a variety of factors, actual events or market behavior may differ significantly from any views expressed.
Investing entails risks, including possible loss of principal. Investments in hedge funds and private equity are speculative and involve a higher degree of risk than more traditional investments. Investments in hedge funds and private equity are intended for sophisticated investors only. Indexes are unmanaged and are not available for direct investment. Past performance is no guarantee of future results.
This material is being issued on a limited basis through various global subsidiaries and affiliates of Neuberger Berman Group LLC. Please visit www.nb.com/disclosure-global-communications for the specific entities and jurisdictional limitations and restrictions.
The "Neuberger Berman" name and logo are registered service marks of Neuberger Berman Group LLC.
© 2009-2018 Neuberger Berman Group LLC. All rights reserved.