While Not Saving The Planet, Let Us At Least Have A Good Time
The price of gold went up seven bucks and that of silver rose eight pennies.
For many people, the attraction to gold and silver began with a desire to protect themselves from the monetary trainwreck of 2008. That often grew into a sense that gold is the solution to that problem.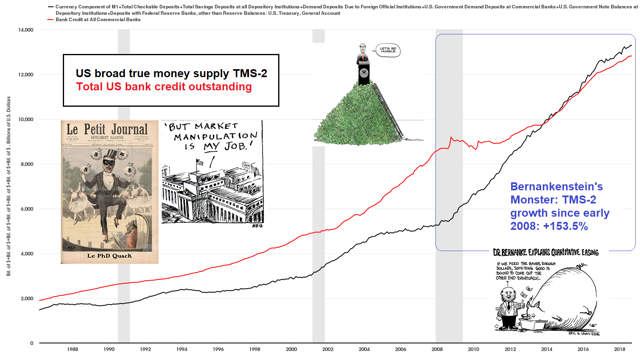 The post-2008 GFC monetary trainwreck: US true broad money supply is expanded by more than 153% in a mere decade as the Fed takes over "money creation duties" from a banking system reluctant to expand credit further. [PT]
Certainly, millions of people around the world are reaching towards gold for that reason. Possibly including the central bank of Hungary recently.
That's why it is important to say that betting on the price of gold is not a solution. Someone buys gold, another sells it. Dollars and gold change hands. Rinse, repeat. Nothing changes, much less is solved. Nevertheless, it's something to do for fun and profit!
Fundamental Developments - Gold Scarcity Increases
Now, let's look at the only true picture of the supply and demand fundamentals of gold and silver. But first, here is the chart of the prices of gold and silver.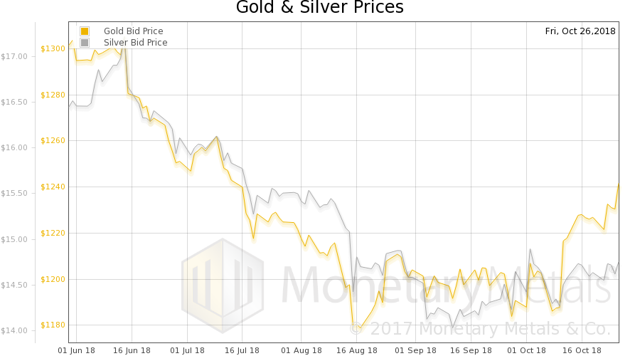 Gold and silver priced in USD
Next, this is a graph of the gold price measured in silver, otherwise known as the gold-to-silver ratio (see here for an explanation of bid and offer prices for the ratio). It rose slightly this week.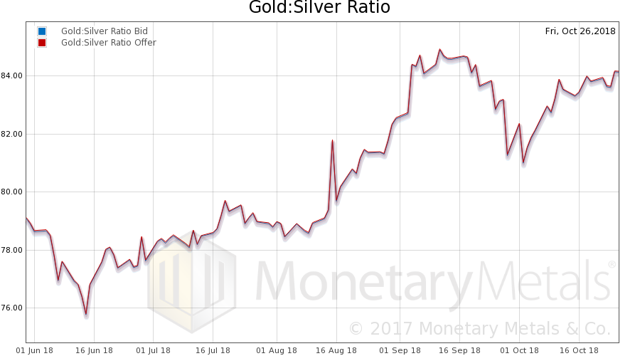 Gold-silver ratio - a rising ratio is akin to a credit spread - it signals waning economic confidence [PT]
Here is the gold graph showing gold basis, co-basis and the price of the dollar in terms of gold price.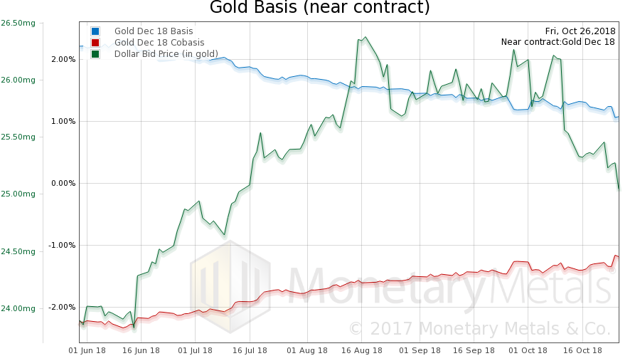 Gold basis, co-basis and the USD priced in milligrams of gold
There is something interesting about this graph in light of the recently activated discussion: whether we have hit a bottom in the gold price, whether gold will go up as (or if) stocks go down.
Notice since late September (if not mid-August) the falling dollar (which is the reality of a rising gold price). And along with that is a slow but steady rise in the co-basis.
According to the December co-basis (not so much the continuous co-basis), gold is becoming a bit scarcer at higher prices. It is scarcer now at $1,230 than it was at $1,180. There has been buying of physical metal in the past few months.
The Monetary Metals Gold Fundamental Price rose another $27, from $1,306 to $1,333.
Now, let's look at silver.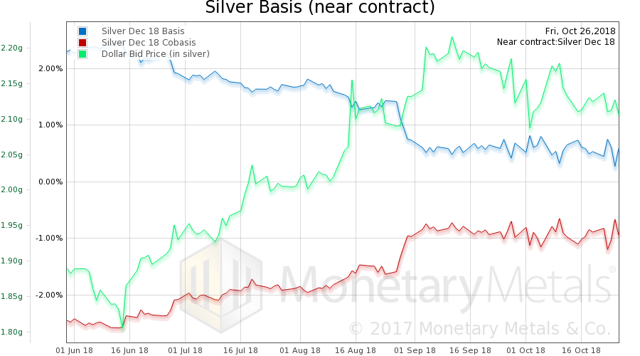 Silver basis, co-basis and the USD priced in grams of silver
By contrast, the price action in silver has been more tepid, and the co-basis has moved sideways.
The Monetary Metals Silver Fundamental Price dropped 11 cents, from $15.40 to $15.29.
Charts by: St. Louis Fed, Monetary Metals
Chart and image captions by PT