"Markets in Turmoil" - The Upside of Downside
In case you haven't noticed, the financial media has taken close notice of the red October sell-off. For the second time this month, CNBC aired an after-hours special report.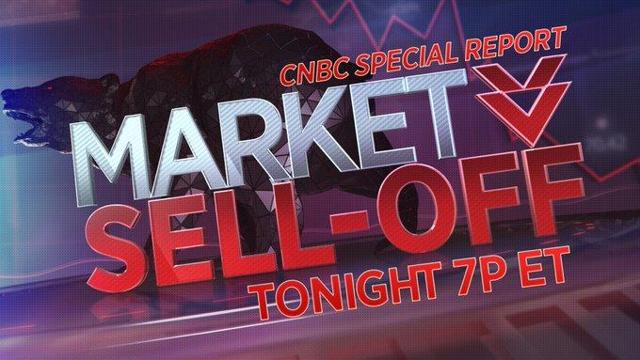 Historically, such reports have served as a bullish contrarian indicator, with above-average S&P 500 (SPY) forward returns across any period of time (from 1- to 12-month) then after.
Furthermore, gains are "guaranteed" (statistically speaking), 100% of the time (!), when looking out over the next 3-12 months.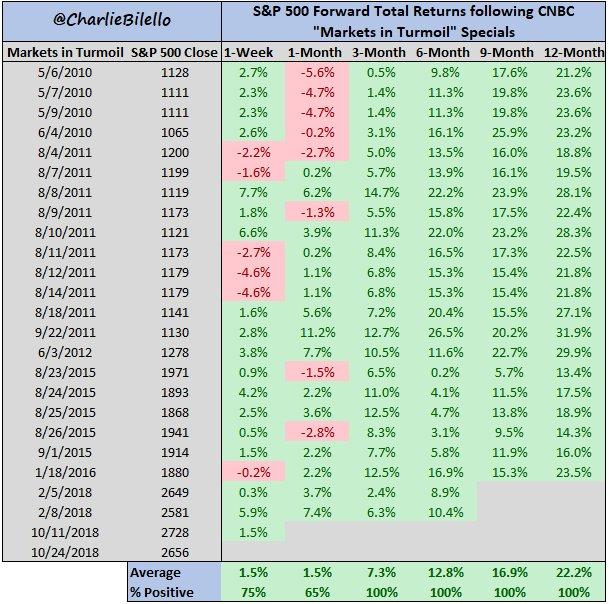 Smart Money
The smart money flow, aka Smart Money Index ("SMI"), is a technical analysis indicator, invented and popularized by money manager Don Hays, that is measuring the (allegedly) smarter/larger/more sophisticated investors' sentiment.
The index is based on intra-day price patterns. It's calculated by taking action of the Dow Jones (DIA) over two time frames: i) the first 30 minutes of trading, and ii) the last 60 minutes of trading. The first 30 minutes represent emotional buying, driven by greed and fear of the crowd based on good & bad news.
Here's an example to help you better understand how the SMI operates: Let's assume that the SMI closed yesterday at 10000. During the first 30 minutes of today's trading, the DJIA has gained a total of 270 points. During the final hour, the DJIA has lost 130 points. So, today's SMI is 10000 + 270 + (-130) = 10140.
Now get this: Earlier this week, the SMI dropped to its lowest level since 2009.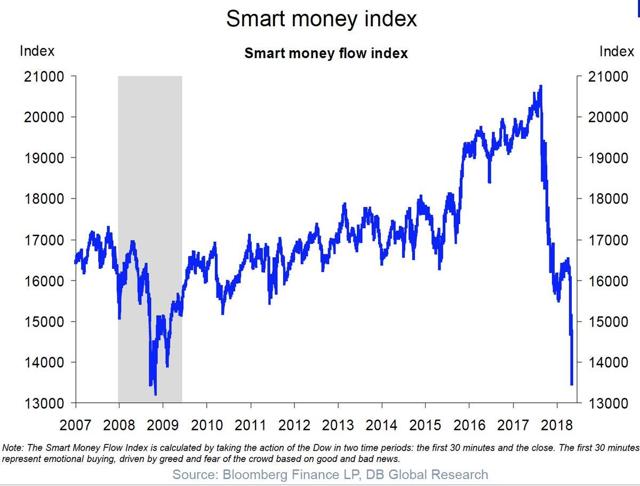 Financial Conditions Keep Tightening
Goldman Sachs (GS) financial conditions index suggests that further tightening is taking place as (and likely because) markets tumble.
Conditions have tightened so sharply, investors are beginning to suggest that the Fed could limit the number of times it raises interest rates.
That's quite a dimming outlook for the US economy.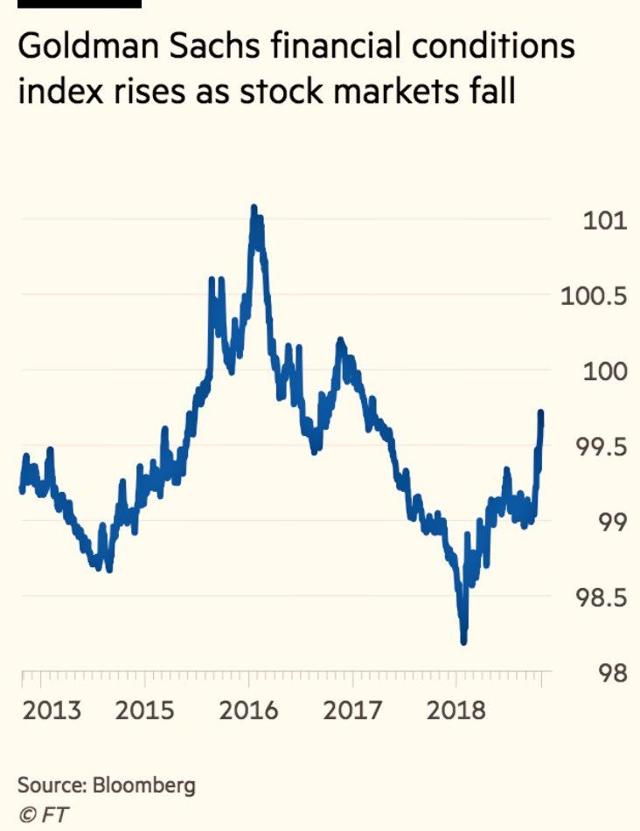 What Risk Models Tell Us?
On one hand, risk models of JPMorgan (JPM) suggest that we are getting closer and closer to the next recession.
JPM's 12-month-ahead US recession probability index has jumped to over 30% - the highest level since mid-2016.
Headwinds are building as the global CapEx cycle is at risk settling in closer to just 4%-5% Y/Y growth, rather the 5%-6% many have been looking for.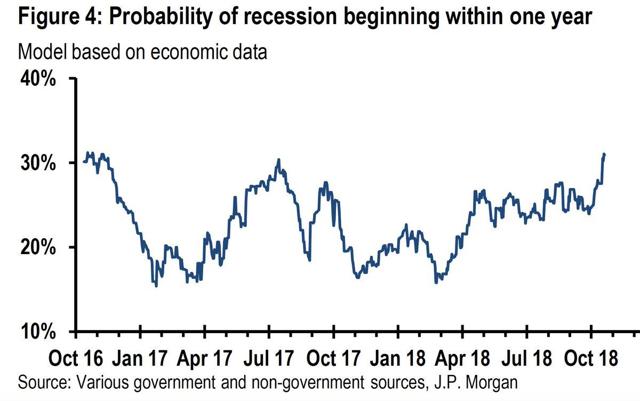 On the other hand, the very same JPM is cautioning investors by predicting that we have at least another year until the next recession is upon us.
Many trades are asking themselves are current real yields - i.e. nominal yields minus inflation - are implying that a recession is coming soon? JPM is coming for help here, suggesting that the current negative (real interest rate) readings are no-where near the levels they "suppose" to be at, ahead of a recession.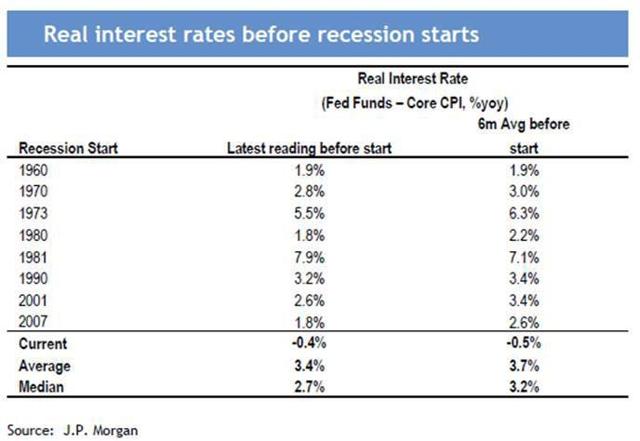 Time Left till Next Recession
Bloomberg National Bureau of Economic Research ("NBER) is also saying the exact same thing. According to the NBER, a recession is unlikely to unfold within the next 12 months, which means you have a green light to keep holding your beloved equities.
On the other hand, once we move below the 12-month mark (till a recession) - you may wish to start heading towards the exit door. Keep that in mind!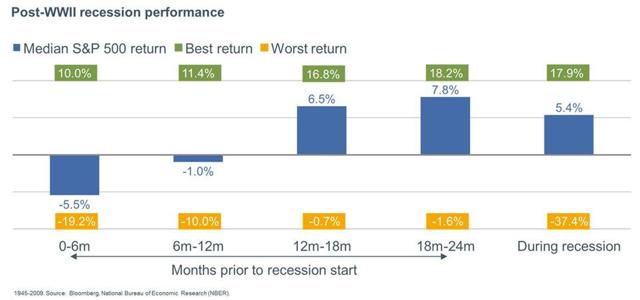 Bottom Line
Overall, October has been a very rough month for investors. There are enough models suggesting investors should take it slow from here.
Having said that, following the lead of JPM and NBER here, one may conclude that, in-spite of the risk of a recession being (much) higher these days, 2019 gets a "clearance" when it comes to investors remaining invested in stocks (SPY, DIA, QQQ, IWM).
I guess this can get into the "Things That Make You Go 'Hmmm'" box too...
Perhaps the most reliable indicator of them all is CNBC's airing another "Markets in Turmoil", making it a much safer bet to remain fully invested in equities, from a probability perspective...
Dear Santa Claus, we're ready for an end-of-year rally!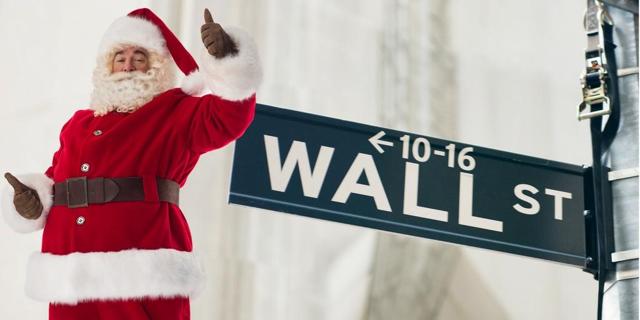 Author's note: Blog post notifications are only being sent to those who follow an author in real time. In order to receive notifications for both articles and blog posts, go to Author Email Alerts, which lists all the authors you follow, and turn on "Get e-mail alerts" (see below).


The Wheel of FORTUNE is one of SA Marketplace's most comprehensive services. We view our service as a "supermarket of ideas" with an emphasis on risk management and risk-adjusted returns.
Our monthly review for October, where you can find all suggestions since launch, is only one click away.
We cover all asset-classes: common stocks, preferred shares, public debts, baby bonds, options, currencies, and commodities.
With Trapping Value on-board, you're getting two leading authors for the price of one.
Before committing to the service on a long-term basis, take advantage of the two-week free trial.
Disclosure: I am/we are long JPM.
I wrote this article myself, and it expresses my own opinions. I am not receiving compensation for it (other than from Seeking Alpha). I have no business relationship with any company whose stock is mentioned in this article.