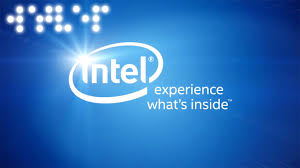 Q3 results are out for both Advanced Micro Devices (AMD) and Intel (NASDAQ:INTC). In the current installment of this series I look at the results to see if the new AMD chips are having a significant impact on Intel. With INTC trading just below $47, it's finally at a good value.
What did I think about INTC and AMD last time?
On July 29, I published the previous installment of this series on AMD and Intel. In that article I compared the Q2 2018 performance of both companies in order to judge the impact AMD was having on the sales and profitability of Intel. Intel has been doing quite well so far despite increased competition from AMD. AMD has managed to turn itself around and become a profitable company selling competitive products. In my opinion, it has been consumers who have benefited the most from this increased competition. I still saw minimal impact on Intel's sales from AMD's new chips.
At the time, INTC was selling a bit high to be a very good value. I thought the revenue miss from the data center segment might push the price down enough to make it a buy if one was patient. On the day before Intel released Q3 results, that patience would have paid off as Intel closed below $43.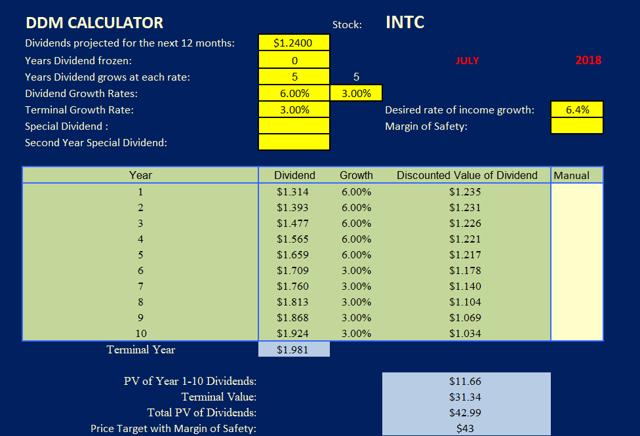 Before I look at what is new for INTC, let's look at AMD
Looking at the slide show prepared for the Q2 2018 earnings report, this summary slide provides the information from last quarter for comparison purposes with the latest quarter. This was a good quarter for AMD, revenues were up 40% while operating income increased nearly 10 fold.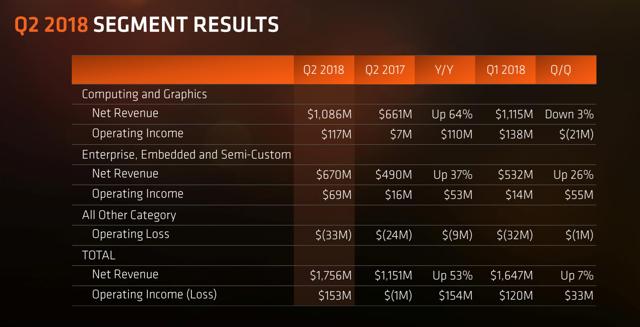 Figure 1 Source Q2 AMD Results
My big takeaway here is that both revenue and income are up for the Enterprise, Embedded and Semi-Custom group, where Epyc sales are recorded, by very impressive numbers. I note that this increase in revenue was listed as being due to growth both in the semi-custom sales and growth in Epyc sales (with semi-custom listed first) and that income was driven by a surprising growth in semi-custom sales.
Here is the same slide from Q3's presentation.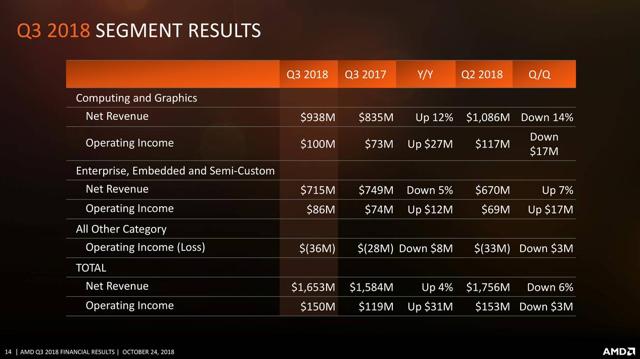 Figure 2 Source AMD Q3 Results
Q3 2018 was yet another pretty good quarter for AMD. Total revenues were up by 4% over the same period last year. While not as large as some of the increases of late, it is also the 10th time in a row quarterly revenue came increased over the prior year. Operating income also was up by double digits.
The one less than positive note this quarter was in revenue for the EES (Enterprise, Embedded and Semi-Custom) segment which was down from last year by a modest 5%. That in my mind was largely offset by the $12 million (16.2%) increase in operating income from the segment. Given the run up in revenue that AMD has seen, it is not a bad thing if every so often they trade a bit of sales for more income.
What did the latest earnings report say about Intel?
The first step in evaluating Intel's performance in Q3 is to look at what it expected for this quarter when it reported results last quarter earnings release.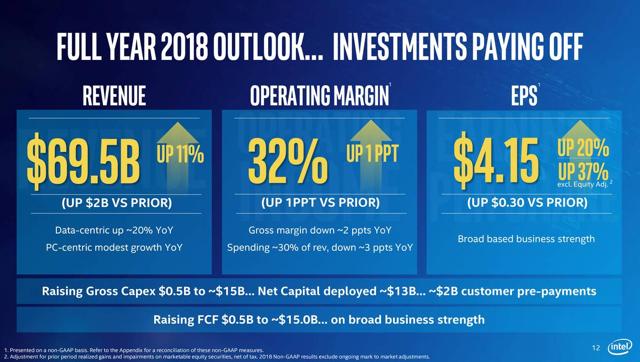 Figure 3 Source Intel Q2 Results
Not only are these pretty good numbers for the year, but they are improved, yet again, over prior guidance. That says to me that management was pretty confident about performance for the rest of the year. An 11% YoY growth in revenue is not what one would expect from a company the size of Intel if it were encountering serious competition pressures on sales or prices. The increase in capital spending might indicate such pressure, but that's being done mostly to up production volumes because of chip shortages.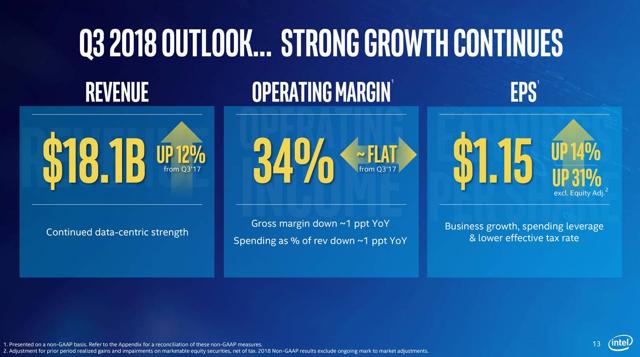 Figure 4 Source Intel Q2 Results
Looking at what management had projected for this quarter, I again see a lot of confidence. I also don't see a lot of impact from anything AMD had been doing. Q3 last year was a very strong quarter, so I see the strong prediction as yet more confidence from management and a strong increase in performance.
I always like to look at what management projects for results for the next quarter. With such a short time frame, management tends to have a good handle on what will happen then. Management is projecting that revenue will go up 12% and EPS will go up 14%. Remember that management had projected a 10% increase in revenue for Q2 and got 15% instead.
So now let's move on to the most recent earnings presentation.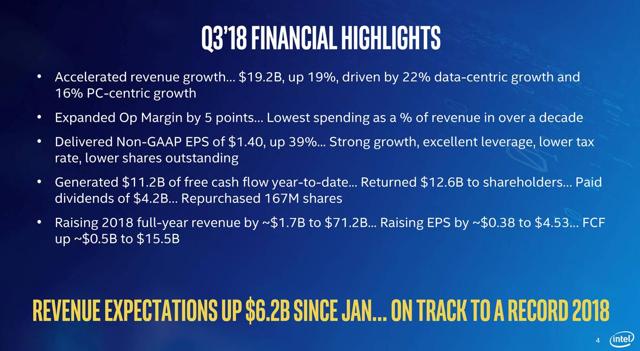 Figure 5 Source Intel Q3 Results
For those who are expecting Intel to come crashing to earth because of AMD's improving performance, Q3 isn't the quarter where that has even started. Management guided for $18.1 billion in revenue for the quarter, and actually generated more than a billion dollars more with $19.2 billion for the quarter. All and all Intel more than delivered this quarter. Management also guided for operating margin to remain flat, but it actually improved by 5% (and set a record). Management guided for a Non-GAAP EPS figure of $1.15 a share and beat that by 25 cents.
This is only a single quarter, but that's still some significant growth. And do note, just like every other quarter this year, Intel again raised its full-year guidance on revenue. This time the increase in revenue guidance for the full year is actually more than the revenue AMD had this quarter. So far this year, Intel has raised revenue guidance around the same amount as AMD is likely to have in full-year revenue.
Let's look at the two biggest segments as I did last time.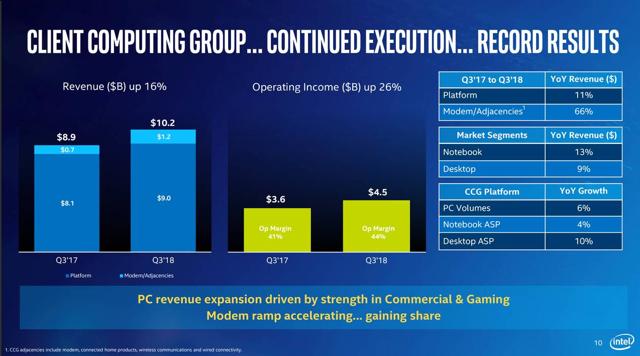 Figure 6 Source Intel Q3 Results
Here we have the group where Intel reports its PC chip sales. Total revenue for this group is up 16%, but in part that's due to a fairly big increase in revenue from modem sales. Still the $900 million increase is pretty good as well as being pretty close to total revenue from the analogous AMD segment. I think it's a good sign that revenue is up both from desktop and laptop markets. Total volumes increased as well as average price.
However, I think the increase in desktop chip prices is largely due to Intel not being able to meet demand for these chips as it begins switching FABs to new technology. In my mind this validates management's decision to increase capital spending to ramp up more production on the current set of chips.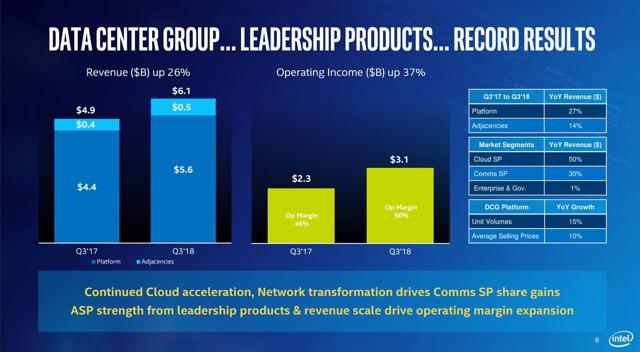 Figure 7 Source Intel Q3 Results
The slide above showing the performance of the Data Center group looks outstanding to me. Unit volumes are up and so are average selling prices. With operating income increasing more than revenue, Intel also is selling a more profitable mix of chips.
In fact, I still think the greater threat to Intel's dominant position in the data center is posed by AMD's Vega GPU and similar products by Nvidia (NVDA). With the growing number of GPUs used in data center servers I continue to think that Intel's lack of a competitive product will become a problem. I think AMD's best edge in data centers comes not in the Epyc chip alone but in the combination of Epyc and Vega chips and their better integration.
I do think it's good news that some are seeing evidence that Intel could begin its ramp of 10nm chips as early as April. Right now, in order to meet demand, Intel is having to put more money into FABs running its older processes. While that seems to be profitable for now, the sooner Intel can start putting out 10nm chips in volume the sooner it can both improve its price mix and spend its capital on higher end and more profitable chips.
What's a good price?
To figure out a good price, I do a DDM calculation using my Excel-based DDM calculator (pictured below, you can see the web-based calculator I based it on here and read a discussion on how the formulas were developed here). I also found this discussion of DDM, and note that in the article the author uses a discount rate of 5%.
While I usually look to David Fish's CCC List (which contains data on companies that have raised their dividend each year for five or more years), Intel hasn't requalified for inclusion on that list yet. Intel has been on the list in the past, and it's again increasing its dividend. Since another quarter has gone by I will assume that one quarter at the current rate will drop off and be replaced by a quarterly dividend that's 2 cents higher than the current dividend to calculate that the dividends for the next 12 months, which will result in that figure being $1.26. Given that Finviz now projects a five-year CAGR for Intel's earnings in excess of 10%, I will bump up by dividend growth rate to 7%.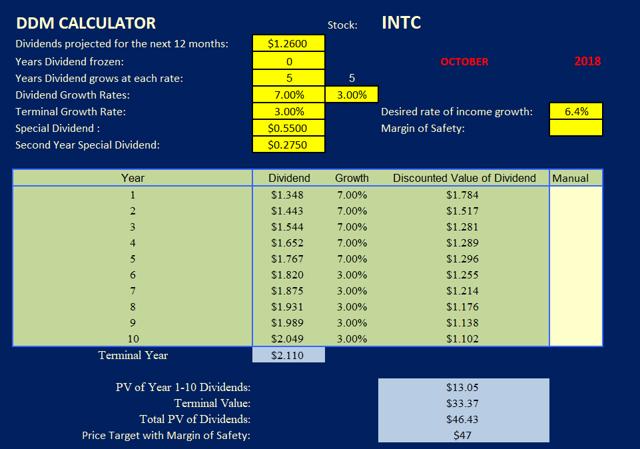 Using those parameters, I calculate that the NPV (Net Present Value) of the predicted dividend stream is $46.43. That sets my buy price at anything under $47. INTC is currently trading just under $47, making it a good value at this time.
The four-year average yield being 2.59% which is below the current yield of 2.64% is more evidence that INTC is trading at a good value. I think that dividend growth investors should take a close look at INTC and see if they can find a place for it in their portfolio.
What to watch for going forward?
Intel gave guidance for the next quarter and the full year in the latest earnings conference call. Let's look at full year guidance given in the last two quarterly reports.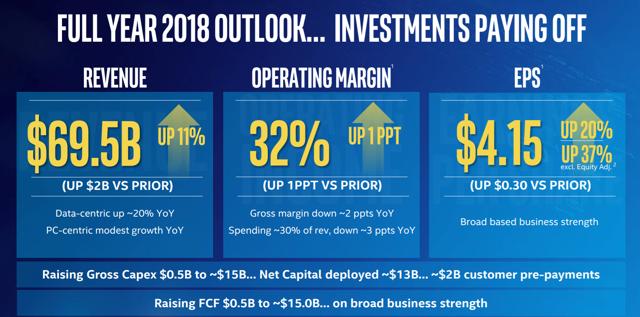 Figure 8 Guidance from Q2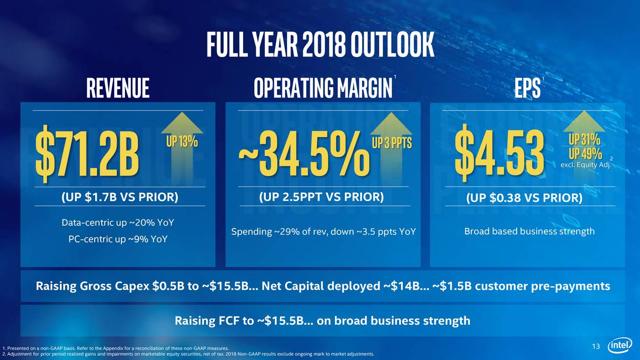 Figure 9 Guidance from Q3
For many companies, a 2.45% increase in revenue YoY would be reasonably good, but that's just how much Intel increased its full-year guidance for 2018 this quarter. The same can be said for the 12% EPS increase.
Intel is now guiding for a 13% increase in full-year revenue for 2018 over 2017. And a 31% increase in EPS. That's very good news for any company, and for one the size of Intel, it's great. If the market will only afford me the opportunity to get some shares at a good value.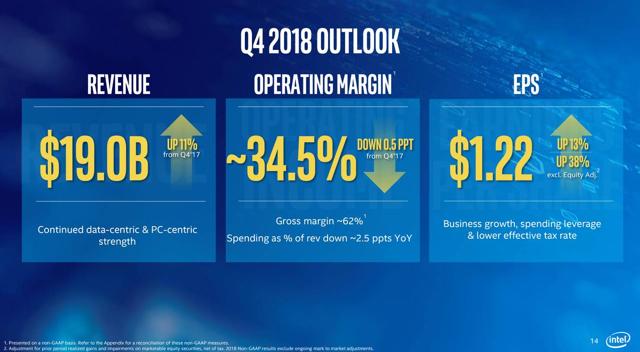 Figure 9Guidance from Q3
The guidance for Q4 also looks like that will be a good quarter as well. Back in 2017, Q4 had the highest EPS of any quarter during the year. So while the 13% growth in EPS from a year ago that management is giving for Q4 is a lot less than the increase this quarter, I think this is just management being modest and prudent. I expect the actual numbers will come in at least a bit higher.
Conclusion
Intel put in a very good quarter. And despite that it's still trading at a good value, something INTC hasn't done for a while. I think dividend growth investors have an opportunity to get a great company that's again growing and pays a good price for its shares. AMD is still doing great but it's not slowing Intel down in any way I can see.
Note: I hope you all got something out of this article. I do appreciate the time you took reading it. If you are one of those who follow me here, I appreciate it; if you'd like to include yourself amongst those individuals, pl ease hit the "Follow" button next to my name as well as following other contributors whose work you enjoy. As always, please leave any feedback and questions you may have in the comments below.
Disclaimer: This article is intended to provide information to interested parties. As I have no knowledge of individual investor circumstances, goals, and/or portfolio concentration or diversification, readers are expected to complete their own due diligence before purchasing any stocks mentioned or recommended. The price I call fair valued is not a prediction of future price but only the price at which I consider the stock to be of value for its dividends.