We never really tried to time the market, which we hold as an inexact science at best or more likely an art form. What we do for the SHU portfolio is to select companies which we think are:
Growth stocks like JD.com (JD), Baozun (BZUN), Trade Desk (TTD), Alibaba (BABA), and Nutanix (NTNX).
Special situations like turnarounds; Inseego (INSG).
Looking at our SHU portfolio, in the first category are companies like JD.com, Baozun, and Nutanix. While all of these were up significantly at one time since we started our portfolio (September 29 last year), with JD.com in the list, you'll quickly realize this isn't a guarantee of anything.
If timing the market is too onerous, one should at least get the direction right. By this, we mean company development should be positive, with revenues and operational performance like EBITDA growing.
That way, one can sit out the unavoidable market swings that will depress share prices from time to time
JD.com
That there are no guarantees in investing life is displayed most notably by JD.com. The depth of JD's decline has baffled us a little, quite frankly (from FinViz):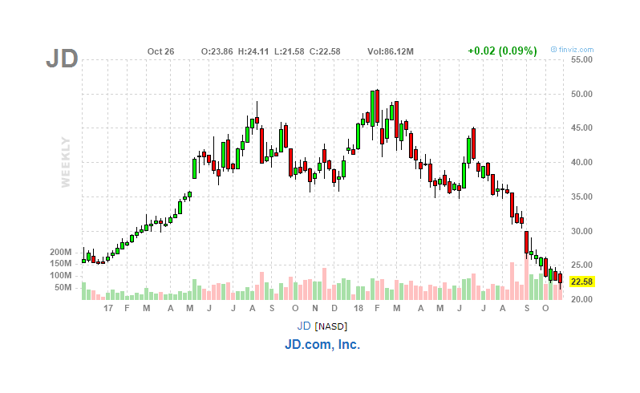 We bought at $38 on September 29 last year (our first buy) and then again $37 on April 23 when it came off the highs this year, a little above what we thought was a pretty strong support at roughly $35.
Barring a hard Chinese landing, we couldn't really imagine any scenario in which the shares would crash through that $35 support, given that the company has been well managed, generates cash, is still growing revenues at 30% and has a logistics and finance business which are worth half its market cap or so.
Add to that $5 per share in cash and there is actually little left for its core e-commerce platform. In fact, the whole of JD.com is valued as a stagnant if not dying bricks and mortar chain: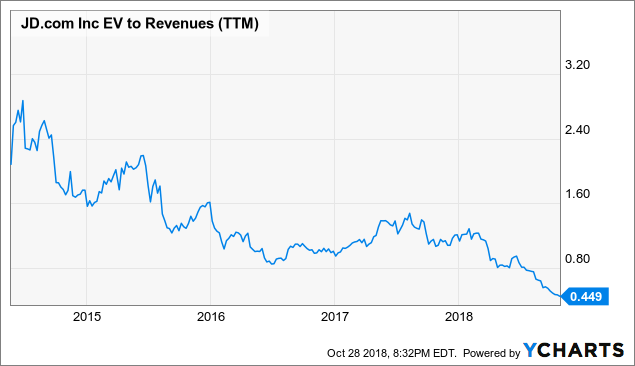 Yes, they generate puny margins, but these are set to improve if their epic investment into their logistics business starts to taper off, here is JD's CapEx (from Koyfin):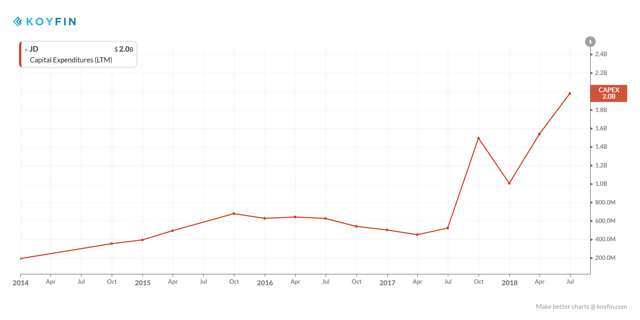 Combine that tapering with the rapidly increasing income from that logistical business selling it as a service to third parties (which increased by 150% in Q2, albeit from a small base) and you have the perspective for considerable improvement.
As you can see below, net service revenue is rising considerably, even if it still constitutes less than 10% of overall revenue, from Trefis: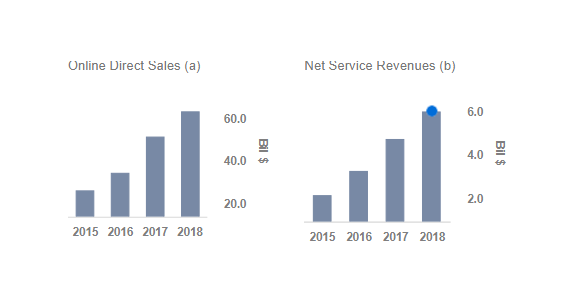 They also recently moved into the cloud business and are expanding internationally to South East Asia and also Russia, the US, and Europe.
The company has big partners in Tencent (OTCPK:TCEHY) (which owns 18% of the company), Walmart (WMT), and recently even Google (GOOG) (NASDAQ:GOOGL). But the shares sell for 0.45 times sales, and that's backward looking. The recent travails of the CEO certainly haven't helped, but he is still not formally charged.
SA contributor Li Li has noticed from Chinese sources that the accusation of the CEO hasn't impacted the company's user base: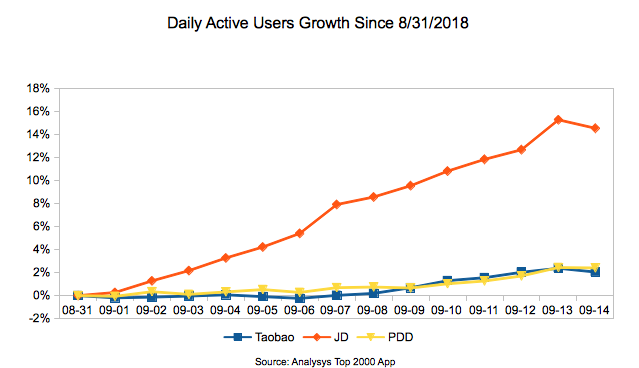 Li has two explanations for this surprising development:
The current hostile relationship between the US and China makes some conspiracy theories about the incident more believable to ordinary Chinese, and thus, he may be viewed as a victim of sort by some.
JD and Richard Liu himself have nurtured a fairly "clean" reputation, and Richard Liu, in particular, has treated his army of blue-collar delivery personnel much better than the industry, all of which may have built some amount of goodwill for him and the company.
It isn't like the company is about to go down the drain. Yes, growth has slowed down significantly, much of this is the result the law of large numbers and a decline of the take rate, here is Trefis to explain that:
As a result, JD.com's implied take rate - or revenues generated per dollar of GMV sold on its platforms - is much higher (26%) compared to Alibaba (around 10%, which includes both commission and marketing fees). In recent years, JD.com's take rate has fallen from 38% in 2015 to 26% in 2017. As the company continues to scale up, we expect the take rate to continue to decline accordingly. We forecast the take rate to be around 20% for 2018.
The difference with Alibaba is, of course, the result of the difference in business model, where Alibaba operates as a middleman not owning inventory or marketing it, whilst JD.com sells for its own account like Amazon (AMZN). From Trefis:

That decline in the take rate might look worrying to some, but it hasn't affected gross margins: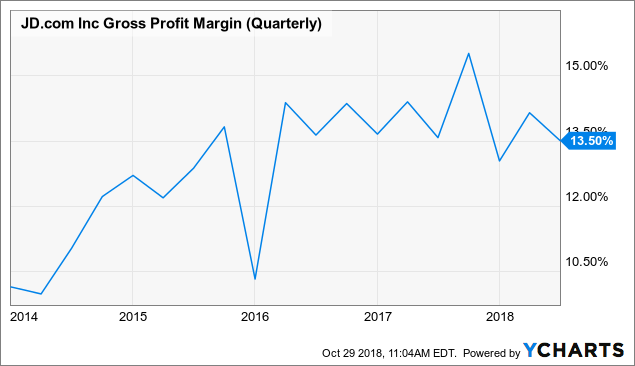 Unless there is a hard landing in China, we still expect these shares to recover. Wages and consumer spending are still growing briskly in China, and online sales are still increasing as a part of retail.
It will take time to scale up sales of their cloud, logistics, and other businesses (they recently moved into online insurance) to make a material impact, but that will happen.
Nutanix
This one was one of our star performers as we bought it at $22 and change in late September last year, but needless to say, it's also off quite a bit.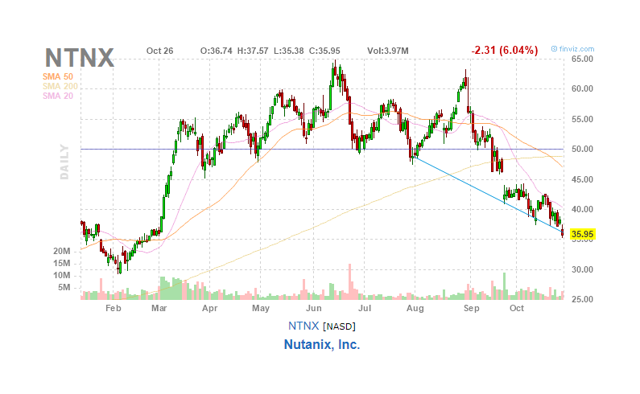 We recently wrote about this, so we refer you to that article for more details. This is also a question of a company investing a lot: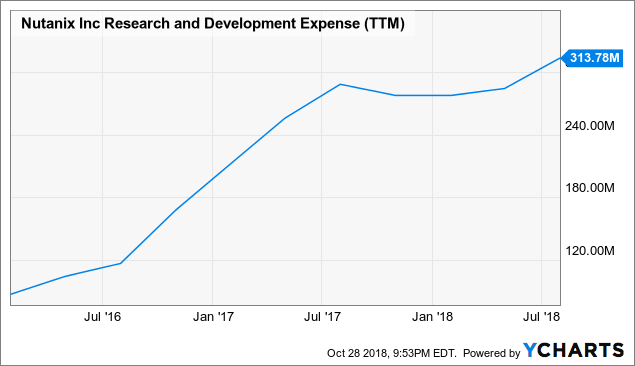 Developing a host of new products. The jury is still out on how the market will receive these, but there are no signs of any serious growth slowdown, so we don't think we got the direction wrong here.
Baozun and Alibaba
We have two other Chinese stocks, Baozun and Alibaba, it's difficult to see how we got the direction wrong on these as well. Even if they have now both turned negative for us, both companies are still solidly growing.
Bear in mind that Baozun's revenue growth is greatly understated as a result of their change in business model, which moves them from gross to net revenues, which is a drag on growth but a boost for margins. Even so, their revenue growth has been pretty spectacular despite that change: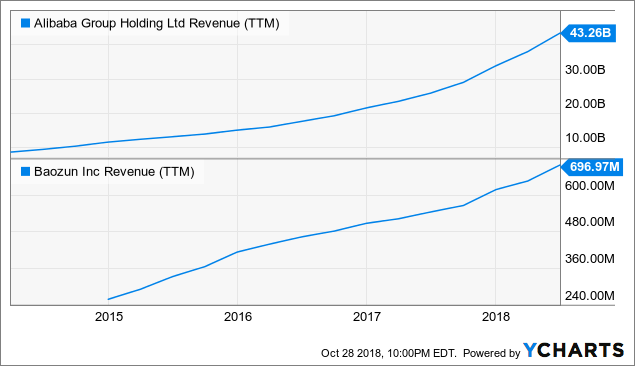 Also operationally, although much more convincingly so at Baozun: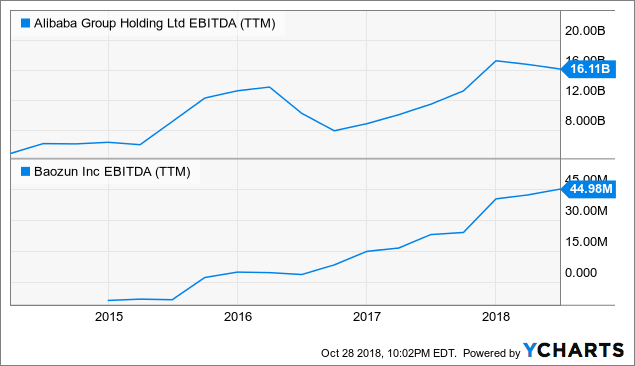 We struggle to see what could change fundamentally this picture, barring a wholesale hard landing of the Chinese economy. So, we're not selling these either.
Hedging
What is one to do when good companies turn into bad stocks? Well, the first is to ascertain whether they're actually still good companies. Of the four companies discussed, we've seen little convincing evidence that there is something fundamentally changed.
We think the big declines are caused by the bad sentiment in China and a shift out of technology in the US in October, but there is another risk we have to point out which can hit good companies enjoying a good stock performance.
This is the risk of a considerable deterioration in the economic outlook increasing the odds for a bear market.
With the risks out there in the world economy (rising rates, rising dollar, China slowdown, Italy's public finances, emerging market dollar debt, US-China trade war, take your pick), these risks have considerably increased. How to protect oneself from that?
One could buy protection in the form of put options, and SA contributor David Pinsen has shown how this has (roughly) halved the losses in JD.com and Alibaba.
Kudos to him, but we don't like buying puts because of their time decay and expiration. If stocks decline only a bit, you lose the premium even if you perhaps sleep better at night.
And when you really need protection, the demand is much bigger and premiums tend to inflate.
One of the most stunning pieces of market hedging we have ever seen was displayed by another SA contributor JD Henning. He apparently bought a volatility ETN called the VelocityShares Daily 2x VIX Short-Term ETN (TVIX):
I have been documenting the increasing signs of market deterioration and breakout conditions for inverse hedge trades from October 4th with two forthcoming articles
We assume he entered TVIX position somewhere early October. We don't have a subscription to his marketplace service, so we can't trace the exact date but his disclosure on an article appearing on October 14 stated that he was long in TVIX, and all his subsequent articles have the same disclosure.
We have to say, it takes nerves of steel and an ironclad conviction to hold an instrument like TVIX for longer than a couple of hours, in our view. Here is why: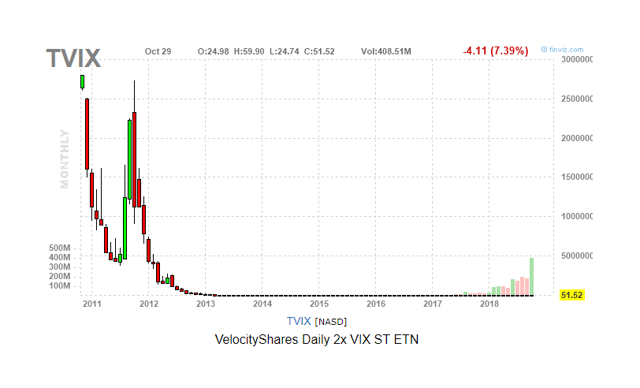 This is one of the most comical graphs out there, it isn't even clear whether the price (corrected for reverse splits) came down from $25M or $2.5M. Whatever that figure was, they are now trading around $50, but this is still double from the start of October when the market mayhem started in earnest: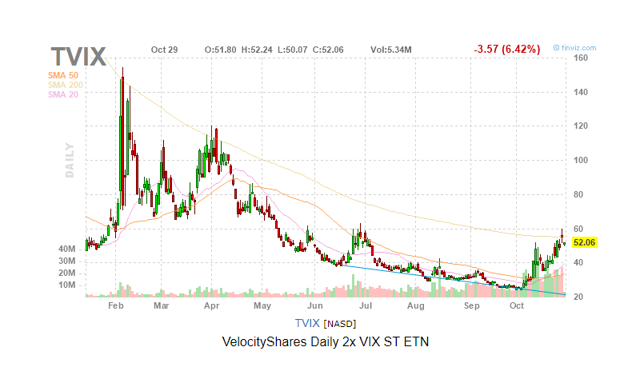 One has to get the timing almost exactly right here; apparently, JD Henning's proprietary model produces the levels of conviction that allows him to take this on.
Retail investors are often advised not to time the market with simple buying or selling stocks in their portfolio. This is taking timing to a whole new degree, with very little margin of error and magnified losses for even small errors. Truly, knife-edge investing which we wouldn't dare, and urge investors not to try at home.
These losses could be capped with a stop-loss, but even that is really difficult. Given the volatility in TVIX, these have to be set with a considerable leeway, otherwise, you risk being stopped out for no apparent reason.
Highly impressive stuff from JD Henning all around, we have to say.
A hedging strategy with much less knife-edge properties would be to replicate the strategy of the famous 50 cents VIX option buyer. Here is Bloomberg:
"50 Cent" is back. Or at least, a pretty convincing impersonator who spent $5 million on volatility hedges this week. The mysterious buyer, or buyers, earned the nickname -- a play on the rapper Curtis Jackson, known as "50 Cent" -- after relentlessly purchasing huge lots of call options tied to the VIX at around 50 cents a pop. A nearly identical trade was put on over the past two days, likely intended as a hedge, betting that equity-price swings will rip higher with the Cboe Volatility Index sitting below its two-year average. On Tuesday morning, 50,000 call options with a strike price of 28 were purchased at 50 and 51 cents a piece. Then at 9:50 a.m. in New York on Wednesday, the same trade was made at 49 cents a piece. The options expire in August. The VIX is currently below 13. The enigmatic figure had disappeared from the spotlight after a big pay-off in February, when the VIX surged to 37.3 from 17.3 in just one day. The out-of-money options were estimated to have earned $200 million during the volatility explosion.
The size of the bet is remarkable, 50,000 call options at roughly 50 cents is a $2.5M investment and you need quite a pop in the VIX for that to become lucrative. What's more, you need that pop fairly soon given the two months until expiration. You also see the time decays of these options (from Bloomberg):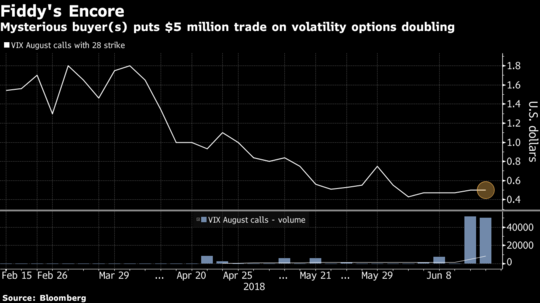 And, of course, with the VIX now at twice the level, this strategy has become less attractive as well, the options are way more expensive and you have to rely on a pop well above the execution price and within the expiration date of the options.
In short, this also suffers from a timing issue almost as bad as TVIX. Another complication is that you have to exit the instrument as well, even if it's up, constantly weighing the chances of another spike in the VIX during the time left to maturity. Good luck to that.
The 'hedging' strategy we have chosen in the SHU portfolio is simply to have considerable amounts of cash available. Others we are considering is selling options (either puts or covered calls) or trading positions around a core holding.
Conclusion
Good companies can turn in bad stock performances and a shift in the macro risk and overall market conditions can make the situation worse. The first thing one has to do is to ascertain whether the companies are still good companies, in the sense of growing revenues and earnings.
We think that this is the case even for JD.com, which has seen its stock price down 40% or so from where we bought, but the way back isn't easy, given the deteriorating macro outlook.
Hedging strategies can be deployed, but most of these suffer from time decay making this a difficult and/or expensive proposition which is augmented by the fact that these instruments get more expensive when you need them most.
The SA universe has some contributors who have gotten this right, and some of this has been deeply impressive, but we doubt whether retail investors can consistently reproduce these efforts.
More simple strategies are to have cash in hand, to trade around core positions, or to write options.
Disclosure: I am/we are long JD, BZUN, BABA, NTNX, TTD. I wrote this article myself, and it expresses my own opinions. I am not receiving compensation for it (other than from Seeking Alpha). I have no business relationship with any company whose stock is mentioned in this article.