Overview
Dividends form a major source of income for equity market investors and is the most widely adopted strategy by companies to distribute wealth to its shareholders. Dividend hikes on the other hand are considered a sign of economic power and growth of a company.
U.S. equities have delivered strong returns for investors over the last decade and a significant portion of this growth is attributable to capital gains. The Dividend component of total returns for the S&P 500 index has been falling consistently in the recent past.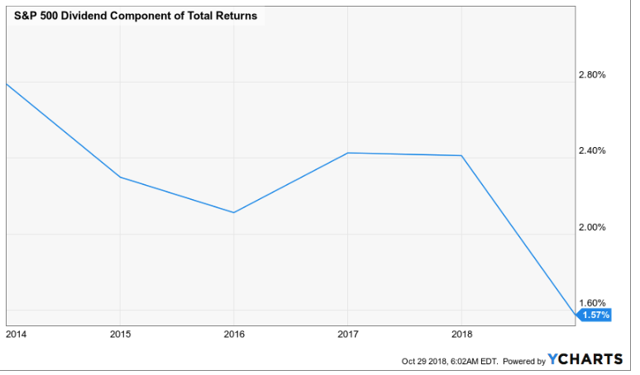 (Source – YCharts)
In the last 12-month period, dividends have grown at 8.65%, which is a significant move up from the close to the 5% annual dividend growth figure reported for the period ending December 2016.
Annual dividend growth (1990 – 2018)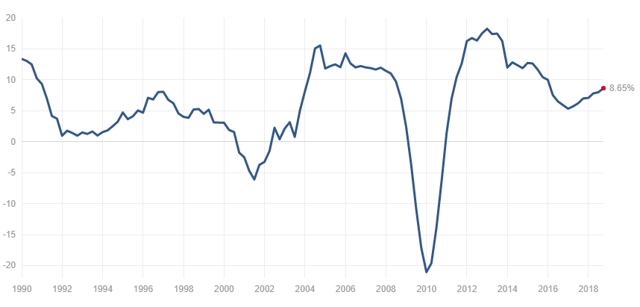 (Source – multpl)
The S&P 500 dividend yield on the other hand currently stands at 1.97%.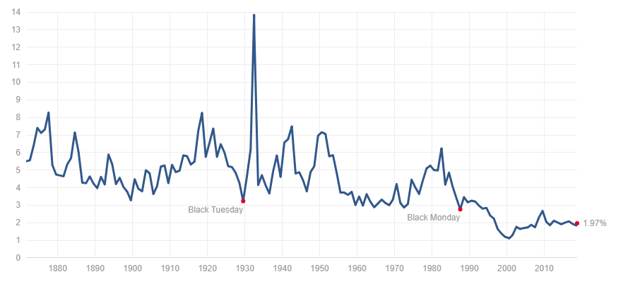 (Source – multpl)
However, income-seeking investors might be tempted to invest in treasuries as rates are on the way up and this presents an opportunity to reconsider investing in emerging markets in the hope of achieving greater returns but the macroeconomic situation does not warrant investing in emerging markets due to heightened foreign exchange risk in an environment in which the dollar is appreciating. This has prompted money managers to shift from emerging markets to safe haven investments.
Amidst these facts, investors might miss the attractive dividend yields offered by listed companies in the United Arab Emirates.
UAE markets and the opportunity
The United Arab Emirates has three stock exchanges.
Being one of the most stable economies in the Gulf region, investors can approach UAE markets with confidence. On the aforementioned exchanges, some of the UAE's major companies including banks are listed and few of these companies present a stable income stream to its investors via dividends.
I have compiled the below list to depict the sort of dividend yields that are available on UAE markets. A note of caution is that this is not an in-depth analysis of these companies nor an investment advice. The list below was compiled focusing the dividend yields and a thorough analysis should be conducted on other aspects of these companies prior to making any investment decision.
| | | | |
| --- | --- | --- | --- |
| Name | Sector | Dividend Yield | P/E ratio |
| Abu Dhabi Commercial Bank | Banking | 5.45% | 8.79x |
| Abu Dhabi Investment Bank | Banking | 8.25% | 4.7x |
| RAK Bank | Banking | 7.32% | 7.93x |
| Sharjah Islamic Bank | Banking | 6.84% | 6.66x |
| Al Dar Properties | Property development | 7.06% | 7.2x |
| RAK Properties | Property Development | 8.85% | 7.1x |
| Alain Insurance | Insurance | 7.89% | 7.8x |
*Dividend yields are calculated based on declared dividends for the financial year ended 2017 and the current market price.
Majority of listed companies in the UAE have high dividend payout ratios, which represent a commitment to distribute wealth to their shareholders. While this could be considered as a sign of diminishing growth prospects, the truth is that these companies have built a hoard of cash which they can deploy at will to capture any growth opportunity.
Most companies listed on UAE stock exchanges have adopted a flexible dividend policy, which allows them to allocate capital efficiently. This establishes the commitment by these companies to focus on delivering value to shareholders in the long term by not being strangled to a fixed dividend policy.
A noteworthy mention is the stage of business life cycle of listed companies in UAE. The bulk of these firms are mature, stable companies that can afford to weather economic storms.
Foreign currency exchange risk
The United Arab Emirates dirham is pegged to the U.S. dollar at 3.67 and this addresses one of the major concerns of investors; foreign currency exchange risk.
As the dollar strengthens, investors become increasingly worried over foreign currency losses that could arise as the foreign currencies in which their investments are denominated in start depreciating.
Given the expectations of further rate hikes by the Fed and its impact on the U.S. dollar, investing in emerging, developing markets might expose investors to an additional layer of risk. In the case of investing in the UAE however, investors can rely on the pegged currency structure as this eliminates a major concern of global investors. In addition, the country welcomes investments from foreign individuals and corporates alike.
What's more, investing in UAE markets does not attract any additional tax burden since the country does not levy capital gains taxes, withholding taxes or income taxes.
AED/USD – 1-year chart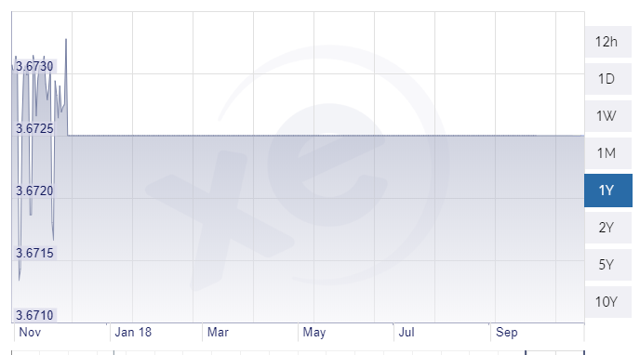 (Source – XE)
Considering the country's massive oil exports, it would be fair to reach the conclusion that the government will continue to keep their currency pegged to the U.S. dollar in the foreseeable future as dollars are used when exporting crude oil products and fluctuations in the dollar is detrimental.
UAE economy looks promising
Despite a weak GDP growth of 0.8% in 2017, the economy has recovered in 2018 and the consensus estimate is for the economy to grow above 2% in 2018 and accelerate further as EXPO 2020 approaches.
Infrastructure spending has been of significant magnitude since the beginning of the year and the tourism industry looks promising with more than 25 million visitors projected to visit the UAE for the EXPO 2020 event.
The real estate sector on the other hand is attracting millions of dollars from investors across the globe and the economy is increasingly becoming independent from income generated from oil-related economic activities.
The UAE government has taken major steps in diversifying the country's economy and 12 Key Performance Indicators were identified and declared, which would be used to assess the economic performance of the country.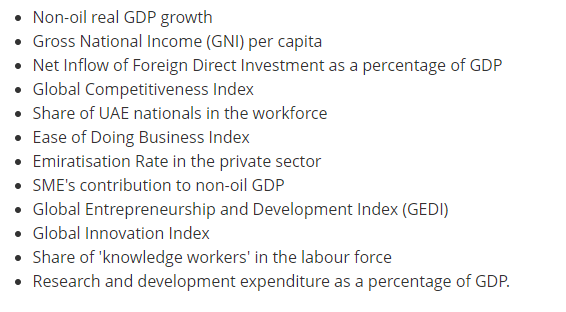 (Source – Government of UAE)
Currently, the non-oil sector constitutes more than 70% of the GDP and this is expected to increase to more than 80% by 2021. This paradigm shift is attracting foreign direct investments in the numbers of billions as the country is emerging as a nation resilient to oil price movements.
On the other hand, the country is set to benefit if OPEC decides to increase oil supply by the end of this year, as the country has sufficient spare capacity in production to capture this opportunity.
Overall, the economy of the UAE looks promising, stable and is certainly headed toward the correct direction, driven by major economic reforms.
Investing in UAE equity markets
Before considering investing in UAE equity markets, foreign investors especially should familiarize themselves with permitted investments and limits. Below is a summary of foreign ownership limits imposed by the three exchanges operating in the country.
Abu Dhabi Securities Exchange (ADX)
52 companies out of 68 listed companies on ADX permit foreign ownership of their equity securities and this amounts to 76.5% of listed companies. The permitted ownership percentage varies between 20% to 50% and further details could be obtained by contacting any brokerage house in the region.
Dubai Financial Market (DFM)
All but nine companies welcome foreign investments for their equity securities. Permitted ownership percentage varies from company to company and full information could be obtained on these levels by visiting the official website of DFM.
Nasdaq Dubai
Nasdaq Dubai does not impose any restrictions on foreign ownership of companies listed on the exchange. However, certain rules might apply under the UAE law, which could be clarified by contacting a brokerage house once again.
The next phase of the investment process is to understand the transaction fees involved.
DFM and ADX

Nasdaq Dubai

(Source – Emirates NBD)
Finally, a trusted stockbroker should be selected. The process is straightforward as the three exchanges have listed approved stockbrokers on their respective websites. (DFM, ADX and Nasdaq Dubai)
Investing in UAE markets from the US
Admittedly, UAE markets are nowhere near gigantic as financial hubs including the Wall Street or London but for sure is the financial hub of the region. Millions of dollars have been spent on developing infrastructure to promote investments in UAE financial markets and people sometimes might be surprised to hear that UAE welcomes all nationalities, religions and ethnicities, which is a major reason why it is home to more than 200 nationalities. Not surprisingly, 88% of the population are expats.
Given this background, one could expect UAE financial markets to be easily accessible from anywhere around the globe, which is of course true!
The process to open a trading account is simple and could be completed without ever visiting UAE as long as all necessary documents are in order.
Investors can choose between two options.
Selecting an online only broker such as Mubasher Trade Global, which facilitates seamless account opening for non-residents. Upon contacting Mubasher Trade via the chat feature or by e-mail, a representative will e-mail all documents including a FATCA form to be filled and sent back to them via post to open the account. The broker will guide the potential investor through the entire process.
Obtaining an Investor Number and then selecting a full-service broker to deal with. To obtain an investor number to deal on Nasdaq Dubai and DFM, investors can fill this form and submit the same online. As the second step, investors are required to contact a full-service broker and open an account with them. A complete step by step process is available on the Nasdaq Dubai website. In order to obtain an investor number to trade on ADX however, investors or their legal representatives are required to visit one of the ADX offices in person. While this may seem an obstacle, the easy get around is to contact a full-service broker and to authorize them to obtain the investor number on investors' behalf or to select an online only broker.
Obtaining an investor number and setting up a brokerage account to invest in UAE equity markets as a resident in the U.S. is a straightforward process. The UAE government is committed to promote investments in UAE financial markets to global participants and observantly, they go the extra mile to make investors feel at ease. One would be surprised to find that government institutions in the UAE are some of the friendliest and most welcoming institutions one would ever come across.
Alternatively, one could consider investing in the iShares MSCI UAE ETF (NASDAQ:UAE) but the ETF has historically failed to capture the available dividend opportunities in the region. The primary focus has been on the telecommunication and real estate sectors, probably with a view on capturing growth prospects in the coming years.
Currently, there are no ADRs based on UAE stocks either so investors would be better off setting up a trading account to handpick high dividend stocks.
As the country and region gain traction in the coming years, investors would probably have an increased array of options to choose from, when it comes to investing in UAE equities. While investors can of course participate in this growth story by opening a trading account with a UAE-based stockbroker, other investors who are not comfortable doing so can follow UAE markets and dividend stocks with a view of investing in these securities at a later stage when international investment houses based in the U.S. introduce investment products to capture a piece of UAE growth.
Not to forget, some UAE-based companies have already listed themselves on the London Stock Exchange, including NMC Health (OTCPK:NMHLY) that was listed with a market cap of less than $700 million but currently is valued at $6.85 billion and is an FTSE 100 component.
In my opinion, it would be just a matter of time until more UAE-based companies seek a global presence via listing their securities on global exchanges. On the other hand, global investment houses will soon be considering UAE as one of their go to investment marketplaces.
Risks and limitations
Capital losses
Despite the attractive prospects, if the UAE economy fails to grow, capital losses might wipe out attractive dividend yields. However, these capital losses should smooth out in the long term, meaning that investors with an objective to earn income while having time on their side are encouraged to consider investing in UAE-listed companies.
Policy changes on the pegged status of the currency
If the dirham is allowed to float freely against the U.S. dollar, investors would be exposed to foreign currency exchange risks. However, such a decision is not on the horizon at present.
Liquidity risk
UAE markets are nowhere near as liquid as U.S. markets or other developed markets for that matter. This presents a spread risk but once again, investors with a long-term investment horizon would be able to better counter this by allowing sufficient time for investments to grow.
Taxation
The government of UAE introduced a Value Added Tax of 5% on almost all products and services at the beginning of this year, which was indeed a revolutionary policy change since the country has never levied such a tax in its history. While the government is expecting to increase their income through the implementation of this 5% VAT, it would be unfair to predict that the government would come up with more taxes in the future, given that the nation's strategy is to attract foreign investments by providing tax advantages to investors.
However, if further taxes are introduced and implemented, investors stand to lose.
Informational inefficiency
Obtaining information on public listed UAE companies is not as straightforward as in developed markets. However, sufficient information could be obtained by contacting a stockbroker and following research reports provided by these brokers. One major drawback is the non-existence of crowdsourced platforms, which allow investors to discuss developing market trends and earnings.
Conclusion
Emerging markets have been battered and beaten throughout this year and investors are more inclined to invest in dollar-denominated investments. Despite the surrounding negativities, dividend-seeking investors should find investing in UAE-listed companies attractive. Despite the risks and limitations discussed above, UAE markets will continue to provide its investors with attractive dividend yields and single-digit P/E ratios should bring down the risks related to investing in these equity issues.
Disclosure: I/we have no positions in any stocks mentioned, and no plans to initiate any positions within the next 72 hours.
I wrote this article myself, and it expresses my own opinions. I am not receiving compensation for it (other than from Seeking Alpha). I have no business relationship with any company whose stock is mentioned in this article.