Since 2008 the Fed's Quantitative Easing program expanded their balance sheet by over $3.6 trillion dollars by buying U.S. Treasury and Agency securities. This money entered the banking sector as high powered money and given the current leverage of the banking sector could have been leveraged up to 11 times into bank loans.
However banks did not utilize these funds in this way, but simply returned the vast bulk of these funds back at the Federal Reserve as deposits of Excess Reserves. The ratio of excess reserves to QE peaked in 2015 at 80%, showing that the banks left this money largely un-leveraged.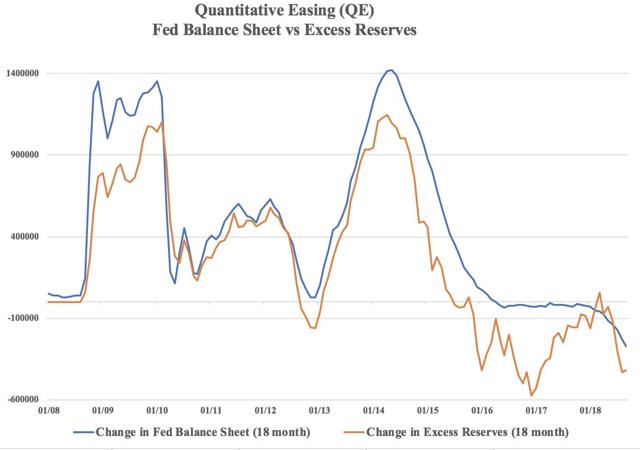 Source: Federal Reserve FRED database
While this did lower the cost of the funding for Treasury and Agency debt and helped keep interest rates low it did not powerfully enter the real economy as the money multiplier fell. This provided a great environment for financial assets but did not provide the boost to real economic activity that many people expected.
However starting in 2014 the level of excess reserves started declining and this continued and even accelerated as the Fed began its Quantitative Tightening program and began letting their balance sheet roll off. As these excess reserves enter the banking system they are naturally leveraged by the banking sector leverage ratio, currently at 11 times (Source: World Bank Database).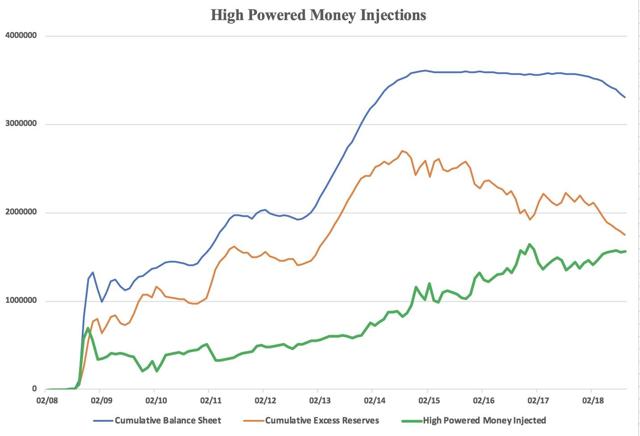 Source: Federal Reserve FRED database
Over the last 12 month, excess reserves have been drawn down by over $171 billion dollars, and on a leveraged basis this is equivalent of $1.89 trillion dollars of liquidity being injected into the real economy (calculation highlighted in above graph). This nearly 2 trillion dollars of liquidity is being injected as a point in the cycle where unemployment is at 49 year historical lows (currently 3.7%), core inflation has risen from 2.1% to 2.5% over the last year, and the real Fed Funds level remains near zero or even slightly negative (2.25% Current Fed Funds - 2.50% Core CPI)
So while many commentators are calling for the Fed to pause its tightening cycle and the President has called the Fed "loco", the clear evidence is that the Fed is working to limit the residual impacts of its Quantitative Easing program. And while the balance sheet rolloff has been clearly telegraphed and set in stone Chairman Powell and the Federal Reserve seems clear in resolutely using its primary tool of the Fed Funds target rate to combat this liquidity injection.
Though stock markets remain fragile and now are down 10+% on the month, unless there is instability (such as flash crashes, or thousand point daily moves) in equity markets, or much greater distress in credit markets (spread widening or liquidity disruptions) the Fed is unlikely to move to support equity markets until equities are firmly in bear market territory (down <+ 20%).
Currently Fed Funds Futures project a near certain 25 bps tightening in December and 1 and a half more tightenings in 2019 (CME Fed Watch Tool), which is the bare minimum that will occur unless there is dramatically more equity weakness. So for investors that are banking on the Fed to pause their tightening cycle or provide more dovish commentary to mitigate equity losses, they are likely to be sorely disappointed.
Disclosure: I am/we are short QQQ. I wrote this article myself, and it expresses my own opinions. I am not receiving compensation for it (other than from Seeking Alpha). I have no business relationship with any company whose stock is mentioned in this article.