Global stocks have lost $8 trillion in market cap during "Red October." That's the worst monthly loss over the past decade.
The last such monthly big loss of market cap happened in October 2008 - that's bloody October, once again...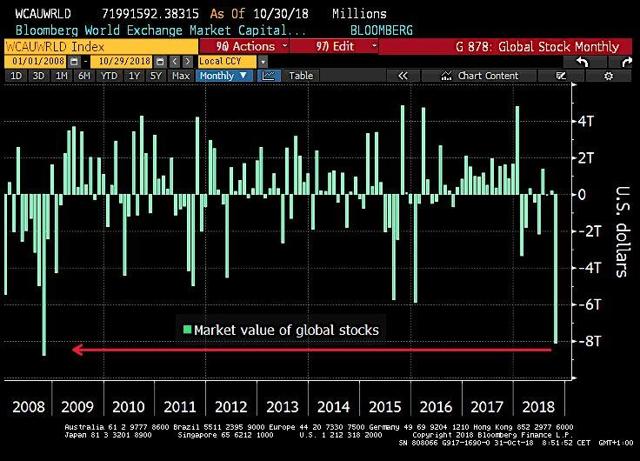 Nonetheless, in case you've missed it, a few days ago we found an unexpected stable asset.
Has Bitcoin (BTC-USD, BCH-USD, COIN, OTCQX:GBTC) indeed become "boring"? Just as things at traditional capital markets - i.e. stocks (SPY, DIA, QQQ, IWM) and bonds (SHV, SHY, IEF, TLT, LQD, AGG, BND, HYG, JNK, AWF, BKLN) - are getting interesting, one-month volatility of the biggest cryptocurrency has plunged to the lowest level since December 2016.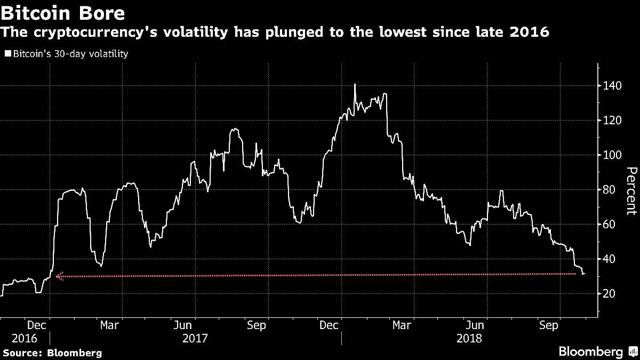 If you bought Bitcoin a year ago, you are now down 3%. That's the first year-over-year decline for Bitcoin since December 2015.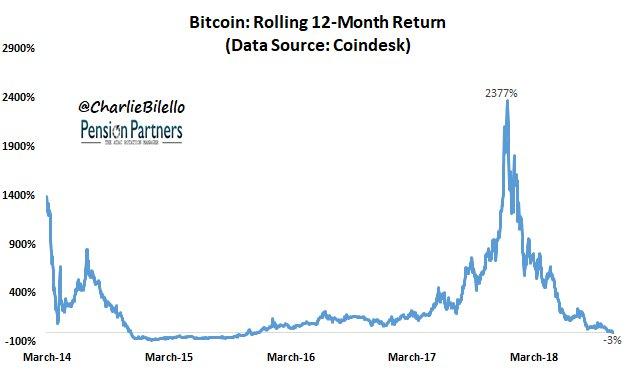 In the last three months of 2017, Bitcoin hit a new all-time high once every three days, on average. Bitcoin has now gone no less than 319 days without a new high.
The longest streak ever was 1,176 days (from December 2013 to February 2017).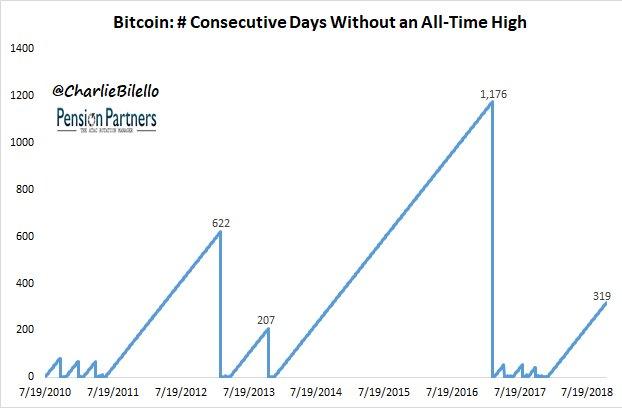 Having said that, Bitcoin's long-term trend lines suggest that the downswing isn't over yet. The most valuable cryptocurrency has dropped more than 60% this year, but divergence analysis doesn't portend for a positive future.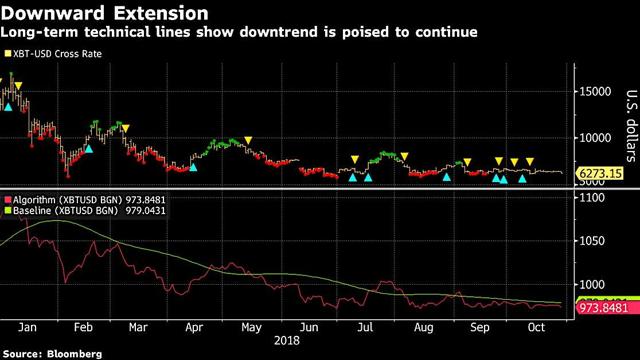 Bottom line: Not yet. Make it times two:
Certainly not yet boring, but also not yet worthwhile buying.
Author's note: Blog post notifications are only being sent to those who follow an author in real time. In order to receive notifications for both articles and blog posts, go to Author Email Alerts, which lists all the authors you follow, and turn on "Get e-mail alerts" (see below).


The Wheel of FORTUNE is one of SA Marketplace's most comprehensive services. We view our service as a "supermarket of ideas" with an emphasis on risk management and risk-adjusted returns.
Our monthly review for October, where you can find all suggestions since launch, is only one click away.
We cover all asset-classes: common stocks, preferred shares, public debts, baby bonds, options, currencies, and commodities.
With Trapping Value on-board, you're getting two leading authors for the price of one.
Before committing to the service on a long-term basis, take advantage of the two-week free trial.
Disclosure: I/we have no positions in any stocks mentioned, and no plans to initiate any positions within the next 72 hours.
I wrote this article myself, and it expresses my own opinions. I am not receiving compensation for it (other than from Seeking Alpha). I have no business relationship with any company whose stock is mentioned in this article.