Context
When you analyze Tesla, I believe that in order to be fair, you have to understand the history of the company. The company IPO'd in 2010, with heavy debt and cash burn and a dismal financial situation that many bears predicted would end the company. When Tesla CFO Deepak Ahuja was asked about the 9% layoff in Tesla's overall workforce a few months ago, he responded by saying that the layoffs are nowhere near as tough as it was in the 2010s when Tesla leapt from the Roadster to the Model S and began production. And while many have cited Tesla's poor price action in the year to two years, look at Tesla's stock since inception: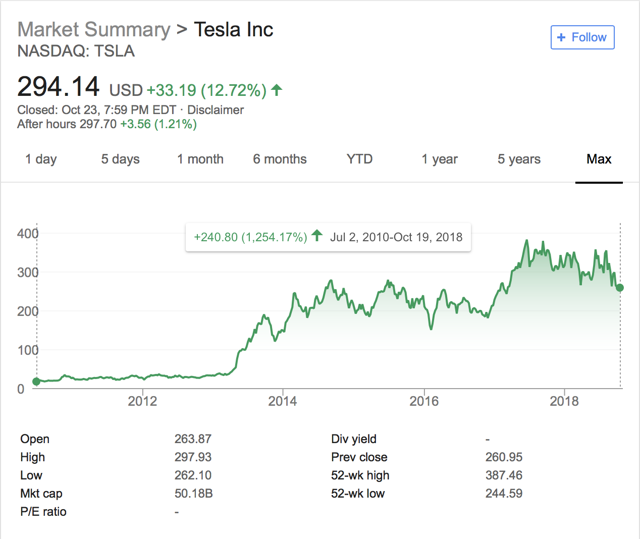 Since inception, Tesla has gone from being the laughing stock of the automotive world to a serious threat that automotive rivals have been reluctant to address despite the severity of the threat. Tesla has three factories, three production vehicles, and, in my opinion the most valuable technology brand since Apple (AAPL). Tesla has a lot of the same traits that Apple does. Both create elegant yet simple and technologically advanced products that the average person can understand while still creating marvelous products. The Model 3 is evidence: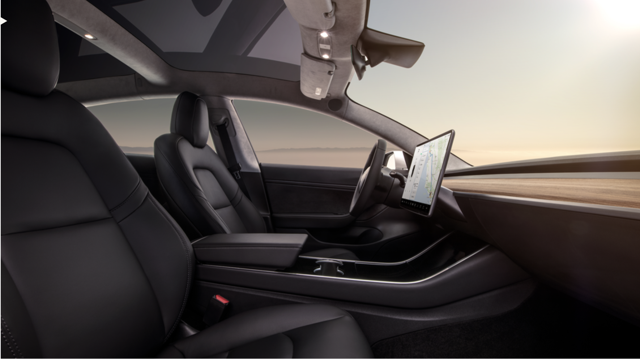 (Source: Mashable)
This ability to build great yet simple technology is the key reason that Tesla has created such a phenomenal and enviable brand. When hundreds of consumers are waiting outside for hours to reserve the Model 3 without test-driving or experiencing the vehicle, you know that the brand is more than intact.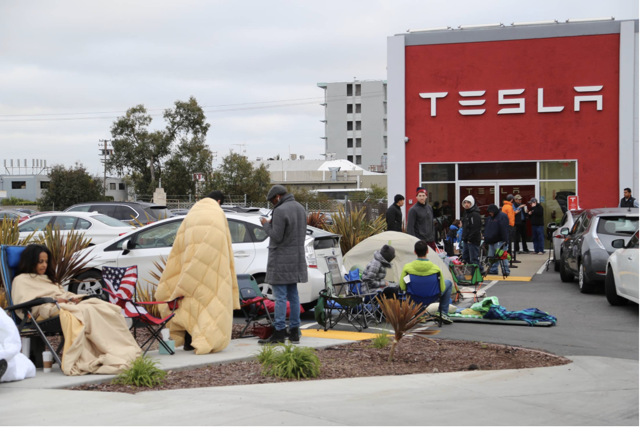 (Source: Fortune)
Time and time again since Tesla's IPO, management has proven the bears wrong. Bears have continued to wait on Tesla to collapse, citing many pieces of information that make Tesla a less attractive company overall. But time and time again, the bears are just proven wrong. And while for the eighteen months Tesla has not been an attractive stock, the business has scaled incredibly well since its inception.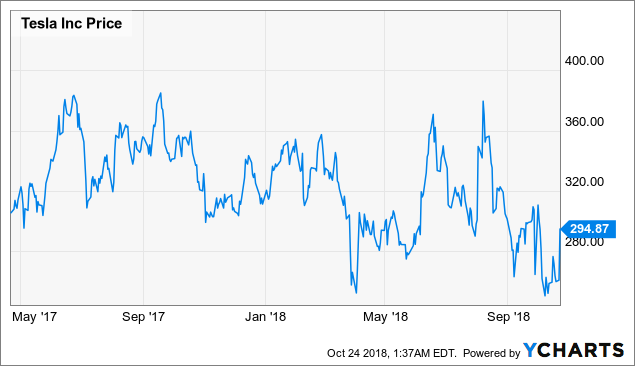 Concerns around Tesla used to be about the ability to ramp production of the Model S, and problems with the falcon wing doors on the Model X. Now everyone is questioning the fundamentals of Tesla based on Elon Musk's "erratic behavior." To an extent, I agree that Elon has done some immature things that he shouldn't have done in the first place. But to question the fundamentals of Tesla based on a couple of tweets from the CEO is absurd.
And while Tesla bulls and management themselves have had their fair share of moving the goal posts, bears have moved the goal posts on their thesis for years now, as Tesla continues to steamroll them.
And while bears like to frown upon Tesla raising billions of dollars of capital over the past many years to fund their growth, bulls rejoice, as it shows Tesla is willing to take the necessary steps to hit massive scale down the road. Tesla has used this capital to fund investments that are only now bearing significant fruits. Investments like the Gigafactory.

(Source: Tesla)
The bottom line is that Tesla has done some extraordinary things since their IPO with bears always looking for flaws with Tesla while not acknowledging the fact that Tesla has singlehandedly changed the future of the automotive industry forever. Tesla has come a long way.
Part 1: Model S/X
I want to start off by talking about what has become Tesla's bread-and-butter since their creation:
Creating high end electric vehicles.
The Model S was created in 2012 and had one design refresh, in 2016. The Model X was created in 2015 and is yet to have any material refresh. When I display the discounted cash flow model that gets me to a hypothetical price target, you will see that I expect decently strong growth in unit sales of the Model S & X, and decent average selling price (ASP) growth over time. I'm expecting this growth in ASPs to be based around the strength of Tesla's brand. Like Apple to a lesser extent, Tesla will be able to use their strong brand to influence the trajectory of selling prices to consumers. While Apple increases ASPs in the high-single digits percentage wise, I'm only expecting a 1% increase in ASPs annually.
My previous article addressing the competition argument with Tesla was meant to be a segue into this article, where I would forecast unit sales for each Tesla vehicle. Basically, my article outlined why I believe Tesla is an industry leader in the electric vehicle market. The top three out of four best-selling EVs have been Teslas for the month of September:

(Source: InsideEVs)
It is simply astonishing to see that two $100K cars (the Model S & X) are selling 10% and 14% less units than a car whose sale price is just a quarter of the Model S & X's (Toyota Prius Prime). This gap is shrinking, as the Model S & X sold 69% and 80% more vehicles, respectively. Soon, the Tesla Model S, X, and 3 will be the top electric vehicles sold in the US.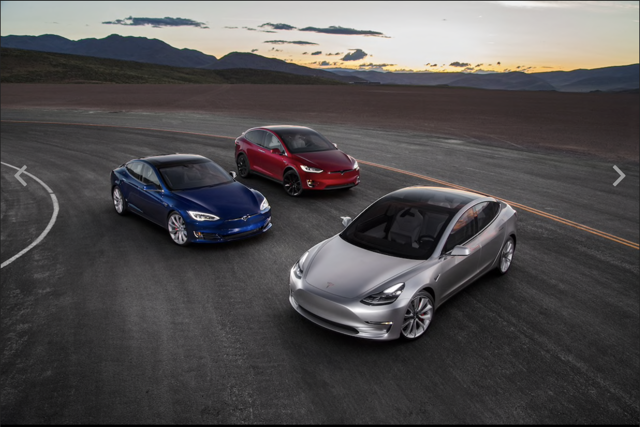 (Source: Motor Trend)
And that is before international rollout of the cars. The data I have shown are US EV sales alone. When Tesla begins to build cars to sell to foreign countries, unit sales should continue to grow at a steady rate. And even if the competition Tesla faces from Europe and China will be too intense, battery electric vehicles as a whole represent a small sliver of the overall automotive market right now. In the US, the total car unit sales estimate is ~17.5 million cars for this year, with electric car sales representing only 2% of the global market share.
This is a part where the bears and bulls theses diverge, with bears saying Tesla is worth more than legacy automakers, while having just a small percentage of these legacy automaker's unit sales. Meanwhile, bulls are saying that this represents an opportunity as the EV market and adoption increases with companies like Ford and GM being "dinosaurs." I used to lean towards this first argument, but with the tremendous progress Tesla has made and continues to make, analysts and investors need to look towards the future of this market rather than talk about how Tesla currently sells a small fraction of the cars that GM and Ford are selling. Basically, bears are looking at the current, and damning logic, rather than looking at the compelling while realistic future ahead of the electric vehicle space and Tesla within it.
The transformation from ICE to EV is already beginning, with Norway banning the sales of petrol-based ICE cars starting 2025, with other nations following in the years afterward.
Here are my targets for the Model S & X: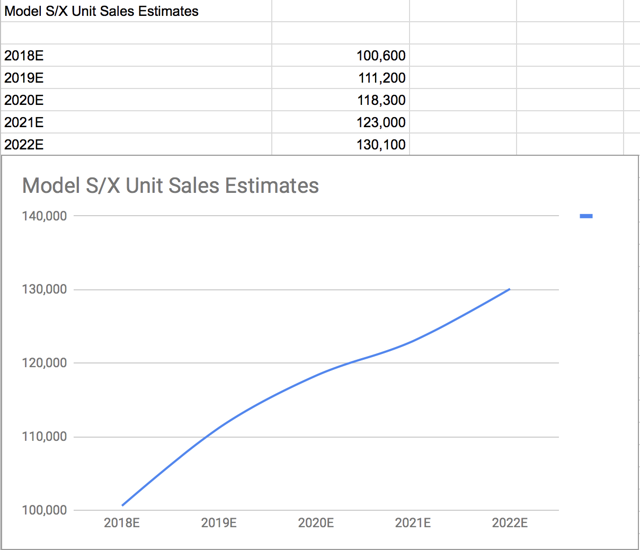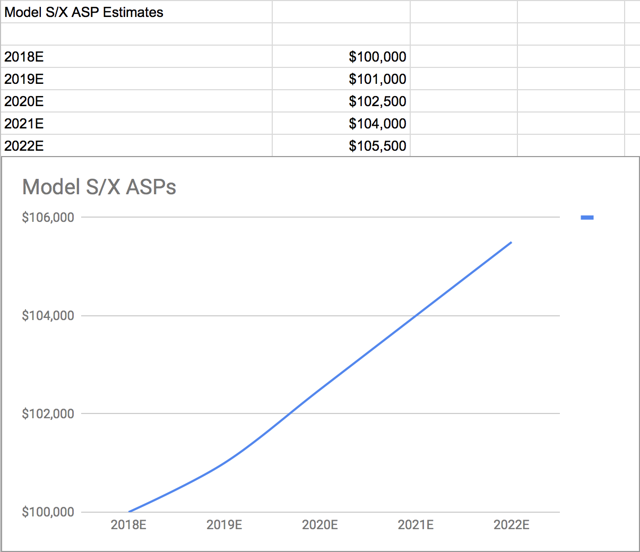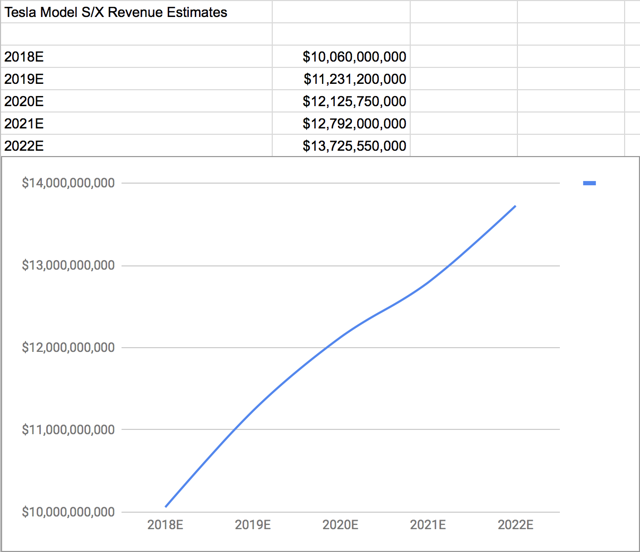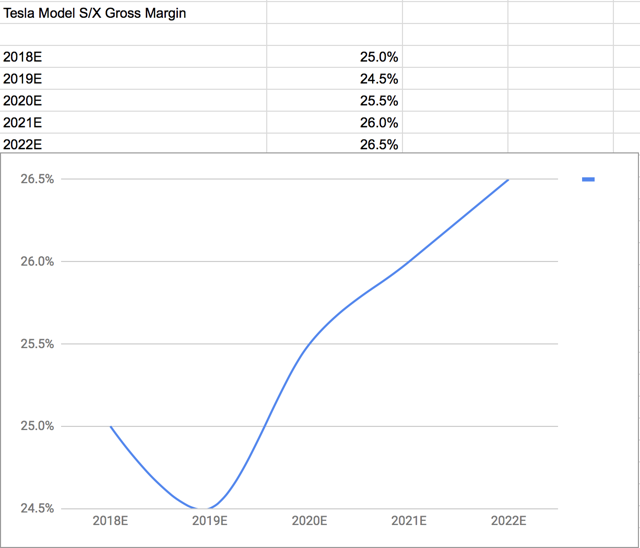 The estimate I'm looking at the most here is really the gross margin estimate. As you can see, I'm estimating gross margins move from 25% to 26.5% from 2018 to 2022. The key reason for this gross margin expansion is the combination of increases in ASPs over time and reduction of gross costs mainly from reduced powertrain and battery costs. Over time, batteries will get less and less expensive to produce, allowing Tesla to expand their gross margins. Effectively, Tesla's selling price will expand while costs go down.
Part 2: Tesla Energy
Right now, Tesla Energy represents a small but existent part of Tesla's business. This segment of Tesla's business features products like solar panels, a solar roof, Powerwall, and Powerpack. Most of these products are high in price, and are not industry shaking products like Tesla's products have been to the automotive industry. But yet again, Tesla seems to be the industry leaders in their Energy segment. For example, the solar panels Tesla sells lead the industry (according to Tesla) in both durability and lifespan. If anything though, Tesla's Powerwall home storage product is the most important of all of Tesla's energy products, at least in my opinion. It offers owners the ability to generate their own energy needs, effectively dislocating themselves from the grid. You will also be able to have power to your house for a week or more in the event of a power outage. The real problem with Tesla's energy products aimed at individual owners is their price. For two Powerwalls, the amount Tesla has recommended, you are paying $13,400, with an additional $1,100 for supporting hardware, and anywhere between $1,000 and $3,000 in installation costs. These products are too expensive, with more affluent individuals being the only ones that could truly afford it. But like Tesla's automotive business, Tesla will start by selling to the wealthy, and then make changes to the product and cut the price to involve more customers.
That is the recurring problem with Tesla's energy solutions for individuals. They just cost too much. But as Tesla makes these products more mainstream at higher production rates, eventually costs will fall, potentially allowing regular consumers to buy Tesla's solutions at a fraction of the costs I mentioned above.
Then there are the commercial products. I believe Tesla Energy revolves around commercial contracts with different companies from around the globe, providing the power needs of these companies with Tesla's Powerpack product. Powerpack has offered energy storage on a much larger scale than just per house, offerings assistance to some countries during times of power failure.
Part 3: Model 3
The Tesla Model 3's rollout has been identified by many optimists as the iPhone moment of the auto industry. The Model 3 has been the best-selling electric vehicle for the past many months as production ramps up meeting Tesla's massive backlog. Tesla, while quickly moving through this backlog has many runways to truly grow its overall demand. Such runways include international penetration, general EV adoption, and the ease of use for EVs going mainstream would all factor into demand tailwinds. The Model 3 has been rated by the NHTSA as the safest car ever tested, with the Model S, X, and 3 taking the top three slots for the lowest injury probability. The Model 3 has a <6% chance of injury, with standard ICE cars operating at 8-9%. The safety of a car is one of the most important factors in the decision to buy a car.
It also helps that the Model 3 has even less legitimate competition than Tesla's high end models. Such competition includes current on the market cars like the Nissan Leaf and Chevy Bolt. The Leaf features a ~$30K selling price for 151 miles of range and the Chevy Bolt features 238 miles of range for ~$37K. Whereas the current $46K "mid-range rear wheel drive" Model 3 features 260 miles of range. In addition, the long-range $53K Model 3 features a whopping 310 miles of range and all-wheel drive. We are also in the early innings of battery efficiencies, with more range increases yet to come as the years go by. You can also recharge your Model 3's battery by 170 miles in just 30 minutes, a fact that will continue to improve Tesla's competitive standing.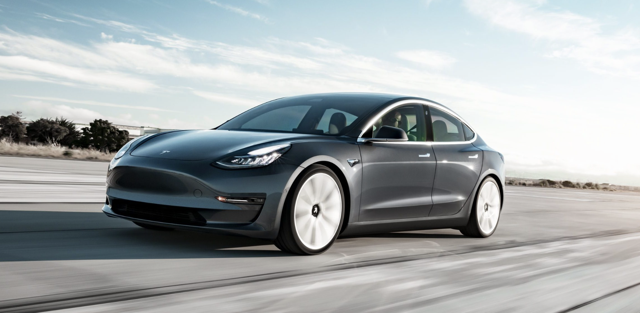 (Source: Electrek)
It's also important to note what automobiles specifically Tesla is taking unit sales away from. I'm specifically talking about the non-Tesla trade ins. Here are the top five trade-ins for the Model 3:
Toyota Prius
BMW 3-Series
Honda Accord
Honda Civic
Nissan Leaf
These cars are priced between ~$19K and ~$45K, showing us that the majority of trade-ins are coming from lower cost cars that sells millions of units annually. And now, Tesla is beginning to make a substantial dent in the competition's unit sales. And this is before Tesla brings the Model 3 to Europe and China in the first half of next year, the two largest EV markets in the world, which should provide another significant boost to demand and unit sales. Unlike some, I do not doubt the legitimacy of the electric vehicle market. Optimistic analysts only expect it to make up about 2% of international automotive unit sales next year. But as the efficiency of ICE vehicles stagnate and EV battery technology gets more efficient, the gap between the range of an ICE vehicle and an EV is going to shrink, until the EV becomes more efficient than the ICE. This is the path that the automotive market is going on, with many legacy automakers recognizing this and at least trying to take some market share in the future of the automotive market. It is only a matter of time until this small portion of the overall auto market becomes the majority of the auto market, overtaking ICE. Even if Tesla loses market share to the competition down the road, they will still be able to command many times the number of units sold that they have now as the market overall expands. To put it simply, EVs are the future, ICE is the past.
Before the Model 3, Tesla business was selling high-priced cars. With the introduction of the Model 3, the average person can purchase a good-looking electric vehicle with the Tesla brand tied to it while still paying a reasonable price. As Tesla increases its penetration in both Europe and China, unit sales will continue higher. There is serious potential for the Model 3's demand to increase. As a matter of fact, I believe demand will increase.
In my first Tesla article, I highlighted some data from Second Measure that seemed to suggest that Tesla's demand was shrinking, with customers cancelling reservations at a faster rate than new reservations being created. I was worried about Tesla's ability to have demand to produce to. Some of this concern is legitimate, with catalysts like production volatility, the expiration of the $7,500 federal tax credit, and the lack of availability of the $35K base Model 3 that I estimate half of deposit holders have reserved, all serve as headwinds to Tesla's overall demand. However, production is stabilizing, $35K production is only one or two quarters away, and the $7,500 tax credit is not the only factor that buyers consider when they look at a Tesla.
In Q3 though, Tesla moved out of production hell and into delivery/logistics hell.

(Source: Car And Driver)
While they successfully moved out of production hell, Tesla moved into delivery hell, with customers helping deliver cars to customers to help Tesla meet its deliveries goals and reach profitability. Obviously, Tesla achieved this goal, with over $300 million in net income reported in Q3 and almost $900 million in free cash flow. Tesla is still touching up its delivery network, trying to cut down delivery times by decreasing the amount of time the average vehicle spends sitting idly.
Certain bears on Tesla's stock have mentioned the parking lots in Lathrop and Burbank California that have been filled with thousands of Model 3s. Many bears are saying that Tesla has a demand problem and that these cars are degrading under the hot California sun.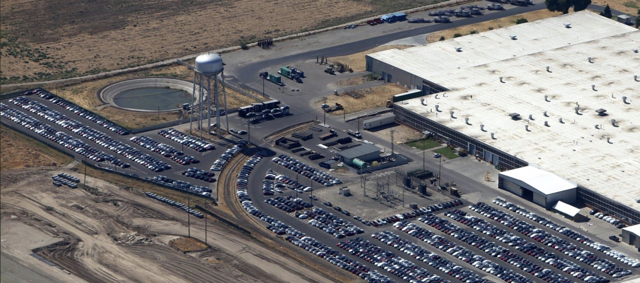 (Source: Electrek)
Thus far, Tesla hasn't had any major demand problems that would cause such a massive spike in inventory. Rather, Tesla is using these parking lots as a short-term storage center for their Model 3s before delivering them to customers according to the company. As Tesla increases its delivery efficiency, you should see the number of cars in these parking lots that are exposed to the elements drop significantly. A combination of increased production rates and increased efficiency in the supply chain will allow Model 3 unit sales to continue their growth. Here are my projections for the Model 3: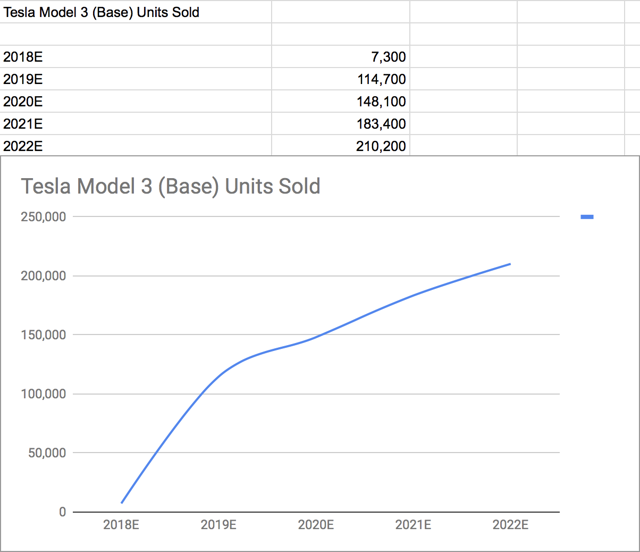 This base Model 3 would be the $35K version. As you can see, I'm projecting ~7K base Model 3s to be sold. Elon Musk said that it would be one to two quarters after hitting 5K/week that Tesla would begin production of the base Model 3. They achieved this target in late July, let us call it August. That brings the beginning of Model 3 base production to anywhere from November-February. I'm expecting Tesla to begin production of the base Model 3 in December. I anticipate Tesla will produce 5K/week for the month of December, leaving total production at 20K for the month. I also expect Tesla to go back to producing directly to the orders they receive, meaning 49% of production will be towards the base Model 3. Tesla would produce 9,800 base Model 3s in December. I'm expecting 74.5% of these cars to be sold, with the rest either sitting in inventory or being in transit to customers. That brings me to a 7,300 unit sales estimate.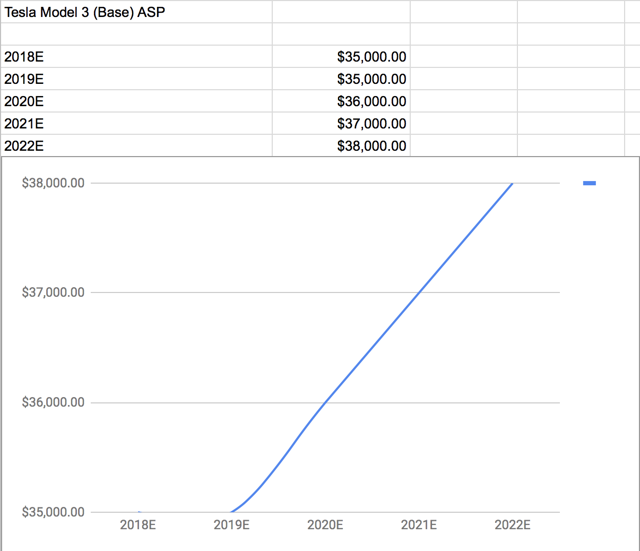 I'm expecting gross margins to expand as Tesla lowers battery costs and raises ASPs as shown above.
I'm expecting 82% of total Model 3 production for 2018 to be towards the long range Model 3, with 21% oriented towards the performance variant, and just 7% coming from the base Model 3 when production begins in early December. Part of Tesla's production push forced them to move from producing directly to order and push to just produce the car in spurts. If they were selling directly to reservation holders, then we would see 49% of Model 3s being base Model 3s, 45% being the long-range Model 3, and just 6% being performance Model 3. This is why I believe when Tesla re-weights their production back directly to orders, performance revenue could fall dramatically, and LR unit sales growth will slow.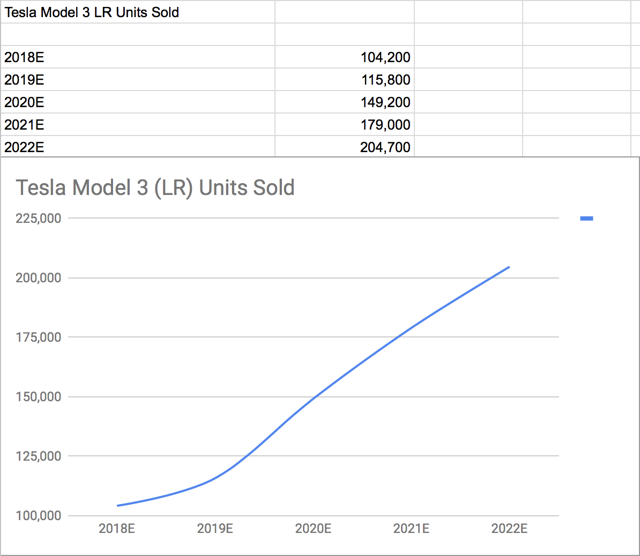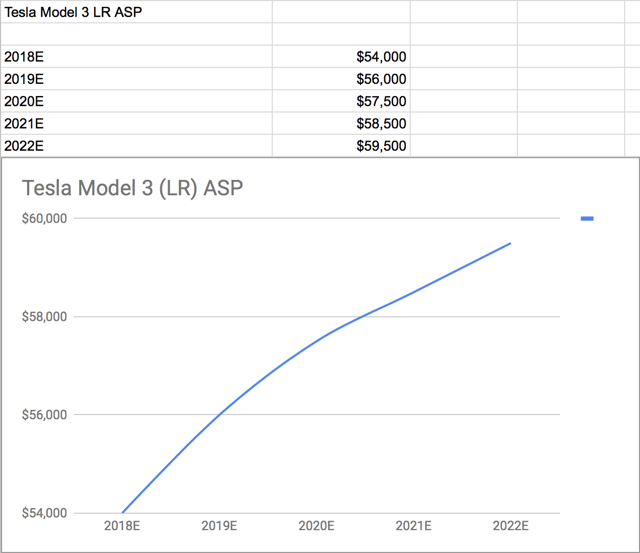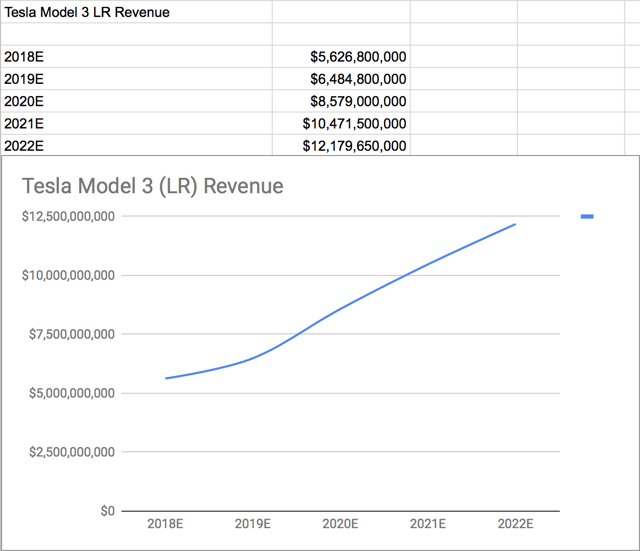 As shown above, I'm targeting solid growth in ASPs over time with the long-range Model 3. As a general trend, I believe battery costs will continue to fall, raising gross margins.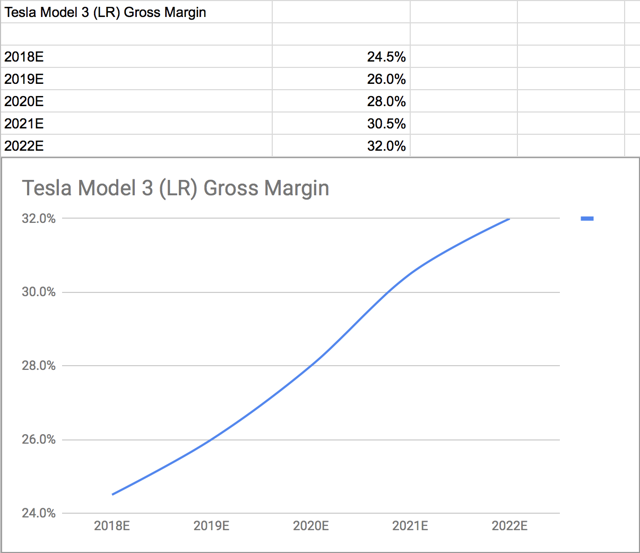 As mentioned above, I believe the performance variant of the Model 3 could take a hit in revenue from an increased variety in production as Tesla moves back to producing cars directly to the orders they receive for them. As such, I'm expecting a drastic decline in unit shipments in 2019 for the performance vehicle.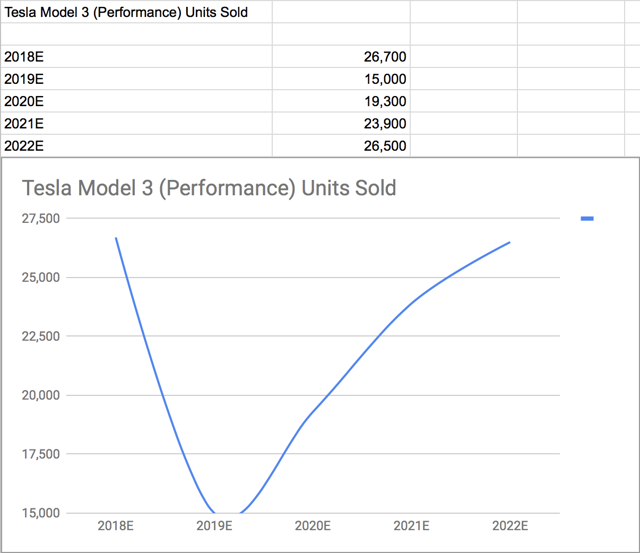 Other Business Segment
Let me first say that none of these future product innovations are priced into my DCF valuation that brings me to a $425 fair value. Here are my targets for Tesla's "other" business segment: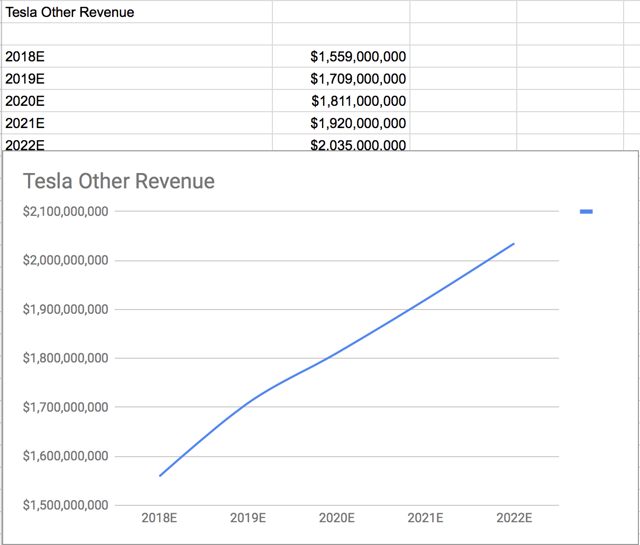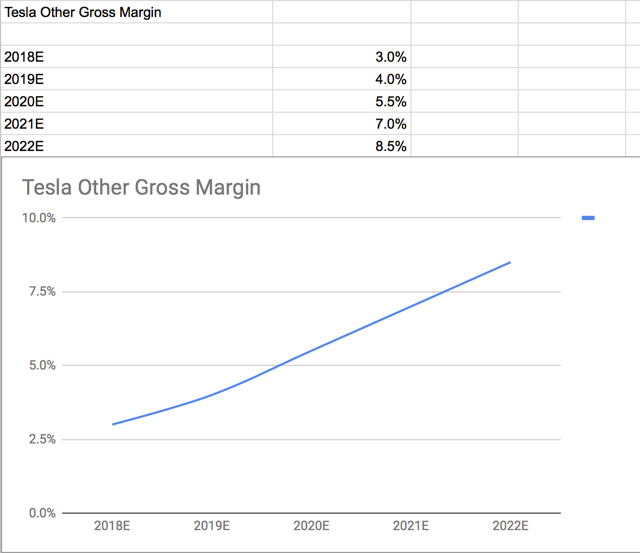 The above business segment deals in Tesla's used car sales and servicing revenues. I'm expecting some decent growth in this segment as Tesla's market for used cars grows with the Model 3 over time.
Obviously, Tesla isn't standing still. They continue to plow massive amounts of capital into future product innovations. These future product innovations are not priced into my targets, but they represent tens of billions of dollars in future value. Such product innovations include the Model Y crossover, the Tesla Semi, an autonomous driving ride sharing service, and potentially a pickup truck. Now while I previously believed these products were purely vaporware, Tesla's Q3 results show that they can use the cash flows generated to invest in these product innovations. We'll go through these future products individually. Full disclaimer though, I cannot predict certain key variables like the average selling price of the Model Y, or gross margins on the Tesla Semi until more data is available. Until that time, Tesla is a $411 stock based on current products with significant innovation still not priced into the stock.
Tesla Model Y, The Real Needle Mover
Tesla says that they are going to launch their Model Y crossover in March of next year, with reports indicating the new Chinese Tesla factory will be assembling the car alongside the Model 3. Little is known about this car right now, but we do know that the Model Y is targeting the crossover market, a market that is larger than the market the Model 3 is targeting. While we won't know the basic specs of the vehicle until March of next year, what we do know is that there is a lot of hype in the Tesla community around this vehicle. It seems like there will be quite a bit of demand around this vehicle too. With the Model 3 at ~400K reservations, and the Model Y targeting a much larger market, I wouldn't be surprised to see reservations being anywhere from 500-600K cars. Elon Musk says that he expects Model Y demand to be between 500,000 and 1,000,000 unit sales annually.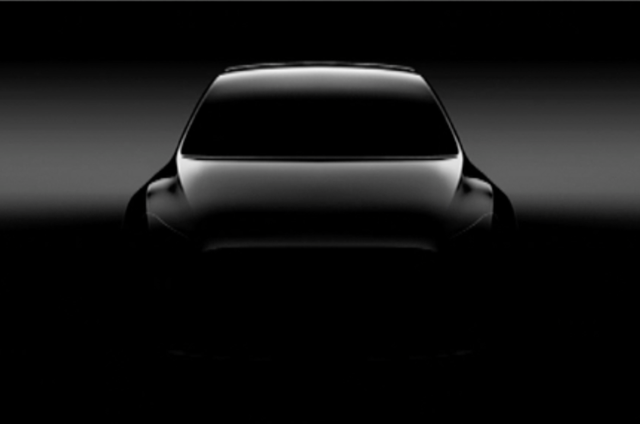 (Source: TheVerge)
Some of the key variables with the Model Y will be both the price and the availability. At this point, the price is anyone's guess. I'm personally expecting ~$45K if Tesla includes the falcon doors that they have on the Model X.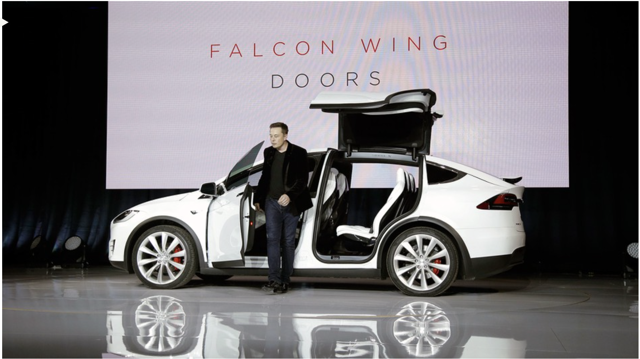 (Source: Mashable)
If Tesla includes these falcon wing doors, Tesla may have to raise prices just to keep gross margins at roughly the level of the Model 3.
The next key variable with the Model Y is its availability. Elon Musk says that the Model Y will begin to see mass production in 2020. The question is, where will Tesla produce the Model Y? Bears like to call the Model Y a vaporware product, as they question the ability to produce it. And it does seem like Tesla won't have anywhere to produce the Model Y, with the Fremont factory at nearly max capacity, and a China factory being years away from hitting max capacity. Some bulls say the Model Y could be produced in Tesla's Nevada Gigafactory, with only 30% of the factory being occupied currently. Tesla will have to ramp the core battery production in the Gigafactory while beginning production of the Model Y. It will cost hundreds of millions, if not billions of dollars to adequately supply and staff Model Y production lines, which may require Tesla to raise capital from the markets. Tesla has raised capital for production of both the Model X and 3, with the Model Y arguably being more cost-intensive than both. Tesla raised $1.26 billion for the beginning of Model 3 production, and $738 million for the production of the Model X.
The bottom line is, the Tesla Model Y has the potential to outsell the already highly popular Model 3. And while we don't have many details on the car itself, the target market is massive, and Tesla seems to be the market dominator in the EV space, leading to a massive potential growth runway.
Management
Tesla has an interesting core management team, led by CEO Elon Musk. Many consider Elon Musk to be the greater CEO of our time, with some even comparing him to Einstein. He is the CEO of two companies, Tesla and SpaceX. Alongside him have been his steady colleagues JB Straubel, the Chief Technology Officer (CTO), and Deepak Ahuja, the Chief Financial Officer (CFO).
That being said, much of Tesla's premium brand comes from Elon Musk's presence at the helm of the company. A key reason that Tesla is able to call upon the capital markets for funding is Elon Musk's long-term vision for the company. Elon Musk has become synonymous with Tesla. If Elon was to leave Tesla, then the entire thesis around Tesla being would change. This is a significant risk that hangs over Tesla.
As a matter of fact, one analyst calculated that Tesla has $130 of Musk premium. So if Musk was to leave for any reason, $130 would be deducted from the stock.
Finally, Tesla has had a massive executive turnover. Tesla has had significant executive departures this year, with 41 year-to-date. Many times, this turnover has been multiple people in the same role. Such roles include accounting. When you have dozens of insiders fleeing the company, it would seem that insider confidence is low.
Valuation
I use a discounted cash flow model to value Tesla's stock. Here is my cost of equity: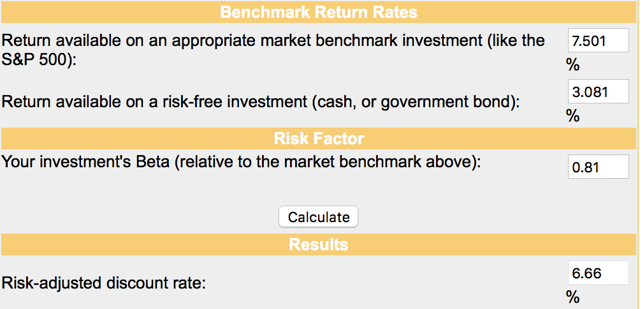 This assumes a 4.42% equity risk premium. This equity risk premium comes from the National Bureau of Economic Research.
Here is WACC itself: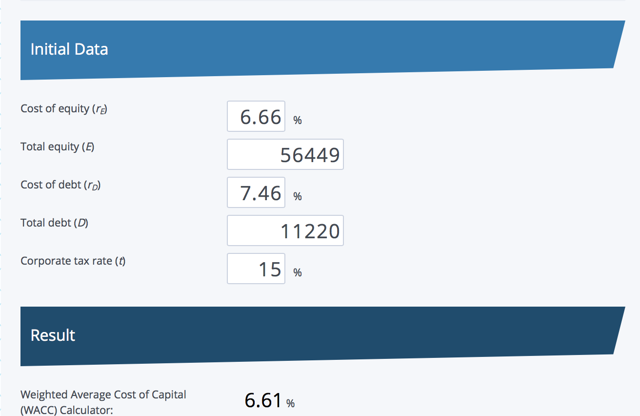 Keep in mind, however, I am assuming a tax rate of 15%. It could be far lower because of all of Tesla's government incentives or higher than this tax rate. The 15% is an arbitrary number.
Here are my EPS projections: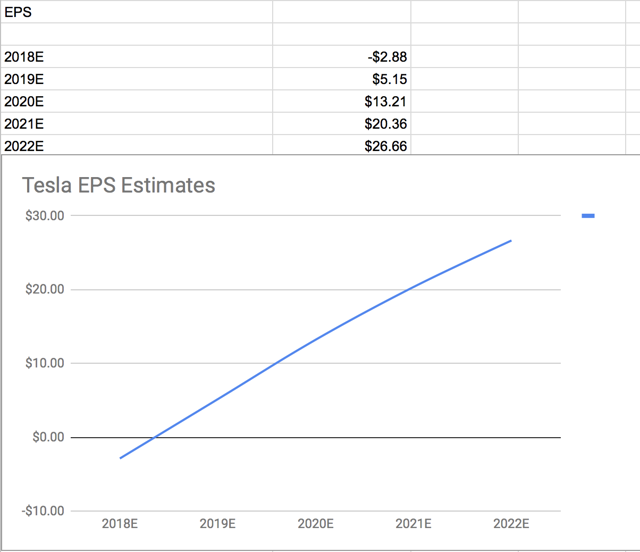 Here are my free cash flow projections: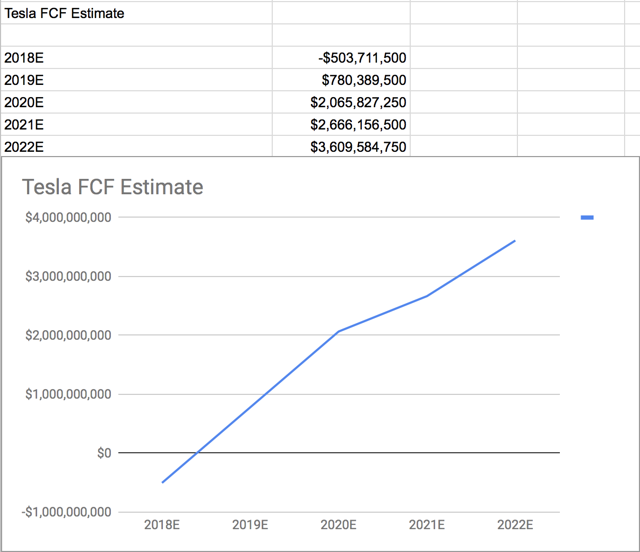 This model assumes a 3% terminal growth rate. Again, keep in mind this model does not assume any additional revenues from any new products.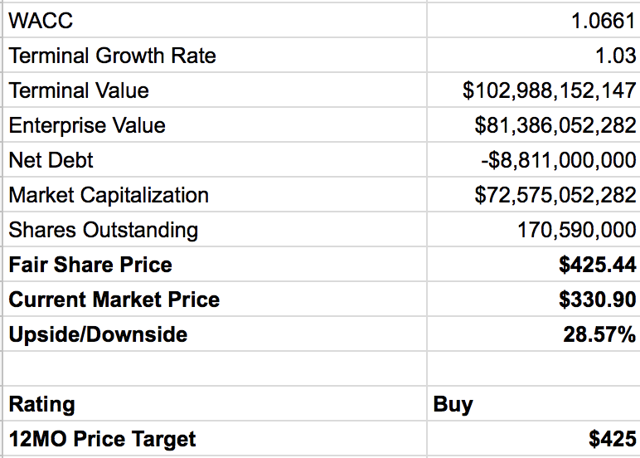 This model expects a significant ramp in gross margins over the next few years, a ramp I am confident is possible. It also assumes general growth in ASPs and significant unit sales growth. These estimates are subject to change, and will be tweaked as the Tesla story unfolds.
Conclusion
Tesla is a highly controversial company with a high flying stock. Previously, I have believed Tesla was headed for zero. However, after seeing a profitable Q3 not significantly moved by ZEV credits or working capital adjustments, I see a profitable and self-funding Tesla overpowering Wall Street, with the reward simply outweighing the risk. If Tesla begins to produce sustainably profitable results over the next several quarters, like I believe, the short thesis will move from profitability to valuation, when many shorts will most likely exist. This could provide a boost to Tesla's stock, as 29% of the float is currently short the stock. The bottom line is, Tesla has now hit profitability and will be a self-funding company. This alleviates my final, and essential concern with Tesla: profitability. When Tesla piles up quarter after quarter of evidence building the profitability case, they will be able to then build upon their current product lineup and grow the business even further.
And while there is some risk with Tesla, the reward simply outweighs the risk. Tesla's stock is a buy.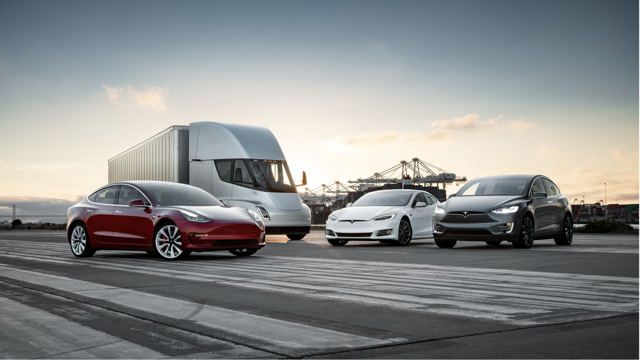 (Source: Electrek)