Over the past month, and especially over the past few weeks, the consumer staples sector (along with other traditional "defensive" types of stocks) have significantly outperformed technology stocks. The graph below shows the Consumer Staples Select SPDR (XLP) versus the tech-heavy NASDAQ Index (QQQ).

The NASDAQ has underperformed by almost 15%! We don't think this outperformance will continue. We think there are a lot of overpriced stocks in the consumer staples sector and some good technology sector companies available at fair prices.
Price Versus Growth
The number one issue we see is that many consumer staples stocks are still priced high even though they are barely growing. Meanwhile, you can pay just a little bit higher price and buy many technology companies that are growing revenue and net income at double-digit rates.
Here's an example from our own portfolio. We took a look at ten stock holdings that are either officially in the technology sector or are often thought of as very similar to technology stocks. We looked at the forward P/E, the past five-year average revenue growth rates (except for Total System Services where we used just the previous year's growth rate), and the consensus revenue growth rate for next year. We chose to use the forward P/E and revenue growth in our analysis because of the recently passed tax law changes. Many companies have had to write down the value of deferred tax assets this year which lowers earnings and skews the P/E ratio. The changes in tax rate and asset write-downs also can cause a lot of noise in expected earnings growth rates. We thought forward P/E and revenue growth will give us some of the "cleanest" numbers.
We then went through several of the largest consumer staples stocks and found ten stocks with similar high forward earnings multiples.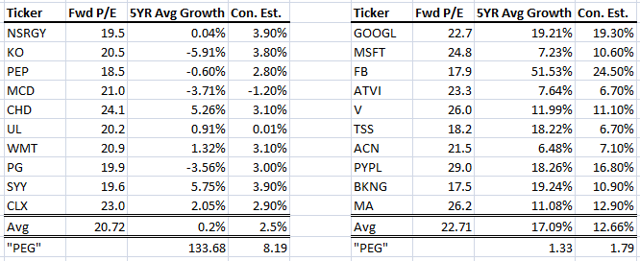 The result is that we have a table of ten consumer staples stocks that make up a little less than half the consumer staples index. Add in foreign stocks Nestle (OTCPK:NSRGY), Unilever (UL), and not technically a staple McDonald's (MCD) and you have a pretty good sample of the sector.
The ten technology stocks from our portfolio make up a little less than a third of the NASDAQ index (note that Accenture (ACN), Mastercard (MA) and Visa (V) are not NASDAQ stocks).
Looking at several measures of price versus growth we can see a stark difference. The consumer staples stocks are trading at above-market forward multiples but have generated almost no growth over the past five years and are projected to generate very little revenue growth next year.
By contrast, our technology stock list shows that it's relatively easy to find a stock trading at a very similar forward multiple and with both a history of strong growth and predicted forward growth.
Summary
It's important to remember that the point of this article is that there appears to be a substantial number of overpriced staples stocks and a substantial number of reasonably priced technology stocks. This article is not saying every consumer-staple stock is expensive and every technology stock is cheap.
There're surely some cheaply priced consumer staples stocks out there with decent growth. One of our holdings, Altria (MO) comes to mind. Even some stocks in our staples list could turn out to be good buys. Walmart (WMT) might look like it's priced high but if it can become a strong number two in e-commerce, then its valuation might be very reasonable.
On the flip side, there are also technology companies that may be overvalued or growing slow. Netflix (NFLX) is growing revenue by leaps and bounds but isn't generating any free cash flow growth. IBM (IBM) is an example of a technology stock that's (not) growing as fast as many consumer staples stocks.
The point is that investors are likely to find better investment opportunities in technology stocks than they are in the consumer staples sector.
Disclosure: I am/we are long MO, MSFT, FB, V, MA, GOOGL, ATVI, BKNG, PYPL, TSS, ACN.
I wrote this article myself, and it expresses my own opinions. I am not receiving compensation for it (other than from Seeking Alpha). I have no business relationship with any company whose stock is mentioned in this article.
Editor's Note: This article discusses one or more securities that do not trade on a major U.S. exchange. Please be aware of the risks associated with these stocks.