The current U.S. economic expansion is now the second-longest in the postwar era, and while it may have more room to run, we believe a recession is likely over the three- to five-year horizon. As U.S. taxpayers think about positioning their portfolios, we see three key reasons why the tax-exempt municipal market may be attractive late in the cycle.
Muni bonds have outperformed when rates are rising. Rising rates like we're seeing today are a fixture of late-cycle markets, and on a pretax basis, munis have outperformed taxable investment grade corporate bonds in three of the last four Federal Reserve tightening cycles (using the Bloomberg Barclays Municipal Bond and Investment Grade Corporate Bond indexes as proxies). The benefit is more distinct on an after-tax basis: Munis have outperformed investment grade credit, U.S. Treasuries and mortgages (proxied by the Bloomberg Barclays U.S. Agency Fixed Rate MBS Index) in all four tightening cycles since 1987. PIMCO expects Fed rate hikes to continue, making the federal tax exemption of municipal bonds more valuable.
Munis offer greater diversification from stocks than many fixed income alternatives. Over the past decade, both investment grade and high yield munis have shown about one-third the correlation to equities of their taxable counterparts (using the Bloomberg Barclays High Yield Municipal Bond and High Yield Corporate Bond indexes as proxies). Over the past 20 years, during periods when the S&P 500 declined at least 10%, munis outperformed equities by an average 23% and investment grade corporate bonds by an average 1.33% after accounting for federal income taxes. Moreover, tax-exempt income on munis helps reduce the "cost" of waiting for a potential shift in the cycle, without taking on additional credit risk.
Stable muni debt outstanding supports performance. The amount of muni debt outstanding has grown just $180.8 billion since the financial crisis, compared with $9.2 trillion in growth for corporate debt and $3.6 trillion for Treasuries (according to SIFMA). Given the limited supply paired with the rising number of U.S. retirees who pay federal income taxes and may seek high quality income, we expect supply/demand dynamics to remain a performance tailwind.
Investors take note: Not all muni bonds come with equal risk
While the late-cycle performance of municipals has been strong historically, a key shift from past cycles is the sharp reduction in bond insurance on new muni issuance, from over 50% before the financial crisis to about 5% today (according to Thomson Reuters as of September 28, 2018). This has, in many ways, transformed the municipal market into a credit market, making strong research and active credit selection critical.
Potential areas of credit concern when the cycle turns include state and local governments with high pension liabilities, along with not-for-profit (NFP) healthcare and NFP higher education. Project finance and new construction may also face headwinds.
Segments we expect to be more resilient during the next recession include essential-service revenue bonds in favorable service areas, as well as select general obligation (GO) bonds, NFP sectors with stronger balance sheets and tax-secured revenue bonds with strong security provisions.
Munis may offer late-cycle advantages
When adjusted for taxes, munis have offered returns in line with equities with about half the volatility (see chart) - a key potential benefit when markets turn. And despite isolated high profile downgrades, municipal fundamentals have improved and defaults remain low versus comparably rated corporate bonds. While credit challenges when the cycle turns will likely make active credit selection critical, we believe munis may offer U.S. taxpayers compelling advantages as they contemplate the end of the economic expansion.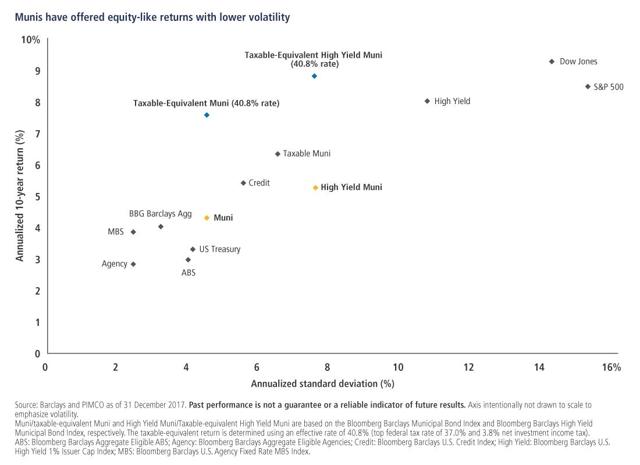 U.S. readers can find more of our municipal market insights here.
Disclosures
Past performance is not a guarantee or a reliable indicator of future results.
Charts are provided for illustrative purposes and are not indicative of the past or future performance of any PIMCO product.
Investing in the bond market is subject to risks, including market, interest rate, issuer, credit, inflation risk, and liquidity risk. The value of most bonds and bond strategies are impacted by changes in interest rates. Bonds and bond strategies with longer durations tend to be more sensitive and volatile than those with shorter durations; bond prices generally fall as interest rates rise, and the current low interest rate environment increases this risk. Current reductions in bond counterparty capacity may contribute to decreased market liquidity and increased price volatility. Bond investments may be worth more or less than the original cost when redeemed. Income from municipal bonds may be subject to state and local taxes and at times the alternative minimum tax.