In 2017, U.S. ICE vehicle sales, that is, all light duty vehicle sales, were down 330,044 from 2016, yet 2017 was the 4th best sales year in U.S. history. In other words, sales were still at extremely high levels despite the first decline year since 2009.
The reason for the decline last year is detailed in this article:
The weakening of the market was largely owing to a continued drop in demand for sedans and other passenger cars, as low oil prices and new model launches prompt consumers to shift to crossover sports utility vehicles (SUVs) and pick-up trucks. Pent-up demand for vehicles has also dropped back following the boom in 2012-16, when buyers were lured in by attractive financing deals and record low interest rates. With automakers now easing back from heavy discounting tactics, rising interest rates and a stabilisation in used-car prices have combined to dampen sales.
The decline in sales was predicted in January, 2017:
U.S. vehicle sales totaled 17.55 million, beating 2015's record of 17.47 million, according to Autodata Corp. It was the seventh consecutive year of year-over-year sales gains, an unprecedented string, said Tom Libby, an analyst with the consulting firm IHS Markit. That string could be in jeopardy, however. The National Automobile Dealers Assn. expects U.S. sales to drop to 17.1 million vehicles in 2017 as interest rates and vehicle prices rise. Large numbers of cars coming off leases will hit the used-car market next year, putting pressure on new-car sales. And more buyers are opting for longer loans, so they won't be returning to dealerships anytime soon.
Therefore, Tesla and EVs are not the reason for the decline in sales, as one Tesla bull maintains in an article. Can we put this falsehood to rest now?
2018 U.S. sales are expected to be slightly less than 2017. The reason for the decline is multi-factored, most of the cause stemming from the same factors as in 2017:
First, massive volumes of off-lease and rental units hit the used market in 2017, which increased used inventory and filled the void left by low recession-era sales.(Page 1 in link)
Second, interest rates have been rising, raising monthly payments and the total cost of a new vehicle.
Third, there have been fewer rental company purchases.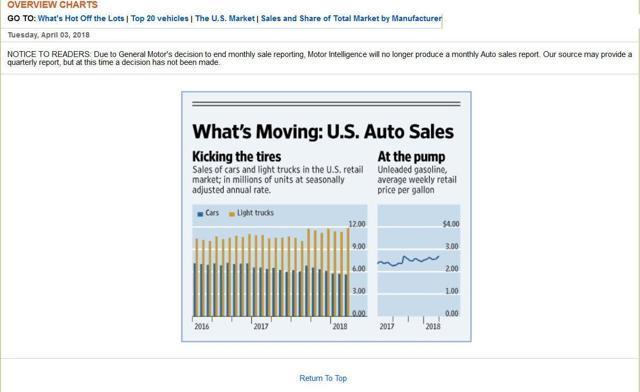 But going forward it looks like light duty vehicle sales (passenger auto and light trucks) will remain largely ICE sales, both new and used. This isn't the end of the world for ICE, as foretold by one particular Tesla bull. A phenomenon began in the middle of June, 2014, when the price of oil began to decline, that will continue for the foreseeable future, namely the transition from new passenger auto sales to light duty truck sales, i.e. sales of SUVs, crossovers, pick-ups and minivan.
In the U.S., about two out of every three vehicles sold in 2017 were either SUVs, crossovers, pickup trucks, or vans. (The category called "light duty trucks".) Americans love their space, power, performance, and range. 2017 marks the fifth year in which light duty trucks outsold passenger autos in the U.S.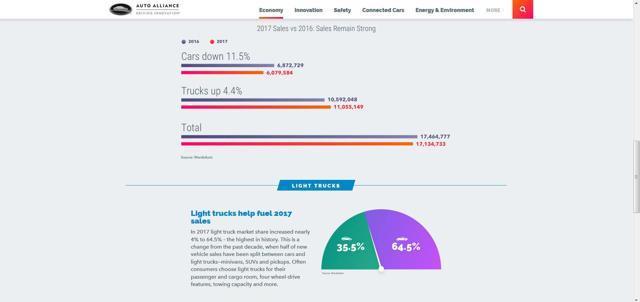 The trend is the same in the used vehicle market. "More than 39.2 million used vehicles were sold in 2017, a 1.6 percent increase over 2016 and a new record high." This was a new record of sales for used vehicles last year and helps to partly explain the slight decline in new vehicles sales for 2017.
The increase in used vehicle prices slowed in 2017 to 1.4% from the average of 3.6% witnessed between 2012 and 2016. The reason for the price growth decline was due to an oversupply of near-new off-lease and prior rental passenger cars flooding the market, which took a toll on residual values. However, the strong consumer demand for SUVs and a somewhat limited supply helped to fuel the modest price growth in the used vehicle market, according to Edmunds. While residual values declined, overall, for used passenger cars, they increased for used light trucks.
Low unemployment, strong job growth and the benefits of the recently passed tax cut should help support sales going forward, even if there is another modest decline in new vehicles sales in 2018 as most forecasts predict. As long as gasoline stays reasonably priced, this transition to light duty trucks should persist in the U.S. for the foreseeable future.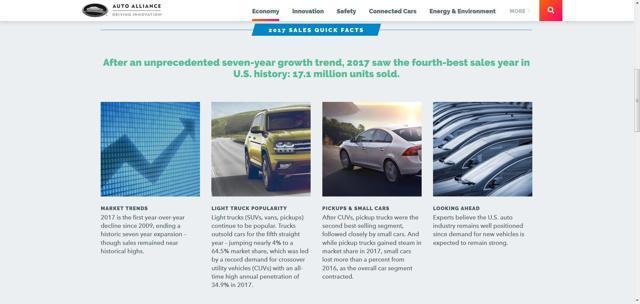 Sales for 2019 are projected to rise again. Did you get that? No collapse of ICE vehicle sales is imminent.
Globally, with the decline of gasoline prices that began in mid 2014 and the rise in incomes, drivers are ditching their smaller sedans for bigger rides at a rapid pace, as noted by the NY Times article:
For the first time, S.U.V.s and their lighter, more carlike cousins known as "crossovers" made up more than one in three cars sold globally last year, almost tripling their share from just a decade ago, according to new figures from the auto research firm JATO Dynamics."
The article goes on to state that the global S.U.V. boom is a roadblock in the march toward cleaner cars that has been aided by advances in fuel-saving technology and hybrid or electric vehicles. SUVs are less likely to go electric anytime soon because the perception among many automakers is that drivers of SUVs value power and performance and don't want to be constrained by the limited range of battery powered vehicles.
Furthermore, the article states that by 2022 it is predicted that one in every two cars sold in China will be an SUV. And in Western Europe, sales of SUVs have more than doubled in the past five years. The higher end SUVs, around $60,000, can generate a very healthy gross margin of over 30%.
To add to the momentum, there are signs that the pick-up truck is being embraced globally. Ford sold more than one million F Series pick-up trucks last year, one-fifth of those sales outside the U.S. That isn't far from being the world's best selling vehicle, according to the NY Times article.
With no sign of any lack of supply of oil in the next five years thanks to U.S. shale oil technology, gasoline prices look stable, making the demise of the ICE vehicle any time soon only an EV enthusiast's fantasy. It won't be reality.
Disclosure: I am/we are long TSLA.
I wrote this article myself, and it expresses my own opinions. I am not receiving compensation for it (other than from Seeking Alpha). I have no business relationship with any company whose stock is mentioned in this article.
Editor's Note: This article discusses one or more securities that do not trade on a major U.S. exchange. Please be aware of the risks associated with these stocks.