Every major internet company has now reported earnings, and the baseline trend has become very clear: earnings are coming in hot, thanks to a combination of margin optimization as well as tax reform, but revenue growth is slowing down noticeably. Facebook (FB), the last of the FANG stocks to report earnings this quarter, has confirmed that trend with a huge 20% beat to Wall Street's bottom-line targets, simultaneously with a deceleration in both user growth and revenue growth.
As most investors are aware - even those who have no position in Facebook at all - it hasn't been an easy year for the social media giant. Earlier in March, Facebook investors all turned their attention to the Cambridge Analytica scandal and the impact on user growth. Though this headline has mostly died down, the fear that this scandal caused a permanent defection of some of Facebook's most loyal users still lingers. Then, in summer, Facebook plummeted yet again as investors speculated that Capitol Hill would impose new regulations on tech giants. And most recently, the internet sector took yet another leg down as the UK announced a "digital tax" that will be enacted over the next few years, inciting fears that more countries would do the same.
Through it all, however, Facebook has maintained exceptionally strong earnings results (at least on the bottom-line front), while the stock continues to get cheaper and cheaper. Relative to peak values near $220, Facebook shares have lost about 30% since July: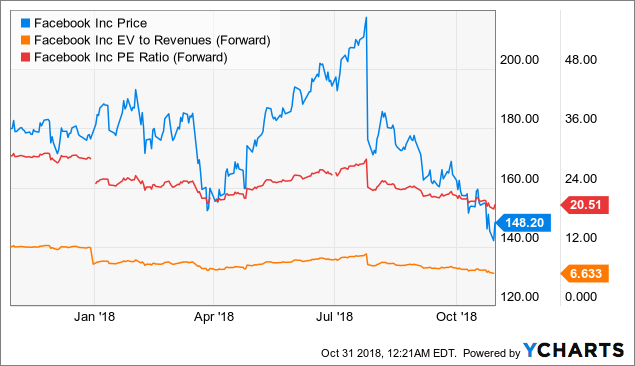 In my view, Facebook is one of the most obvious buys in the market. At a forward P/E of just 20x, as shown in the chart above, Facebook is valued at only a slight premium to the rest of the market, despite massive earnings growth. Year-to-date, in spite of user slowdown and sizable investments in content and quality control, Facebook's net income has risen 31% - far better than the market average.
It's true that Facebook isn't growing as quickly as in the past. With its daily user count in the billions, Facebook's reach has already saturated to a good portion of the global population. It's natural to see user counts come down. We'd be more concerned if Facebook's user engagement trended down despite a steady user count - but, as evidenced by a strong DAU-to-MAU ratio and rising ARPU, this doesn't seem to be the case. Facebook has become a crux of the internet, and one that will still be a fixture of our digital lives in the decades to come.
Part of this longevity is also due to the fact that Facebook now spans across many connected offerings. Facebook Messenger, for example, remains one of the core reasons why even fringe users can't bring themselves to disconnect from Facebook - many of their connections can only be reached via Messenger. Aside from this, Facebook has a smattering of other offerings - from Instagram to Facebook Marketplace, as well as enterprise chat. These additional offerings not only provide Facebook with additional sources of revenue growth, but also cement its reputation as a multi-use platform.
Once the current pessimism passes and rational trading resumes, investors won't be able to ignore Facebook's low P/E ratio and its tremendous growth potential. The strong earnings performance in Q3 presents a good opportunity to double down on Facebook. Hold on to this stock for the long term.
User trends could be better, but not downright disappointing
The most critical numbers to parse in Facebook's earnings release, as in every quarter, are its user growth figures. The following two charts, taken from Facebook's earnings deck, neatly summarizes its DAU and MAU trends:
Figure 1. Facebook DAU and MAU counts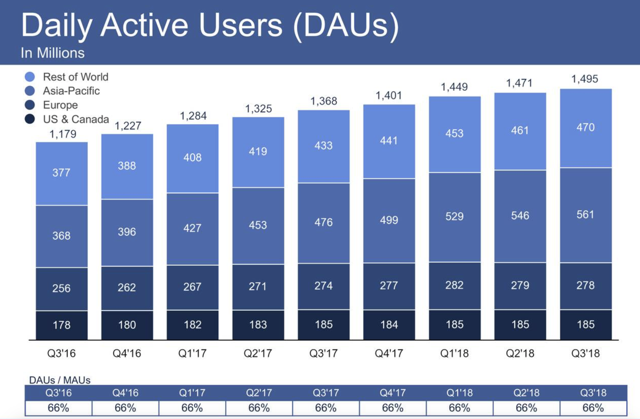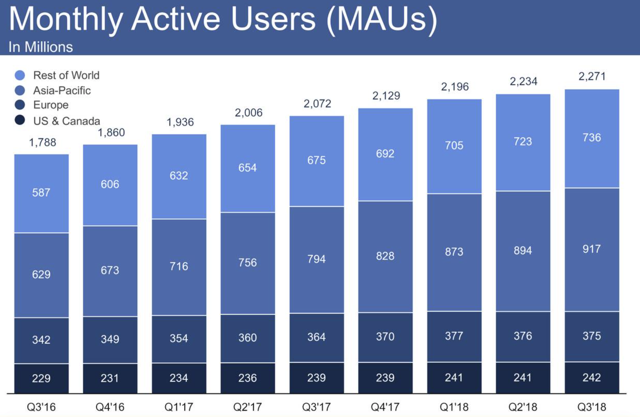 Source: Facebook investor relations
DAUs rose 9% y/y to 1.495 billion, slipping below Wall Street's expectations of 1.51 billion by 20 million. This represents two points of deceleration from last quarter's DAU growth rate of 11% y/y. MAUs, on the other hand, barely maintained double-digit growth at 10% y/y to 2.271 billion, also missing Wall Street's consensus estimate of 2.29 billion by 20 million users and decelerating one point from last quarter's growth rate of 11% y/y. It's also worth noting that like Twitter (TWTR), Facebook did a clean-up of its user counts this quarter and removed about 15 million DAUs and 9 million MAUs, which accounts for the majority of the user miss.
In spite of this user count slowdown, note that the MAU-to-DAU ratio has maintained steady at 66%, which more or less signals that user engagement among Facebook's base is more or less constant. In addition, making up for some of the slowdown in users is a sharp 20% y/y increase in average revenue per user (ARPU), driven largely by gains in Facebook's flagship advertising revenue stream.
Figure 2. Facebook ARPU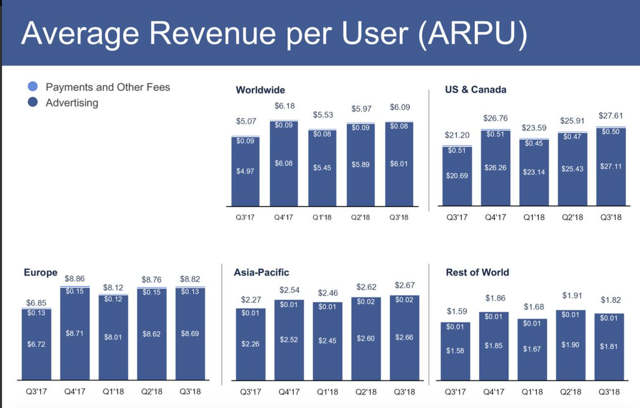 Source: Facebook investor relations
Mark Zuckerberg also made a few notable qualitative comments on user engagement during the earnings call:
There are now more than 2.6 billion people using Facebook, WhatsApp, Instagram or Messenger per month, up from around 2.5 billion last quarter. But now, on average, more than 2 billion people use at least one of our services every day."
He also noted that Facebook currently powers more than 100 billion messages each day, which is more than SMS messaging at its peak.
Q3 download
Now let's take a look at Facebook's full Q3 results:
Figure 3. Facebook 3Q18 results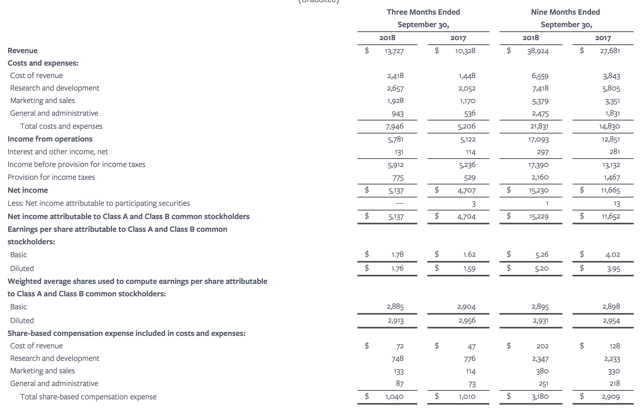 Source: Facebook investor relations
Revenues grew 33% y/y to $13.73 billion, powered by growth in advertising ARPU as well as a slower (but still positive) growth in the user base. This represents heavy deceleration from 42% y/y revenue growth in Q2, but when considering Facebook's immense size, the fact that it can still manage >30% growth is already impressive. Wall Street had expected slightly higher revenues of $13.77 billion, but Facebook only missed that mark by a meager 40bps.
Note that this revenue deceleration was more or less expected. Last quarter, Facebook shares dropped 20% during the earnings call as CFO David Wehner announced, to investors' surprise, that Facebook would see sharply decelerating revenue growth in the back half of the year. Wehner had specified that the deceleration would be in the "high single-digit percentages", which was exactly what happened this quarter. All considered, the slowdown came in as expected but could have been much worse.
Expenses also came up this quarter, as expected. Here's a breakdown of the major categories as a percentage of revenues:
Figure 4. Facebook expense trends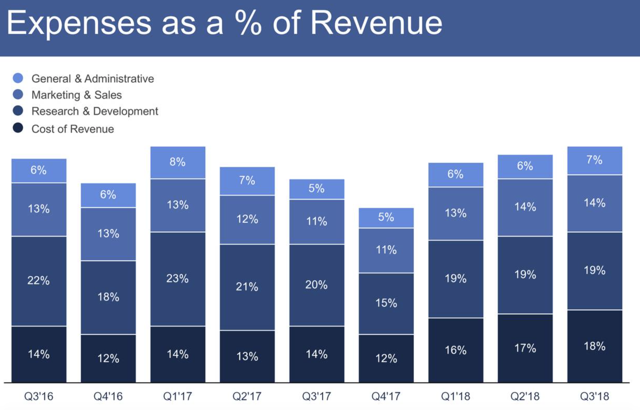 Source: Facebook investor relations
Facebook's CFO noted that the expense growth was largely due to headcount expansion in technical functions. On the bright side, he also noted that the company is decreasing its total expense growth outlook for FY18 to 50-55%, down from a prior view of 50-60%. Counterbalancing this, however, is an increase in expected capex to $15 billion, up from $14-$14.5 billion.
In spite of the uptick in expenses as well as the slowdown in user counts, it's incredible that Facebook managed a huge beat over Wall Street's EPS expectations. On a pro forma basis, Facebook reported EPS of $1.76, up 11% y/y. Wall Street had only expected $1.46, marking a 20% upside earnings surprise this quarter.
Key takeaways
Despite a modestly slowing user count which was largely expected, Facebook has yet again proven that it's a stock to hold for the long term. On an earnings basis, it continues to be the cheapest name in the FANG group, a fact that largely goes ignored by investors.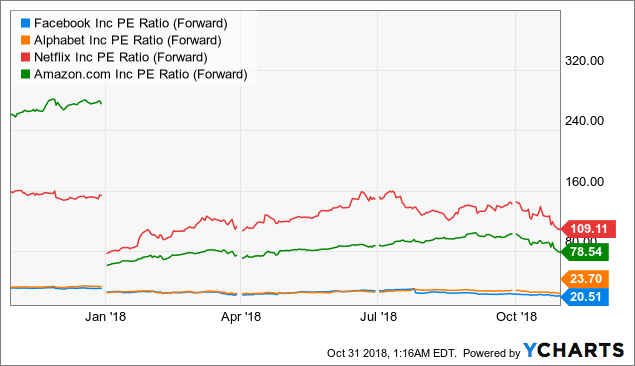 Short-term swings in the share price should be ignored. As a multi-product platform that reaches billions of users, Facebook has the longevity to continue growing both its top line and earnings at an above-market pace for the foreseeable future. In the absence of large unexpected surprises in Facebook's third-quarter results, the October pullback presents a compelling opportunity to continue building a long position in Facebook while it's still low.
Disclosure: I am/we are long FB. I wrote this article myself, and it expresses my own opinions. I am not receiving compensation for it (other than from Seeking Alpha). I have no business relationship with any company whose stock is mentioned in this article.