Welcome to the US oil production soars edition of Oil Markets Daily!
US oil production soars in August to a new record high of 11.346 mb/d. This is 416k b/d higher m-o-m and is the largest monthly production increase.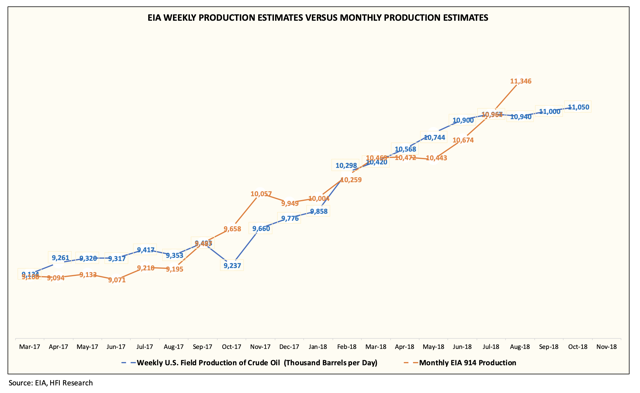 Relative to the EIA weekly estimate, the EIA 914 US oil production report was 406k b/d higher than the weekly estimate. The 11.346 mb/d also blasts past our expectations that US oil production would finish year-end at 11.3 mb/d.
Here are where the growth m-o-m primarily came from: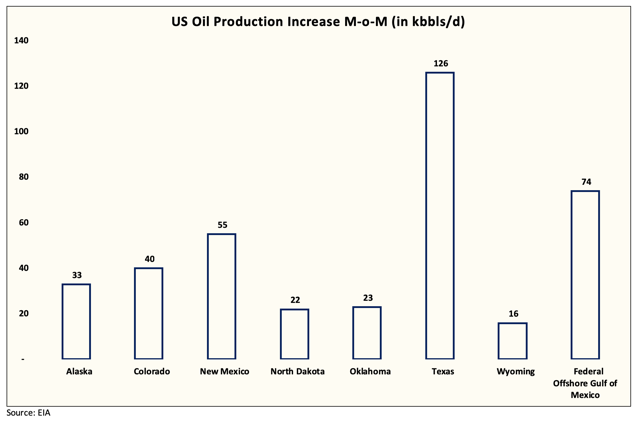 Texas accounted for the bulk of the increase m-o-m coming in at +126k b/d. GOM also saw a sizable increase of 74k b/d m-o-m following a strong July report as well.
Looking at US oil production going forward, it looks like the recent positive adjustment factor is explained through the much higher than expected US oil production figures.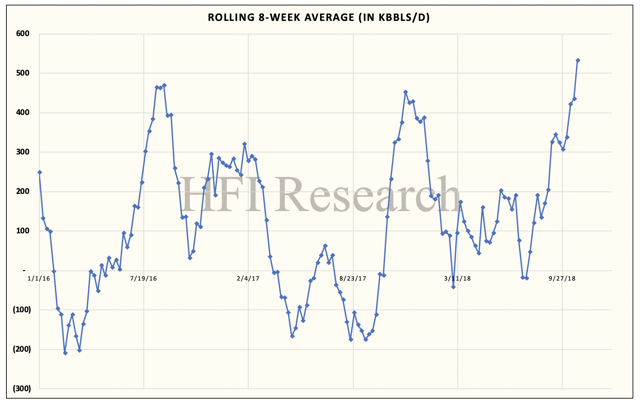 As a result, if we take the trued-up methodology (weekly + adjustment), we have US oil production close to ~11.7 mb/d at the very moment.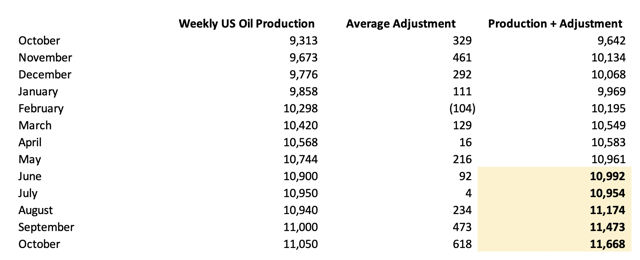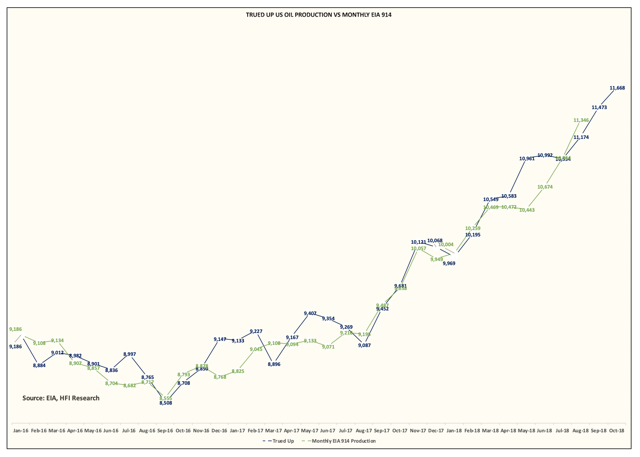 The growth is quite remarkable considering that Permian was supposed to be constrained this year, but from this data, we aren't seeing much of a constraint at all. However, it is worth noting that both Schlumberger (SLB) and Halliburton (HAL) said that US shale well completion activities are set to slow in Q4. What was interesting was that the service providers are saying that US shale producers "exhausted" this year's capex budget in Q3 and will keep completion activities largely flat into year-end.
If this is indeed the case, then we see US oil production finishing the year between 11.7 to 11.8 mb/d or some 400k to 500k b/d higher than our preliminary estimate.
What does this mean for global oil supply and demand?
This is clearly a bearish datapoint and dented the oil bull's armor. One important thing to note, however, is that from a global supply and demand perspective, the higher than expected US oil production figure was partially offset by disappointing non-OPEC supply data.

Source: IEA OMR
Brazil's oil production was expected to be closer to ~2.9 mb/d by this time of the year according to IEA's preliminary projections, so the ~300k b/d delta helped offset the ~500k b/d higher than expected US oil production finish.
In addition, North Sea production was expected to stabilize, but so far this year has been lower y-o-y due to unexpected maintenance. This has knocked off ~100k b/d.
The total delta is bearish to the surplus side by ~100k b/d.
All eyes on Saudi...
What does that mean for global oil supply and demand balances into 2019?
The bearish US oil production is likely going to prevent the scenario of an oil price spike to $100/bbl. Our balances show that if Saudi decides to produce past 10.5 mb/d and with global oil demand growth slowing to ~1.3 mb/d in 2019, global oil market fundamentals will be balanced. For oil watchers, the 10.5 mb/d can be used as an easy indicator for when the oil market may flip into surplus or deficit.
For energy investors then, it's never been more important to understand Saudi's incentives. Our view has always been that Saudi will need higher oil prices and with Brent now approaching $75/bbl (the lower part of the "Saudi band"), we are once again seeing Saudi lower its crude exports: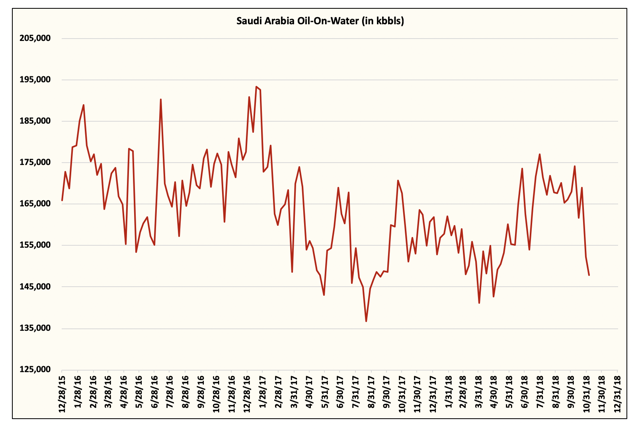 Source: Kpler
A good measuring stick for this is Saudi's oil-on-water, which indicates whether it will start "flooding" the market with exports or temper back.
We are starting to see Saudi cut exports already.
Conclusion
US oil production's surprise to the upside pushed us to revise our year-end US oil production target to 11.7 to 11.8 mb/d. This was a net bearish ~100k b/d balance as non-OPEC supply disappoint helped offset the surprise increase. Going forward, Saudi has a lot of control on where oil prices are headed. With US oil production surprising to the upside, we estimate that Saudi's oil production will need to remain at or below 10.5 mb/d in 2019. Given what we are seeing from the Saudi export response to Brent price fluctuation so far, we believe it will try to keep Brent above $75/bbl or the lower part of the Saudi band.
For oil watchers and energy investors, it's going to become even more important in the coming months to watch Saudi exports, global imports, and Iranian exports.
Author's Note: Thank you for reading this article. If you found this article insightful, please leave a "Like" below.
We've recently launched a new report called "weekly oil market fundamentals". This report helps readers understand just what is developing in the oil market and where we think oil prices are headed on a short-term and medium-term basis.
Starting on Dec 1, HFI Research will be increasing the subscription price to $165/month or $1,000/annual from $150/month or $900/annual.
Come and see for yourself why we are the 3rd most subscribed premium service on Seeking Alpha, see here for more info.
Disclosure: I/we have no positions in any stocks mentioned, and no plans to initiate any positions within the next 72 hours.
I wrote this article myself, and it expresses my own opinions. I am not receiving compensation for it (other than from Seeking Alpha). I have no business relationship with any company whose stock is mentioned in this article.