Investment Thesis
Our analysis of the AGNC Investment Corp (AGNC) third-quarter earnings report reiterated our previous analysis that rising rates would impact earnings and monthly distribution. The move in interest rates resulted in a decrease in tangible book value from $18.41 to $18.00 for the quarter and an OCI loss of $0.42 per share on investments marked-to-market. This resulted in (AGNC) earning $0.03 per share in comprehensive income per common share.
These results, as well as other important financial metrics, lead us to believe that the dividend will likely be reduced or continue to be paid out mostly as a return of capital. We think investors who are overweight the stock should look to reduce their position or to stop reinvesting dividends. Since the dividend includes a large amount of return of capital payments not reinvesting the dividends over time equates to reducing your position because you are getting your money back as part of the distribution. For our position in (AGNC), we have stopped reinvesting dividends as we think the stock has room to go lower until the yield curve steepens.
Interest expense and leverage have increased
In just the last year, interest income has increased from $318 million to $500 million or 57%. Over the same time period, interest expenses have increased from $140 million to $312 million, or 123%. The cost of short-term financing is the main factor as interest rates have increased over the last year. In the third quarter of 2017 repo rates were below 1.5% for AGNC while as of September 30 of this year AGNCs average repo rate has risen to 2.30%. If the federal reserve continues to increase interest rates, AGNC repo rate and short-term borrowing costs will only increase. We believe that in order to deal with lower margins from increased borrowing costs AGNC increased their leverage and invested in more assets in order to support the yield and keep investors happy. This isn't necessarily a bad thing even though it increases their leverage ratio to around 8.5x. This increase in leverage puts investor capital at greater risk but is likely necessary for AGNC to generate enough income to pay shareholders. We are becoming cautious given the increase in leverage in the face of a flattening yield curve.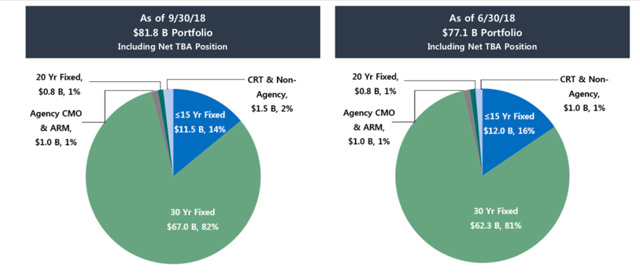 Source: AGNC IR
A Significant and Sophisticated Hedging Strategy
AGNC has a portfolio of roughly $82 billion with $67 billion of that, roughly 82%, in 30 year fixed rate loans. Longer-term debt securities are much more sensitive to interest rate risk and will fluctuate in value more than intermediate and short-term debt. In order to manage this risk, AGNC uses derivatives to hedge against interest rate risk. Some of these positions have proved to be profitable with their $48.7 billion fixed pay interest rate swap generating $0.49 per share in gains for the third quarter. AGNC also has a short position in US treasuries of around $17 billion which generally makes money for them when interest rates rise. This trade will help offset any portfolio losses from their MBS securities decreasing when rates rise. Even though AGNC may not realize a loss on their positions they have many securities marked as available for sale which requires the company to account for gains and losses of the securities in their portfolio.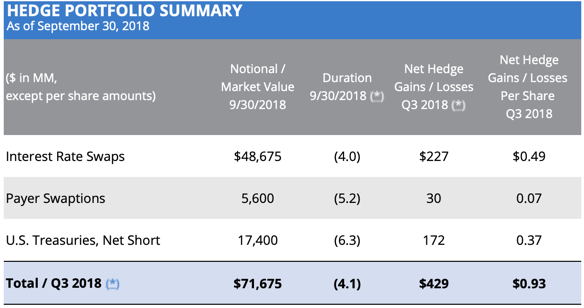 Source: https://agnc.com/risk-management/
A significant percentage of AGNC dividends are a return of capital
AGNC paid dividends to their shareholders in 2015 of $2.48 with 100% of the distributions being treated as ordinary dividends. In 2016 AGNC paid $2.16 in Dividends with $0.43 per share or 21% of the distributions being non-dividend distributions or in other words a return of capital. For 2017 AGNC paid $2.16 in dividends with $1.35 or 63% being non-dividend distributions. This is a benefit for those looking to lower their tax bill for dividends however it means that AGNCs earnings and cash flow are not sufficient to pay a dividend without raising capital through debt or equity financing. The reason why this trade-off exists is AGNCs commitment to maintaining book value. The difference between assets and liabilities is the equity available to shareholders so when AGNC buys assets and increases debt the value of the assets and the amount of data should increase at the same rate or with assets growing more quickly. It's simple and applies to all businesses that want to create wealth for shareholders. If AGNCs debt were to rise at a faster rate than assets it would wipe out shareholder wealth. So we believe it is more important for AGNC to maintain its book value then to maintain its distribution. However, with over 100 million shares being created over the past few years AGNC's distribution is starting to become unsustainable. AGNC will need to continue to raise more money through debt financing in order to generate enough income to keep paying dividends. This will increase the risk for existing shareholders which we think should give investors some incentive to take action.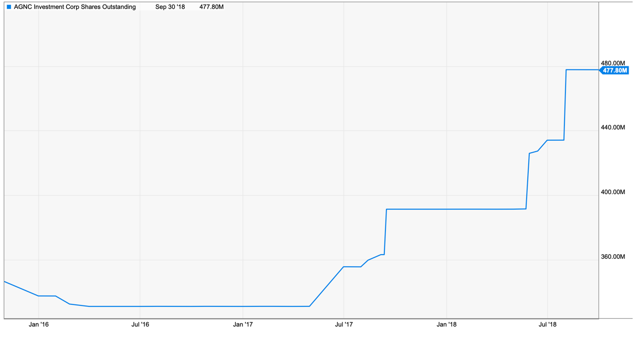 Source: YCHARTS
What we recommend
The risks of mortgage REITs is well understood yet investors often look the other way because the dividend distributions are very enticing. With the increase in leverage, shares outstanding, and declining spreads and profitability we think it is time for investors to reduce their exposure to mortgage REITs such as (AGNC). That is what we have done. We have slightly reduced our position and have stopped reinvesting dividends. Since the dividends are in a large part a return of capital we are in effect continuing to reduce our position over time by not reinvesting.
Disclosure: I am/we are long AGNC. I wrote this article myself, and it expresses my own opinions. I am not receiving compensation for it (other than from Seeking Alpha). I have no business relationship with any company whose stock is mentioned in this article.