Netflix (NASDAQ:NFLX) has corrected by about 30% from its all-time high of $423.21 reached in July. The correction comes amid a broader market sell-off, and a recent Q3 earnings beat of 89 cents EPS versus the 68 cents EPS expected. The company had also reported strong subscriber growth of 6.96 million in Q3 versus expectations of just 5.13 million. The stock had rallied as much as 15% after the earnings beat, however it continued its slide downwards the next trading day. Now the question is, is the stock a buy at the current level?
Content Expenditure
The most expensive expenditure item for Netflix is content. The company has spent $3.17 billion on content in Q3, and more than $10 billion over the last 12 months.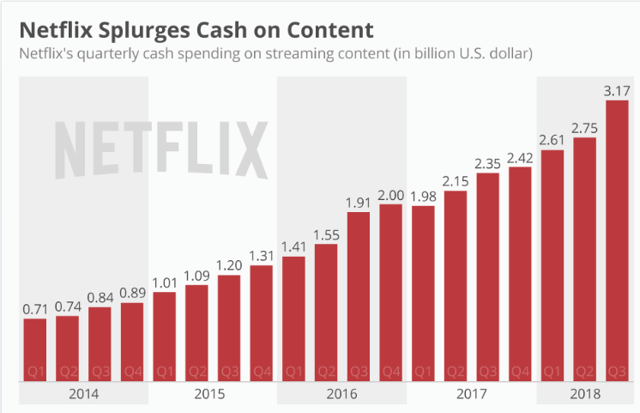 Source: Statista
Expenditure on content is very important for the company, as this is what drives its subscriber growth, the most watched metric by investors. A supportive sign for Netflix investors has been the strong positive correlation between content expenditure and subscriber growth, as it shows that Netflix is spending on the right types of content.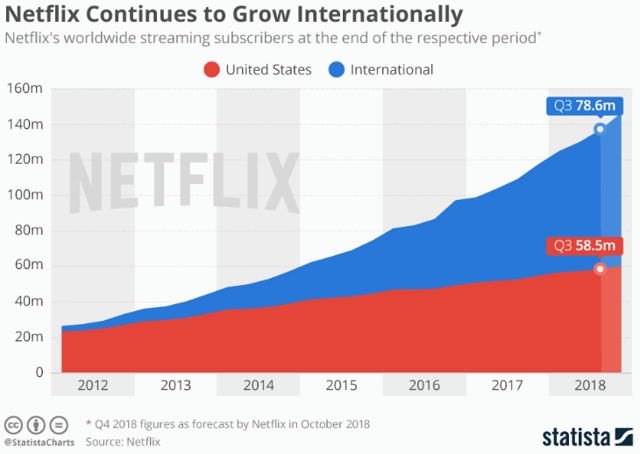 Source: Statista
Negative Cash Flow and Rising Debt
However, the rise in subscriber growth is coming at the cost of negative cash flow and rising debt. According to data from Morningstar, negative cash flow for Q3 was $730 million, and total debt stands at $18.4 billion. The growth in subscribers has clearly been debt-fueled growth, which is not necessarily a bad thing if Netflix held significant competitive advantage over the rest of the industry. However, Netflix already faces competition from the likes of Amazon (AMZN) Prime Video, AT&T (T) and Comcast (CMCSA). The competitive landscape will be getting even tougher as more competitors are looking to enter the streaming industry, such as Walt Disney (DIS).
The increased competition poses a risk to the outlook for Netflix's subscriber growth going forward. As competition grows, I believe a price war within the industry will be inevitable, as each service provider will try to take away each other's subscribers and market share. In a price war, financial strength is essential in order to withstand lower prices to squeeze out competition. Below you can find a table detailing the free cash flow levels of Netflix and some of its main existing/future competitors.
| | |
| --- | --- |
| | *TTM Free Cash Flow ($ billions) |
| Netflix | -2.05 |
| Amazon | 13 |
| Comcast | 12.7 |
| AT&T | 19.8 |
| Walt Disney | 9.6 |
Data Source: Morningstar
*TTM= Trailing Twelve Months
As you can see, Netflix is in a much weaker free cash flow position than several of its competitors, who would be better able to compromise their free cash flows to engage in price wars and win over market share.
Though while 'price' is just one competitive factor, 'content' is another significant factor that will be essential to maintain and increase market share, and Netflix has done great so far in delivering the right content to support subscription growth. However, keep in mind that delivering good content is a never-ending process in this industry. Content that is popular this year won't necessarily still be popular next year. Therefore, streaming service providers will have to continue spending on new content to stay competitive in the industry. As a result, healthy levels of free cash flow will be essential to allow companies to keep spending on new content. And as you can see in the table above, Netflix is already running with negative free cash flow (and ballooning debt repayments), while its competitors have ample levels of free cash flow to spend on new content.
This is where the outlook for Netflix becomes worrying. On top of Netflix's already vulnerable financial position, I believe the increased competitive landscape in the industry will definitely make it difficult for Netflix to raise prices on its users, due to the threat of losing subscribers to other competitors. Therefore, while negative free cash flow and high debt repayments are here to stay for as long as content is a 'priority', the future outlook for revenue growth and profitability does not look very promising for Netflix.
Valuation
For those who are considering adding exposure to 'video streaming services' to their portfolio, it is worth comparing Netflix's current valuation to other tech companies that also offer streaming services.
| | | | | |
| --- | --- | --- | --- | --- |
| | Price to Cash Flow | Price to Sales | Price to Earnings | Price to Forward Earnings |
| Netflix | - | 8.6 | 102.1 | 68.5 |
| Amazon | 28.6 | 3.5 | 85.7 | 54.9 |
| Comcast | 7.3 | 2 | 7.4 | 13.4 |
| AT&T | 4.7 | 1.2 | 5.9 | 8.6 |
| Walt Disney | 12.4 | 3 | 14.4 | 15.6 |
Data Source: Morningstar
I should note that while Netflix is a pure 'video streaming' play, other competitors in the table above also offer other services apart from video streaming, which also drive their price multiples. Nevertheless, Netflix certainly looks incredibly expensive, even after its recent correction. Therefore, investors that are considering buying Netflix should definitely consider other players in the industry as well. Especially ones like Walt Disney, which is entering the industry soon, and is trading at only 15.6x forward earnings at the moment.
Bottom Line
Netflix has been showing an incredible level of subscription and revenue growth, which has supported its stock price higher over the last few years, regardless of increasing negative free cash flow and debt levels. However, as the industry becomes more competitive, Netflix's weak financial conditions may undermine its ability to stay competitive going forward, in terms of both price competition and content delivery. Investors that are considering buying Netflix should certainly consider the potential risks and compare it to other competitors in the industry.