Introduction
On Monday, October 29, 2018, Honeywell (HON) Spin-off, Resideo Technologies, began trading under the ticker REZI. This is Honeywell's second spin-off in the past month. Its last spin-off, Garrett Motion (GTX), an industrial company focused on manufacturing and selling turbochargers to automobile manufacturers, was spun off on October 1, 2018. Since beginning trading, it has sold off 27% due to concerns over the stock's exposure to the cyclical auto industry, a heavy debt load, and significant asbestos-related liabilities. Despite these valid concerns, the stock looks interesting trading at ~5.7x EBITDA and 5.4x earnings. Now let's move on to analyzing Resideo.
Distribution Overview
As shown in the graphic below, investors received 1 share of Resideo for every 6 shares of HON owned.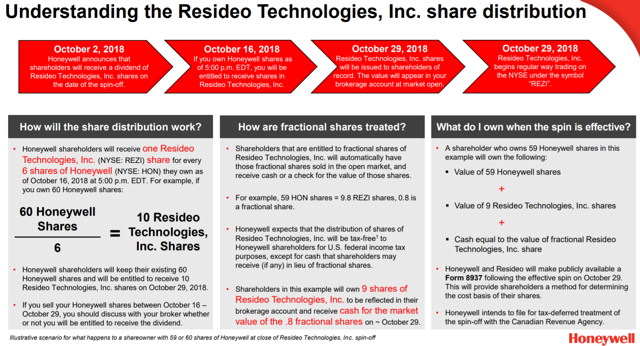 Source: Honeywell Investor Relations
Typical Spin-off Dynamics
First of all, Resideo could be interesting because it's a spin-off, and as most investors know, spin-offs have historically outperformed the broader market. Why do most spin-offs outperform?
Usually stock spin-offs begin trading at a low valuation. This occurs for a couple reasons:
1) Spin-offs are distributed to investors (not sold like in an IPO) and so there is very little publicity regarding the new company. Generally, no or few analysts cover the stock and so it is not marketed to institutional investors. Further, the spin-off is usually much smaller than the parent company, and oftentimes, institutional investors are prohibited from owning shares in the spin-off. Let me explain. If a large cap mutual fund manager owns a large cap company which distributes a small cap spin-off, that mutual fund manager's investment mandate prevents the manager from holding the spin-off. For these reasons, many investors sell their shares in the spin-off regardless of price or underlying value.
2) The management team of the new spin-off has very little incentive to promote the company initially. In fact, the management team is incentivized to not promote the stock. Why? Because management stock options are usually priced based on the first couple weeks of trading. The lower the stock trades initially, the greater value potential the options have.
And despite a very low initial valuation, spin-off companies tend to perform well. Why? Because "capitalism, with all its drawbacks, actually works" as Joel Greenblatt, famous spin-off investor, once wrote. Bureaucracy shrinks and entrepreneurial forces are unleashed. "The combination of accountability, responsibility, and more direct incentives take their natural course," according to Greenblatt.
The combination of a low initial valuation and strong operating performance generally leads to a higher valuation and strong stock performance. J.P. Morgan looked at U.S spin-offs from 2009 to 2015 and found that the average valuation for spin-offs, on average, increased from 6.9x EBITDA to 8.6x EBITDA.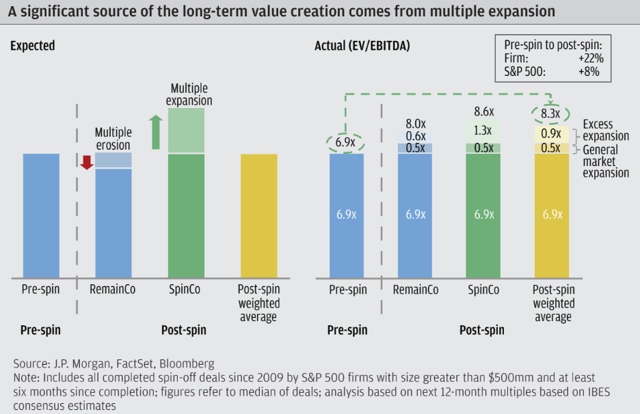 Source: J.P. Morgan
Further, Resideo could be interesting as it has been subject to indiscriminate selling in its first couple days of trading. At the time of the spin-off, Resideo had a market cap of $3.5BN, a small fraction of Honeywell's $108BN market cap. As discussed above, large investment managers oftentimes are "forced" to sell their spin-off shares due to institutional constraints which prevent them from owning small cap stocks.
It appears that indiscriminate selling is occurring as REZI has declined by ~23% in its first three days of trading.
While spin-offs can often be attractive investment opportunities, they don't all perform well so it's important to evaluate the spin-off's core business and valuation as these will ultimately drive how the stock performs.
Resideo Overview
Resideo is comprised of a products business and a distribution business. As shown below, its products business represents 49% of sales and 73% of segment profit while its distribution business represents 51% of revenue but 27% of segment profit.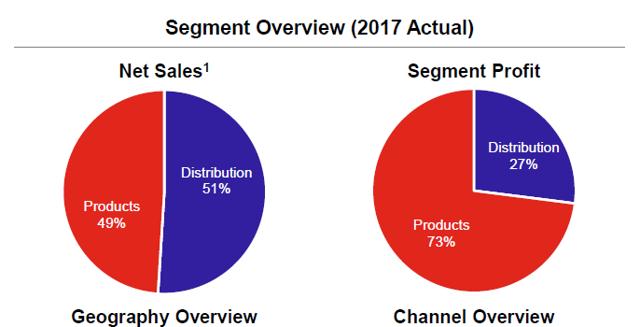 Source: Honeywell Investor Relations
Honeywell Home (Products)
Resideo's products business sells devices that provide "Comfort and Care" and "Security & Safety." It serves residential end markets. Resideo sells its products to retailers and professional contractors.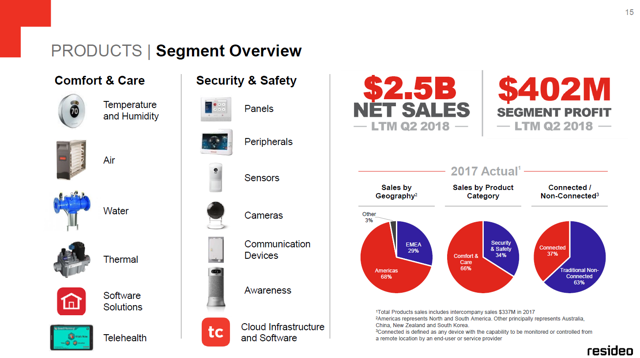 Source: Honeywell Investor Relations
Product Examples include:
Thermostats
Humidifiers
Interior and exterior cameras
Security panels
Smoke detection
MUCH more (Resideo has over 3,000 active products)
Honeywell ADI (Distribution)
Resideo's distribution business distributes security and fire protection products and serves primarily non-residential end markets. Resideo distributes its products to professional installers (Resideo has over 100,000 contractors as customers).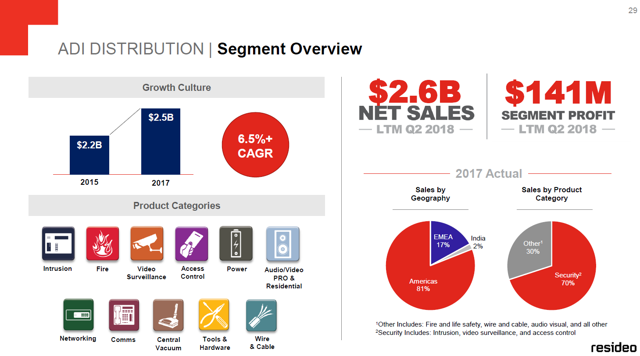 Source: Honeywell Investor Relations
Product Examples include:
Fire detection systems
Intrusion detection systems
Video Surveillance
Historical Growth
According to Resideo's slide deck, revenue has grown at a CAGR of 4% and EBITDA margins have increased from 8% to 10% over the past 2 years.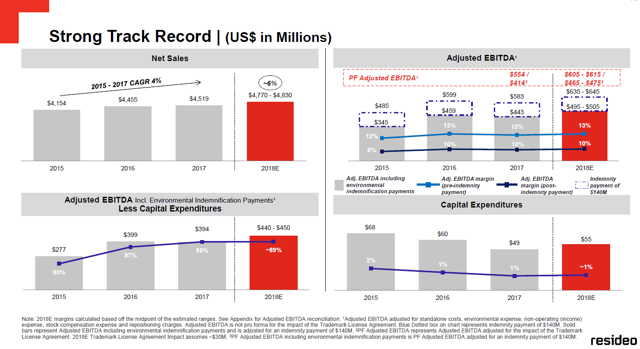 Source: Honeywell Investor Relations
It's difficult to tell how cyclical the business is because Honeywell has reorganized its businesses so many times that we simply can't go back to the 2009 10-k to view the decline in revenue and segment profit. The 2009 10-k does disclose that Automation and Control Solutions (the segment that included the Home business) sales declined by 13% on an organic basis. Segment profit decreased by 2% on a reported basis (organic profit was not broken out).
This is somewhat reassuring that the business is not overly cyclical. Further, Residio does make the case that it is positioned well from a macroeconomic perspective as seen below.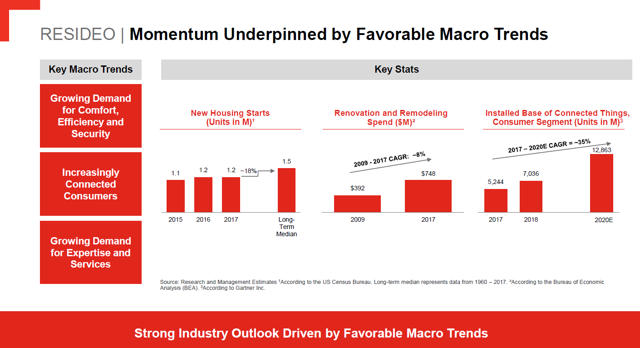 Source: Honeywell Investor Relations
However, I'm less optimistic as I believe we are close to a cyclical peak. Further, there has been news on the residential housing front that does not bode well for Resideo's end markets.
Existing home sales have fallen for 6 months in a row. Purchases of new homes has declined for 4 months in a row as a shortage of affordable listings and rising costs limit demand. US housing inventory is creeping up. The average 30 year mortgage rate is approaching 5% which is making homes less affordable than in years past.
All these factors could point to a slowing outlook for US housing which would be a headwind for Resideo's residential focused business. I'm going to do additional work to better understand Residio's cyclicality.
Quality of Business
While Resideo's business is slow growth with modest margins, it is a high quality business as evidenced by its return in invested capital. In 2017, Resideo generated a ROIC (NOPAT/Invested Capital) of ~21% by my math. I include Resideo's indemnity payment (more on this below) to Honeywell in this calculation, thus, the business' core ROIC profile is even higher.
Why does the business generate such a high return on capital? A large portion of Resideo's assets are goodwill, and capex is minimal, only representing 1% of sales (its net plant, property and equipment is only $264MM).
Honeywell Indemnity Payments
Resideo will be required to make annual payments to Honeywell to cover 90% of the cost of environmental remediation of ~230 sites. However, Resideo's payments are capped at $140MM. So Resideo's payments will be the lower of 1) 90% of Honeywell's payments or 2) $140MM. This payment will need to be made for 25 years (the length of the agreement). Resideo's obligation could expire early if there are three years in a row where the annual indemnity payments are less than $25MM. For additional details, see slide 52 of this presentation. To be conservative, we should assume Resideo makes $140MM payments to Honeywell for 25 years.
However, if Resideo's obligation did end early, it would increase earnings and cash flow by $140MM as the indemnity payments are not tax deductible.
Valuation
I've found it difficult to find a perfect comparable company to value Residio. To summarize some key statistics, Residio has expected revenue growth of 4% in 2019, an EBITDA margin of ~10%, a ROIC of ~21%.
In the Form 10, Resideo does not list any competitors but notes that it sells (through its distribution business) products from Assay Abloy, Axis Communications, Nortek Security and Solutions as well as its own private label products. Let's analyze these companies to see how they are valued.
Assay Abloy is a Swedish lock manufacturer. It's on track to generate 10% revenue growth in 2018, has an EBITDA margin of 18%. It's a low capital intensive business with a ~90% ROIC and trades at 13.7x 2019 EBITDA. This doesn't seem like a great comp as it has higher growth, margins and ROIC than REZI.
Axis Communications is a Sweden manufacturer of network cameras for the physical security and video surveillance industries. It is growing revenue 13% and has a 13.8% EBITDA margin. Its ROIC is ~33%. It trades at 19.0x trailing EBITDA. This doesn't seem like a great comparable either given it has superior financial profile to Resideo.
Nortek Security and Solutions actually looks like a decent comparable. The company is focused on wireless security, home automation, and personal safety and devices. It was acquired in 2016 by Melrose Industries for 10.0x trailing EBITDA and 9.3x forward EBITDA. At the time of the acquisition, it had flat revenue, a 10.7% EBITDA margin, and a ROIC of 21%.
If we assume REZI deserves to trade at a 9.3x forward multiple, it is worth $28, ~28% above its current share price. Note we've included indemnity payments in the EBITDA estimates below.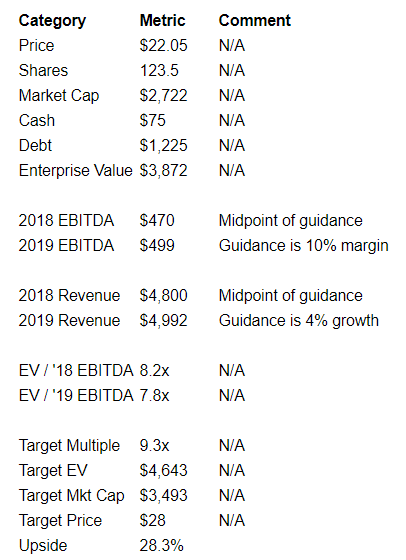 Source: Stock Spin-off Investing
Conclusion
While our preliminary analysis points to ~28% upside, we don't have the conviction to recommend REZI at this time. We need to do further work to assess the cyclicality of the business and to fine tune our valuation analysis. Interested in stock spin-offs? Visit our stock spin-off calendar to monitor all spin-offs that have been announced.
Disclosure: I/we have no positions in any stocks mentioned, and no plans to initiate any positions within the next 72 hours.
I wrote this article myself, and it expresses my own opinions. I am not receiving compensation for it (other than from Seeking Alpha). I have no business relationship with any company whose stock is mentioned in this article.