Just when things were starting to look promising for gold, its biggest enemies have returned with force. A combination of a strengthening dollar and a rebound in global equity prices have undermined gold's two biggest near-term supports: its currency and fear components. In today's report, I'll argue that while gold still has enough strength to remain above its August low, the dollar will likely continue to keep it stuck in its narrow 3-month trading range and prevent any meaningful upside moves in the coming weeks.
Gold prices have pulled back in the last three sessions after hitting a three-month peak last week. Gold is once again under pressure from a strong dollar, as well as a return to a "risk-on" stance among global equity investors. The good news is that the yellow metal managed to gain 1.7% in October despite its recent challenges. This effectively snapped its longest losing streak since 1997.
Despite the monthly gains, however, the December gold futures price is down almost 2% so far this week and made a 3-week low on Wednesday. It's now also back under its 15-day moving average (below). This technically underscores the erosion of gold's currency component and tells us that the gold bulls are now on the back foot, for reasons I'll explain here.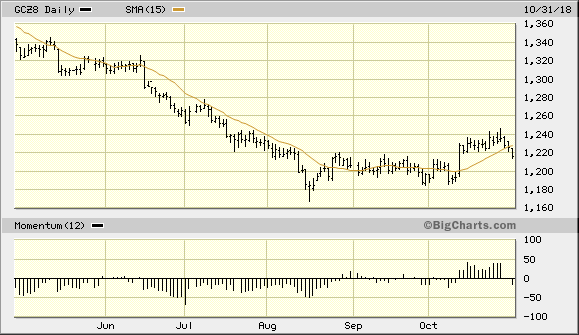 Source: BigCharts
Of critical importance to the short-term trend, the dollar is now in the verge of another big rally against a basket of currencies, making gold more expensive for holders of other currencies. The dollar has also gained this week against the euro after German Chancellor Angela Merkel indicated that she wouldn't seek re-election as head of her party.
The U.S. Dollar Index (DXY) climbed to the 97.00 level on Tuesday and hit a new high for the year to date, rallying further on Wednesday. This puts significant pressure on the gold price and will likely undercut its recent attempt at pushing out of its 3-month lateral trading range. Providing even more perspective on the dollar's latest strength is the Invesco DB US Dollar Index Bullish Fund (UUP), shown below. UUP is a cleaner depiction of the dollar's rally and has made an even more decisive series of higher peaks and higher lows. This is an undeniable sign that the dollar remains in a bull market, which doesn't bode well for the intermediate-term gold outlook. As long as the dollar is rising, gold will do well just to maintain its sideways trading range in the short term.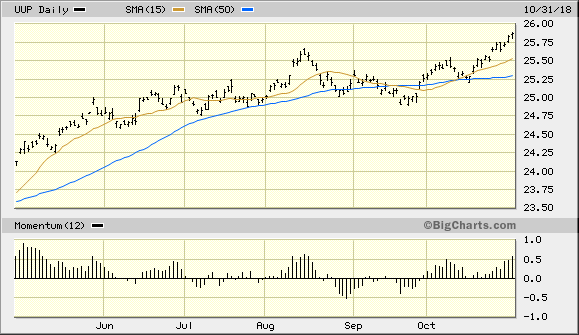 Source: BigCharts
What's more, the last two days have seen significant interest in bargain buying of beaten down equities among investors. U.S. stocks have rallied along with the battered stock markets of China and other developing nations. The benchmark S&P 500 Index (SPX) was up nearly 2% on Wednesday, while China's Shanghai Composite Index rose 1.35%. Equity market strength detracts from gold's safe-haven appeal, which is another reason why gold bulls will have their work cut out for them in the coming days.
It's also significant that the silver price never confirmed gold's recent safety-related rally; instead, silver has shown relative weakness. The iShares Silver Trust (SLV) remains stuck in its own tight, narrow range and has shown little forward movement since September. In my last report, I noted that whenever silver fails to confirm gold, the integrity of gold's rallies must be questioned due to the close historical correlation between both metals. As can be seen in the following graph, SLV took a sharp dive in the last couple of sessions and is threatening to test its September low. A failure to hold above the recent low would confirm that silver remains in the bears' hands. This in turn would remove yet another support for the gold price.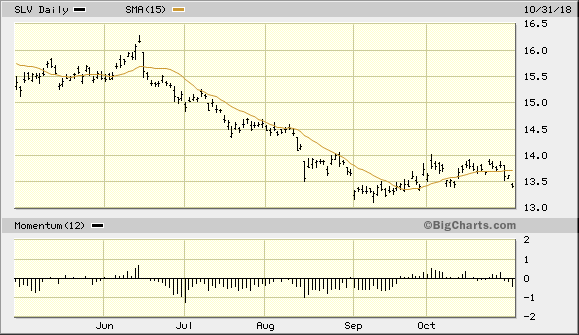 Source: BigCharts
Meanwhile on the managed fund front, hedge funds and money managers reduced their net short positions in gold to the smallest level since mid-July, according to the latest data. This removes some of the fuel necessary for additional short-covering rallies. It also takes away a vital short-term support in the face of a strengthening dollar index. Also worth mentioning is that banks and brokerages have also cut their average gold price forecasts for this year and 2019. However, most still expect gold prices to launch a mild recovery, according to a Reuters poll.
On the gold ETF front, the iShares Gold Trust (IAU) recently confirmed a technical breakout by closing above the pivotal $11.60 level and returning above its rising 15-day moving average. This put me back on an immediate-term buy signal for IAU, where I remain despite the dollar's recent strength. I suggest watching the $11.37 level (the Aug. 23 closing low) closely from here, as this is my recommended initial stop-loss (intraday basis) for this trading position. A violation of $11.37 would put me back on the sidelines for the immediate term. My continued expectation for IAU and the gold price is for the narrow, lateral trading range established in recent months to continue in November.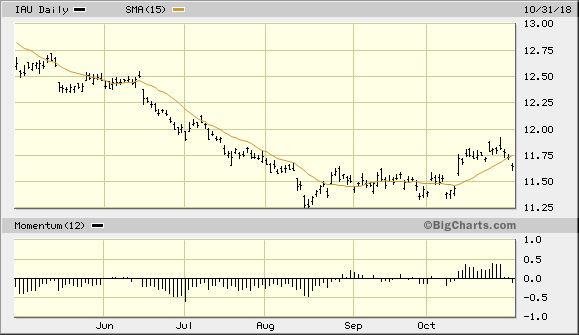 Source: BigCharts
I noted in the last commentary that gold demand that is based solely on investor fear can be powerful, but is rarely sustainable beyond the immediate term (1-4 week outlook). The proof of that statement can be seen in the last couple of trading sessions and will likely be further tested in the coming days. Without a safety bid - and with gold's currency component in serious disarray - gold will do well just to stay above its August low of $1,184. While I still expect the recently established lateral trading range to continue, I don't expect to see gold rallying without significant weakness in the U.S. equity market along with deterioration in the dollar index. Short-term speculators can maintain a position in the gold ETF (mentioned above) as long as my recommended stop loss hasn't been hit. Investors meanwhile should maintain a heavy cash position and wait for better fundamental and technical conditions before establishing new long positions in gold.
Disclosure: I am/we are long IAU.
I wrote this article myself, and it expresses my own opinions. I am not receiving compensation for it (other than from Seeking Alpha). I have no business relationship with any company whose stock is mentioned in this article.