Introduction
Gold appears to be an attractive investment during the next few years. Technical analysis and sentiment indicators lead to this conclusion. However, the Elliott wave framework suggests that investors may have to be patient. Another dip below the August lows appears likely within the technical analysis framework.
Big Picture
Gold probably progressed as an impulse from its 2011 all-time high to the downside. The impulse ended late 2015 with a contracting diagonal in its fifth wave. An impulse is almost always followed by another motive wave in the same direction within the Elliott wave framework. However, an upside correction probably unfolds before. The pale pink trend channel in the very first chart below depicts this correction. Price action within the sideways trend shows a choppy and overlapping character. It fits best to a double-three correction pattern. This is the relevant trend from an investment perspective. It will prospectively take a few more years until completion.
The correction that started in December 2015 and lasted until mid-2016 looks too small in terms of time and price progress. Six months of corrective action are most often not enough to correct a trend, which lasted four years long. Hence, gold is currently most likely still within a corrective rebound from the late 2015 lows. The rebound is captured by the pale pink sideways trend. It corrects the trend, which unfolded within the pale blue trend channel.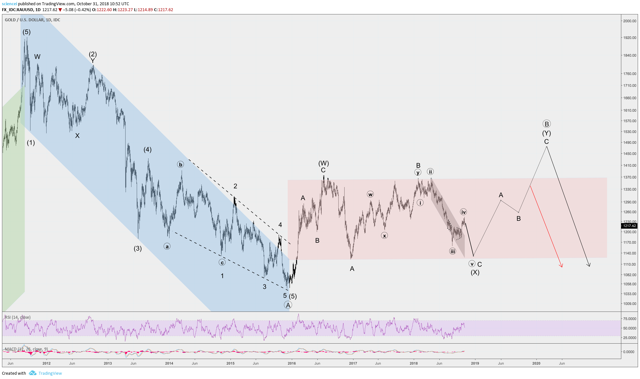 What kind of action is most likely going forward? Double-three corrections tend to be complex and sideways. They are among the most complicated structures within the Elliott wave framework. The reason for that is that they can take on many possible patterns. Their purpose is to extend price action with respect to time. Nevertheless, whatever structure shapes eventually, it is most likely incomplete as we publish this. There is no valid corrective Elliott wave pattern that fits the price action within the pink trend and is complete as of today. Hence, the correction within the pale pink trend channel is likely to persist during the next months. Moreover, the bigger picture reveals a potential trading or investment strategy: Buying the dip near the bottom of the pink trend channel. It coincides with a potentially complete flat correction of intermediate degree.
Short Term
Are we close enough to the bottom of the pink sideways trend to call a bottom? We are probably not there yet. The short-term Elliott wave pattern is probably incomplete. Gold rallied from the mid-August 2018 bottom into the 1,240-mark. Bullish price action stopped at that level and reversed. Technical analysts are probably not surprised that this happened right around 1,240. That level has been support/resistance throughout the past few months. Swings showed a reaction upon reaching that level repeatedly. Moreover, the 38.2% Fibonacci retracement of the entire swing that spans from mid-April to mid-August is also right around that level. Fibonacci retracements receive attention from traders. Therefore, selling or buying pressure is likely concentrated around such technical marks.
Price action morphs into an A-B-C pattern from the August lows to the upside unless gold starts to rally soon. Moreover, the paramount trend shows a textbook flat correction. Both technical observations imply that another down leg is likely. Additionally, it appears that the first down leg of minuette degree started already. Price action from the October 26, 2018, recovery high appears to unfold impulsively to the downside. Another test of the bottom of the pink sideways trend channel seems to be the short-term target for gold. This target remains likely as long as the 1,240 figure does not get crossed on gaining momentum to the upside.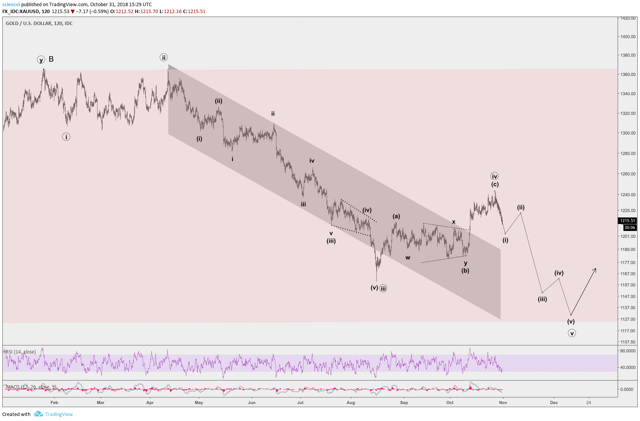 Conclusion
Another low near the bottom of the pink trend channel is probably an attractive opportunity to take a contrarian view. It completes an Elliott wave pattern of at least minor degree. Moreover, the entire precious metal complex is showing depressed sentiment readings among its market participants. Last but not least, the bottom part of the pink channel acted repeatedly as a support/resistance level. All in all, these are the ingredients that started a meaningful cyclical trend change historically.
Disclosure: I/we have no positions in any stocks mentioned, and no plans to initiate any positions within the next 72 hours.
I wrote this article myself, and it expresses my own opinions. I am not receiving compensation for it. I have no business relationship with any company whose stock is mentioned in this article.