Market Intro

Monday, 1:36 PM EST
Spot volatility is printing heavily to the back foot - down almost 10% since yesterday's close - as US stocks (SPY, DIA, QQQ, IWM) try to mount a recovery that is not only strong, but stable.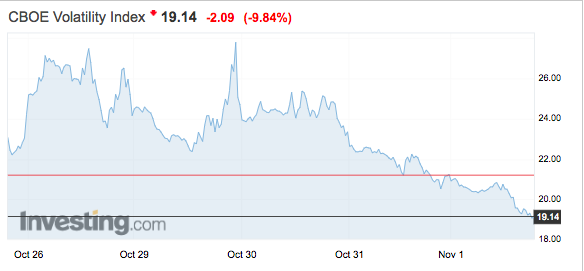 The S&P 500 VIX trades at the low of the last week. Do recall that we saw bouts of ebbing volatility throughout February and into mid May before the full shake-out really got its footing; we're not necessarily out of the woods quite yet.


The strengthening US dollar (UUP) has given some ground over the last couple sessions. Keep an eye on the Chinese Yuan - which may leap over the 7/1 exchange rate for the first time since May 2008.
Thoughts on Volatility

Markets do not have to obey the book-end quality of calendars (months, years, etc.). October was a month to remember, with intraday volatility really putting on a show. One should ask what caused the flare up to begin with, and what, if anything, has changed to effectuate renewed calm.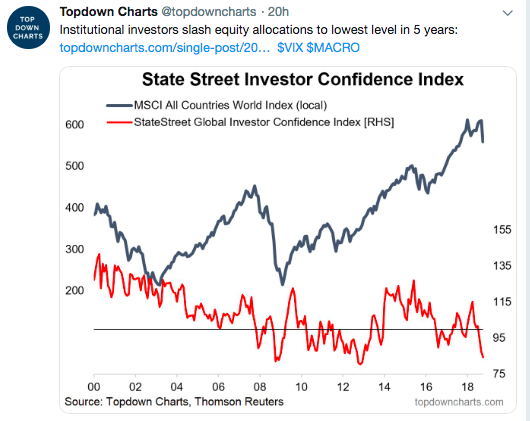 One thing is for sure... investors are not feeling very confident at present. Some look at these sentiment indicators as a contrarian gauge. Perhaps the animal-spirits glass is more than half empty, and there is room now to climb a wall of worry.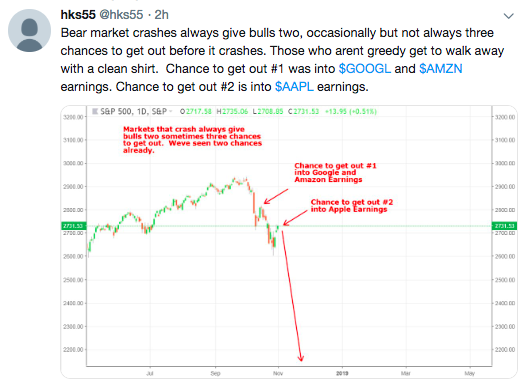 I'm not much for technical analysis (not that I'm against it, but rather I'm simply not that knowledgeable on the matter), but I tend not to agree with these kinds of rules such as "there are no triple bottoms", which is a more dramatic version of what the above Tweet claims.
It interests me whether any readers subscribe to these kinds of maxims. Do you head for the hills once you've seen a market give out "n" times (n=2, 3, etc.)?
Term Structure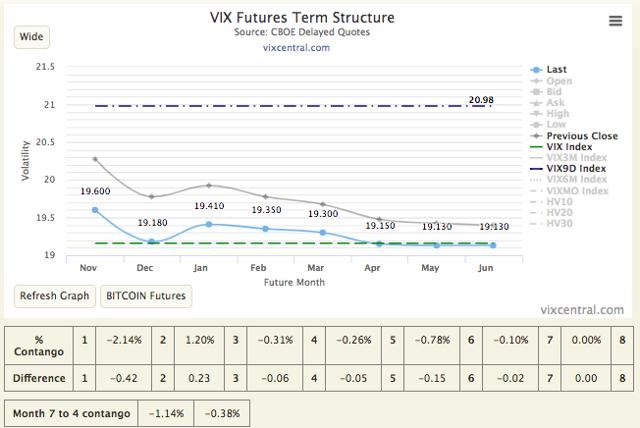 The major story here is the VIX9D, having collapsed from a level of over 30 just a few days ago. 21 is still a 'no-slouch' reading, but the vol markets do appear to be calling for something of a reprieve.
I think there is some room for VX futures to drop, but I suspect that it'll take a pretty intense period of calm in order to get the futures curve down by a substantial number of points. Some flattening out at the front end seems more likely to me.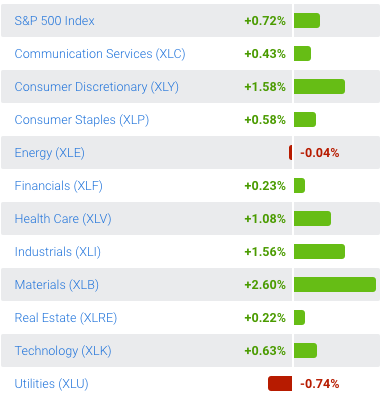 SectorSPDR
Sector and implied correlations (ICJ) are still on the high end. On the "pro-vol" side (VXX, UVXY, TVIX), this indicates that even smaller moves in individual equities (GOOG, BX) or sectors can translate into larger market swings.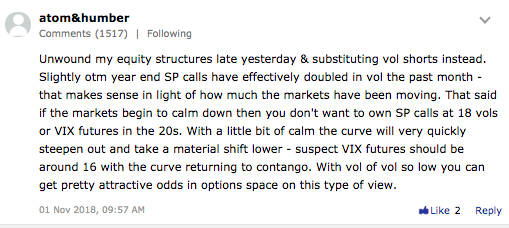 The other side of this argument (SVXY, ZIV) is that there are really two ways to get a chunky reprieve in the vol space. Either individual volatility can settle on securities or sectors, or correlations can just tamp down. In either case, you can get at the very least a break from what we saw last month. As such, you don't even really need a big S&P rally, or for the S&P to just relax, in order to build a case for short vol exposure.
Conclusion
If this is your first time reading Market Volatility Bulletin, thanks for giving it a try. If you're a regular, we thank you for your ongoing contributions in the comments section.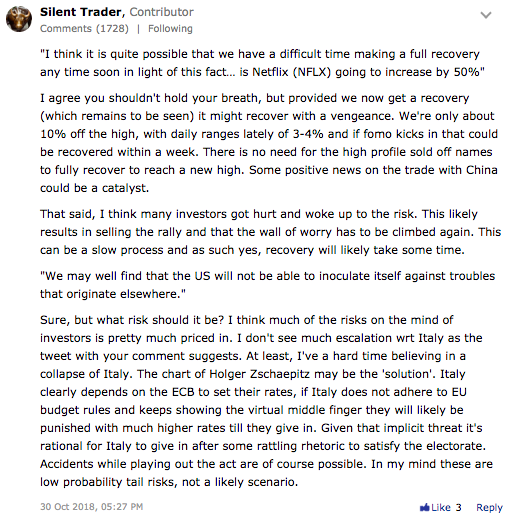 I appreciate the thought-provoking comment from Silent Trader in the previous MVB. I responded to the first paragraph in the comments section, and you're free to head over there and look.
As to the last paragraph, I think that the economic risk is huge, but political will can accomplish amazing things. Put differently, I completely disagree that Italy is a "tail risk" scenario if we're just looking at sheer market forces. If, however, there is a "Whatever it takes" mentality in Brussels (and Rome?), then this - or pretty much any - situation can be handled.
Thank you for reading.
Please consider following.
Disclosure: I/we have no positions in any stocks mentioned, and no plans to initiate any positions within the next 72 hours. I wrote this article myself, and it expresses my own opinions. I am not receiving compensation for it (other than from Seeking Alpha). I have no business relationship with any company whose stock is mentioned in this article.
Additional disclosure: I actively trade the futures and options markets, potentially taking multiple positions on any given day, both long and short. I also hold a more traditional portfolio of stocks and bonds that I do not "trade". I do believe the S&P 500 is priced for poor forward-looking returns over a long timeframe, and so my trading activity centers around a negative delta for hedging purposes.