Shares of connected learning platform Chegg (CHGG) have been on a long-term uptrend over the past several years as on-demand, digital and IoT trends have accelerated adoption of Chegg's suite of digital education tools. We first identified CHGG stock as a long-term winner back in May 2016 when this company was in the early stages of its game-changing digital transformation. Now, we are well into that shift, and CHGG stock has risen more than 500% since.
The long-term uptrend in CHGG stock was challenged recently as broader stock market weakness, concerns over technology valuations and a Chegg data breach weighed on shares. But Chegg eased broader concerns with a robust double-beat-and-raise Q3 report recently, and CHGG stock has been on a tear ever since. As such, we think the uptrend in CHGG stock has resumed, and believe this stock still has a lot of runway left to not just reclaim previous highs, but make substantially higher new highs, too.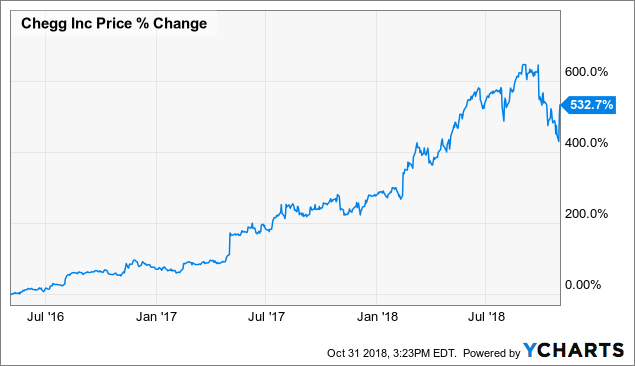 The Chegg story is fairly easy to understand. Students across America need help in academia. Not only are classes hard (37% of students don't graduate), but students also are consistently failing to grasp simple concepts (40% of students are in remedial courses). Thus, students need help. But help isn't given in the way it used to be. The era of tutors and office hours is becoming increasingly antiquated. We live in an on-demand world. In this world where students can binge watch shows, order food, and shop for clothes all from their couch thanks to Netflix (NFLX), GrubHub (GRUB) and Amazon (AMZN), they also want to be able to learn from the couch, too.
This is where Chegg comes into play. Chegg is an on-demand digital learning platform which helps students get through school. Chegg provides on-demand digital tutors, step-by-step textbook solutions, writing help, and much more. It's an all-in-one digital solution catered specifically to helping students learn and succeed, at their own pace and on their own schedule.
Demand for these services is huge. Over the past several quarters, Chegg Services revenue growth has run in excess of 35%, and subscriber growth has been around 44%-45%. Those are huge growth rates, and they come against equally large laps.
In other words, even though Chegg is growing very quickly, that growth isn't slowing at all. Nor is it expected to slow anytime soon. In the Q3 report, management guided to revenue growth in fiscal 2018 of 24%. They also gave a preliminary guide for fiscal 2019 which points to 23% revenue growth. Broad takeaway: Growth isn't slowing.
Why? Because Chegg only has 2.2 million subscribers. There are 36 million high school and college students in the U.S. alone. Realistically speaking, all 36 million could benefit from Chegg's on-demand digital learning services. Consequently, as education becomes increasingly digital over the next few years and students increasingly turn toward on-demand education tools, Chegg will continue to expand reach within its 36 million student market. From this perspective, big revenue growth is here to stay, and that doesn't even include international growth prospects.
Robust margin growth is here to stay, too. Not only have Chegg's revenues been ramping higher, but margins are exploding higher, too. Chegg has made a huge shift from a textbook rental business to a digital learning business over the past few quarters. The digital business carries way higher margins, so as this shift has played out, margins have climbed materially higher. So far this year, adjusted EBITDA margins have been expanding by 6 to 8 points year over year.
Gross margins appear to be maxed out around 75%. The fiscal 2018 and 2019 guides both called for roughly 75% gross margins. But the fiscal 2019 guide calls for EBITDA margins of 29%, vs. 26% implied in the fiscal 2018 guide. As such, while gross margins are largely stable around 75%, further margin improvements will be driven by continued robust 20%-plus revenue driving significant opex leverage. As such, it's reasonable to believe that over time EBITDA margins will move toward 35% or higher.
In the big picture, Chegg is a high-margin digital business still in the early innings of a massive digital education growth narrative. This combination of big margins and big growth implies long-term gains for CHGG stock. The only thing that could really knock CHGG stock off course is competition. But Chegg has incredibly high brand awareness among its target demographic, and a treasure chest of data and proprietary content which constitute a product moat (much like original content keeps consumers coming back to Netflix).
Bears pound on the table about valuation. But relative to other high-growth, high gross margin software businesses with robust long-term growth prospects, CHGG's valuation is right in the middle of the group. Shopify (SHOP) trades at a big premium. Square (SQ), Match (MTCH) and Netflix trade at essentially the same valuation. Roku (ROKU), which has a low-margin hardware business, trades at a slightly lower valuation. Thus, relative to comps, CHGG stock isn't overvalued. It's reasonably valued.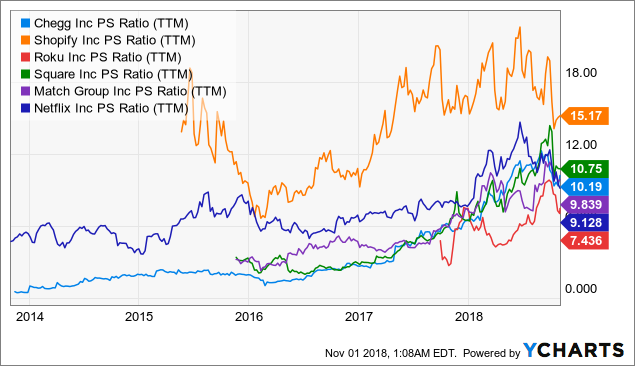 Over two years ago, we identified CHGG as an under-the-radar internet stock with big revenue growth and margin expansion potential. That potential has been partly realized, and CHGG stock has consequently rallied more than 500% since.
This rally is far from over. It's reasonable to say that CHGG is in the middle of the first inning of its top-line growth narrative (2.2 million subs out of a 36 million student TAM in the US, so 6% penetration), while robust revenue growth prospects imply that margins also have a ways to head higher, too. Thus, CHGG stock should continue to be a winner for a lot longer.
Disclosure: I am/we are long CHGG, NFLX, GRUB, AMZN, SHOP, SQ, ROKU. I wrote this article myself, and it expresses my own opinions. I am not receiving compensation for it (other than from Seeking Alpha). I have no business relationship with any company whose stock is mentioned in this article.