REIT Rankings: Data Centers
In our REIT Rankings series, we introduce and update readers to each of the commercial and residential real estate sectors. We rank REITs within the sectors based on both common and unique valuation metrics, presenting investors with numerous options that fit their own investing style and risk/return objectives. We update these rankings every quarter with new developments for existing readers.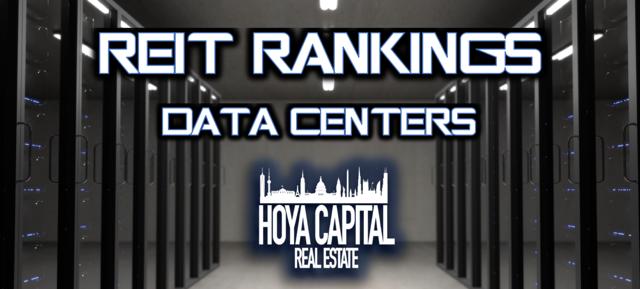 We encourage readers to follow our Seeking Alpha page (click "Follow" at the top) to continue to stay up to date on our REIT rankings, weekly recaps, and analysis on the REIT and broader real estate sector.
Data Center Sector Overview
Data Center REITs comprise roughly 8% of the REIT Indexes (VNQ and IYR). Within the Hoya Capital Data Center Index, we track the five data center REITs, which account for roughly $65 billion in market value: CoreSite (COR), Digital Realty (DLR), Equinix (EQIX), CyrusOne (CONE) and QTS Realty (QTS).

REITs are among the largest owners of investment-grade data centers in the United States and around the world. However, relative to their tech-REIT peers- Cell Towers- the data center market remains highly fragmented. With an increasing concentration of cloud spending going towards a smaller number of well capitalized mega-cap hyperscale providers, data center REITs continue to have limited pricing power relative to their largest tenants: Amazon (AMZN), Microsoft (MSFT), IBM (IBM), and Google/Alphabet (GOOG).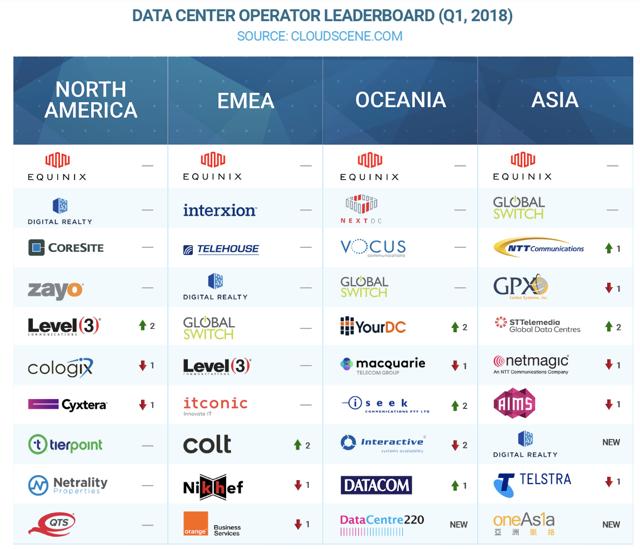 The value of each data center is largely a function of its position along the internet backbone, the physical fiber optic network that links every connected-device across the world. Properties within the backbone are able to provide higher-value network-based "co-location" and interconnectivity services, which command higher rent-per-MW and generally have significantly higher barriers to entry. Properties on the periphery typically provide more ubiquitous enterprise-based services, including storage and cloud-based software applications, and primarily rent these facilities to wholesale customers who pay lower per-SF rent.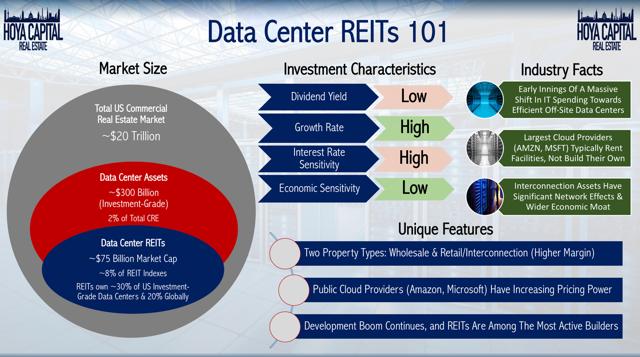 Equinix has the highest "quality" portfolio of network-dense assets followed by Digital Realty and CoreSite (each roughly 30%). CyrusOne and QTS focus primarily on lower-valued enterprise assets. We also note that Digital Realty and Equinix have a global data center platform while the other three REITs are primarily US-focused. Finally, we note that unlike the other four REITs, EQIX owns less than 50% of the real estate that it leases and thus has slightly different investment characteristics than the other REITs.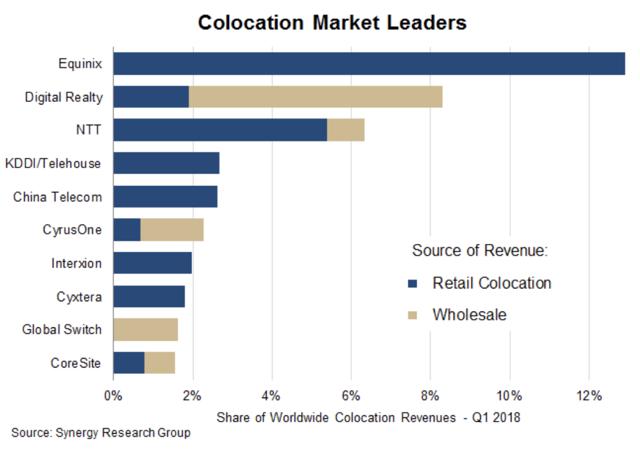 Bull and Bear Thesis for Data Center REITs
Data centers are the home to the cloud: the outsourcing of computing processing and storage capacity from one's own device to an off-site data center. The economics of utilizing cloud computing is highly favorable for most consumers and businesses, which has prompted an insatiable wave of demand for data center space. Double-digit annual growth rates are expected over the next decade in IP traffic, storage needs, and mobile computing demand.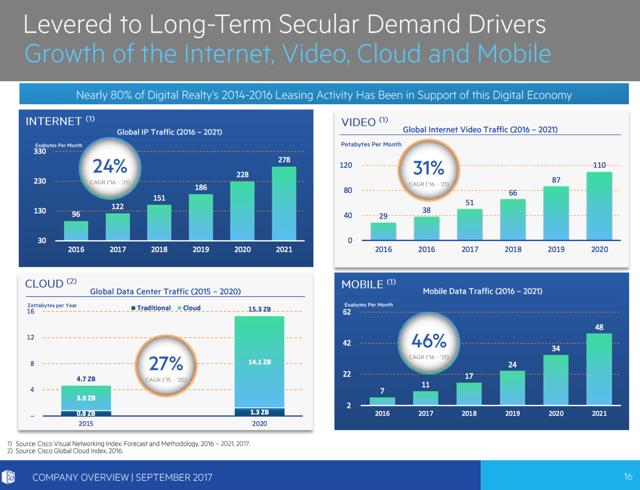 Business spending on cloud infrastructure is still in its infancy, as nearly 75% of global IT spending is still on traditional IT. According to IDC, cloud deployment is expected to steadily accelerate over the next decade, and by 2020, more than 50% of IT spending will be on cloud-based infrastructure. The economics of cloud deployments are expected to remain highly favorable for the foreseeable future.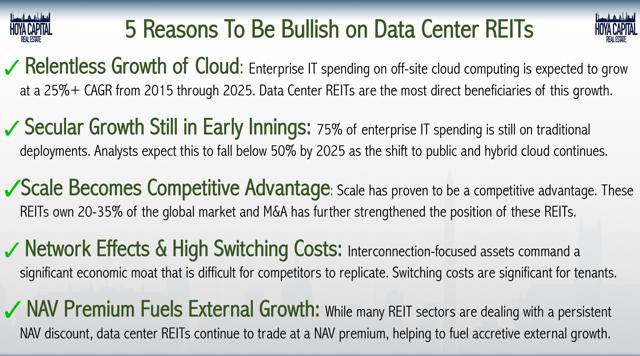 A concern for investors has been the emerging power of large-cap technology firms within the data center space. "Hyperscale" providers including Amazon, Google, and Microsoft rent massive amounts of space from data center REITs, but command significant pricing power relative to smaller, individual private or hybrid cloud leases. While REITs and large-cap technology firms currently have a symbiotic relationship, this may not always be the case and in recent quarters, a higher percentage of leasing has come from a smaller number of these power customers.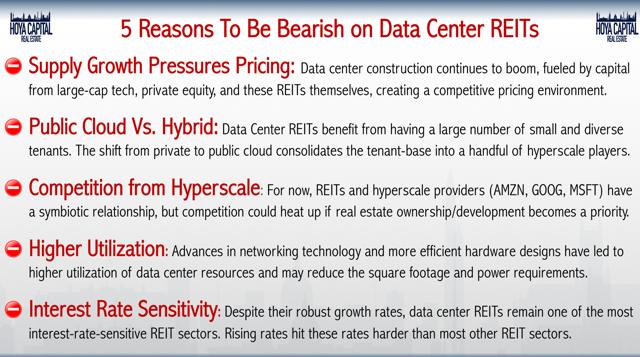 Recent Stock Performance
Riding the secular boom in technology over the last decade, Data Center REITs have been a perennially top-performing REIT sector in the post-recession period, returning more than 25% in each of the last two years.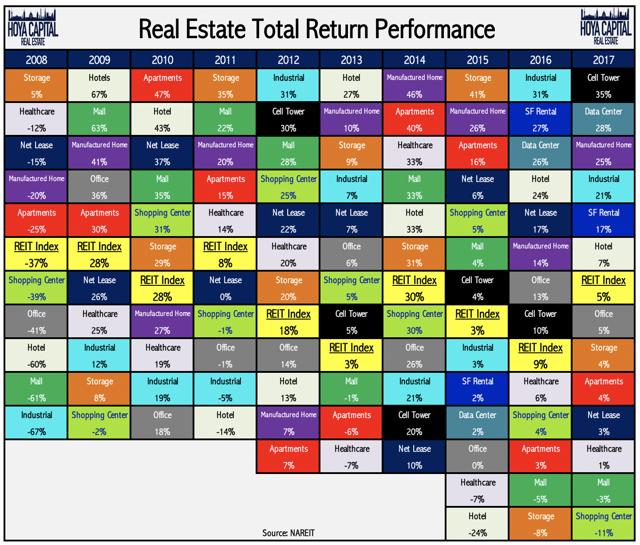 Data center REITs have come back down to earth in 2018, dipping 14% YTD, the weakest-performing REIT sector. The combination of rising interest rates, the increasingly competitive operating environment, and the recent tech sell-off has weighed on valuations.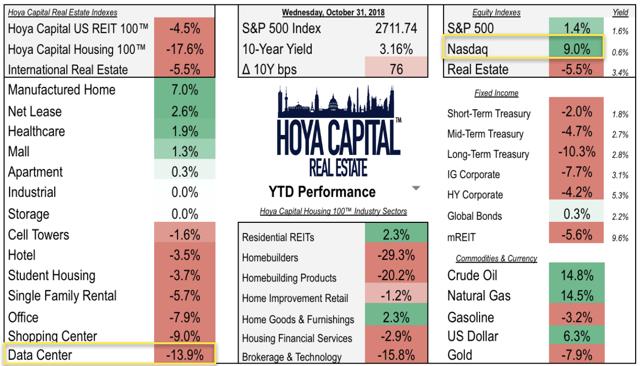 The past quarter has been particularly rough for data center REITs amid the broader technology sell-off. Data centers are down by nearly 17% since last earnings season despite the stronger-than-expected leasing results last quarter. Digital Realty and CyrusOne have been the best-performing REITs in 2018 while QTS has been the weakest, still recovering from an unexpected restructuring announcement earlier this year.
Data Center Industry Performance & Developments
As hyperscale has exploded in size and popularity and their applications have become an increasingly viable option for mid-size and larger businesses, the industry dynamics have shifted. Average lease sizes have increased and rental rates have reflected this shift towards wholesale pricing. Data center REIT performance is increasingly a function of the results and commentary from a handful of the largest technology companies: Amazon, Microsoft, Google, Intel, and IBM. Synergy Research Group highlights the growing market share of the largest cloud providers.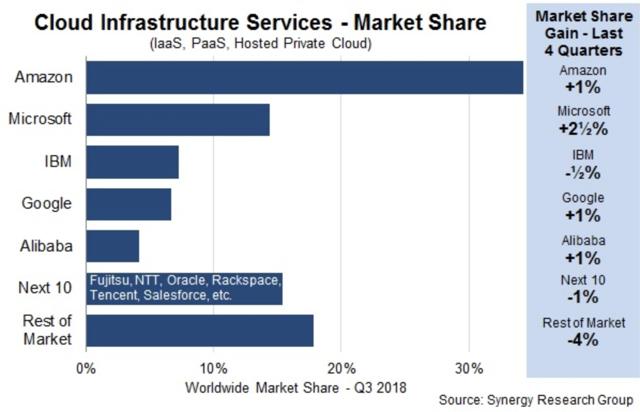 Data center revenue from the "Big 5" cloud giants surged in the first half of 2018, but took a small step back this quarter with the growth rates slowing at four of the five companies. Data center and cloud-related revenue topped $100 billion over the last twelve months, a 34% jump from the same period in 2017.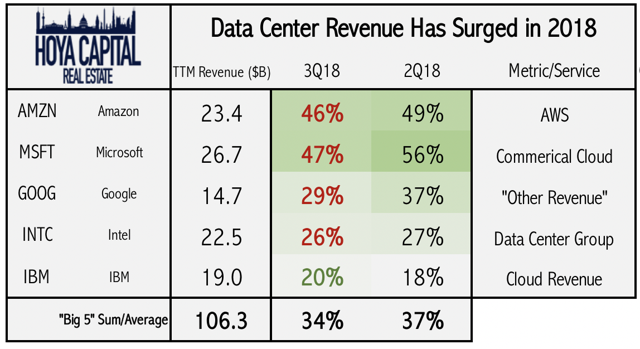 The source of the subsequent selloff, however, was the negative commentary provided by data center hardware vendors and service providers. Most concerning for data center REITs was Amazon's comments regarding a slowdown in data center leasing activity, which the company attributes to increased efficiency which seemed to confirm a lingering fear among data center bears that increased density and chip efficiencies would decrease the physical data center square footage required. From Amazon's 3Q18 earnings call:
If you look at capital leases – which is where we spend money for the data centers – it's up only 9 percent year-over-year, and it was up 69 percent last year, at the end of the year… You see the operating margin for AWS is up to 31 percent this quarter. A lot of that is based on efficiencies of our data centers.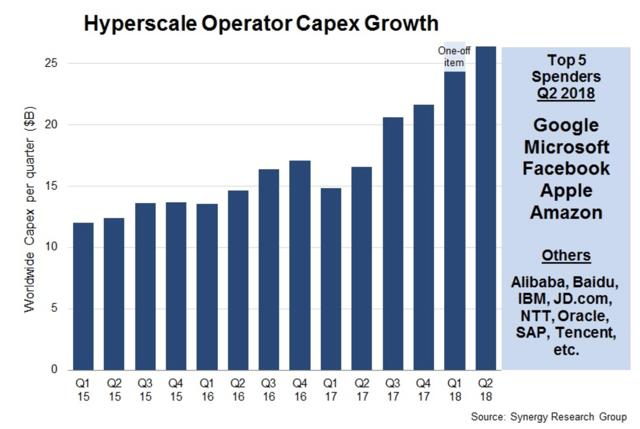 Another bit of negative commentary from hardware vendors Western Digital (WDC) and Maxim (MXIM) unsettled data center REIT investors as the firms noted a clear slowdown in data center hardware spending expected in the fourth quarter which the firm attributes to above-trend spending in early 2018 and mounting geopolitical and trade uncertainty. From the Western Digital earnings call:
We are experiencing a temporary slowdown in Data Center capital spending, particularly by large cloud service providers after several quarters of growth above the expected long-term exabyte growth rate of 40% for capacity enterprise. We are in the midst of adjusting to a more normal growth rate... Current geopolitical and industry dynamics are creating a challenging global business environment. For example, trade tensions with China, changes in monetary policy foreign exchange volatility and corresponding economic impact are causing our customers to be more conservative resulting in a demand slowdown for our products.
While investors seem to have focused on the negative commentary, results from Intel (INTC) were decidedly positive as demand for their data center chip sets have far exceeded the firm's earlier estimates. It appears, however, that Intel's recent success in their data center group came largely from market share gains from competitors AMD (AMD) and NVIDIA (NVDA), a result of strong demand for their Xeon processor from public cloud providers. From the Intel earnings call:
Our Data Center business is growing at more than twice the rate we expected in January. Our full-year revenue outlook is now more than $6 billion higher than our January forecast, and we have supply to support this revised guidance thanks to outstanding responsiveness from our factory teams.
Perhaps the biggest piece of news came after the quarter with IBM's announcement that it will acquire hybrid-cloud giant Red Hat (RHT) in a massive $34 billion deal that will give IBM a firm foothold in the enterprise hybrid cloud space. At very least, the deal is expected to prevent IBM from falling further behind industry leaders Amazon and Microsoft in the seemingly winner-take-all cloud battlefield. We see the move as a clear benefit to data center REITs, as the merger will likely result in an acceleration in adoption of hybrid cloud among enterprise hold-outs that have been resistant in abandoning their on-site data center infrastructure. Further, keeping the cloud landscape as competitive as possible is certainly in the interest of data center REITs.
REIT Fundamental Performance
With data center REIT performance increasingly driven by secular factors, investors largely shrugged-off the otherwise solid quarter for these REITs themselves. Combined, the five REITs reported more than $120 million in net annualized leasing following a record strong $182 million last quarter. We were pleasantly surprised by another quarter of solid renewal rates, margins, and occupancy metrics, which indicate that pricing power may turn more favorable by the end 2018 as there are signs that incremental demand may be outpacing new supply. We note, however, that leasing and pricing metrics remain very choppy and difficult to compare due to the increased share of activity going towards larger leases to hyperscale providers. Digital Realty continues to provide pricing guidance of "slightly negative" on cash renewals.

Supply/demand fundamentals were roughly balanced in 2017, but improving occupancy, pricing, and operating margin metrics indicate that fundamentals may improve in further in the second half of 2018. Digital Realty believes that barriers to entry continue to develop at the national level in the United States. These barriers include lack of available land and lack of adequate power supply. Other markets, particularly those in California, are also quite difficult to develop because of tight zoning restrictions, high energy costs, and other costly regulation.
Despite high levels of construction activity in recent years, REIT executives report that supply/demand conditions appear roughly balanced across most markets. Digital Realty reported an LTM absorption to current pipeline multiple of 1.6x in the United States, reversing four consecutive quarter of improvement while occupancy ticked lower to 90%. While the US has seen steadily improving supply/demand conditions in 2018, Digital Realty reports slightly weaker demand growth in the European and Asian markets.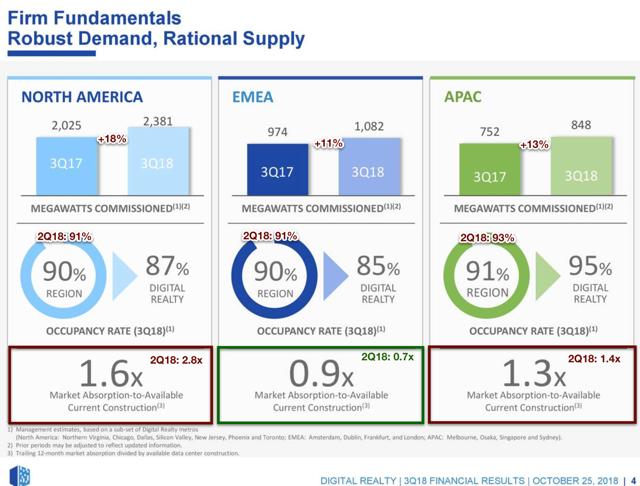 Revenues continue to grow a healthy 18% with AFFO per share rising 8% over the third quarter of 2017, which continues to be among the fastest rates of AFFO growth within the REIT sector. Guidance was maintained by all five REITs. Notably, Digital Realty raised its 2018 guidance for server shipment from 7.6%, another upward revision following last quarter's surprising boost from 3.5% to 7.5%, an affirmation that demand continues to be relentless for both the public and hybrid cloud.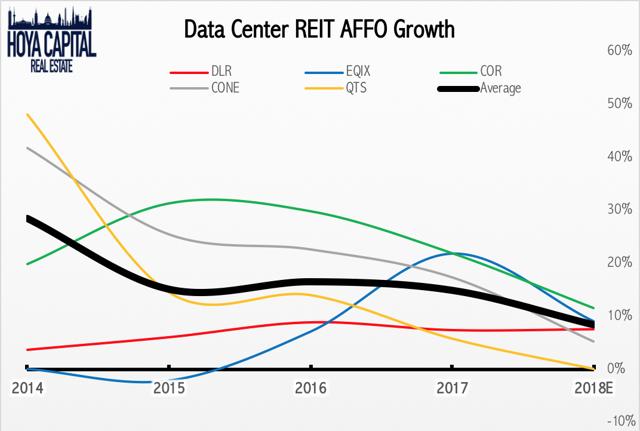 Historically, cash rent growth on renewals has averaged less than 3% across the sector. In other words, the performance of these data center REITs has been fueled by external growth while the underlying organic growth metrics have been average at best. Development continues to be the primary means of value-creation for these REITs as internal growth fundamentals remain at roughly inflation-matching levels. The development pipeline remains full at over $2 billion, topping recent peak above 2.3 billion in early 2016.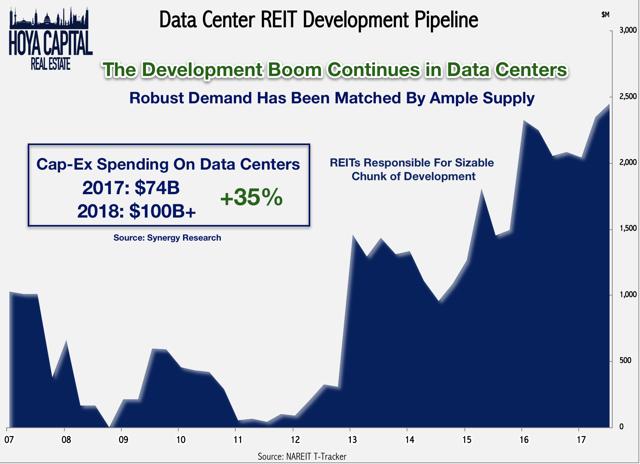 The furious pace of M&A activity that began in 2016 has continued into 2018 with Digital Realty's announcement of a $1.8 billion acquisition of Brazilian data center giant Ascenty. Size and scale have proven to be competitive advantages in the data center space, and these REITs have used acquisitions as a means to stay in front of competitive threats from hyperscale providers. Unlike most other REIT sectors, data centers REITs continue to trade at premiums to Net Asset Value, giving these companies the fuel to grow through acquisitions and consolidations.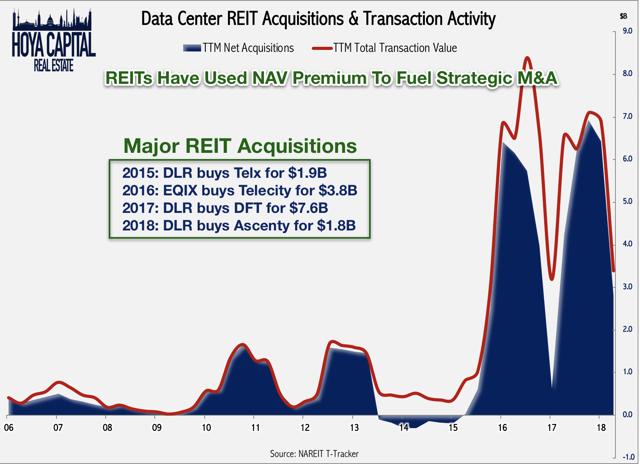 Valuation of Data Center REITs
Before this year's pullback, data center REITs traded at the widest premium of any real estate sector at nearly 30x current Free Cash Flow (aka AFFO, FAD, CAD). Data center REITs now trade at a more attractive 20x forward FCF, a modest premium to the REIT sector average of 19x. Data centers appear very attractive based on our FCF/G metric which incorporates their expected growth rate. Data center REITs trade at an estimated 5-10% premium to NAV, down from the robust 20-30% premium last quarter. Maintaining this NAV premium has helped to accretively fund their external growth ambitions and maintain a critical cost of capital advantage over competitors.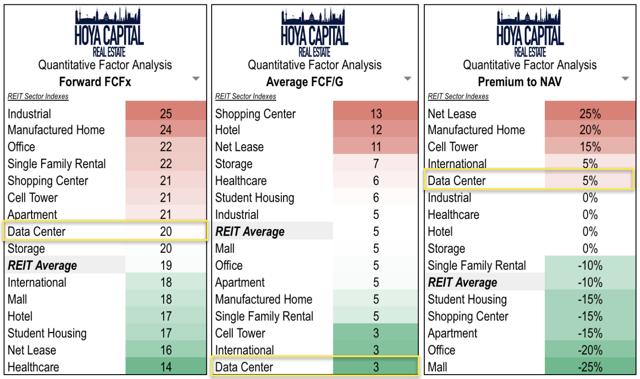 The recent sell-off has pushed the dividend yield offered by these REITs above 3%, still below the REIT average but far higher than the 2% yield offered for most of 2017. Data center REITs pay out just 70% of their free cash flow, leaving them ample capacity to increase dividends or reinvest in growth.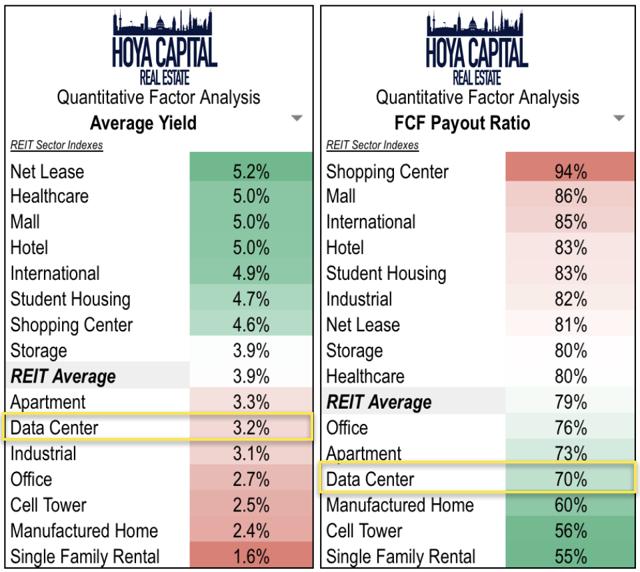 Within the sector, we note the differences in yield for these five REITs. QTS yields a sector-high of 3.7% followed by CoreSite and Digital Realty.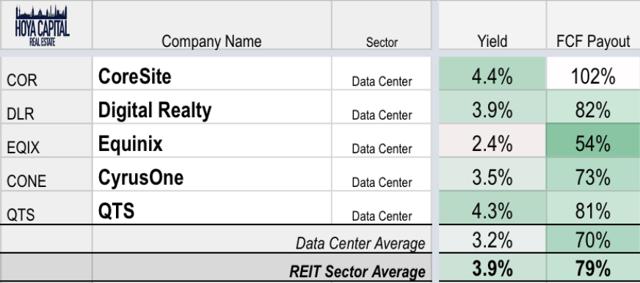 Data center REITs exhibit interest rate sensitivity that is above the broader REIT average, which is a surprise to many investors considering the sector's strong expected growth rates. High interest rate sensitivity is a result of longer-than-average lease terms and triple net lease structure on many wholesale assets.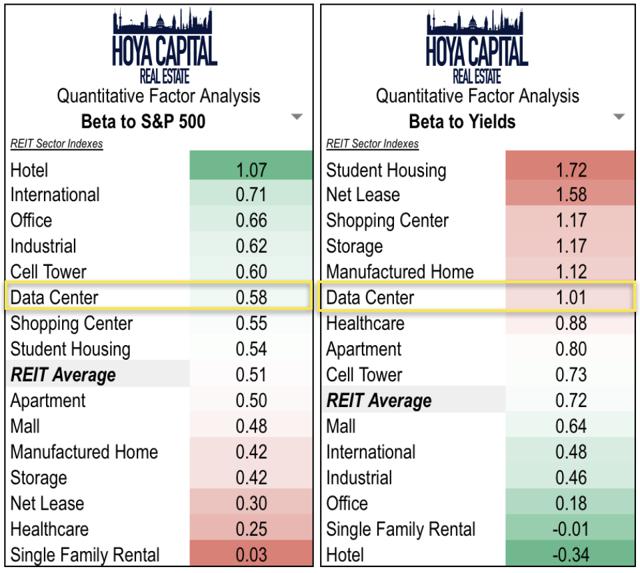 We separate REITs into three categories: Yield REITs, Growth REITs, and Hybrid REITs. Within the sector, we note that there are significant divergences in factor sensitivities. Digital Realty and CoreSite are among the most interest-rate sensitive REITs in any sector. Equinix, on the other hand, is among the least interest-rate sensitive and has one of the lowest correlations to the overall REIT index. Investors seeking bond-like characteristics with higher income yields would be better suited with Digital Realty, while investors seeking growth characteristics and lower income yields would be better suited with Equinix.

Bottom Line: Data Centers Down Amid Tech Trouble
Data center REITs, the best performing real estate sector in the prior two years, have plunged back down to earth in 2018 amid the broader tech selloff. The boom in data center demand, particularly from the hyperscale providers like Amazon and Microsoft, showed signs of slowing last quarter. Negative commentary from hardware and service providers raised caution.
Most notably, Amazon cited increased data center efficiencies for a dip in data center cap-ex. Western Digital pointed to geopolitical and trade uncertainty. Intel's stellar results were the bright spot. Coming off strong second quarter results, earnings were largely in-line with expectation in 3Q18 for data center REITs. Leasing activity continues to be strong but pricing trends remain flat.
Cloud spending is increasingly concentrated in a smaller number of hyperscale providers- Amazon, Microsoft, IBM and Google. The competitive dynamics and pricing power remain challenging for data center REITs. As earnings season continues, be sure to check out all of our quarterly updates: Manufactured Housing, Student Housing, Single-Family Rentals, Data Center, Apartments, Cell Towers, Manufactured Housing, Net Lease, Malls, Shopping Centers, Hotels, Office, Healthcare, Industrial, Storage, and Homebuilders.
Please add your comments if you have additional insight or opinions. Again, we encourage readers to follow our Seeking Alpha page (click "Follow" at the top) to continue to stay up to date on our REIT rankings, weekly recaps, and analysis on the REIT and broader real estate sector.
Disclaimer: All of our research is for educational purposes only, always provided free of charge exclusively on Seeking Alpha. Recommendations and commentary are purely theoretical and not intended as investment advice. Information presented is believed to be factual and up-to-date, but we do not guarantee its accuracy and it should not be regarded as a complete analysis of the subjects discussed. For investment advice, consult your financial advisor.
Disclosure: I am/we are long VNQ, AMZN, IBM, MSFT, DLR, COR, QTS, CONE, EQIX. I wrote this article myself, and it expresses my own opinions. I am not receiving compensation for it (other than from Seeking Alpha). I have no business relationship with any company whose stock is mentioned in this article.