The Q2 2018 results breakdown from Sony (NYSE:SNE) illustrates once again two vital factors in the company's success.
In gaming, it continues to be the market leader through its PS4 console. At the same time, Sony is adroitly managing the transition towards online gaming. This transition will be key to continuing to grow profits in the next few years.
In other areas, its divisions are flourishing. This is especially so in relation to music and image sensors, in which it is also a market leader. The company is strengthening its position as a "digital entertainment hub" for the youth market. This vertical integration is key to its strength.
As I pointed out in an earlier article, Sony has a long history of beating earnings expectations, and it has done it again. Now the company is forecasting an annual profit of 870 billion yen (US$7.7 billion). This represents a 30% increase on what it had forecast in July.
Results
The full details can be read here.
The consolidated results as illustrated below gave the stock price a further boost: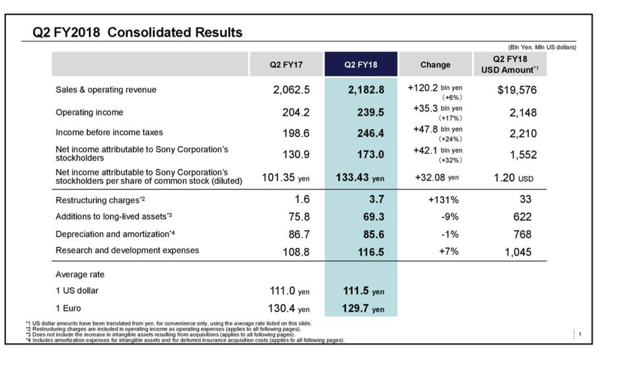 (Source: Seeking Alpha)
The company continued to perform well across most of its divisions, as illustrated below: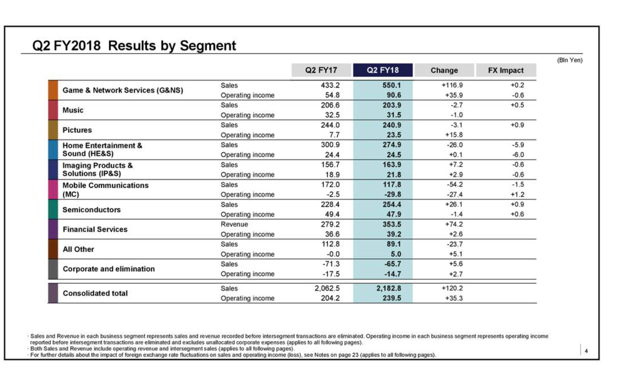 (Source: Seeking Alpha)
One negative was the increase in restructuring charges. Most of the reorganization of the company has been completed very successfully. This was done under previous visionary CEO Kazuo Hirai, who transitioned to chairman in April this year. The mobile phone division remains disappointing. It is, however, a key unit within Sony's position as a digital entertainment hub.
The company, as usual, had cautious guidance, but again raised its forecast for the full year. Details are as below: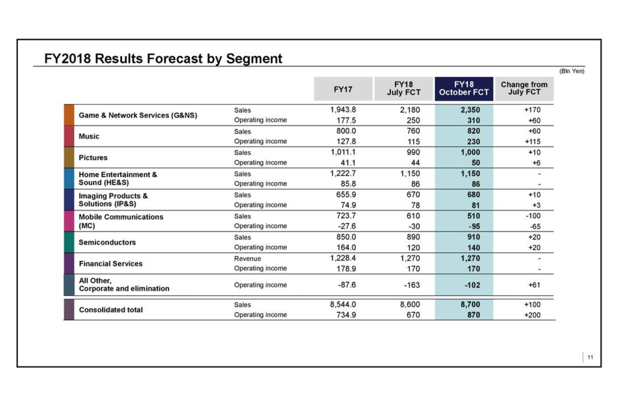 The improvement in guidance was mainly on the back of anticipated increases in the gaming and music divisions.
Mobile communications was expected to continue to be a drag on the figures. Smartphone sales continued to underperform against expectations in Europe and in Japan. On the earnings call, the company stated that it intended to reduce smartphone operating costs by 50% by 2021. Those who call for Sony to offload the division fail to understand the integral role it plays in the digital entertainment hub that is at the heart of the company.
The main concern expressed by Sony executives on the analyst call was, in fact, related to what was described as the "macroenvironmental situation". This was mainly on the back of the Trump-led trade war with China. They expressed concern over China's economic performance in November and December and how it might affect Sony.
Gaming
My article in June detailed the company's continuing gaming success. The figures for its Game & Network Services division illustrate this. A 35% increase in operating income for what is already a market-leading division is very impressive. This has been based mainly around its consoles. The PS4 Pro, in late 2016, has added to the offering. Now, there is some speculation on when the next iteration, presumably a PS5, will be launched. Such a device will probably put more emphasis on Virtual Reality (in which Sony is a market leader) and cloud gaming. The new "Astro Bat" for virtual reality has recently been very well-received by reviewers.
In December, the company is releasing a retro console, the "PSClassic". This will be economically priced and will come with a suite of previous hit games.
PS4 has been booming on the back of both first-party titles and third-party games. Subscription services such as "PS Plus" have flourished. The PS4 console has sold over 86 million units since its inception. It is the centre of the company's profitability with its core mass audience. In that way, it is similar to what Apple (NASDAQ:AAPL) obtains from its core iPhone user base.
The launch of PS4 exclusive game "Spider Man" in September was a huge success. This is another example of successfully monetising an iconic figure across several divisions of the company.
The PSNow service is being moderately successful in the cloud gaming sector, linking to the PSNetwork software. There have been some complaints from gamers over the quality of performance.
PS Network has over 80 million monthly users and is growing rapidly. In the company's "Corporate Strategy for 2018-20", released in May, PS Network was cited as a key area of focus. Interestingly, this week, Sony announced the success of the new Take-Two Interactive Software (NASDAQ:TTWO) blockbuster on PS Network. Red Dead Redemption 2 set new sales records on the network. It garnered the most pre-orders, the highest one-day sales, and the highest sales for the first 3 days of any game launch.
The secular growth story in gaming continues. In the first 8 months of the year, the business grew 17% year on year. Accessories and game cards were strong. Gamepads were especially strong, led by the PS4 DualShock 4 wireless controller black.
Gaming Future
The speed of transition from consoles to online gaming is much discussed, with no consensus. The potential competition is ramping up. There is "Project Stream" from Google (NASDAQ:GOOGL). There is the potential of what Amazon (NASDAQ:AMZN) might offer through its purchase of Twitch. There is Microsoft (NYSE:MSFT) and its "Project xCloud".
While Sony has sold 84 million PS4 consoles, Microsoft has sold 39 million of its Xbox consoles. Nintendo (OTCPK:NTDOY) has been finding sales of its "Switch" console stable but with muted growth potential. Sony has the strongest base of users who have invested in and like their PS4 product. The company has given some details of new releases and PS4 updated versions of older cult games.
The recent new game releases have been well-received. Thus, Sony remains on top of its game.
There has been much talk about the end of console gaming and its replacement by cloud gaming. Presumably, 5G would spell its demise, but this is some way in the future. The robust sales of PS4 consoles was shown by the fact that the company has not brought in the expected price reductions that normally occur when consoles are ageing models.
Music, Semiconductors and Pictures
My article here illustrated how Sony is not just reliant on gaming as its growth continues. The new CEO Kenichiro Yoshida is continuing to put resources into the highly profitable Music and Image Sensor divisions. Even Pictures, which some analysts mistakenly thought Sony should sell, is now showing improvement. This strengthens the vertical integration of the company and its appeal to the youth market.
------------------
In Pictures, Sony has given a vote of confidence and contract extension to its head, Tom Rothman, who was appointed in 2015. An operating income increase of 35.9% in this quarter was encouraging.
Its Spider-Man and Jumanji franchises have performed strongly. Along with Disney (NYSE:DIS), Sony has access to a strong catalogue of Marvel superhero characters. Its latest spin-off from this, Venom, is performing well above expectations, having brought in over US$380 million at the time of writing. The latest weekend takings are shown here.
Sony's latest movie, Goosebumps, is also performing above expectations. TV licensing revenues increased better than expected, as did picture revenues at theatres.
In a perfect example of the way the company's divisions interact with each other, in September Sony's new software game, Marvel's Spider-Man, had the highest ever launch month sales for a PS exclusive game.
------------------
Music is a secular growth market. Sony is well-placed as the world's leading music publisher. Its recent proposed buyout of EMI, giving it access to a catalogue of 2.1 million songs, was recently approved by the EU. New accounting standards affected the Q2 figures. The company, though, was bullish about the rest of the year. This optimism was on the back of expected sales growth of "Fate/Grand Order", the EMI situation, and increased music streaming.
Sony made a healthy financial gain from the IPO of Spotify (NYSE:SPOT). It is showing large book gains on its remaining holding. Its "Fate/Grand Order" remains a very profitable part of the division.
------------------
Semiconductors continued their recent very strong performance. In imaging, Sony is by far the world's largest manufacturer. The company has substantial capex plans to maintain or grow its market share. These were discussed in detail on the analyst call. It was reiterated that the company is ramping up production and capex up to 2021 to meet anticipated demand. It is expected that capex will be paid out of operating cash flow, which has increased strongly in this period.
CMOS image sensors is a particular target market. This could be the base for future transitions into AI and medical imaging. The increased semiconductors forecast was based particularly on higher-than-expected sales of image sensors for mobile phones.
Semiconductors is a capital-intensive and specialised business for new competitors to enter. It is likely to be a continuing growth area for Sony, which is the world's biggest supplier of image sensors for cameras.
Other Divisions
Steady progress has been made in improving the other divisions of the company.
Home Entertainment & Sound was steady. Sony's focus on profitability, though, has reduced the volume of television sales. Imaging Products & Solutions produced good sales of high-value products, especially lenses. Often unnoticed is the company's research division and progress in what could become huge potential new divisions. These areas include AI, Robotics and medical devices. All are likely substantial secular growth areas in the future.
Robotics is seen as having a particularly strong growth potential in an ageing Japan. So far, there has not been a great deal of progress since the inception of robot vacuum cleaners. Sony is, however, at the cutting edge of trying to develop home robot products. CEO Kenichiro Yoshida has stated that robotics is of particular interest to him. He even re-instituted the company's iconic robotic dog, "Aibo".
Much of the technology behind robotics is linked with the technology for self-driving cars. At the analyst call, Sony executives stressed, in particular, the opportunities for the company's semiconductor division in the Internet of Things and electric car arenas.
The Stock Price
The results are further evidence that there is a lot of growth left in Sony. Yet, valuations as of the eve of results were very favourable for investors.
P/E = 12.22.
Price-to-Forecasted Earnings = 12.64.
Price-to-Sales = 0.85.
Price-to-Tangible Book = 3.46.
Price-to-Cash Flow = 8.21.
Price-to-Earnings Growth = 1.72.
This can be seen as both a value play and as a growth company. Analysts have constantly underrated Sony over the past few years. However, as stockholders well know, constantly improving performance and raised forecasts have led to continued stock price gains. This is especially so after the results are announced. The stock price ticked up 4.9% on news of the Q2 results. The 3-year stock chart is a good representation of how well the company is performing: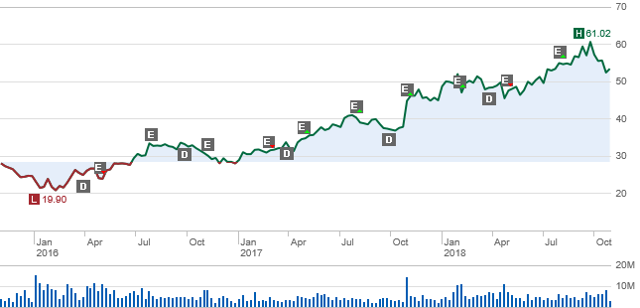 (Source: Charles Schwab)
Conclusion
The Q2 results are further evidence of the success of Sony's divisional reorganizaton of the past few years. Gaming will continue to lead the renaissance. The transition from consoles to online gaming will require the company to be alert and pro-active. However, other divisions show Sony is growing on numerous fronts.
Pictures, Music and Image Semiconductors remain strong growth sectors. The vertical integration of appeal of its digital entertainment hub offerings is the key advantage for the company.
Despite the tremendous stock gains, its valuations are still very reasonable. Investors get a growth company at a non-growth company price.
Disclosure: I am/we are long AAPL, TTWO.
I wrote this article myself, and it expresses my own opinions. I am not receiving compensation for it (other than from Seeking Alpha). I have no business relationship with any company whose stock is mentioned in this article.