Fireflies in a Jar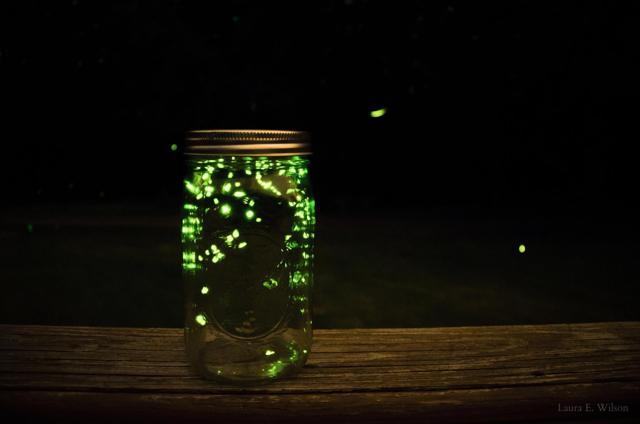 If you've ever seen bugs in a jar, then you know what happens. They try to get out, and they keep trying until they die. If you feed them what they actually like, they can survive for a while. If you are semi-humane and have punched air holes in the lid of the jar, they do better, but then they sense the air moving and likely feel as if escape is really possible. But it isn't. They have real glass walls (as opposed to metaphorical glass ceilings in the corporate world) holding them in, which lets in light but is not an indication of an escape path. In other words, these insects are trapped and their outlook is not very good unless their human tormentors open the jar and let them go.
If you'll pardon my stretch for a metaphor here, I think that many market participants are now trapped just like a bug in a jar. Many think they will be able to get out when they want to, but they won't. This is because the downdraft may be so severe that there will literally be no buyers, and no one will be able to sell. Having watched and survived the sell-offs in 1987, 1990, 2000-2002, and 2008-2009, I am very familiar with what happens in bear markets. Some readers may think I'm jumping the gun, i.e., that this is not really a bear market, at least not yet. Well, I am always too early, but this time around, being too late is going to hurt like hell. Anyway, what always happens in the lead-up to a bear market is that enthusiasm continues well beyond any reasonable justification supplied by fundamentals. Those who would object that fundamentals are great right now aren't looking at everything that is known. For example, most people look at operating earnings (e.g., John Butters, 2018) as the standard metric instead of as-reported ("GAAP") earnings, but this means they are usually over-valuing stocks by as much as 15% (Closing Time blog, 2013).
Others focus on forward earnings, but in every recession those forward earnings fail to arrive as planned, and that is what triggers the large draw-downs. We are not only due for a recession, the data permit me to suggest that you can see it coming around the bend (cf. Alessandro De Vito, 2018; David Rosenberg, quoted by David Lin, 2018). More on that later, but for now, I wouldn't count on huge earnings gains going forward (cf. David Rosenberg, quoted by Stephanie Landsman, 2018). In fact, much of the big pop in earnings over the last couple of quarters was due to the one-off gains from the corporate tax cuts passed recently by Congress, and that short term wave of boosted earnings will soon pass (Martin Baccardax, 2018).
Anyway, due to a strong sense of human denial (cf. Kevin Wilson, 2018) and a large dose of human greed, most investors will as usual stay in aggressive market positions too long and will then be mauled by the bear's claws in the oncoming sharp selloff. Counter-trend rallies, like the one we're experiencing right now, will seduce wishful thinkers into buying the dip. They will be competing with algo traders. This almost always ends badly for individual investors, although it is very helpful to those professionals who're actually selling the rallies, since they need someone to buy the shares that they are selling. Many investors don't seem to realize that counter-trend rallies are generally violent and short-lived. For example, during the bear market of 2000-2002, there were six counter-trend rallies of 10% or more, and four of them were over 20% (Chart 1). Yet the market dropped a total of 48% before the bear phase ended that time. In the huge bear market of 2008-2009, there were also some violent counter-trend rallies, including one that bounced about 15% right after the failure of Bear Stearns (Chart 2). That one caught many value fund managers in an epic banking sector value trap.
In the present selloff, there are clear indications or symptoms of an incipient bear market (Chart 3). For example, the market formed a double top of significant proportions, very similar to the one observed in the 2000-2002 bear market. If this is indeed proven by events to actually be a double-top, the gap between the tops is so large that a 40% market drop (or more) should be expected, by analogy with the 2000-2002 bear market. There was also non-confirmation of this year's second rally (to the top that peaked in early October), in that the RSI was on a declining trend during that entire leg up. The market has also decisively dropped below its 200-day moving average for the first time since early 2016. Finally, the 200-day moving average has clearly rolled over into a negative sloping trend, an ominous harbinger of the potential for continued bad news.
Chart 1: Counter-Trend Rallies in 2000-2002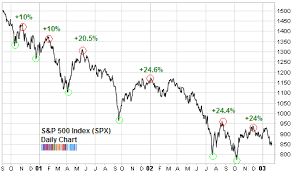 Chart 2: Counter-Trend Rallies in 2008-2009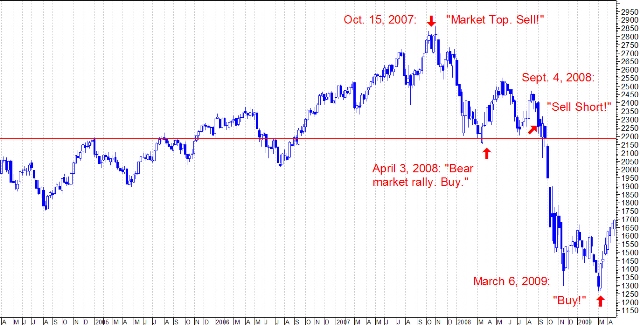 Chart 3: 2018 Selloff Showing Bear Market Symptoms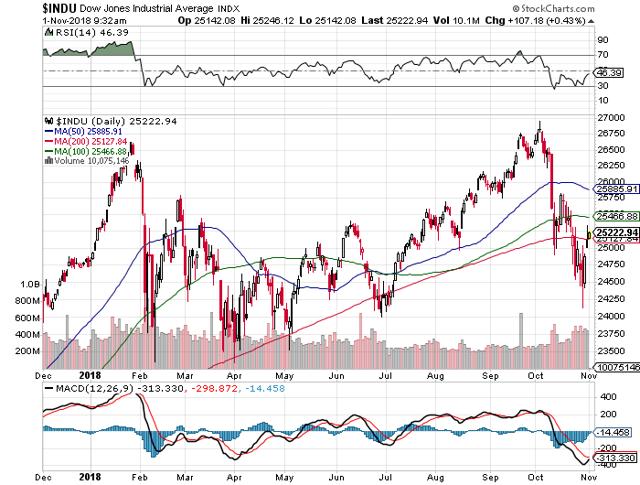 Like bugs in a jar, many investors who choose to stay fully invested in this market will struggle to escape their container once the current and future expected counter-trend rallies run out of gas and the market seeks yet another new low for this down-cycle. I will say this now as I have said it before: this is the crashiest-looking market since 1987. Market internals are terrible (John Hussman, 2018) and the technical damage to the markets has been severe and is likely underestimated by many (Ralph Acampora, quoted by Mark DeCambre, 2018). Sentiment still shows strong signs of complacency. A waterfall-style plunge to the bottom is not at all unlikely, in spite of the rumblings of perma-bulls. I would suggest that investors fly back out of the glass jar before the lid is screwed on tight.
Given the current long-term sell-off from the January market high, the renewed sell-off from the October market high, and the state of certain national economies, it makes sense to invest some money in a gold fund like SPDR Gold Shares (GLD), but only as a short-term hedging trade, not a buy-and-hold position. The iShares Gold Trust (IAU) is an alternative ETF that may be safer for those who want to hold it for a somewhat longer period of time. But the safest form of gold in the event of a true financial apocalypse is physical gold. Also, for those discounting a possible near-term recession and bear market, some liquid alternatives like the Otter Creek Prof. Mngd. Long/Short Portfolio (OTCRX), or the AQR Long/Short Equity Fund (QLENX) could be held to protect assets in the event of a much sharper market draw-down associated with deteriorating economic data. Those in a more defensive frame of mind because of the expected eventual market slide should also hold some long Treasuries, in spite of bearish arguments to the contrary, as a stock market crash would be hugely supportive of bond prices: examples include the Wasatch-Hoisington Treasury Fund (WHOSX), and the iShares 20+ Yr. Treasury Bond ETF (TLT).
Disclosure: I am/we are long GLD, OTCRX, WHOSX, TLT. I wrote this article myself, and it expresses my own opinions. I am not receiving compensation for it (other than from Seeking Alpha). I have no business relationship with any company whose stock is mentioned in this article.
Additional disclosure: Disclaimer: This article is intended to provide information to interested parties. As I have no knowledge of individual investor circumstances, goals, and/or portfolio concentration or diversification, readers are expected to complete their own due diligence before purchasing any stocks or other securities mentioned or recommended. This post is illustrative and educational and is not a specific recommendation or an offer of products or services. Past performance is not an indicator of future performance.