Note: I have covered Ballard Power (BLDP) previously, so investors should view this as an update to my earlier articles on the company.
Almost four years after the ill-fated Azure Hydrogen collaboration went bottom up, leading Canadian fuel cell developer Ballard Power just disclosed its next failure in China.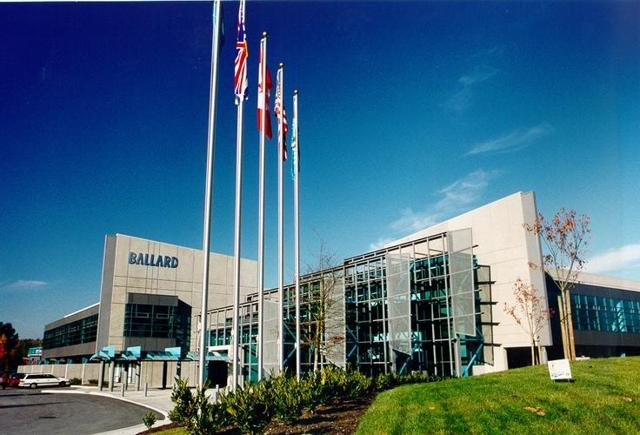 This time, the company's much touted fuel cell stack production joint venture ("the Synergy-JV") is causing some major headaches:
Financial results disappointed in Q3, primarily due to a slower-than-expected ramp-up in China, while the Company's long-term value and growth potential improved in the quarter. Near-term headwinds in China resulted in a material reduction in MEA sales to the Guangdong Synergy-Ballard joint venture in Q3 and in our outlook. Slower growth in market demand has been primarily the result of the relatively modest pace of hydrogen fueling station roll-out, along with evolving government subsidy rules and delays in Fuel Cell Electric Vehicle, or FCEV, certifications.

(...)

Given the uncertainties regarding Synergy-Ballard joint venture's ability to meet its "take or pay" commitment under its contract with Ballard, the Company is taking the prudent step of removing the remaining value of this contract from the Order Backlog and 12-month Order Book. With this adjustment, the Order Backlog and 12-month Order Book at the end of Q3 were $122.7 million and $59.6 million, respectively. Ballard is working with the joint venture and other partners to address current issues and future opportunities.
As already discussed in my previous article on the company, FCEV adoption in China continues to be hampered by a serious lack of hydrogen infrastructure, an issue the country won't be able to overcome anytime soon, particularly in light of its ongoing inability to generate the required amounts of liquid hydrogen to support effective distribution and large scale FCEV deployments.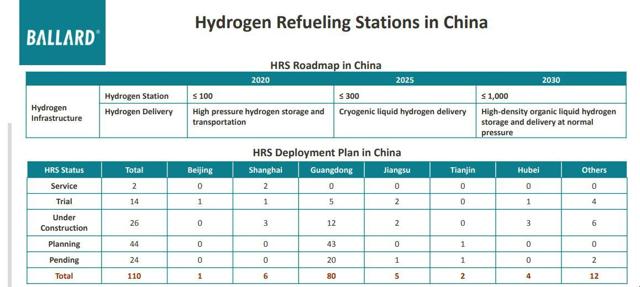 Source: Company presentation
As a result, FCEV sales in the country have remained very slow with the only meaningful deployment having been a fleet of 500 small commercial trucks in Shanghai so far. Unfortunately, Shanghai's existing hydrogen infrastructure remains insufficient to allow the trucks to operate at their nameplate range capacity of 305 kilometers. According to a recent company presentation, the active fleet size seems to be only 350 trucks at this point.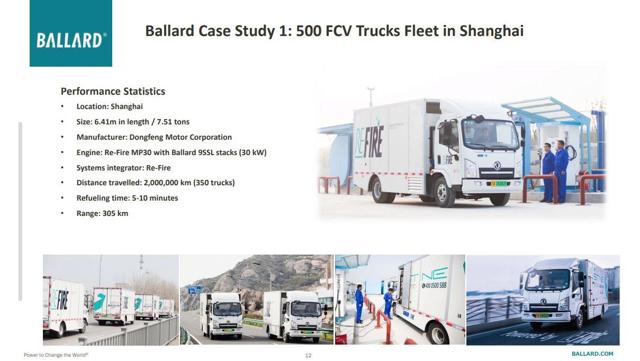 Source: Company presentation
Personally, I am not entirely surprised by Thursday's news given that Ballard Power effectively left the Synergy-JV out in the cold with the recent major collaboration agreement with Weichai Power. According to the transaction terms, the company and Weichai Power will form a new joint venture ("the new JV") in Shandong province which will be granted exclusive manufacturing rights for Ballard Power's next generation liquid cooled fuel cell stack ("the LCS stack") in China. In return, Weichai Power will be making a $163 million equity investment in Ballard Power, equaling an almost 20% stake.
I have discussed the Weichai transaction in great detail in an article two months ago and already hinted to potential issues with the Synergy-JV arising from the new deal at that time:
On the call, management admitted to the Synergy-JV most likely being challenged selling current generation fuel cell stacks with the introduction of a much more advanced LCS Stack close at hand and stated the need to "manage" the issue. In layman's terms, investors should expect the existing take-or-pay MEA supply contract to be altered in favor of the Synergy-JV rather sooner than later which could have a material impact on Ballard Power's short-term revenue performance given the $30 million in annualized revenues currently derived from the JV under the minimum purchase commitment.
That said, the magnitude of the impact is truly breathtaking. The Synergy-JV has obviously pulled out of the existing take-or-pay membrane electrode assemblies (MEAs) supply agreement with Ballard Power, most likely in the wake of the Weichai Power collaboration announcement.
As a result, the company has been forced to eliminate the entire backlog associated with this contract, causing 12-month-backlog to tumble by 37% (from $96 million to $59.6 million) and overall backlog by 56% (from $283.3 million to $122.7 million) quarter-over-quarter: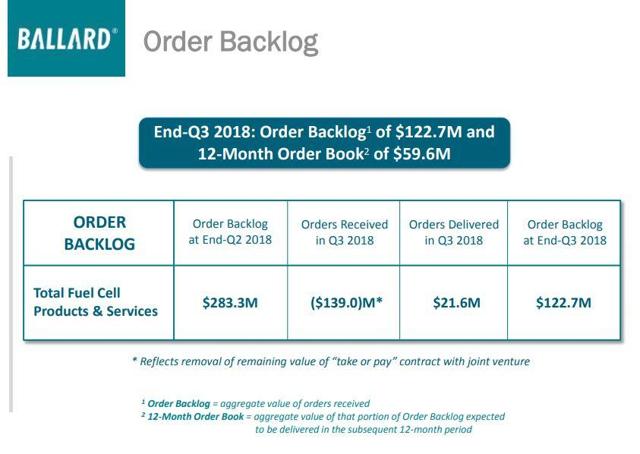 Source: Company presentation
The loss of the anticipated revenue contributions from the Synergy-JV will not only cause FY18 revenues to fall substantially short of consensus expectations (new guidance range of $90-95 million compared to analyst projections of $116.2 million), it will also have a devastating impact on the company's FY19 performance. With the 12-month-backlog currently below $60 million, Ballard Power's top line performance in 2019 might come in more than 50% below current consensus expectations of $151 million, causing revenues to drop substantially for a second year in a row.
With the new JV not anticipated to commence volume production before some point in 2020 and ongoing major hydrogen infrastructure issues in China unlikely to be resolved until that date, investors should better prepare for 2020 to be another disappointing year for Ballard Power. Without China resolving its hydrogen infrastructure issues, even this new JV could face substantial challenges, particularly as this time Ballard Power will own a substantial stake in the entity and be required to fund ongoing capital expenditures and operating expenses at its pro rata share.
That said, this should not be an issue going forward, assuming the Weichai transaction will be closing at the stated conditions in due time. While the company's cash balance has reached dangerously low levels after using another $12 million in cash during Q3 (now down to $23.2 million), the anticipated short-term influx of up to $183 million in fresh funds should alleviate any potential liquidity concerns for the foreseeable future.
While some of the proceeds from this transaction will have to be earmarked for Ballard's pro rata share of the new JV's initial funding requirements, the company should recover most of this cash outlay via a large technology transfer agreement with the new JV over time.
On the conference call, management tried to depict the recent issues with the Synergy-JV as largely unrelated to the company's decision to turn to a new partner for its next generation stack technology but after being directly asked by an analyst, finally admitted to the move having caused the relationship to deteriorate. In my opinion, it can be hardly viewed as a coincidence that the JV entirely stopped taking MEA deliveries around the time the Weichai transaction was announced, particularly as the ongoing headwinds for FCEV adoption in China aren't exactly a new development. At basically any time since inception of the Synergy-JV, the demand for its stacks was obviously insufficient but yet the JV remained committed to its contractual purchase obligations until it became clear that Ballard Power would turn to another partner going forward.
Moreover, if the Synergy-JV would only suffer from elevated inventories, there would have been no need to remove the entire contract from backlog as in this case one could have reasonably expected contractual shipments to resume over time. Management tried hard to make it appear that current issues could be resolved but I would be very surprised to see this happen anytime soon if ever given that the JV will soon be left with outdated stack technology. The most likely end to this story will be the Synergy-JV selling off its remaining stack inventory over time and dissolve thereafter.
Company executives also elaborated on the potential for product sales with regards to Weichai's stated commitment to supply a minimum of 2,000 fuel cell modules for commercial vehicles by 2021. Investors should note that as of this point, Weichai's commitment is a mere lip service, quite similar to the statements made by Broad-Ocean when announcing the collaboration with Ballard Power more than two years ago of which nothing never came to fruition. Nevertheless, management tried to create the impression of having some visibility into potential order volumes and projected initial shipments in late 2019 with the bulk of deliveries currently expected to take place in 2020. With China's hydrogen infrastructure unlikely to improve meaningfully over the next couple of quarters, I fully expect this commitment to be quietly abandoned by Weichai going forward.
Finally, let's take a look at Ballard Power's valuation after Thursday's sell-off:
Including the pending Weichai transaction, the company's market capitalization calculates to roughly $700 million of which $200 million will actually be cash. After deducting an anticipated $50 million of cash outflows for future JV funding requirements, Ballard Power's current enterprise value calculates to $550 million or 6x projected FY18 revenues. Note that the valuation would be even higher when taking my personal FY19 revenue expectation of just $75 million as a basis
As a comparison: Ballard Power's closest competitor Hydrogenics (NASDAQ:HYGS) is currently trading at just 1.3x expected FY19 revenues but, to be fair, the company has a much weaker balance sheet and might actually report similar challenges in its Chinese business when it reports Q3 results on Friday morning.
Bottom line:
Ballard Power's recent decision to turn to Weichai Power for exclusive manufacturing and marketing of its next generation LCS stack technology will have an outsized impact on the short- to medium-term top- and bottom line performance of the company.
Expect FY19 revenues to be materially down from the $90-95 million range now projected for FY18 with cash burn to accelerate substantially as the company will be largely unable to reduce operating expenses to compensate for anticipated lower sales levels.
With no comprehensive solution for China's massive hydrogen infrastructure issues anywhere in sight, investors should not bet on FY20 to turn things around for Ballard Power.
Even after Thursday's selloff, Ballard Power is still trading at a revenue multiple that usually gets only assigned to high-growth, high-margin software companies.
While the stock will, most likely, continue to be picked up by traders from time to time in conjunction with the company's frequent news releases, I expect the overall direction for the shares to be down going forward given the dramatic reduction in short- and medium-term financial expectations.
Given these issues, investors should move to or remain on the sidelines until tangible evidence for accelerating adoption of FCEVs in China emerges.
Disclosure: I/we have no positions in any stocks mentioned, and no plans to initiate any positions within the next 72 hours.
I wrote this article myself, and it expresses my own opinions. I am not receiving compensation for it (other than from Seeking Alpha). I have no business relationship with any company whose stock is mentioned in this article.