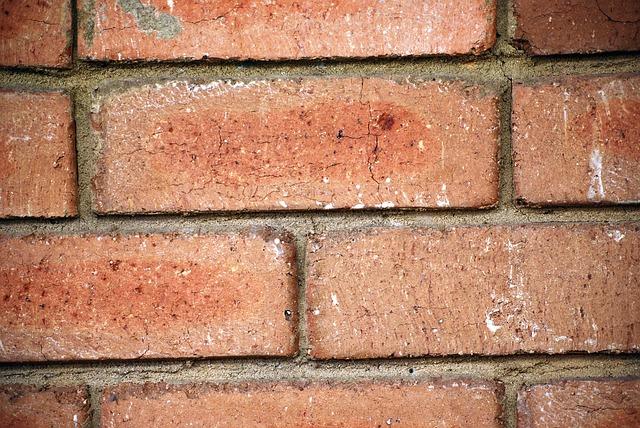 Image Source
Inside my self-directed 401k, the search has been on to find companies that are paragons of stability. If the perpetual doomsayers are indeed right some day soon, to paraphrase Warren Buffett, I don't want to have been one of the naked swimmers.
I have been on the search for companies that do not need a good economy to do well. This led me to recent research of Stepan Company (SCL) to determine if it was a good fit for my portfolio. I ultimately decided to take a pass, and here is my rationale.
Company Overview
Stepan Company is the epitome of a company whose products are used every day without much realization. In a nutshell, they make stuff that goes into other stuff.
Getting its start in 1923 when a 23 year old Alfred Stepan Jr. asked his mom for $500 so that he could start distributing chemicals to control road dust in rural Illinois, Stepan Company has grown into an indispensable firm in forgotten segments of the market. To buttress this assertion, Stepan is the largest producer of anionic and amphoteric surfactants in the Western Hemisphere.
Stepan breaks sales of its myriad of products into three reportable segments: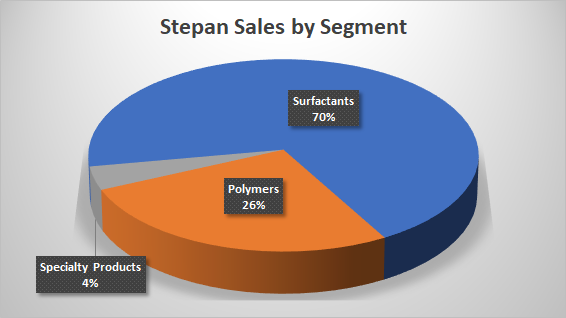 Data from 10-Q, chart created by author
Surfactants (70% of Q3 18 sales), the short name for "surface acting agents", are simply chemical compounds that manipulate how two surfaces interact with each other. The most common instance of this would be detergency - laundry and dish detergent, shampoo or body wash. But surfactants also touch the agricultural industry in pesticides and herbicides, or serve as emulsifiers (chemicals that stabilize processed foods).
Polymers (26%) are chemicals used in the construction market among others. They are used in making plastics, form the foam in thermal insulation, or are the base material for a myriad of coatings, adhesives and wood treatments.
Specialty Products (4%) refers to chemicals and powders used in food and pharmaceutical products, among others. Products include Omega-3 triglycerides and dietary supplements aimed at weight loss.
While certainly not front-and-center, Stepan Company has integral ingredients in the products that humanity uses every day.
Investment Thesis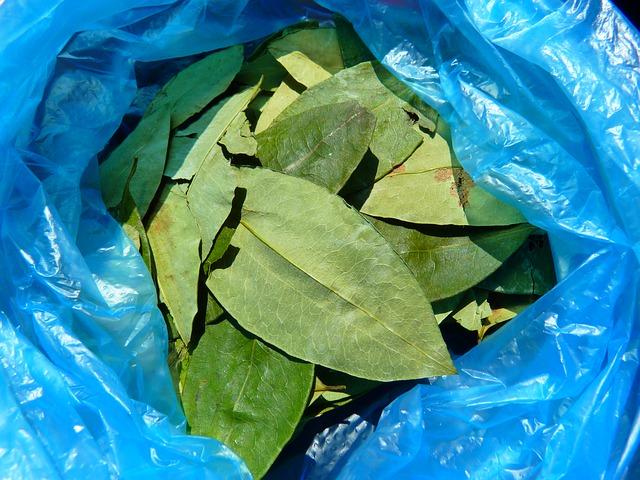 Quite simply, the best possibility for a moat with Stepan is its unique place in the market. As a case in point, inside their Specialty Products segment is undoubtedly the most unique moat setup of any U.S. publicly traded company. Stepan is the only company legally allowed by the U.S. Drug Enforcement Agency to import coca leaves, the raw material for cocaine.
Stepan imports roughly 200 tons of coca leaves per year into their Maywood, NJ plant. The cocaine is extracted, carried away in armored trucks, and then sold to Mallinckrodt (MNK), which is itself the only company that is allowed to legally purify cocaine, which they turn into a local anesthesia for ENT surgery. The remaining neutered coca leaf is then sold to Coca-Cola (KO) as a namesake ingredient in their flagship product.
The chance for the unwinding of this symbiotic relationship appears remote at best.
However, in addition to this, one could potentially see how Stepan products can become entrenched in a hurry. For instance, once a product becomes part of the ingredient list for All laundry detergent, it is hard to imagine Henkel changing the recipe on a whim. Moreover, success with one formulation could likely result in more business. Two things could potentially derail a company like Stepan - a better mousetrap, or a similar one that can be had for cheaper.
In my view this is the first chink in the armor for investing in Stepan Company. Necessarily so, Stepan and other companies in the space spend so much to develop new products, to discover new iterations of their current ones, or simply to stave off competition.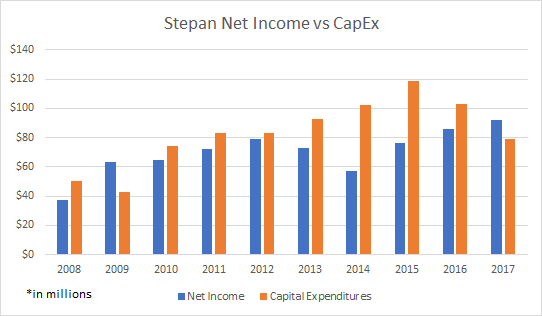 Data from SCL 10-Ks, chart created by author
Since 2008, capital expenditures have consistently been equal to or have outpaced net income. And with 2018 capital expenditures recently confirmed at $90-100 million, this trend shows no sign of slowing down. This leaves less money for me as a greedy income investor.
Secondly and most importantly, two of Stepan's primary end markets appear to be setup for decline.
Energy
Stepan products are all over the energy market, covering everything from foam drilling to corrosion control. In the interest of full disclosure, I am a long-term bear on the oil and gas market. It is quite easy for me to see a future administration attempting to do to oil and gas companies what a previous administration tried to do to coal firms.
The political winds have already started blowing in this direction, as governments around the world have commenced the move away from internal combustion engines. By 2030, Austria, Costa Rica, Denmark, Germany, India, Ireland, Israel, the Netherlands and Norway, as well as the cities of Barcelona, Brussels, Cape Town, London, Los Angeles, Milan, Paris, Seattle, and Vancouver will have all banned gasoline or diesel engines from being sold. It is easy to see geopolitical peer pressure bringing a number of other countries or cities to the table.
Even barring what appears to be an eventual inevitability at this point, numerous auto companies are now in the electrification game. Ford, General Motors, Toyota, Volvo, Volkswagen, Aston Martin, Fiat Chrysler, Jaguar and Land Rover are all in various stages of development of electric vehicles, with some shooting for the goal of electrifying their fleet in the next few years.
According to the Energy Information Administration, gasoline accounted for 47% of US petroleum consumption as recently as 2017. With demand necessarily coming offline in the coming years, it appears to me that the long-term bearish outlook for oil and gas is the correct call.
Housing
Thanks to the Great Recession, prospective home buyers have enjoyed historically low interest rates for the better part of the last decade. However, it appears that these historic tailwinds are slowing. Interest rates are on their way up, ostensibly so that the Federal Reserve has cushion to lower them again if they need to. Housing inventory is higher now in 30 of the U.S.'s largest 100 cities than a year ago, and mortgage applications for new housing are down 9% year-over-year.
Additionally, it appears that the prices of housing stocks are trying to brace for a coming housing bear market, as Mr. Market appears to be telegraphing the felt need to get out beforehand:
Income Potential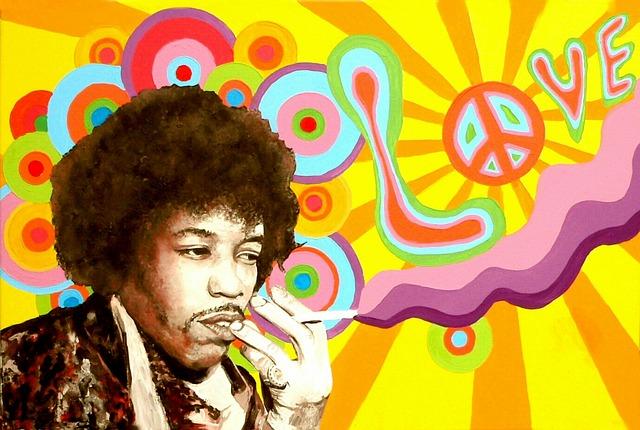 Most likely though, any bull case for Stepan Company shares will touch on the fact that it is a so-called "dividend king", the rare moniker reserved for the nearly two dozen companies out of multiple thousands who have increased their shareholder payouts for at least fifty consecutive years. With their most recent increase, Stepan has recently cemented fifty one consecutive years. It screams stability that a company has increased its shareholder payouts every year since Jimi Hendrix released his debut album.
Moreover, the dividend has consistently been covered by free cash flow. Since free cash flow turned positive in 2012, the dividend payout is consistently well below the 75% of free cash flow that gives me pause.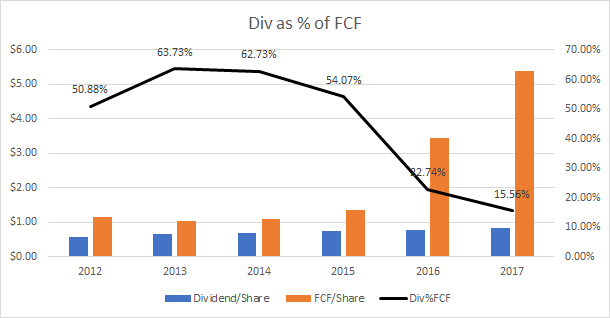 Dividend/FCF data from M*, chart created by author
A prodigious dividend history and great dividend coverage seem to make this prospect a can't miss for the income-focused investor.
There is a catch, though. In fact, the attractiveness immediately falls away when it is discovered that the dividend yield regularly hovers around 1%. Simply put, Stepan is insufficient to be considered as an income investment. For current retirees seeking income, more can be had elsewhere. And those who would say their lengthy time horizon makes it sufficient are overruled by math.
As a case in point, let's compare Stepan's prospective future dividend profile with the similarly priced stock of Procter & Gamble (PG). Let us lock in Stepan's recent 11% dividend raise in perpetuity (probably more aggressive than is realistic) as well as Procter & Gamble's 4% most recent raise (probably more conservative than is realistic). Which would be the better income play?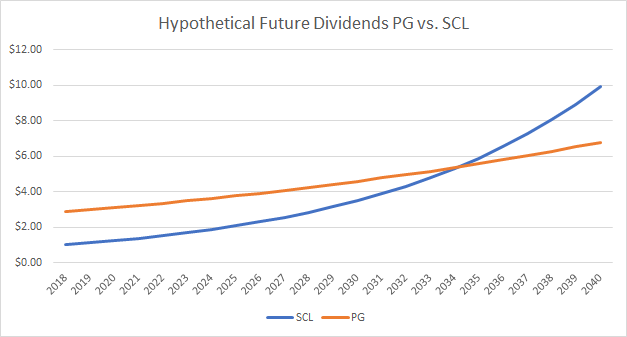 Chart created by author
At current rates, it would take until 2035 for current Stepan shares to generate more income than P&G. Or put another way, it would take Stepan shares purchased today until 2028 to generate roughly the same amount of income that P&G shares do now. If shares are DRIPed, the discrepancy is even greater. Ostensibly then, potential outsized shareholder returns from Stepan must come from somewhere else.
Total Return Potential and Valuation
If shares were undervalued at this point, we could just collect the dividends as shareholders and wait for a reversion to the mean. However, Stepan shares appear to be trading at a premium to historical PE, PS, EV/EBITDA, and dividend yield averages.
With this being the case, then barring a precipitous drop in price, we couldn't expect any greater returns as Stepan shareholders than its return on invested capital. But since that number is conceivably capped due to the inherent capital-intensiveness of its industry, then this number too appears to be also-ran.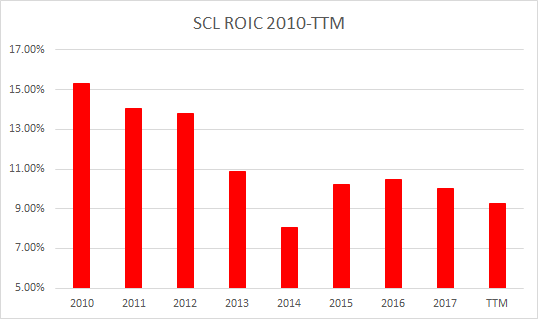 Data from M*, chart created by author
Summary
Stepan Company is a good-to-great company in a forgotten industry, with a few characteristics one could deem moat-worthy. If one currently holds it, there is really no reason to sell given a long-term time horizon. However, with shares fully valued and prime end markets appearing to be in slowdown mode, the next big leg for shares appears to be downward.
In the face of this though, the dividend yield is nowhere near sufficient to protect investors provided an economic slowdown, or high enough to rightfully be considered an income investment until shares are held for decades. There is no compelling reason for me to buy shares.
Author's Note: If you found value here, I'd be honored if you followed me to get semi-regular updates. However, I am not a professional investor, and as such, the strategies, companies and/or positions mentioned and any associated analyses are related to my own personal experience, expertise and situation, and is not intended to be personal advice or a recommendation for you to buy or sell. As everyone has their own risk tolerance, goals and needs, it is important that you perform your own due diligence. Happy Investing!
Disclosure: I/we have no positions in any stocks mentioned, and no plans to initiate any positions within the next 72 hours. I wrote this article myself, and it expresses my own opinions. I am not receiving compensation for it (other than from Seeking Alpha). I have no business relationship with any company whose stock is mentioned in this article.