Commentary
I do not see market price volatility as anything other than my income producing shares going on sale. I do not invest for price appreciation, but for the steady stream of dividends hitting my account. I've been saying this throughout my writings for years and not changed my view. If I focus on the income stream, the portfolio balance will naturally follow along. The market will move up and down, but my only trading activity is to buy and never sell shares for income.
There is opportunity in every negative event; you just have to seize the moment as Winston Churchill's quote eloquently outlines.
"A pessimist sees the difficulty in every opportunity; an optimist sees the opportunity in every difficulty." Winston Churchill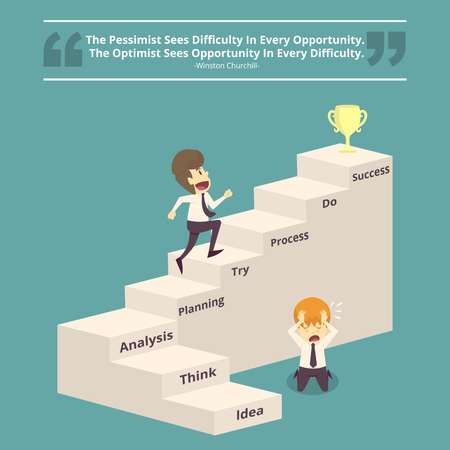 Source: 123RF.com
This picture depicts my process in getting my high-yield method to a successful conclusion. I have written many articles dealing with all aspects of each step over the past 5 years. October 2018 has been a trying month for most investors, and having the right attitude helps to navigate the challengers.
The price action this year has been good for the accumulation phase of any portfolio. As seen in Chart-1, I'll always be in the accumulation phase. You don't have to take my word for this, but how about Warren Buffett? Quote emphasis is mine and indicates common sense purchasing.
Warren Buffett's 1997 letter to Berkshire Hathaway shareholders
"A short quiz: If you plan to eat hamburgers throughout your life and are not a cattle producer, should you wish for higher or lower prices for beef? Likewise, if you are going to buy a car from time to time but are not an auto manufacturer, should you prefer higher or lower car prices? These questions, of course, answer themselves.

But now for the final exam: If you expect to be a net saver during the next five years, should you hope for a higher or lower stock market during that period? Many investors get this one wrong. Even though they are going to be net buyers of stocks for many years to come, they are elated when stock prices rise and depressed when they fall. In effect, they rejoice because prices have risen for the "hamburgers" they will soon be buying. This reaction makes no sense. Only those who will be sellers of equities in the near future should be happy at seeing stocks rise. Prospective purchasers should much prefer sinking prices."
Bingo! For long-term investors, be happy when the price of your holdings is declining and embrace your inner-self greed to purchase value at reduced cost. Once again, focus on what you can control (dividend income) and not price controlled by millions of people. It takes a different mindset to be a successful high yield income investor in all market cycles.
Introduction
The last time I reported on my brokerage performance metric was at the end of July 2018. Since the market has been declining in October, I thought it might be worthwhile to provide another update. Market volatility forces my hand to purchase more income producing shares.
Also included are Chart-2 and Chart-3 for the month of October that shows price movement for BDCs, mREITs and the S&P 500. Half my high-yield portfolio contains BDCs and the other has mREITs.
To date, I have pulled the RIP (Redundant Investment Provision) cord three times. This is when I spend my distribution dividends right before my scheduled withdraw. The brokerage house sends out a nasty-gram telling me I had insufficient funds for the distribution. They distribute whatever cash is left in the account on the scheduled date. I originally set up my distribution to take 60% of my yearly generated dividends for expenses, but now, it looks closer to 50% using my RIP procedure. This method gives me an alternative to purchase more income shares during market declines.
Buying on sale is always fun. While people are dreading over the price of their stock holdings, I'm in a happy frame of mind buying select shares to increase my future cash flow. During October, I added to my positions "NLY", "NEWT" and "CGBD", links to stock tickers are located in the "Current Portfolio Assets" section of this article.
Performance Including Distribution and Cash
From my 10-Year Performance Tracking article, I have normalized the portfolio balance to $500,377 and a gross employment earnings value of $64,000 starting 2018, see Chart-1. The normalized value is a ratio of my real portfolio based on my brokerage performance report. I will keep these values constant to get a sense of future performance and to provide a tangible reference to actual currency.
NOTE: the first 10 months of 2018 results listed in the following five items include distributions and cash along with stock holdings, Chart-1 contains the data.
$500,377 = 2018 beginning balance; $497,744 = YTD ending balance.
$19,354 = distribution taken, $25,135 = dividends ready to reinvest.
Total return (10 months); ((497,744 + 19,354) - 500,377)/500,377 = 3.34%
Income return; (19,354 + 25,135)/500,377 = 8.9%
Price gain/loss; 3.34% - 8.9% = -5.56%
YAM (yield at market) is sitting at 10.26%
Most of the return is from dividends as expected from High-Yield investments
With almost 5 years under my belt, I can say with some certainty my path to retirement has been a complete success. The funds I had to work with came from my 401k where I transferred them to my self-directed IRA. The amount was equivalent to 5.5 times my final gross employment income.
Since the beginning of my journey, I have used my last full year of employment earnings as my benchmark. Why should I use anything else approaching retirement? Paycheck replacement seems reasonable since this is what I need to live on, not the artificial portfolio balance that moves by the minute. I reference my benchmark as GEE (Gross Employment Earnings), ratio adjusted to $64,000; see Chart-1.
The beginning working capital invested in dividends was 5.5 times my working GEE. Ratio adjusted (5.5 * 64k = $352,000).
My YTD portfolio balance at the end of October is currently 7.8 times, my GEE. Ratio adjusted (7.8 * 64k = $497,744).
In the process, I'm achieving an income from my portfolio greater than 75% (0.75 * 64k = $48,000) at the start of 2018.
Chart-1: 10 Year Performance Chart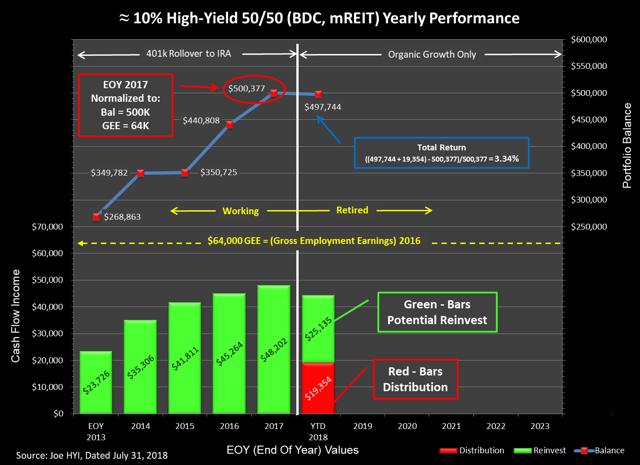 Results (10 months 2018)
This chart looks intimidating at first, but only has three tracking elements. I placed a lot of notes on the chart to indicate my pre-retirement working phase and my full retirement starting in 2018; (vertical white line dividing the chart).
It should be noted the values of the portfolio balance, dividends and distributions are taken from my brokerage account performance table (ratio adjusted). They keep track of all the contributions (401k to IRA rollover), dividends and distributions during the year where I can get a quick snapshot of all pertinent data. The dividends are the actual collected values that are deposited into my account at the end of each month.
The chart is split in half, the top section is for the portfolio balance, and the lower half is for income generation including distributions. I began 2018 with distributions to help pay expenses in retirement.
Income Cash Flow: I'll begin with the lower section of the chart left-vertical axis labeled "Cash Flow Income". It is important to note the only benchmark I'm interested in will be to replicate my last full year gross employment paycheck. I have normalized the GEE value to $64,000 beginning in 2018 and placed this level at the $64,000 mark, see the yellow chart note.
The green bars are surplus dividends to grow the income stream. As indicated, I entered 2014 with $23,726 in dividends and with 401k rollovers the dividends grew to $48,202 at the end of 2017. This income hit my 75% GEE goal, and it was time to retire at my FRA (Full Retirement Age) mid-year 2017.
Distributions: I started taking distributions at the beginning of 2018, see lower half of the chart; red bars.
I set up automatic distributions from my brokerage account each month. The green and red bar total will be the income cash flow the portfolio generates. The goal will naturally be to increase the income level each year by reinvesting surplus dividends.
Portfolio Balance: Moving to the top half of the chart is the portfolio balance using the right-vertical axis labeled "Portfolio Balance". Portfolio balance growth includes dividend cash, dividend reinvestment and price movement; displayed as the blue chart line. I have normalized the 2018 beginning balance to $500,377 based on a ratio of my actual balance.
I consider the balance as a secondary-metric since selling stock to support expenses is not an option. I have just eliminated the emotional stress of market-timing. Why should I sell the assets that are creating the income? Income generation is the focus of my method and reinvesting surplus dividends will allow price to follow along.
Price becomes subservient to income creation and not the other way around. This line of thinking takes on a mindset contradictory to the mainstream financial establishment. Only a small amount of investors understand this concept since it does not fit conventional thinking.
Quick Snapshot October 2018
The following Chart-2 displays how both my BDCs and mREITs performed along with the S&P 500 during the month of October. It has been a rough month for investors with increasing Fed rates, mid-term elections pending, and now, the administration's threat to slap more tariffs on China. The market does not like what's going on and has decided to throw a hissy-fit.
Chart-2; October 2018 price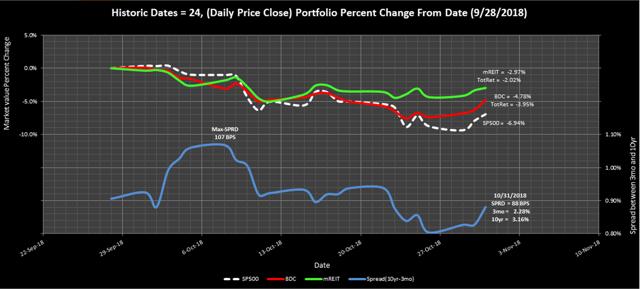 As shown the S&P 500 is declining fast never reaching correction territory (negative 9.88% from 52 week high) while both BDCs and mREITs are doing better. The price for the last few days of October has rebound quite well. Have your buy-list ready; we might continue to move lower, who knows. Dividend income is not affected with the wild ride in market price.
October 31, 2018 price action
This chart is taken from POT (Portfolio Online Tracker) that plots each quote price in real time. I have included the VIX (fear index) yellow box alert. Notice the yellow indicator box, it will turn yellow when VIX is over 20, or when the S&P 500 goes into correction or bear market territory. POT has been a valuable tool during the month of October helping with purchases.
Chart-3; October 31, 2018, stock price

Looking at the last day of October, we can see S&P 500 is up 1.09%, Volatility at 21.23, while BDCs are up +1.65% for the day and mREITs are up +0.39%. Both BDCs and mREITs have been up over the last 3 days of October making a comeback. We might be in the positive seasonality November and December months of the year, who knows if this will play out.
Current Portfolio Assets
Business Development Companies:
Goldman Sachs BDC Inc. (GSBD), TCG BDC Inc. (CGBD), MAIN Street Capital (MAIN), Golub Capital BDC Inc. (GBDC), PennantPark Floating Rate Capital (PFLT), Gladstone Investment Corporation (GAIN), Solar Capital Ltd. (SLRC), Newtek Business Services Corp. (NEWT), TPG Specialty Lending Inc. (TSLX), Fidus Investment Corporation (FDUS), Monroe Capital Corporation (MRCC), PennantPark Investment. (PNNT), Apollo Investment Corporation (OTC:AINV), 2xLeveraged Long Exchange Trade (BDCL), New Mountain Finance Corporation (NMFC), TCP Capital Corp. (TCPC), Hercules Capital Inc. (HTGC), Stellus Capital Investment Corp. (SCM), TriplePoint Venture Growth BDC (TPVG), Ares Capital Corporation (ARCC)
Mortgage Real Estate Investment Trust:
Ares Commercial Real Estate Corp. (ACRE), TPG RE Finance Trust (TRTX), Guggenheim Strategic Opportunities Fund (GOF), Ladder Capital Corp Class A (LADR), Dynex Capital Inc. (DX), Starwood Property Trust Inc. (STWD), PennyMac Mortgage Investment Trust (PMT), Two Harbors Investment Corp. (TWO), PIMCO Dynamic Credit and Mort. (PCI), Invesco Mortgage Capital Inc. (IVR), Blackstone Mortgage Trust Inc. (BXMT), MFA Financial Inc. (MFA), Chimera Investment Corporation (CIM), AGNC Investment Corp. (AGNC), Apollo Commercial Real Estate (ARI), Annaly Capital Management Inc. (NLY), Cherry Hill Mortgage Investment (CHMI), AG Mortgage Investment Trust (MITT), New Residential Investment Corp. (NRZ), ETRACS Monthly Pay 2XLeveraged (MORL).
Conclusion
October 2018 and most of the year have been challenging when looking just at price. In a way, investors have been tricked with price, while I have been enjoying my treat as income. Get it? Trick or Treat for October! This year will generate the most income I have received over the life of my portfolio despite portfolio balance volatility. If we enter a bear market and the Fed starts to reduce rates, my agency mREITs will generate above average earnings. The BDCs will naturally have companies going on non-accrual or worse and perhaps cutting their dividends. In balance, I expect to continue to generate income to support my distributions. This is what I have been planning from the beginning of my portfolio build, now 5 years in the making. Good luck to all income seekers, Joe HYI ;-).
Disclosure: I am/we are long ALL STOCKS IN THIS ARTICLE. I wrote this article myself, and it expresses my own opinions. I am not receiving compensation for it (other than from Seeking Alpha). I have no business relationship with any company whose stock is mentioned in this article.