Speculation ran rife that an oil shortage would develop when sanctions are re-imposed on Iran in November, sending oil prices above $100. But impending sanctions created the counter-intuitive conditions for an oil glut to develop.
The S&P 500 Energy Sector SPDR (XLE) has dropped about 10% from President Trump's May 8th announcement for the U.S. to pull out of the Iranian nuclear deal. Saudi Arabia and friends had agreed to offset any loss of production from Iran prior to Trump's announcement, and now that is playing out.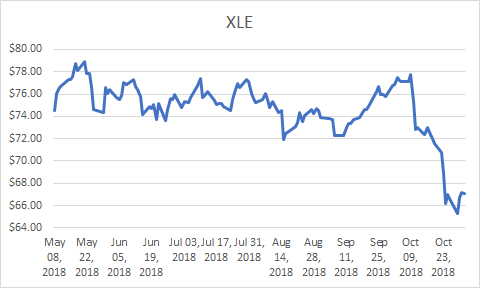 This was a win-win deal for Saudi Arabia, having its arch-nemesis sanctioned and replacing its exports with its own. Furthermore, KSA has enjoyed a much-improved relationship with the U.S. since Trump became president, and looks forward to much-needed help in developing its economy, not to mention continued military protection by the U.S. For these reasons, it was all but certain that not only would Saudi Arabia comply, but that it would encourage all OPEC+ producers to join-in.
Back in May I wrote, in "OPEC To Oil Market: 'Don't Worry About Supply'":
Following Trump's announcement of the withdrawal, Treasury Secretary Mnuchin said that the White House had been in contact with several producers who gave assurances that they would replace any lost Iranian exports to the market. The Saudi energy minister confirmed it.

Over the weekend, UAE Energy Minister Suhail bin Mohammed al-Mazroui, the current OPEC president, said, OPEC has an adequate "buffer" of potential output to cushion oil markets if the U.S. re-imposes sanctions on Iran. "Don't worry about supply," he told reporters when asked about potential impacts on crude supplies."
'Surprises'
Without fanfare, Saudi Aramco increased its export capacity by three million barrels per day on its West Coast, effective October 12th. The Red Sea port does not require passage of exports through the Strait of Hormuz, and so this strategic expansion eases the slight risk that Iran would try to disrupt tanker traffic at that choke-point. Saudi Aramco's current export capacity is 12.5 million barrels per day (mmbd) and is expected to rise to 15 mmbd when its Muajjiz crude oil terminal is revamped. It is also on the West Coast of KSA.
Reuters reported that OPEC production averaged "33.31 million barrels per day this month (October), the survey on Wednesday found, up 390,000 bpd from September and the highest by OPEC as a group since December 2016." What's more is that the UAE increased its output by 200,000 b/d to 3.250 million and says its capacity will increase to 3.5 mmbd by year-end. In other words, OPEC's increases have more than offset declines in Iran and Venezuela. Recently, Saudi energy minister Khalid Al-Falih declared OPEC+ is in "produce as much as you can mode."
In addition, the U.S. reported its production increased by 416,000 b/d in August to 11.346 mmbd, a new record high. The huge increase was totally unexpected and had not been signaled by the EIA's weekly estimates.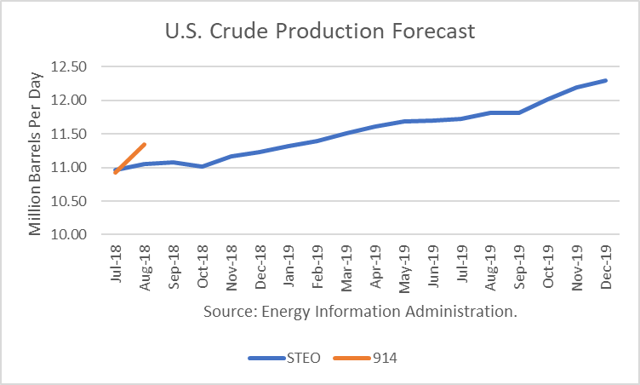 The rise is likely a lagged-effect of higher prices earlier in the year since it was broadly based among areas. Furthermore, it will result in a large revision to supply forecasts not only for the U.S. but also for the world.
The U.S. is now the world's leading oil producer, according to the EIA.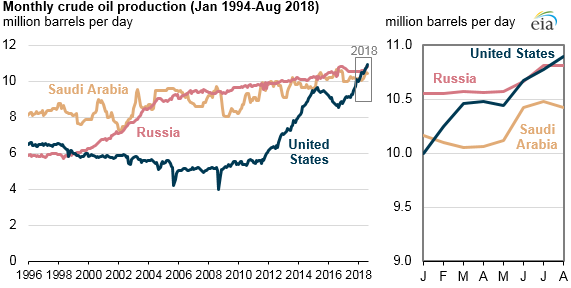 The Trump Administration is granting of waivers to both India and South Korea, according to reports. This will allow at least some legitimate Iranian oil to be exported. My interpretation is that President Trump wanted to make sure oil prices would drop, while any reduction in Iran's exports will cause it to slide further into recession. In other words, the pressure on Iran is sufficient, even allowing some exports to flow. His aim is to bring them to the negotiating table to get an expanded nuclear deal that reins-in terrorism.
To help in that regard, the U.S. is pressuring the Saudis to bring an end to the war in Yemen and to end the blockade of Qatar. Both of those measures will make it easier for Iran to agree to end its terrorist activities.
2019 Supply/Demand
Prior to all of the above "new news," the outlook for 2019 was looking ugly for oil prices. According to EIA, non-OPEC production was expected to rise by 2.4 mmbd and global demand was forecast to rise about 1.4 mmbd. OPEC projections reflect the same type of disparity between supply and demand.
The IEA's director has recently stated that demand growth of 1.4 may not materialize in 2019. High prices, combined with currency devaluations in numerous countries, including India, will likely soften the growth.
I also expect Trump to negotiate a new nuclear deal with Iran in 2019, possibly early in the year. When that is finalized, all of Iran's oil will flow once again. And if they store it in the meantime, as reported, that will come to market as well.
Conclusions
The run-up in oil prices in 2018 was largely stoked by fears that Trump's confrontation with Iran would lead to an oil shortage and a price spike. But such fears were not tempered by the hard reality that OPEC+ has enough spare capacity to make-up for any loss of Iranian oil. It also ignored Trump's ability to give waivers if necessary, and the lagged effect that higher oil prices would have on production in the U.S. The bull oil thesis has little time left to prove itself.
To guide investors who are interested in profiting from outstanding opportunities in the energy sector, I provide a service on Seeking Alpha's Marketplace oriented toward individual investors, Boslego Risk Services. A long/short Model portfolio is continuously updated, along with on-going analysis of the oil market.
I am now accepting new members to Boslego Risk Services and invite you to sign-up. There are monthly and annual pricing options as described here. You may also read reviews posted by members here.
Disclosure: I/we have no positions in any stocks mentioned, and no plans to initiate any positions within the next 72 hours. I wrote this article myself, and it expresses my own opinions. I am not receiving compensation for it (other than from Seeking Alpha). I have no business relationship with any company whose stock is mentioned in this article.