The Sell Thesis
Realty Income (O) has become overvalued which poses a substantial risk to investors in a rising rate environment. We see NAV dropping to about $37 a share which is likely to put pressure on a stock price over $60.
Let me begin by acknowledging how well Realty Income has done both operationally and in total returns. The net lease platform has worked exactly as it is supposed to with incremental growth from escalators and minimal defaults due to strong due diligence in tenant selection. This article is to remind investors that valuation matters and O's valuation has become rather extreme.
Realty Income's fundamentals have already been discussed at length on Seeking Alpha and there is not a whole lot to debate in that regard. O is a steady performer operationally and seems solid in just about every fundamental regard. There is much more debate about its valuation and that is where this article will focus.
FFO Multiple
O usually trades 1-2 turns lower in LTM FFO multiple than the index. In mid 2016, O's valuation got ahead of itself and it began trading at a premium to the REIT index.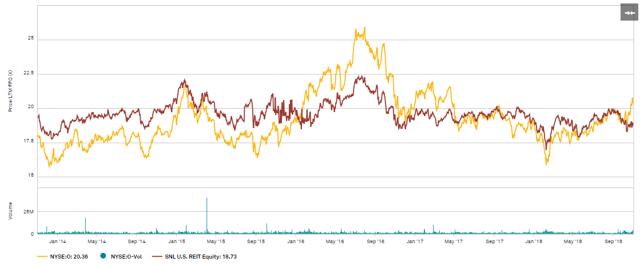 Source: SNL Financial
Triple net REITs should not trade at premiums to the index because the business model is low growth by nature. NNN REITs sit back and collect cashflow and when things go well they can grow mildly. O is a particularly well-run company, but its growth rate is still restricted by its business model.
When a company is so steady as to functionally represent a series of somewhat locked in future cashflows, there is a rather clear intrinsic value. Those future cashflows have finite value and when the stock price exceeds this intrinsic value, the market will eventually reign it back in.
This is exactly what happened when O traded at a premium in 2016 and it was not a good time to hold on to O. Its price dropped from over $70 back down to the mid $50s.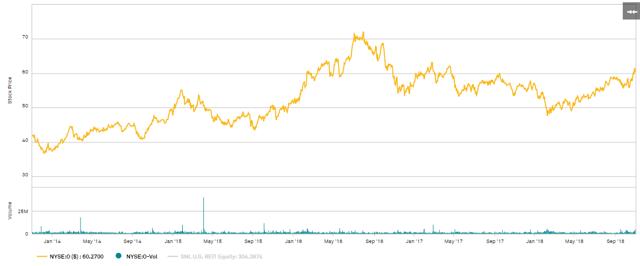 Source: SNL Financial
Well, O is once again trading at a premium to the index and the next move should be the reigning back in. O is not as overvalued as it was in mid-2016, but it is still overvalued on an FFO multiple basis which is likely to weigh on the stock.
NAV valuation
Perhaps the more egregious overvaluation is on NAV. As of the close of October, the mean REIT traded at a 12.06% discount to NAV and the median REIT traded at a 12.79% discount to NAV (data from SNL Financia). In contrast, O traded at a 22.28% premium to NAV.
Most REITs trade at a discount to NAV in preparation for rising interest rates. As interest rates rise, discount rates rise and cap rates usually rise with a minor lag time. At higher cap rates, NAVs drop. Thus, the 12% discount at which most REITs trade acts as a cushion to absorb the impact of the reduced NAV.
With O trading at an already steep premium to NAV, it should be highly susceptible to rising rates.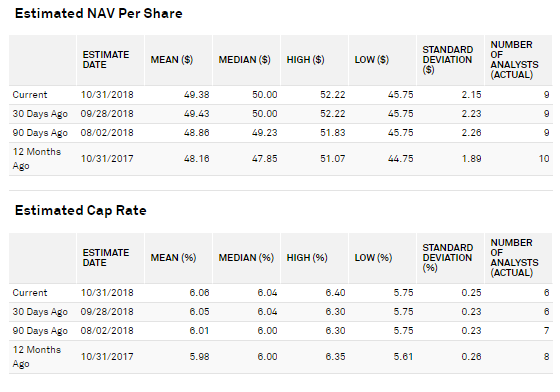 The $49.38 consensus NAV is predicated on a 6.06% cap rate which may be fair relative to current treasury rates, but if the Ten-year Treasury yield moves up 100 basis points, I would bet the market rate for single tenant retail assets moves closer to 7%.
Using a 7% cap rate, O's NAV is roughly $37 if we average the last 4 quarters of NOI.

To me, that sort of NAV potential in a rising rate environment is a huge downside for a stock trading over $60.
Dividend coverage
Realty Income's market price has consistently been buoyed by its impressive track record of dividend growth. However, neither its magnitude nor coverage are impressive given where the stock trades today.
As of intraday 11/1/18 O is trading at $60.90 with a 4.39% yield.

Source: E-Trade Pro streamer
Its $2.646 annual dividend (paid monthly) represents a payout ratio of 84.5% on 2019 consensus FFO of $3.13. In contrast, the REIT index has a dividend yield of 4.12% with an FFO payout ratio of 74.0%.
This means that the average REIT has better dividend coverage than O with nearly the same yield.
Realty Income's dividend track record means it has been a great stock to own over the past 20 years, but it does not mean it is a good stock to own going forward. I do not think a 4.4% yield with minor increases each quarter will be enough to keep the stock price up if interest rates rise and NAV falls.
Good company, bad stock
One of the hardest things to do in investing is to separate the company from the stock. It is entirely possible for a good company to be a bad stock and I think that is the case with O right now. At its present market price, the downside far exceeds the upside.
I do not know when or even if treasuries will go up 100 basis points, but it is certainly plausible and given the magnitude of harm to O's already stretched NAV I believe it would be foolish to ignore this risk.
Greener Pastures
Note that rising rates are far less harmful to stocks trading at cheaper valuations. Other value NNN REITs should fare far better in a rising rate environment as discounts to NAV can act as cushions and larger dividend yields are less susceptible to competition from treasuries.
Gladstone Commercial (GOOD) trades at a roughly 5% discount to NAV and yields 7.9%.
Global Net Lease (GNL) trades at a 7% discount to NAV and a 10.5% yield
If Treasury yields crest 4% I can see investors being uninterested in equities yielding 4%, but the high yield of these REITs will still provide enough benefit to be worth the risk for some investors.
Gladstone Commercial is a rock solid company that served investors well through the financial crisis. GNL is not as good of a company as O, but the valuation difference is extreme.
The bottom line
Valuation matters and if one continues to hold O at these prices they should do so with eyes wide open to the risks. A good company does not equate to low risk and investors should be aware that a consensus increase in interest rates over the next year or so could take O's NAV down to $37.
Disclosure: 2nd Market Capital and its affiliated accounts are long GNL and GOOD. I am personally long GNL and GOOD. This article is provided for informational purposes only. It is not a recommendation to buy or sell any security and is strictly the opinion of the writer. Information contained in this article is impersonal and not tailored to the investment needs of any particular person. It does not constitute a recommendation that any particular security or strategy is suitable for a specific person. Investing in publicly held securities is speculative and involves risk, including the possible loss of principal. The reader must determine whether any investment is suitable and accepts responsibility for their investment decisions. Dane Bowler is an investment advisor representative of 2MCAC, a Wisconsin registered investment advisor. Commentary may contain forward looking statements which are by definition uncertain. Actual results may differ materially from our forecasts or estimations, and 2MCAC and its affiliates cannot be held liable for the use of and reliance upon the opinions, estimates, forecasts and findings in this article.Positive comments made by others should not be construed as an endorsement of the writer's abilities as an investment advisor representative.
Disclosure: I am/we are long GNL, GOOD.
I wrote this article myself, and it expresses my own opinions. I am not receiving compensation for it (other than from Seeking Alpha). I have no business relationship with any company whose stock is mentioned in this article.