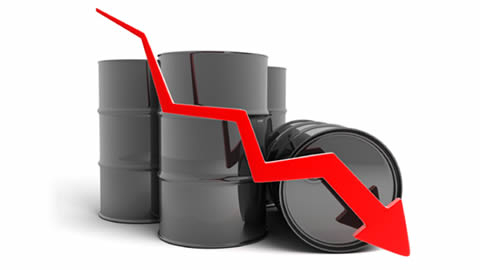 Hitherto oil prices have gone through a mind-boggling roller-coaster ride. With Brent and WTI touching four-year highs, they now stand at $77 and $66 respectively - more than a 10 percent drop. Of late, it seems as if oil prices are stuck in a limbo, fluctuating $1-$2 occasionally. But there has been a prominent change in investor's perception as the bullish bets have reduced to 15 month-low.
With the overall investor mood swinging from one end of fear and greed to the other of sense and sensibility one might ask: what is next for oil now? Fundamentals and sentiments both point towards a sustaining bearish trend.
Let's talk about the mood swings first. On the whole we have seen how fear and greed took oil markets to four-year highs and as if with a sudden shift in gears the whole rally came in reverse, settling down at levels that many observers now think are another opportunity to buy (it isn't). Cracks began to appear in US and Saudi relation with Trump taking up to his usual twitter-field telling KSA to increase production to which the latter responded in a composed manner. Kashoggi's case once again stirred the markets to action but as I noted in my article here, the expectation of a diplomatic showdown were ill-founded.
In an odd turn of events the attention has now been diverted to oversupply rather than the prevailing fear of supply shortage prevailing in the markets only few days ago. All of a sudden we have realized that there is sufficient, if not extra, oil out there. The Vienna agreement is likely to see an extension in December as well which can be read as another sign of sufficient oil supplies moreover, there has been assurances by KSA and Russia to always meet the need of the markets.
Fundamentally we have seen 6 straight weeks of inventory buildups that has supported and continues to reinforce the changing mood (to bearishness). Between weeks ending from September 14th to October 19th, oil inventories rose by more than 28 million barrels - reaching 422 million barrels in total. Oil markets are back into contango. A recent survey by Reuters show that OPEC production increased by more than 390,000 bpd from September, highest since 2016, and the compliance rate, 122 percent last month, fell to 107 in October. This signals that the concerns mentioned above are backed by data as well.
How can we forget Iranian sanctions? As we near the November 4th deadline there are numerous reports and articles explaining how Iran is still able to sell its crude and that India and China haven't backed down by threats of sanctions from US. With EU trying to by-pass sanctions via Special Purpose Vehicle (SPV) and India and China still buying from Iran it's exports are unlikely to fall to zero. Any further pressure on countries/companies can result in further dent in global oil demand.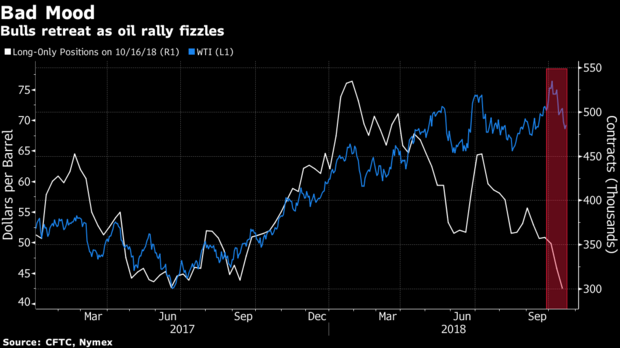 Source: Bloomberg
The following graph is for WTI.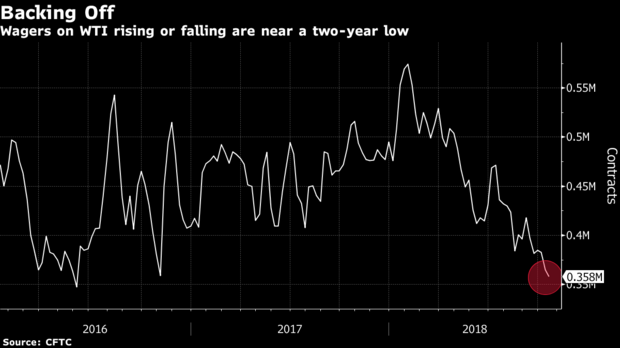 Source: Bloomberg
Given the above scenario it is not hard to guess that the natural and expected direction for oil prices for the rest of the time till year end is downwards. There is another factor that wields the power to effect both sentiments and fundamentals: the trade War.
US and China might engage in another effort to quell the ongoing trade war on the lines of G2 summit next month in November but the chances are that there won't be any deal—once again. Stock markets and commodities globally have already started to show sign of panic and worry as in case the trade talks fail once again we might see another $257 bn of tariffs going online! Fed is also expected to hike interest rates in December meeting as US economy continues to post strong growth. Concerns regarding global growth outlook are also scaling up.
With all the aforementioned discussion we can safely conclude that oil prices, with due volatility and periodic temporary upward movements, will continue to fall. The fundamentals and sentiments both point towards a bearish outlook for oil. Iranian sanctions were holding the prices in a range lately, however sense has seemed to prevail; the markets have realized, or so it seems, that there are a plethora of bearish elements with no bullish factor as to cause a sustainable rally in sight. Trade war, ballooning inventories, and a sufficient supply with further assurances by major oil producers, will bring the prices back to the levels where they belong. Oil fell below $64 today and it had a strong support level at $64.30. It is not hard to see oil entering, anew, into $60 (Brent) and $50 (WTI).
The anchor that has caused and been holding prices up for quite a few time (sanctions) is about to be drawn out. We will see how oil prices hold up now.
Where are the fancy charts?
The article, indeed, doesn't contain much technical analysis for two reasons. First that, I personally believe and I might be completely wrong, that the "technical" somehow seem to shift as the "long term trends" or the fickle "sentiments and speculations" change. Therefore, in order to have a better grip on the markets we need a combination of both. Technical and more importantly trends, a bigger picture. One can do without the technical (albeit it is not always a wise choice) but the latter is indispensable. Second, that I will try my best write a follow-up article supporting my case for what I see another steep drop in oil prices, lower $50s, with a sound technical analysis.
Disclosure: I/we have no positions in any stocks mentioned, but may initiate a short position in CL over the next 72 hours.
I wrote this article myself, and it expresses my own opinions. I am not receiving compensation for it (other than from Seeking Alpha). I have no business relationship with any company whose stock is mentioned in this article.