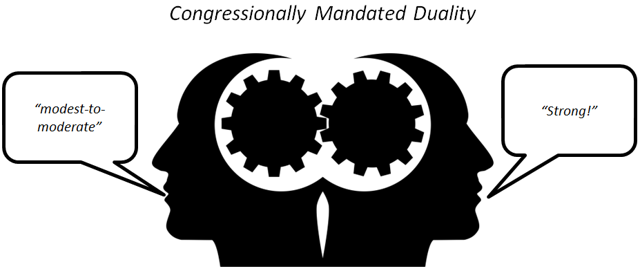 Governance is coming to the Fed's collegiate style of policy making and guidance. It comes at a time when the Fed is reaching Peak Dissonance.
This case of Peak Dissonance was colorfully illustrated recently, by Chicago Fed President Charles Evans at his alma mater. An audience member asked "Unemployment is really low, and wage growth is still crap. How come?" Evans responded that his staff is telling him that the NAIRU is 4.3%, and hence "The U.S.'s current unemployment rate is 3.7 percent, so isn't that enough to generate stronger economical wage growth?"
The audience laughed at the question, they didn't laugh at Evans' flippant reply. Answering a reasonably informed question with a disclaimer, followed by a smarmy rhetorical question, has to rank as a new low in Fed guidance. Evans can do and in the past has done better. No wonder that Chairman Powell is worried enough to have created a new sub-committee on guidance!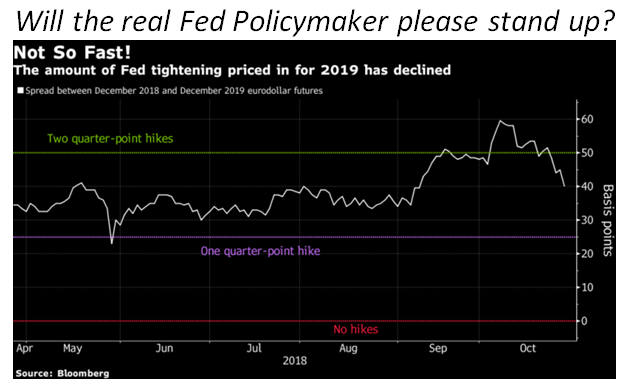 (Source: Bloomberg)
The latest Beige Book confirms the view that there are at least two Feds. These are the Washington Fed and the Regional Fed. The Regional Fed's appraisal of the economy in the Beige Book is "modest-to-moderate". The Washington Fed, in its guise as the FOMC, appraises the economy as "strong" and thus deserving of further "gradual" interest rate increases.
The last report noted that the Washington Fed was gradually becoming more global in its focus, as it seeks to set monetary policy in line with its Congressional dual mandate. Adherence to this dual mandate has become stronger as the Fed seeks a Constitutional shield from President Trump. Ironically, the Regional Fed is already seeing the domestic impacts of the global headwinds, in addition to the headwind created by the Washington Fed's tightening of monetary policy.

(Source: Seeking Alpha)
Under increasing attack from a regretful President Trump, the Washington Fed has started to look more carefully at the global economy's impact on the US economy. It would be incorrect to assume that this automatically means that the FOMC will pause or even reverse the course of the normalization however.
In the face of growing economic and political headwinds, President Trump has prepared a new fiscal tailwind of his own. Said tailwind comes in the form of a middle-class tax cut, timed to coincide with the November mid-terms for maximum political effect. The US economy may therefore get one final push to accelerate it into a growing global headwind. Faced with this confluence of factors, the FOMC is likely to adhere to its "gradual" restrictive policy.
In addition to a potential fiscal stimulus, the current earnings season has provided some further context as to how the US economy may be affected by global issues. Whilst noting global headwinds, US companies have also stated that they are ready, willing and able to relocate their supply chains from China if US tariffs become onerous. A tailwind for the US economy from such inbound relocations could also trigger the Fed to adhere to its "gradual" restrictive stance, risking infuriating President Trump apoplectically in the process.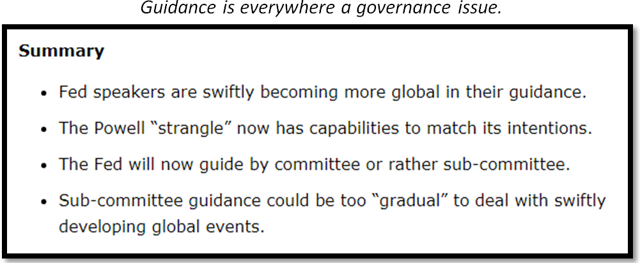 (Source: Seeking Alpha)
The last report noted that Chairman Powell's reform of Fed guidance has reached a formalized sub-committee process of consensus forming and control. This report also noted San Francisco Fed President John Williams' currently stillborn attempts to get the neutral rate dropped from the lexicon of guidance. In the absence of sub-committee terms of reference and agenda, guidance remains a cacophony.
Dallas Fed President Robert Kaplan made the most of the absence of guidance control with his latest commentary on monetary policy. He still sees two or three more interest rate increases on the cards until the neutral rate is hit. Contrary to Chairman Powell therefore, he still does not see monetary policy as restrictive. Also, contrary to his colleague Atlanta Fed President Raphael Bostic, Kaplan is not as worried by the potential headwind of the unfolding Saudi geopolitical crisis in combination with the Iran sanctions issue.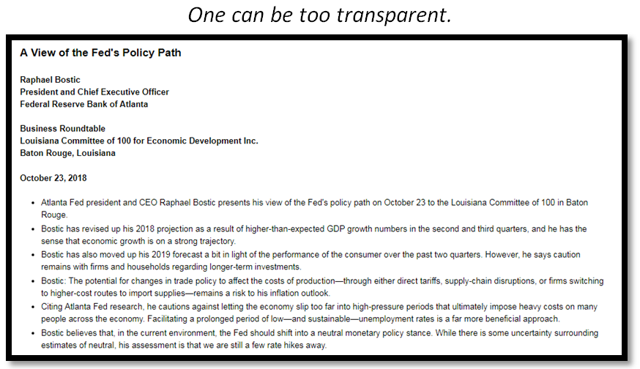 (Source: Atlanta Fed)
In fairness to Bostic, after bottling it in relation to the Saudi situation he has since recovered his faith in the innate strength of the US economy and its ability to handle "a couple more" interest rate increases. This remedial action was all transparently communicated in an equally transparently entitled "A View of the Fed's Policy Path". He has however undermined his credibility by now erratically flipping to a more Hawkish stance, on fears that the economy is overheating. This sin of commission was then compounded as he extemporized on all the possible reasons that equities have sold-off of late. Amusingly, he failed to include guidance as a contributing factor.
The negative contribution from Fed guidance was further colorfully illustrated by some inflammatory commentary from Cleveland Fed president Loretta Mester and Robert Kaplan. Ostensibly, Mester has just had her "irrational exuberance" moment. Almost daring Mr Market to sell-off, which he then dutifully did, Mester recently opined that "while a deeper and more persistent drop in equity markets could dash confidence and lead to a significant pullback in risk-taking and spending, we are far from this scenario." Mr Market is now price discovering where exactly this scenario is so that it is swiftly arriving in terms of both time and price. Kaplan had his own lesser "irrational exuberance" moment following Mester's, as he classified Mr Market's volatile behavior as typical. Like Bostic, these two speakers are strangely compelled by volatility to talk about price action. Also with Bostic their opinions lack authority and credibility, thereby making things even worse.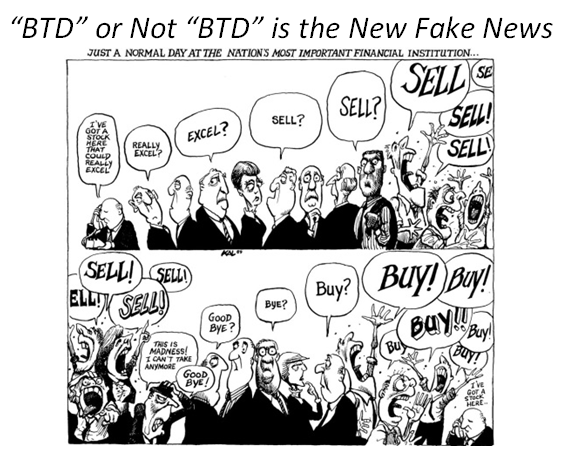 Mr Market is an emotional kind of guy. He therefore listened to what Mester and Kaplan said, and then he decided on the spur of the moment that the Fed Put (in relation to a market crash) had been rescinded. As we shall see later, he totally misquoted Mester. It may therefore be advisable, given his perverse behavior, that such sweeping and inflammatory talk about market prices is also tabled as something that the sub-committee on guidance addresses.
All Bostic's, Mester's and Kaplan's febrile behavior proves is that Fed guidance in general is all over the place and could therefore in fact be in need of remedial reform by sub-committee.
A further febrile signal was detected in the communications of the New York and San Francisco Feds in the weeks leading up to the last FOMC meeting on September 26th. It was recently reported that on September 13th both these regional members wished the discount rate to be left unchanged. On September the 26th the Fed Funds rate was raised. Since the two benchmark rates generally move in tandem this reporting suggests that these regional Feds were not fully on board and only changed their mind in favor of a rate hike at the last weeks/minutes. Alternatively, they may have wished to introduce some tiered structure into the benchmark interest rates, although the logic for this would be obtuse. Since both regional Feds have an association with John Williams the plot thickens.

(Source: Seeking Alpha)
A previous report observed Williams trying to remove guidance, the neutral rate and the yield curve as guiding signals from the console of Mr Market. Were the two Fed's therefore intending to signal, sans traditional guides, that the invisible neutral rate had in fact been hit back on September 13th? Does this therefore mean that the hike of September 26th was an official tightening? The questions and the doubts in the Fed's communication policy are starting to be a serious cause for concern. The epiphany of the guidance sub-committee is timely and apposite.

(Source: Dallas Fed)
The increased verbosity of Fed speakers and its febrile nature is beginning to evince a pattern. Dallas Fed President Robert Kaplan became a further febrile voice to connect the dots. He chose to opine a subject close to his heart and also that of his colleagues, the neutral rate. It is also a subject that John Williams would like to become taboo and that Chairman Powell has set up a new sub-committee to divine and then inculcate the value divined into Mr Market's sub-conscious.

(Source: Dallas Fed)
Kaplan's homage to the neutral rate read like a defense of his right to use it, faced with the attempt of Williams to disarm him. Interestingly, his explanation followed the thinking of Fed Governor Lael Brainard.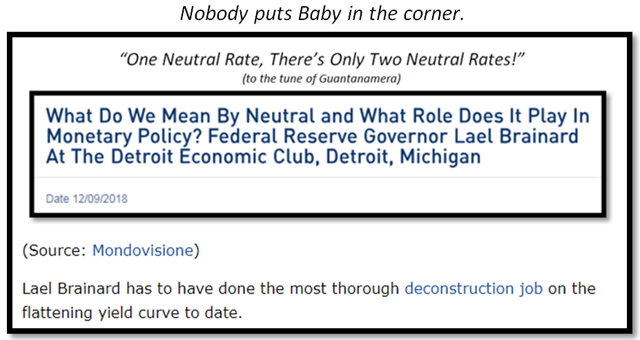 (Source: Seeking Alpha)
Brainard should be remembered, from a previous report, for having two yield curves up her sleeve. She has a short-term one, that is Fed policy driven, and a long-term one, that is macro-fundamentals' driven. Through the agency of the flattening yield curve, these rates converge upon each other over time, thus rendering Mr Market's agonizing over the shape of the curve in the short run futile. Kaplan apparently also has two neutral rates up his own sleeve, which have the same function as Brainard's.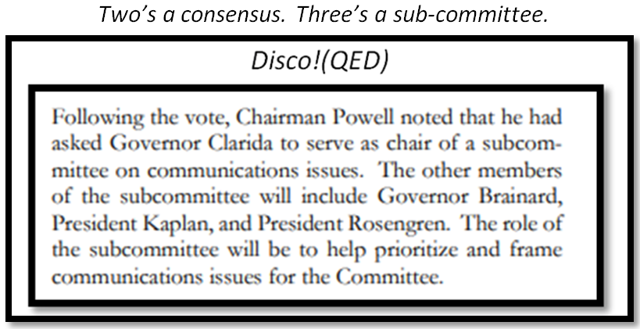 (Source: Seeking Alpha)
Kaplan's treatise shows that he is a potential recruit for Brainard. It should be remembered from the last report, that she is a key figure in the new Fed sub-committee on guidance. As coincidence (or not) would have it, Kaplan is also a sub-committee member. His treatise on the neutral rate(s) and the yield curve now has full context framed by this sub-committee.
Kaplan is therefore defending his and the committee's right to speak openly but is also showing that he is a team player and open to a constructive dialogue with the new sub-committee on collective guidance. Bostic's febrile opining should therefore be put into the same context as Kaplan's, although it lacks style since he is a Fed newbie and not a sub-committee Sanhedrin.

(Source: Seeking Alpha)
Kaplan is also well aware that loose Fed-speaker lips sink equity market ships. Having been careful to throw the concept of the "Kaplan Put" out there some time ago, he swiftly referred Mr Market back to it as he sold equity markets off aggressively in his confused state.

(Source: Cleveland Fed)
Cleveland Fed president Loretta Mester's afore-mentioned inflammatory market comments should be put into the wider context, within which they were made. Like Kaplan's, Mester's comments also came with the re-insertion of the Fed Put in the unlikely event that the market correction is steep and prolonged. The said wider context formed part of the febrile pattern, of responses to the upcoming changes to guidance and monetary policy making under Chairman Powell. In effect, Mester was getting her own views onto the sub-committee agenda by way of the public domain. The medium of communication was a speech entitled "The Economic outlook, Monetary Policy and Normal Policymaking Now and in the Future."
The "Now" part of Mester's speech addressed misperceptions of what the Fed actually meant when it dropped the word "accommodative" from the last FOMC statement. This omission signals that the US economy is back to normal and NOT that it is overheating thereby requiring tighter monetary policy. In fact, Mester's inflammatory comments, about there being no cause for concern about equity market sell-offs, perfectly illustrates that there is no such overheating. Mr Market therefore totally misread and misheard Mester when he assumed that she is tightening monetary policy and that he should sell.
Mester then guided, about the subject of guidance, for the increasingly perplexed Mr Market. Since guidance is an unconventional policy tool, the dropping of it is yet another signal that things are back to normal. For guidance to be effective, in future times of crisis, it is absolutely necessary that it is removed in normal times, so that Mr Market and Mrs Real Economy are aware of the difference and thus respond as desired.

(Source: Seeking Alpha)
Having set the record straight, for observers of Fed policy, Mester then set her colleagues on the new sub-committee straight for the public record. In doing so, she also showed that she is not a dissenting rebel. On the contrary, she is of the Eric Rosengren persuasion. This is yet another fortunate non-coincidence, since Rosengren the Reformer is a sub-committee member like Mester too.
Mester then evaluated the possibility and probability of returning the Fed's balance sheet and monetary policy operations back to pre-GFC normal. She doesn't see much scope for the Fed's balance sheet ever shrinking back to size it used to be pre-crisis however. The Fed Funds rate will thus lose its effectiveness, by nature of the lack of potential to shrink the balance sheet. In consequence, she suggested possible tweaks to the interest paid on excess reserves (IOER), as a more useful tool than traditional open market operations to influence the Fed Funds rate.
Mester finally concluded with her own take on monetary policy making at the strategic high policy level. She embraced Eric Rosengren's reform movement and also added that there should be discussion across multiple contributors, from within and outside the Fed, about the new policy making framework. She also inserted her plug for a revisit to the previous initiatives on inflation targeting taken by John Williams, that were then rendered stillborn by the blunt assessment of Chairman Powell that academia is for hacks.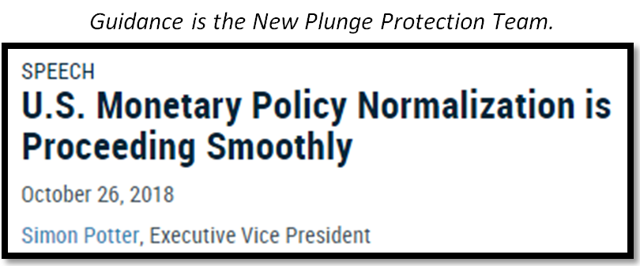 (Source: New York Fed)
Mester's thoughts on the IOER are apposite, since it has been drifting up of late, thereby causing Mr Market to think that there is a reserve scarcity caused by monetary policy tightening. Mester herself and Simon Potter, executive vice president at the New York Fed, have both since addressed this issue again and tried to assuage Mr Market that this drift upwards in the IOER is not a tightening signal.
Potter's commentary could easily be construed as guidance, even though it may have been motivated as a Plunge Protection Team play. The sub-committee on guidance may therefore wish to scrutinize and control what he is allowed to say going forward also. Potter's extemporizing at least demonstrates the febrile nature of Fed communications, which are in need of structural reform.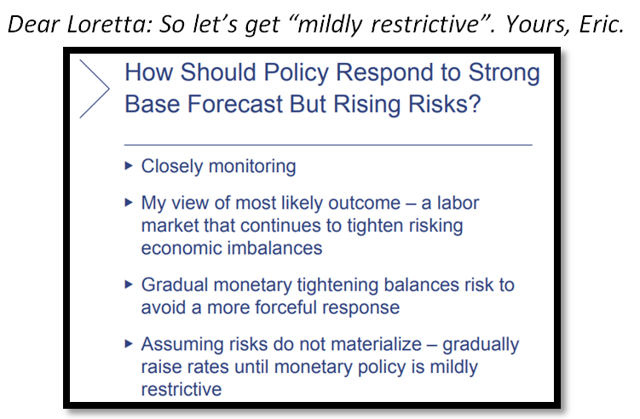 (Source: Boston Fed)
Eric Rosengren responded with alacrity to Mester. His response was clear and concise. He made his clearly headlined case for vigilant monitoring, rigorous assessment of the balance of risks and his assumptions in four bullet points, concluding with guidance for the continued "gradual" raising of interest rates to become "mildly restrictive".
Even Rosengren's big disclaimer aka the Fed Put was inserted in clear and simple language. Quite simply put, no pun intended, "Of course, if risks become more germane, a different path may be warranted."
In comparison to Charles Evans' pejorative rhetorical attempt noted above, Rosengren's brief thesis is clear, concise and conclusive. Even if one does not agree with the thesis and/or conclusion, one cannot claim to misunderstand it. It is certainly clear how Rosengren would like to see how the guidance sub-committee edits/reforms communications. Chairman Greenspan would not be amused! Mr Market is currently un-amused, but he will get used to it over time and may even come to positively respond to it.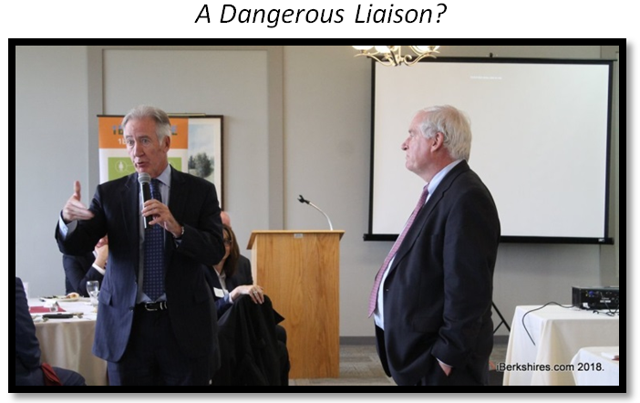 (Source: iBerkshires.com)
Whilst responding, to Ms. Mester and Mr Market, Rosengren also evinced the Fed's ever tightening embrace of its Congressional dual mandate as both a crutch and shield against Presidential interference.
This crutch and shield were manifested in the presence of Representative Richard Neal (D), as the two genially pressed the flesh and drove home the dual mandate message to the good business leaders of Berkshire County. The message is that, despite the known risks, the economy is strong so that monetary policy will need to become "mildly restrictive".

(Source: Washington Post)
Had President Trump noted and Tweeted, he would undoubtedly have commented that Representative Neal is a Democrat. Indeed, it will be interesting to see just how much the President associates the Fed's tightening with the Democrats going forward. Jim Cramer has already suggested a causal relationship between the two. Fed Presidents and Chairmen should be careful who they share the platform with when they are closely embracing the Congressional dual mandate. Embracing the dual mandate is not synonymous with embracing career politicians.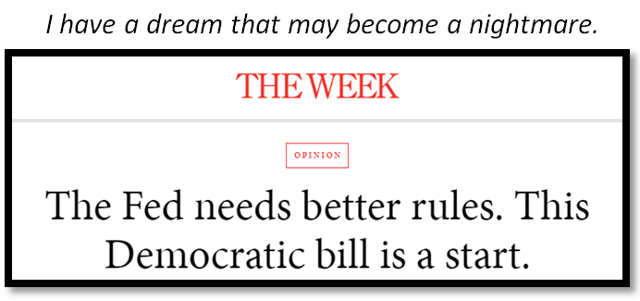 (Source: The Week)
Lurking in the wings, on the Democratic side of the House, are such things as the "Coretta Scott King Full Employment Federal Reserve Act of 2018". The Fed may find itself clinging to a full employment mandate which ultimately leads it to do something politically mandated. There are undoubtedly other Devil's Bargains out there, on both sides of the House, for the misguided and unwise Fed operative.
Responding via OpEd to Rosengren, Neel Kashkari showed that he has already mastered the new sub-committee's syntax and structure of guidance. He stated unequivocally that "The FOMC should seize this opportunity for a pause" because the inflation target is "symmetric". Consequently, the Fed will have "the flexibility to see how the economy evolves before determining if further rate increases are necessary." His response is a brief and concise total reversal of Rosengren's thesis for becoming "mildly restrictive".

(Source: Federal Reserve)
With more frustration for his nominator President Trump, Fed Vice Chair Richard Clarida gave his inaugural speech. Basing his guidance on a conditional continuation of current conditions, Clarida signaled that he will follow the "gradual" policy of raising interest rates. Not only is he Fed Vice Chair, but also he is Chair of the new sub-committee on guidance. Whilst guidance may be adjusted, by the terms of reference of the sub-committee, it will still be steered by the "gradual" bias towards further interest rate increases of its Chairman.
Vice Chair Clarida also showed himself to be a follower of R* and a disciple of the cult's spiritual leader Milton Friedman. Clarida's behaviour should thus be very easy to predict, even though he admits that the R* that he follows is difficult to predict and varies over time. If interest rates are below R* he will be an inflation Hawk. If interest rates are above R* he will be a Dove. Currently, he estimates R* to be lower than historical norms, based on his belief that the NAIRU since the GFC is structurally lower. That said, he still assesses monetary policy as being "accommodative". He is thus gradually moving back to neutral.
Clarida had given signs of being a Dove when he was being considered for the Vice Chair position. He is on record for opining the mistake of tightening monetary policy beyond neutral. Clearly this view had persuaded President Trump of his bona fides as a low interest rate kind of guy at the time. His inaugural speech was however a panegyric for Milton Friedman and included his acceptance of Friedman's thesis, that the hyperinflation of the 1970's happened because interest rates were kept below R* for too long. His transformation from concerned Dove to "gradualist" Hawk is notable as is his defiant tone of independence. As with Chairman Powell, this is another appointee that the President let slip away. Or was the President fooled?

(Source: Atlanta Fed)
It has already been suggested that Atlanta Fed President Raphael Bostic is undermining his message, by overdoing the commentary on everything and anything that could affect his view on monetary policy. He may now be getting back on message, in relation to his long-term policy objective of seeing through these short-term distractions. His latest macroblog reveals that he is back on point closely adhering to the Fed's dual mandate. He also estimates that the NAIRU is 4%. Since the unemployment rate is now at 3.7%, he has no choice other than to continue gradually raising interest rates to avoid overheating the already red hot economy. Less flippant than Charles Evans, Bostic has a similar yardstick - that is however calibrated slightly differently.

(Source: CFR)
The Council on Foreign Relations (CFR) has noted that "FOMC members publicizing their views on when and by how much rates should move encourages them to ignore data inconsistent with their views, as humans naturally wish to validate their omniscience." As noted above, there is a risk that this "omniscience" has a political motivation or may be construed as having some kind of political omnipotence. Best that the Fed adheres to the letter of the Congressional dual mandate to avoid this fatal trap then.
Food for thought, for the President, Powell and the sub-committee!
Taking a global view, as the CFR has advised, the Fed's new sub-committee initiative on guidance mirrors the latest changes at the Bank for International Settlements (BIS). Under its new managing director Augustin Carstens, the BIS is moving away from simply promoting its own monetarist agenda of berating global central banks for not ending crisis stimulus measures. The BIS has modified its rhetoric and now works with central banks to enable them to end their crisis stimulus measures.
Carstens demonstrated this new modus operandi recently, when he plaintively beseeched President Trump not to boost fiscal spending and raise trade tariffs simultaneously. The resultant effect creates the domestic growth and inflation conditions that the Fed must respond to with higher interest rates. Unfortunately, the combined impact of fiscal stimulus, tariffs and higher interest rates then sucks capital from global markets into the American economy. The resultant impact, on the global economy, forces weaker nations to hike interest rates to defend their currencies thus making their own economies weaker. Carstens sees a death spiral, for the global and ultimately American economy, from this chain of events. Avoiding this death spiral is now more important to him, than achieving an orderly normalization of monetary policy from all of the global central banks.
This may all be too late, because the global economy is rapidly slowing. Central banks that haven't normalized may soon never be able to. Indeed, they may have to find new ways to ease. The Fed is ahead of the game, having normalized earlier than its peers. The new Fed sub-committee may help it preserve its flexibility, to try conventional monetary stimulus in the next downturn, before resorting back to the unconventional arsenal.
Evidently the guidance sub-committee will need an agreed upon definition of what monetary policy currently is and a graded descriptive taxonomy that is commonly agreed upon and used by all Fed speakers. It may also come with guidelines and charts on how to explain the concept of the neutral rate and the yield curve. Getting everyone on the same page, in relation to these topics, would thus seem to be the first item on the sub-committee's agenda for its inaugural meeting.
Ultimately consensus within the Fed will be governed by an unequivocal balance of risks reflected in the economic data. Trade data is now starting to show the impact of global headwinds. Recent housing data has been soft. Manufacturing and service PMI's are still showing residual momentum. The impact of President Trump's fiscal stimulus is therefore still working its way through the economy. It is however pulling growth from the future into the present and thus accelerating the economy into a slowdown. The data may have to wait for the President's expected tax cuts to work through the system before unequivocally signalling a slowdown is imminent.
All the while, a strengthening US Dollar and rising interest rates are hitting the brakes. And then there is the specific headwind of Fed guidance itself, or dissonance thereof, eroding confidence in the future. The slowdown and the neutral rate are within reach. Perhaps this is something that the guidance sub-committee can agree upon.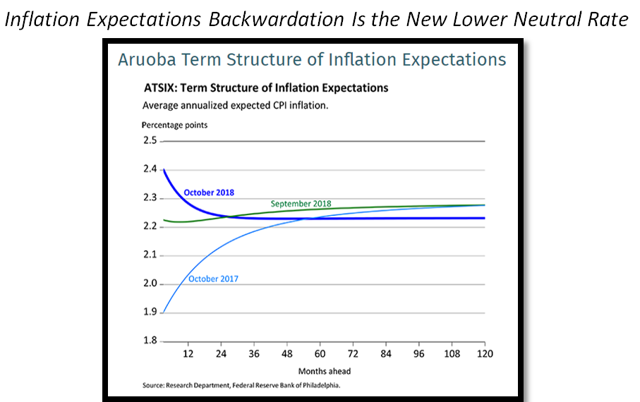 (Source: Philadelphia Fed)
Guidance in relation to inflation expectations should be somewhere near the top of the sub-committee's agenda. Short-term inflation expectations have jumped significantly. Core inflation remains well-anchored, mirroring long-term inflation expectations.
Lael Brainard's two neutral rate hypothesis would seem to be fit for the purpose of buying the Fed time to continue to respond "gradually", until short-term inflation expectations converge back down to core long-term ones.
It should be noted that, as short-term expectations have risen, long term ones have fallen. Mr Market is therefore giving the Fed the green light to continue as it has been doing. He is also saying that the neutral rate is falling towards where Fed Funds currently are. High spot inflation expectations are then mitigated by lower future expectations. A bullish interest rate inflection point is thus out there, supported further by all the current headlines about global risks, between now and 2020. No amount of verbal guidance could clarify this more than a graph!
Disclosure: I/we have no positions in any stocks mentioned, and no plans to initiate any positions within the next 72 hours.
I wrote this article myself, and it expresses my own opinions. I am not receiving compensation for it (other than from Seeking Alpha). I have no business relationship with any company whose stock is mentioned in this article.