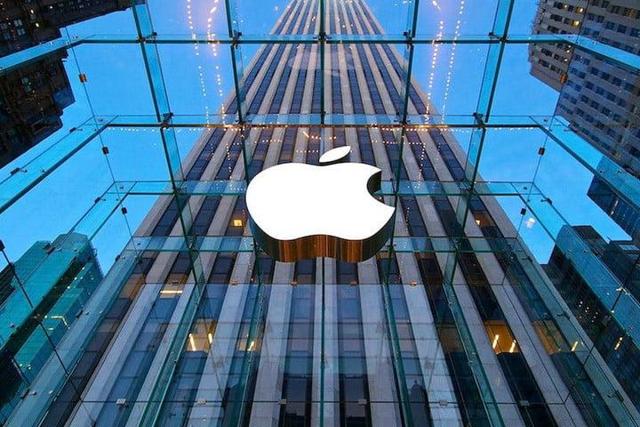 Source: DigitalTrends.com
Apple: The Demise Of A Growth Era
Apple (AAPL) has been an incredible growth story over the past decade. In fact, the stock has been one of the top performing equities in general, appreciating by over 1,700% since 2008. In that time, Apple's primary sales and earnings driver has been the iPhone. Incredibly Apple has managed to sell over 200 million iPhones annually in 2015, 2016, 2017, and now in 2018.
Apple 10-Year Chart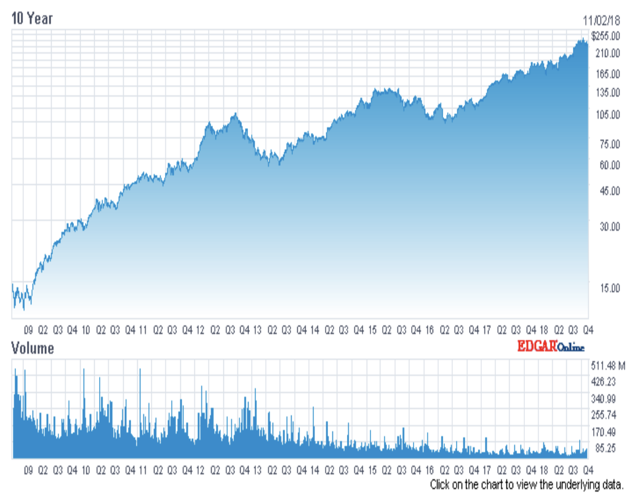 Source: Nasdaq.com
The problem for Apple is that iPhone unit sales have been largely flat for four years now, and the company gets most of its revenues from this one segment. In fact, roughly $37.19 billion in sales came from iPhone revenues in Apple's latest quarter. That's about 60% of total $62.9 billion in sales.
iPhone Sales in Units per Quarter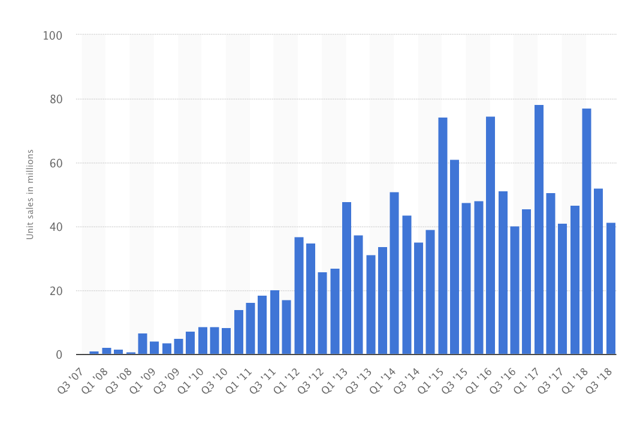 Source: Statista.com
Apple's lowered guidance implies that iPhone shipments should remain relatively flat going forward. Also, now that an extraordinarily high ASP of nearly $800 has been achieved growth in iPhone revenues is likely to slow down significantly going forward. Thus, Apple's overall revenue and EPS growth may come in lower than anticipated. This phenomenon could also be exacerbated by an upcoming slowdown in the broader economy.
Under this lower growth dynamic, Apple's P/E multiple of 18 may contract to better reflect the company's transition into a value name. Therefore, the stock likely has very limited upside potential, and could decline as the company's multiple contracts due to a significantly lower growth environment.
Earnings: Not Indicative of a Bright Future
After numerous quarters of posting higher than expected forward guidance the opposite appears to be happening now. Apple guided to Q1 revenues of $89-93 billion, well below the analysts' estimate $93.02 billion figure.
We've seen a similar trend with numerous bellwether names like Amazon (AMZN), Facebook, (FB), Alphabet (GOOG) (GOOGL) and others. This implies that this may be more than just a one-off for Apple, Amazon, or any other company, and is likely a start to an overall lower growth trend.
Apple's Q4 Results
EPS: $2.91 vs $2.78 consensus estimates.
Revenue: $62.9 billion vs $61.57 billion consensus estimates.
iPhone Sales: 46.89 million vs 47.5 million forecasts/estimates.
iPhone Average Selling Price ASP: $793 vs $750.78 forecasts/estimates.
Services Revenues: $9.98 billion vs $10.2 billion consensus estimates.
While the top and bottom line numbers appear constructive, the overall tone of the report is quite negative. The fact that iPhone unit sales missed expectations by about 1.5% is discouraging, as YoY unit sales were essentially flat. The higher than expected iPhone ASP is good for today, but for future earnings it suggests peak iPhone ASPs are near.
A combination of flat or declining iPhone unit sales coupled with a peak or stagnant ASP implies future revenue and EPS growth is likely going to be extremely limited. When you factor in the possibility for higher material and labor costs due to "trade tensions" and inflation Apple's earnings could potentially decline in future years. I don't think this risk is priced in to the stock yet.
Overall Sales Volume is Flat or Declining
Despite iPhone revenues increasing by 29% YoY, unit sales were essentially flat. Additionally, iPad sales came in lower sequentially, as well as YoY. iPad's ASP was reduced substantially on a YoY basis (presumably to entice sales), but iPad revenues decreased by 15% from last year. Mac unit sales also declined YoY, by 2%.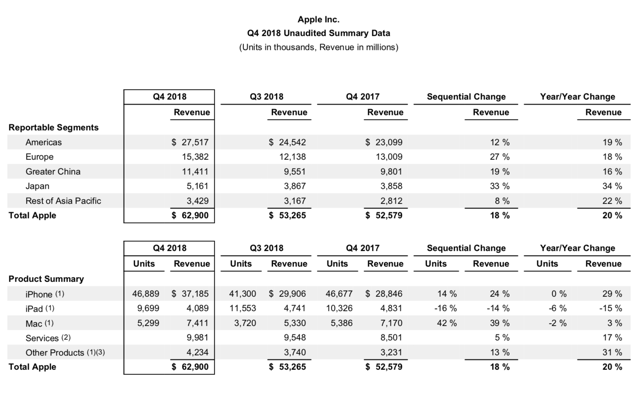 Source: Apple 8-K
So, Apple essentially posted no YoY unit growth amongst its key products. The only reason revenues increased YoY in some segments was due to higher ASPs. However, a pressing question is how high can ASPs climb before the company starts seeing a drop off in demand.
I think we are very close to this level. At nearly $800 the iPhone's ASP is likely close to a top, and prices are not likely to rise substantially going forward. In fact, the ASP could decline, this has happened in prior years.
More consumers may opt out of buying the ultra-expensive versions, and may buy less expensive models. This is especially true if the economy worsens, and let's not forget that Apple has a perfectly adequate newer model starting at just $749. Also, the company could very easily decrease some of the astronomically high prices, like the $1,349 top line model if it is not reaching desired sales volume.
Apple: Walking a Tightrope with Prices
With unit sales flat or declining in its core segments Apple needs to be extremely careful about raising prices, particularly in its iPhone segment. This is especially true now that the economy is showing some signs of possible deceleration. Apple's top range iPhone models ranging from $1,000 - $1,350 could experience less demand in a tightening economic environment and ASPs could potentially decline going forward.
Another key factor to consider is that while iPhones are not likely to become more expensive, producing them likely will. China trade tariffs, and a general uptick in inflation are likely to lead to higher material and manufacturing costs concerning overall production at Apple. This could ultimately translate to lower operating margins, less net income and a lower stock price for Apple.
iPhone's ASP surged from $618 to $793, or 28.3% YoY. Yet this had a very limited effect on the company's profitability. Gross margin rose by just 0.3% from 38% to 38.3%, and operating margin increased by just 0.6% from 25% to 25.6%.
With such drastic ASP increases in Apple's core product segment you would expect the company's profitability metrics to rise more. This implies that Apple's raw costs and production costs are likely increasing due to inflation, and once the iPhone's ASP tops out the company's income will likely begin to contract. In fact, Apple could be near peak margin and peak iPhone ASP right now.
Apple's Valuation Doesn't Seem That Cheap Anymore
Apple just reported $11.91 in EPS for the full fiscal year 2018. This is a 29% YoY increase in EPS. Revenues expanded by 16% YoY, and Apple's P/E ratio is about 18 right now. However, growth is set to slow down substantially.
In fact, in fiscal 2019 revenues are set to increase by only 6%, and then by just 4% in 2020. With such lackluster growth, it is difficult to imagine that Apple will attain its consensus estimates of EPS growth 16% next year, and 10.5% in 2020. With the iPhone's ASP likely near a top, and peak margins approaching, how will Apple continue to grow EPS with hardly any revenue growth in the next two years?
Perhaps this is why some analysts are proposing that EPS could potentially decline next year as well as in 2020. While this is a minority view right now, it is completely plausible that future EPS delivery could disappoint investors. A slower economic environment, coupled with peak iPhone ASP, stagnant iPhone unit sales, and peak margins EPS could come in lower than consensus estimates, and may even decline YoY.
According to lower end estimates Apple may earn just around $11 next year as well as in 2020. This implies that Apple may be in a phase where the company is trading at around 20 times forward earnings with a flat to low revenue growth trajectory. In other words, Apple may be transitioning into a mature value company with very little if any revenue and EPS growth in the next 2 years.
Does Apple deserve an 18 - 20 P/E multiple in this dynamic? Or is it likelier that shares may contract to better reflect Apple's current predicament? If the EPS slowdown becomes more evident Apple could decline to a 12-15 times forward multiple, and at $11 per share this would equate to a price range of about $132 - $165.
I am not suggesting that I think prices will definitely decline this much, but it is conceivable, especially if the broader market continues to deteriorate. I also believe that there is very limited upside potential in the shares now, because with such low growth there is no justification to expand Apple's P/E multiple. Furthermore, I expect EPS growth to be very limited going forward. Ultimately, the stock appears likely to trade sideways or lower from here, especially if earnings and revenue growth begin to disappoint.
The Takeaway
The bottom line is that Apple's remarkable growth era is ending. The company generates nearly 80% of its revenues from its 3 core product segments, iPhone, Mac, and iPad. Unit sales in all 3 segments are either flat or declining YoY, and the sky-high ASPs appear to have been exhausted in most areas. Therefore, Apple's revenues are likely to increase very modestly going forward.
Furthermore, higher material costs and higher operating expenses brought on by increasing inflation, and trade tariffs could impact Apple's margins going forward, which will further limit the company's profitability. In fact, EPS could stagnate, or possibly even decline in 2019/2020.
In such a low revenue growth and limited profitability growth environment Apple's P/E multiple will likely contract as the company transitions into an all out value stock. Therefore, the share price will likely trade sideways, and could even come down in future years absent a comprehensive growth catalyst.
Another key takeaway is that Apple is not alone in reporting lower than expected forward guidance, or less than stellar earnings results. Alphabet, Facebook, Amazon, now Apple, and many other bellwether names have reported "disappointing" results in recent quarters.
This market trend is likely in its very early stages and could lead to lower than expected revenues, EPS, and equity prices for many companies. Growth is clearly slowing, and the slowdown could accelerate into next year and beyond.
Author's note: I am not an Apple bear, or an Apple skeptic, I am simply describing the facts as I see them. In fact, I am still long part of my Apple position and have owned the stock throughout most of the time since 2006.
Apple has been my top portfolio position throughout most of 2017 and 2018. However, I reduced my exposure to Apple at the end of Q3, and post earnings, and I may further reduce the position going forward.
Thank you for taking the time to read my article. If you enjoyed reading it, feel free to press the "Like" button, and if you'd like to be notified about my future ideas, hit the "Follow" link.
Disclaimer: This article expresses solely my opinions, is produced for informational purposes only, and is not a recommendation to buy or sell any securities. Investing comes with substantial risk to loss of principal. Please conduct your own research, consult a professional, and consider your investment decisions very carefully before putting any capital at risk.
Want more? Want full articles that include technical analyses, trade triggers, trading strategies, portfolio insight, option ideas, price targets, and much more? To learn how to best position yourself for a rally in Snap please consider joining Albright Investment Group.
Subscribe now and receive the best of both worlds, deep value insight coupled with top-performing growth strategies.
Enjoy access to AIG's top-performing portfolio that has outperformed the S&P 500 by 40% over the past year.
Take Advantage of the limited time 2-week free trial offer now and receive 20% off your introductory subscription pricing. Click here to learn more.
Disclosure: I am/we are long AAPL, GOOG, FB.
I wrote this article myself, and it expresses my own opinions. I am not receiving compensation for it (other than from Seeking Alpha). I have no business relationship with any company whose stock is mentioned in this article.
Additional disclosure: I've been long Apple throughout most of the time since 2006