Why Inflation Is Going Down
Includes:
AGZ, BIL, BKT, CLTL, DFVL, DFVS, DLBL-OLD, DLBS, DTUL, DTUS, DTYL, DTYS, EDV, EGF, FIBR, FLAT, FTT, GBIL, GNMA, GOVT, GSY, HYDD, IEF, IEI, LTPZ, MBB, OPER, PBTP, PLW, PST, RINF, RISE, SCHO, SCHP, SCHR, SHV, SHY, SPIP, SPMB, SPTI, SPTL, SPTS, STIP, STPP, STPZ, TAPR, TBF, TBT, TBX, TDTF, TDTT, TFLO, TIP, TIPX, TIPZ, TLH, TLT, TMF, TMV, TTT, TUZ, TYBS, TYD, TYNS, TYO, UBT, USFR, UST, USTB, VGIT, VGLT, VGSH, VMBS, VRIG, VTIP, VUSTX, ZROZ
by: Jason Tillberg
Summary
The markets are trying to refigure the future of interest rates and inflation as the Fed hikes interest rates.
2018 so far has proved to be a very strong economy, but there has been too little growth in private sector credit.
Credit growth is critical to paying for the inflation.
The Federal Government has been doing most of the work in providing new credit growth by having to run deficits.
The stock markets are jittery again. Political uncertainty must be considered for being part of the reason to be fearful. Markets will remain very jittery until at least after the elections.
Post the elections, we'll be back to looking at the fundamentals of the economy more so.
I think what is to come is a decline in the rate of inflation. This decline will come from a multiple of fronts including but not limited to, a continued strong dollar, declines in demand and most important, lower rates of credit growth.
The key culprit is private sector credit growth. It simply hasn't pulled out of its funk, even with the strong 2018 economy.
This is quite telling as to the appetite for debt in the US economy today. The animal spirit just isn't there. Without stronger growth in credit, the money supply just isn't going to be there to provide inflation.
The Inflation Rate
U.S. Bureau of Labor Statistics, Consumer Price Index for All Urban Consumers: All Items [CPIAUCSL], retrieved from FRED, Federal Reserve Bank of St. Louis; https://fred.stlouisfed.org/series/CPIAUCSL, November 1, 2018.
As of September, the rate of inflation was at 2.27% year over year. In July, it peaked at 2.88%. So we've already seen 2 months of a decline in year over year inflation.
The concept behind the rate of inflation is this formula:
Annual rate of credit growth per capita - the rate of productivity = the general rate of inflation.
I went into this concept in greater detail in an article I wrote back in January of this year where I suggested inflation could reach 3% this year on account of aggregate debt growth. I think the 2.88% will prove to be the peak inflation rate in 2018.
Growth In Private Sector Credit
I have 2 charts that give justice to aggregate credit growth in the private sector.
The first is financial business debt. It reached $16.061 trillion as of the 2nd quarter of 2018. Financial business debt peaked in the 3rd quarter of 2008 at $18.201 trillion.
This debt includes debts from finance companies, insurance companies, REITS, security dealer and brokers, etc.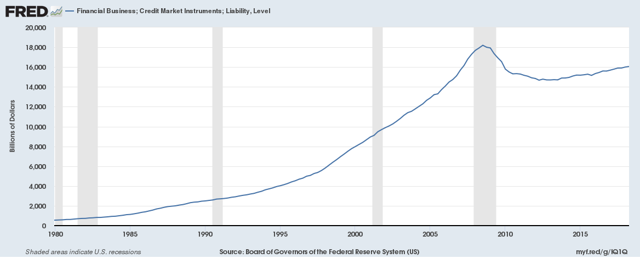 Board of Governors of the Federal Reserve System (US), Financial Business; Credit Market Instruments; Liability, Level [DODFS], retrieved from FRED, Federal Reserve Bank of St. Louis; https://fred.stlouisfed.org/series/DODFS, November 2, 2018.
The de-leveraging of the financial business debt has been the big drag on overall credit creation.
The rate of growth in credit in this sector was just 1.69% in the 2nd quarter of 2018, down from 1.99% in the 1st quarter.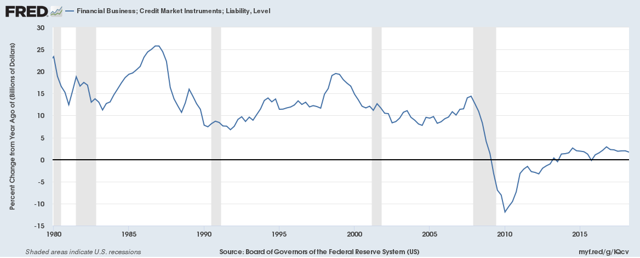 Just take a look at the debt growth during the 1980s. This was the ear of junk bonds and the movie Wall Street (1987) came out. Imagine working on Wall Street back then compared to today!
The next chart is that of the non-financial private sector debt.
This includes non-financial corporate debt of both public and private companies, household debt, which includes student loans, credit card, mortgage, personal and auto loans.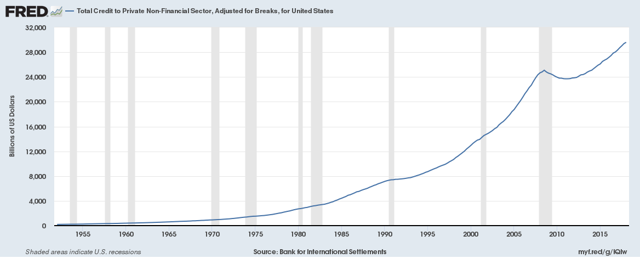 Bank for International Settlements, Total Credit to Private Non-Financial Sector, Adjusted for Breaks, for United States [CRDQUSAPABIS], retrieved from FRED, Federal Reserve Bank of St. Louis; https://fred.stlouisfed.org/series/CRDQUSAPABIS, November 2, 2018.
There was some de-leveraging and defaulting during the last recession back in 2008 and 2009, but there has been growth since. It reached $29.597 trillion as of the 1st quarter of 2018.
The year over year percent change in aggregate non-financial corporate debt seem to have plateaued. The most recent reading in the 1st quarter of 2018 was a year over year growth rate of 4.38%.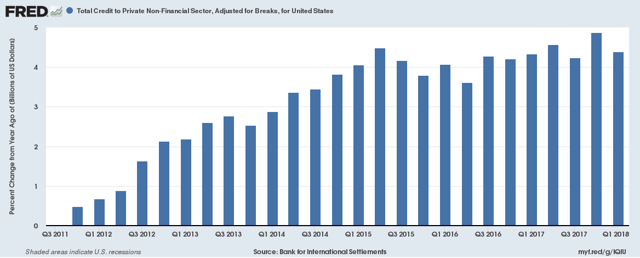 I can break out mortgage debt and non-financial corporate debt up to the 2nd quarter of 2018. From this, we can see that in the second quarter, both sectors slowed down their rate of growth from the 1st quarter.
Here is the aggregate in millions.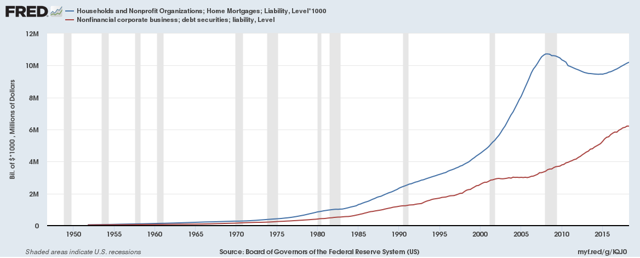 Board of Governors of the Federal Reserve System (US), Nonfinancial corporate business; debt securities; liability, Level [NCBDBIQ027S], retrieved from FRED, Federal Reserve Bank of St. Louis; https://fred.stlouisfed.org/series/NCBDBIQ027S, November 2, 2018.
Here is how it looks year over year: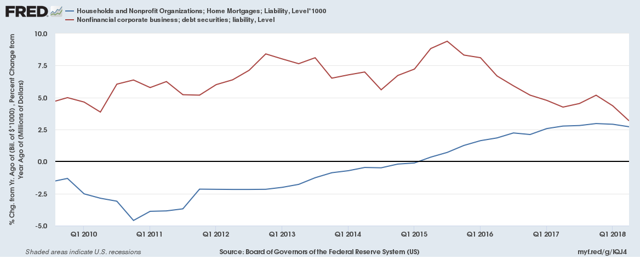 Non-financial corporate debt only grew 3.18% year over year in Q2 of 2018 and household mortgage debt grew just 2.72% year over year.
It is the aggregate new debt that provides the new money to pay for the raising of prices, the increase in wages, the increase in profits, to pay for the interest on existing debt, to pay for the services to provide for the issuance of the new debt, etc.
This lack of credit growth, even after the tax cuts is very telling.
As the Fed raises interest rates, the demand for new loans will only worsen.
Productivity Is Strong
Productivity acts as a buffer of the cost of goods and services against new debt growth.
Productivity has been a bright spot in the economy as it has been consistently growing around 1% for the past 7 quarters.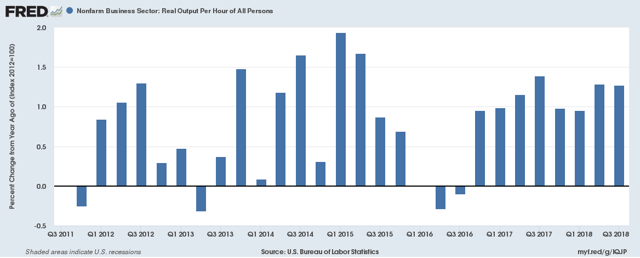 U.S. Bureau of Labor Statistics, Nonfarm Business Sector: Real Output Per Hour of All Persons [OPHNFB], retrieved from FRED, Federal Reserve Bank of St. Louis; https://fred.stlouisfed.org/series/OPHNFB, November 2, 2018.
Growing productivity should reduce the cost of providing the good or service and this proves deflationary. The debt growth provides the inflation to help keep prices stable as to why the Fed targets inflation at 2%. It's easier said than done.
Conclusion
As the Federal Government runs deficits and everyone is up in arms about it, investors must appreciate that debt growth is critical to avoiding a deflationary spiral that would result in a credit crunch and wreck havoc on our economy.
The private sector is simply not interested in levering up again.
We are very likely in for a long period of very low inflation as the private sector de-leverages.
I would not be surprised if we see under 0% inflation in 2019. Nor would I be surprised if the Fed begins lowering interest rates in 2019 to fight the lack of new credit growth and stimulate demand for loans.
More stock market panics would also likely contribute to fear in the economy and make business managers and households less inclined to borrow and invest.
In the event we are to see a credit crunch from the private sector, the default rates on lower quality debts may well rise as well as the interest rates on those bonds. High yield bonds would fall in value.
I'll leave you with this 5 year inflation expectations chart.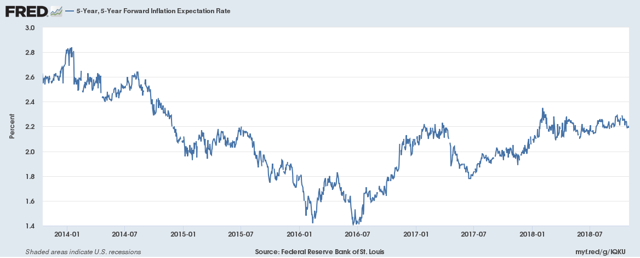 Federal Reserve Bank of St. Louis, 5-Year, 5-Year Forward Inflation Expectation Rate [T5YIFR], retrieved from FRED, Federal Reserve Bank of St. Louis; https://fred.stlouisfed.org/series/T5YIFR, November 2, 2018.
It read 2.20% as of October 31st, 2018. I trust this is going lower in the year ahead so long that private sector debt growth continues to slow.
Investors should consider the consequences of lower inflation and the potential for the Fed to be lowering rates in response.
Disclosure: I/we have no positions in any stocks mentioned, and no plans to initiate any positions within the next 72 hours. I wrote this article myself, and it expresses my own opinions. I am not receiving compensation for it (other than from Seeking Alpha). I have no business relationship with any company whose stock is mentioned in this article.