In case you've missed it, few days ago (on October 30th to be precise), we've witnessed history: The stock prices of Deutsche Bank (DB) and General Electric (GE) met, for the same time ever, in the single-digit territory.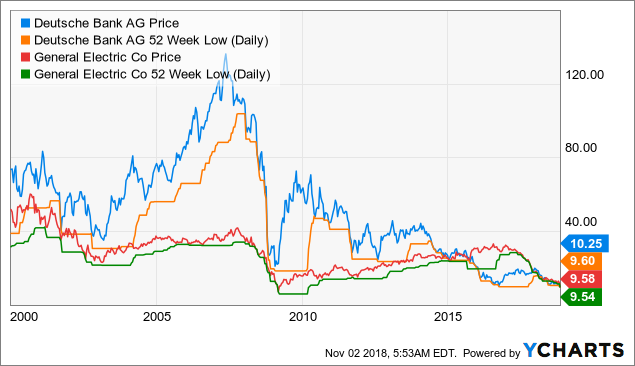 While GE is still trading near its post-subprime crisis lows, DB already jumped circa 7% from its lows.
There were two reasons for this jump of DB stock in recent days:
1. The obvious-intuitive reason - a nice bounce for both the stock market as whole (SPY, DIA, QQQ, IWM) but also for the financial sector, in the US (XLF, KBE, KRE) as well as in Europe (EUFN)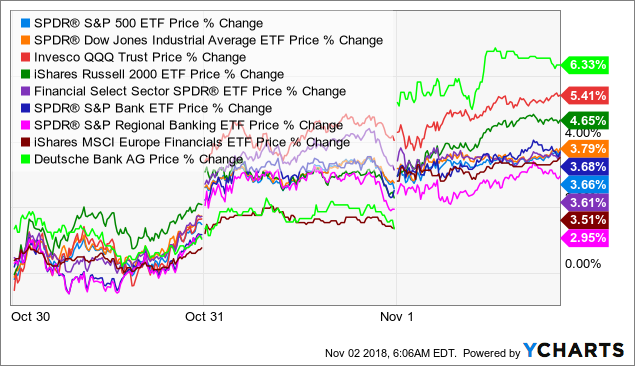 2. New York-based Hudson Executive Capital LP, an activist hedge fund led by Douglas Braunstein - the former finance chief of JPMorgan (JPM) - has taken a 3.1% stake in DB, Germany's (EWG) largest lender.
They claim that Deutsche Bank is "undervalued and misunderstood" and (therefore) happily backing Christian Sewing (DB's relatively new CEO) in his efforts to turn things around, while acknowledging that there is much more to do in order to bring Germany's biggest bank back to shape.
People were so negative on this name that they lost the forest through the trees. - Douglas Braunstein
The $650M-worth move isn't only Hudson Executive Capital's biggest bet, but it also makes the hedge fund one of Deutsche Bank's biggest investors.
After three years of mounting losses, a failed regulatory stress test, several attempts to restructure, a leadership shake-up and a few credit ratings downgrade, many investors have lost faith in Germany's flagship bank.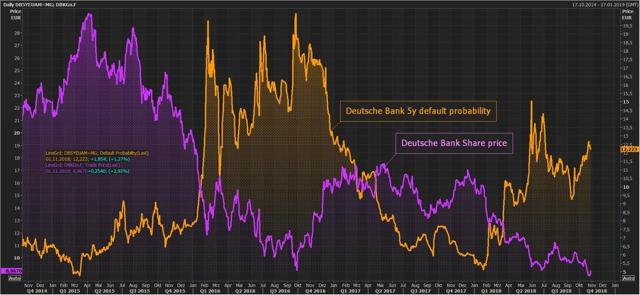 Nonetheless, this (bold?) move certainly causing us to ask ourselves: Is the worst is indeed over for Deutsche Bank? Is it time to reconsider our bearish thesis?
Spoiler alert: We still believe that may be a stretch. Thus far, this has been nothing but from bad to worse. Why this time is different???
Let's see what are the main issues that cause us to maintain Deutsche Bank at the "interesting but not convincing enough" drawer for now:
1. The Fed turning off the liquidity is certainly not helpful, to say the least.
The ECB is expected to join soon. That's, of course, unless they decide to back off and change course beforehand...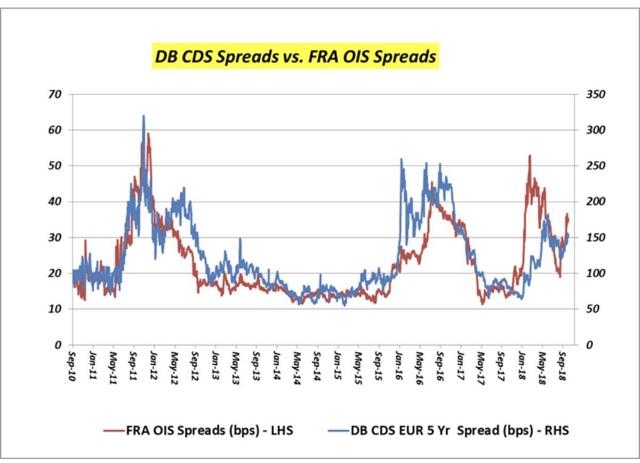 2. No one seems keen to merge with a struggling bank.
As we wrote in our reply to one of the comments on our most recent DB-related article:
...it's more likely the German authorities will push for something on a domestic level.Although 20B is a very low-affordable price tag, I doubt any non-German lender would like to take the (huge) risk associated with buying such a group at its current condition.Too many unknowns, let alone the political risk.
When asked about a potential merger with its German counterpart, Commerzbank (OTCPK:CRZBF, OTCPK:CRZBY), DB's CEO Christian Sewing said that these speculations are "bullshit".
Who would by interested in buying DB? After dealing with waves of fines for mistakes/wrong doings banks they saved made before they bailed then out, it's very unlikely for JPM, Bank of America (BAC) or Welles Fargo (WFC) - all came for the rescue during the financial crisis - to take the same path again.
On the very same day that Hudson Executive Cap took a 3.1% ownership stake in Germany's flagship lender, JPM's CEO Jamie Dimon said, plain and simple, that his bank has no interest in buying Deutsche Bank.
I wonder why Dimon is so clear-sharp about this? After all, DB's current valuation is peanuts for JPM, or Citibank (C) for that matter.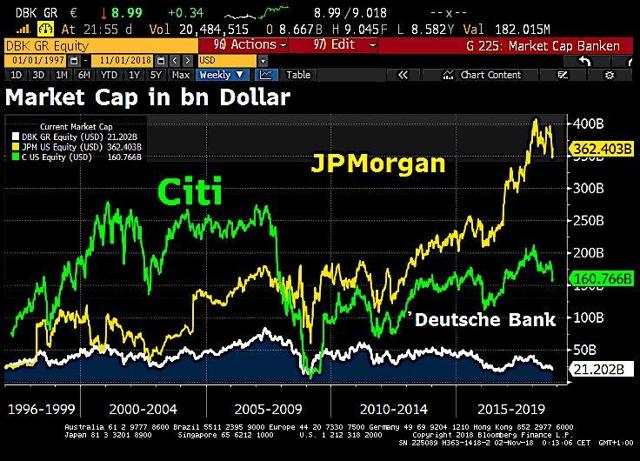 Bear in mind that any bailout/merger/takeover is likely to be quite dillutive for DB's shareholders. Neither the German government, nor any interested/forced party to such a deal, will be willing to pay the current market price.
Paraphrasing on Uncle Ben's famous "with great power comes great responsibility" words, I'd say that with great risk comes great discount.
3. Eurozone powder keg keeps growing more dangerous.
While expanding by 0.8% Y/Y, Italy (EWI) seasonally adjusted GDP for the third quarter came in flat Q/Q.
Winter is coming and the wold's 9th/Europe's 3rd biggest economy is having a systemic problem.
This is not only bad news for the Eurozone but also for DB.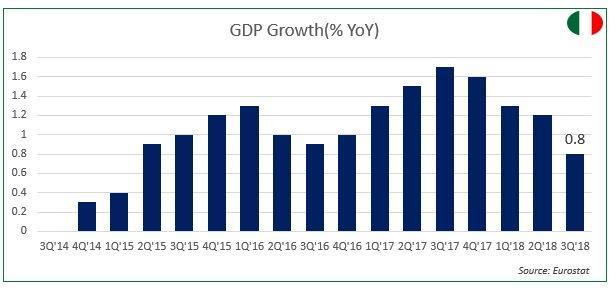 The gap between the performances of American versus European banks has never been wider than it's right now.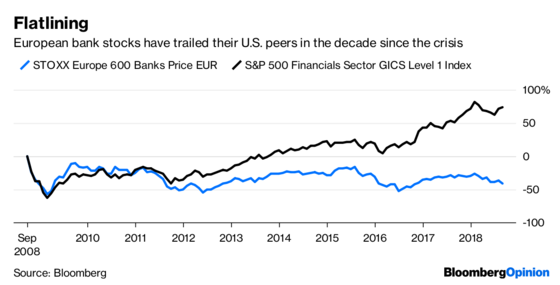 4. CoCo says...
A Contingent Convertible (aka "CoCo") bond, also known as an Enhanced Capital Note ("ECN") is essentially a debt instrument that might get converted into common equity if a pre-specified (unfortunate) trigger event occurs.
CoCo's are similar to traditional convertible bonds in that there is a strike price - the cost of the stock, if and when the debt is being converted into common stock. What differs is that (on top of the strike price), there is another threshold which triggers the conversion when certain (shortage of) capital conditions are met.
Here is the Deutsche Bank 6% CoCo bond, issued in 2014.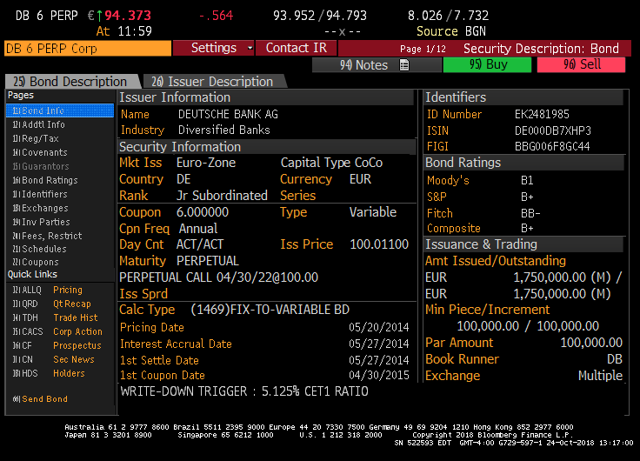 Almost 4.5-years after this CoCo been issued, it is selling for a yield closer to ~9%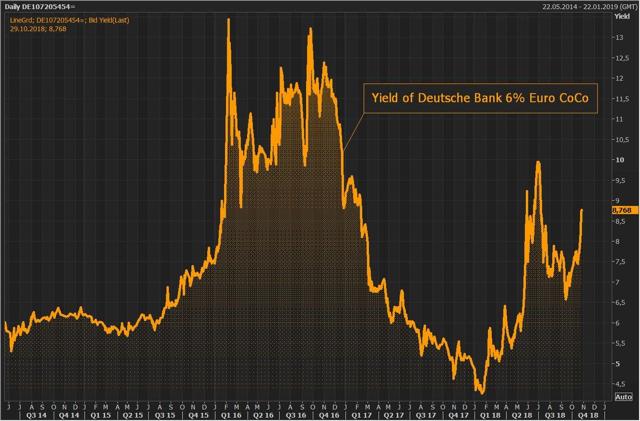 DB's bonds are getting the same "respect" that Italian government bonds are getting.
5. Speaking of Italy...
Deutsche Bank and Italians lenders are in a stress-test spotlight.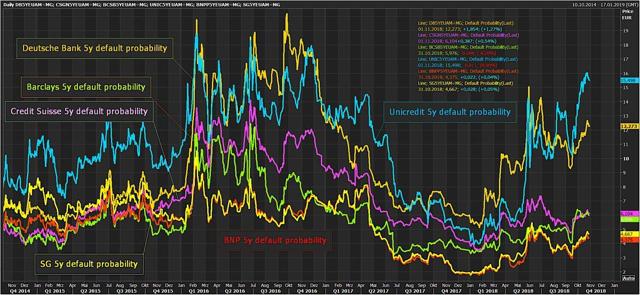 Remember: The ECB is stepping out of the markets soon (as an active buyer of European bonds, with new money that it pumps into the system).
We know it isn't neither Italian banks nor other Italian financial entities that are buying Italian government bonds. It's mostly (if not entirely) the ECB buying Italian sovereign debt. What will happen when the fat lady sings?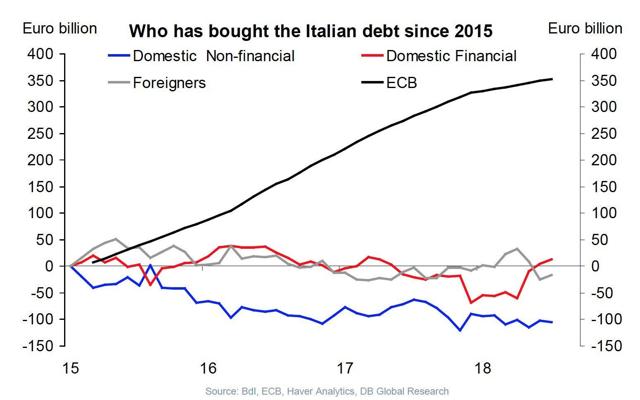 The negative impact on the total assets worth of Italian banks can very easily and quickly spill over to other European banks once the "big brother" is moving to the sidelines.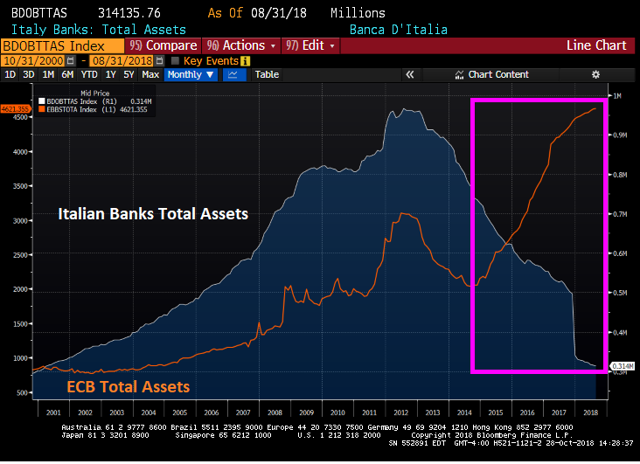 Some say that the discount to book value makes DB attractive. Guess what? Although DB is indeed the bank trading with the largest discount to BV among European banks, this is certainly not a unique feature, thus not a good selling pitch.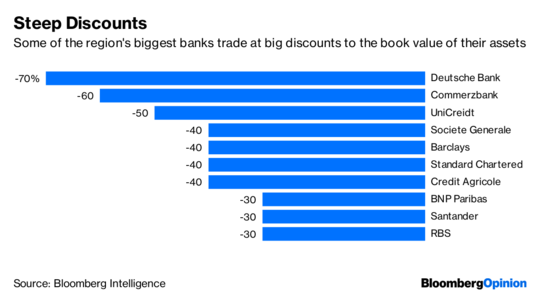 Others keep this famous, still relevant, chart at the back of their minds: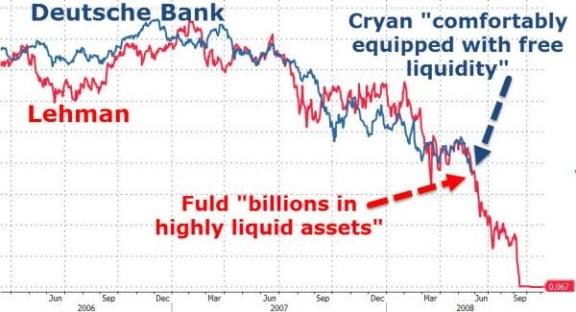 For us, it's more of the same.
Deutsche Bank lured an activist investor. Fine, but other than the "under-valued" and "new management" cards, we're curious what's the new playbook here? Why and how this time is going to be different?
Frankly, we are not seeing it as of yet.
As we all know, hope is the last to die.
Betting on, i.e. hoping for, the new CEO's ability to revive the bank's sagging profits by pursuing a turnaround strategy is something we are not yet finding convincing enough to push us towards changing our current, still bearish, stance.
Should we've been shareholders of DB we wouldn't be selling the stock right now; certainly not shorting it. A valuation of only ~$20B is becoming quite compelling, even for us, simply and solely because it's so cheap.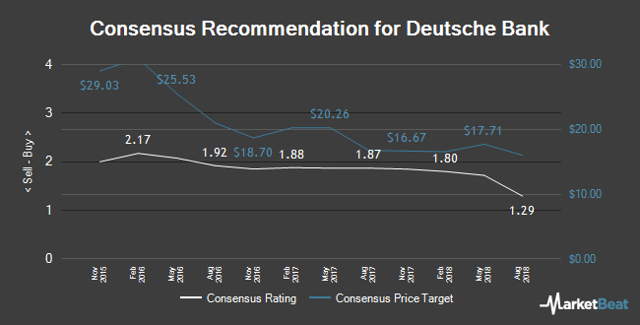 However, "cheap" doesn't equate "attractive".
Price is what you pay, value is what you get - Warren Buffett
Author's note: Blog post notifications are only being sent to those who follow an author in real time. In order to receive notifications for both articles and blog posts, go to Author Email Alerts, which lists all the authors you follow, and turn on "Get e-mail alerts" (see below).

Disclosure: I am/we are long JPM, BAC, GE.
I wrote this article myself, and it expresses my own opinions. I am not receiving compensation for it (other than from Seeking Alpha). I have no business relationship with any company whose stock is mentioned in this article.
Editor's Note: This article discusses one or more securities that do not trade on a major U.S. exchange. Please be aware of the risks associated with these stocks.