You don't feel thirty percent smarter when the stock goes up by thirty percent so when the stock goes down you shouldn't feel thirty percent dumber" - Jeff Bezos"
The market has started off November on much firmer footing than we saw in October. That month was one of the most volatile periods investors had to endure in many, many years.
Emotions ran high during the month as many sectors cratered especially in high beta and interest rate sensitive parts of the market. I know the stress levels increased substantially for those that held small cap biotech and other high beta concerns. Shareholders obsessed about some falling small caps like they were their kids with an unknown disease.
On October 28th, I published an extensive overview of the market to subscribers to all three of my Forums (Biotech, Insiders & Busted IPO). I thought it was important to take a non-emotional look at the equity markets.
While we are not out of the words as far as volatility, I do think stocks hit a bottom last month. Since these observations still are fresh, I wanted to share them with the larger SeekingAlpha audience to end what has been a much more positive week for investors.
Start of Article
October has not been kind to investors, which is a massive understatement. Given the huge declines across the board in equities this month; the preamble to our portfolio update will be much longer than usual this week. I think it is important to keep everything in context. Therefore, I am spending much more time than usual this weekend putting together my current thoughts on the market and the Forum. This opening will appear in all three Forum updates this week.
Historic Volatility:
October has been a month to remember, and not for good reasons. Everyone's personal portfolio is probably down 10% or more this month. My own portfolio is down 10.7% from its high in September as of the market close Friday. And this is with a good dollop of cash, covered calls written against a majority of my holdings, and a healthy allocation to boring, low beta and high yield lodging REITs!
You are not imagining things. The market has been that dismal so far to start the fourth quarter. All the major indices are in official correction territory. The NASDAQ is marching towards its worst monthly performance since November 2008 and the S&P 500 has not had this sort of losing monthly performance since February of 2009. Some of the moves in the individual sectors of the market have truly been frightening and rarely happen outside the onset of a recession (which I don't see on the horizon). Here is partial list of the most impacted areas of the market since recent highs.
Obviously the big moves down in both the small cap benchmark and the biotech sector have had substantial negative impacts on our model portfolio. Moves in the market seem to come faster these days as over 50% of daily trading volume is driven by algorithms in computer trading programs. Momentum begets momentum. This also means when the market does hit a bottom, it is likely to rebound sharply as well in the other direction. This is one of many reasons I am optimistic on equities heading into year end.
Robust Domestic Economy:
There is nothing wrong with the domestic economy. Second quarter GDP hit 4.2%. Initial third quarter GDP was reported at 3.5% this week, above the consensus of 3.3%. It would have been even higher but a weakening housing sector subtracted approximately .2% off GDP growth this quarter. Housing investment was down four percent year-over-year in the quarter while investment in commercial buildings fell 7.9%.
For the year, GDP should come in at three percent or better for this first time since 2005! GDP growth should slow down some in 2019 with most forecasters penciling in 2.5% to 3.0% growth. Still this is significantly above the 'trend' and bodes well for job and profit growth next year.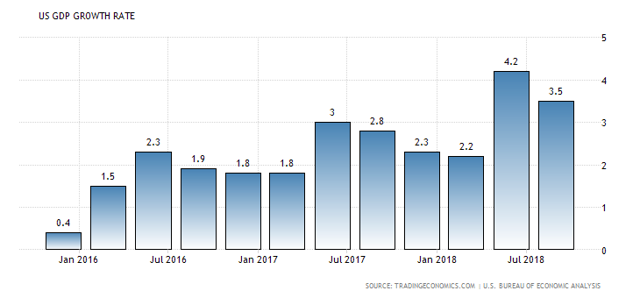 I have a 'barfly index' I keep in my head. I tend to do a lot of happy hours, meetings and get togethers around sports bars in Manhattan as well as Miami. During the financial crisis, it was ridiculously easy to find a seat anywhere. Things have gotten back to normal in recent years. However, over the past year things are really popping. A lot of times me and friends have to go to four or five bars before we can find one that isn't two to three deep to be able to watch a game. This is a sign of booming economy!
In addition, the amount of recent job openings is more than the official unemployed. That is the first time this has ever been recorded. If you have your own anecdotes about the current economy you are seeing in your neighborhood or business, please feel free to share in the comments section below.
Strong Profit Growth:
This strong domestic economy along with the recent corporate tax cut are the two main drivers behind the big profit growth we have seen this year. The third quarter will be the third one this year where year-over-year earnings growth comes in at the low to high 20s for firms within the S&P 500. Usually this only happens coming off recessions after earnings have bottomed. This is a rare occurrence where earnings are spiking this late into a bull market. June of next year will mark the 10-year anniversary of when the Great Recession officially ended. Profit growth will slow down in 2019. However, five to ten percent growth seems reasonable outside a major geopolitical event. I also think the threat of tariffs are overblown in regards to next year's bottom lines.
Multi-national Caterpillar (CAT) stating in its third quarter conference call this week that it expects impacts from tariffs to add $20 million to its operating costs in 4Q2018 and $100 million for all of FY2019. While not a small number, it is fairly insignificant given Caterpillar booked $13.5 billion revenues during this third quarter. This also assumes no lessening of trade tensions and/or new trade agreements in the coming year.
I personally am more concerned about a rising dollar against major currencies as it having more of an impact on profits than tariffs at this point. The greenback is rising largely because our economy is growing significantly faster than other developed countries like Japan and in Europe (which benefits small and mid-cap concerns as they have little in the way of overseas sales). The dollar index is up approximately two percent over the past month.
Interest Rates Are Moderating:
The decline in the market early this month was triggered by interest rates spiking. The 10-Year Treasury yield hit a seven-year high of 3.26% on October 5th. However, that yield has pulled back to 3.08% as of this Friday. Something equities seem to be overlooking at the moment. If interest rates stay at current levels, I think investors will start to notice and this could help the market rally. In addition, lots of funds have fiscal ends at the end of this month. This could help 'window dressing' selling ease in the coming days. The clarity provided by the upcoming mid-term elections should also be a positive for equities.
End of Article
And that is my current thoughts on the market. I would not be surprised to see some profit taking in the market like on Friday over the next few trading sessions. After all, the beaten down SPDR Homebuilders ETF (XHB) rose over eight percent just in Wednesday's and Thursday's trading sessions. The SPDR Biotech ETF (XBI) was up nearly six percent in trading on Thursday and managed a slight gain despite the downward tilt of the market on Friday.

However, I believe the fundamentals of the market and equities remain intact. We got a blowout monthly Jobs Report Friday Year-over-year wage growth came in at 3.1%, the highest in a decade. This should continue to support strong consumer confidence and spending levels. The recent, almost six percent surge in y/y chain store sales is proof of that as well. Labor force participation also improved to 62.9% from 62.7% the month before, evidence of more people entering the workforce due to a robust jobs market. The 10-Year Treasury yield did rise to 3.22% on the positive jobs number, but is still under the October 5th peak.
So yes, Virginia, the kids (stocks) will be all right.
Common sense is instinct. Enough of it is genius." ― George Bernard Shaw
Bret Jensen is the Founder and author of articles on The Biotech Forum, The Busted IPO Forum, and The Insiders Forum. To receive these articles as published on Seeking Alpha, just click the appropriate link and hit the orange follow button.
Disclosure: I am/we are long XBI.
I wrote this article myself, and it expresses my own opinions. I am not receiving compensation for it (other than from Seeking Alpha). I have no business relationship with any company whose stock is mentioned in this article.