When Arista Networks (ANET) is down, it's never down for long. The networking hardware company has had a challenging summer, dropping from highs above $300 back into the low $200s, but after the company's Q3 earnings release, a ~15% share price pop positions the company for a near-term rebound. Faith in Arista had been evaporating for most of the year - especially when rumors surfaced that Amazon (AMZN) would be entering into the enterprise switch market at low-cost, white-box prices. These rumors were later dispelled, but that did little to remove the worries that Arista was facing commoditization of its core hardware products and that its gross margins would eventually tumble down.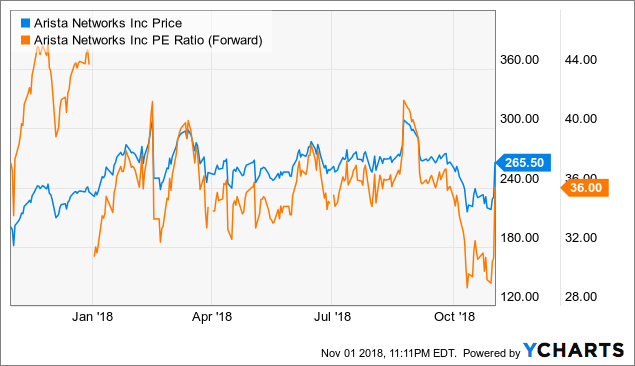 Arista's most recent results - and in fact, its earnings trends all year long - have shown only a company that is leading innovation in cloud-enabled networking hardware and is constantly winning market share against Cisco (CSCO), the decades-old giant of the space. In spite of fears that Arista would suffer from both sharp revenue deceleration and gross margin deterioration, its results have proven that it's currently not at risk of either.
It's worth noting as well that Arista Networks joined the S&P 500 in August, a key psychological milestone that confirms Arista's critical position in both the IT landscape and in U.S. enterprise. It's also a consistent winner of awards - from lists of fastest-growing companies, to technical awards from Gartner.
In a nutshell - Arista is incredibly appealing from both a raw fundamentals perspective as well as from a narrative and momentum front. Obviously, this caliber of quality doesn't come cheap - Arista is trading at a 36x forward P/E ratio, but considering the company's earnings growth power - in the year-to-date, Arista has grown its pro forma EPS by a massive 46% y/y - it's not too ridiculous of a price to pay for a company with a stable long-term growth trajectory.
There are several risks, of course, to this thesis. The most obvious risk is competition - Cisco is a much older and better-funded company than Arista, and though it has slackened on the innovation front in recent years, its recent crisis of survival may force the networking giant to step up its competitive game against Arista. Cisco has upped its software offerings lately - something which Arista lacks. In addition, though the Amazon scare has mostly died down, there's no telling when a white-box competitor can come in and push prices and margins down in the sector.
That said, however, Arista has maintained its leadership position for a reason: it has earned a solid reputation as "best-of-breed" in the networking space. In my view, investors should stick to Arista as a multi-year, long-term hold.
Q3 download: revenues and EPS beat, while margins impress
Here's a look at Arista's most recent quarterly results: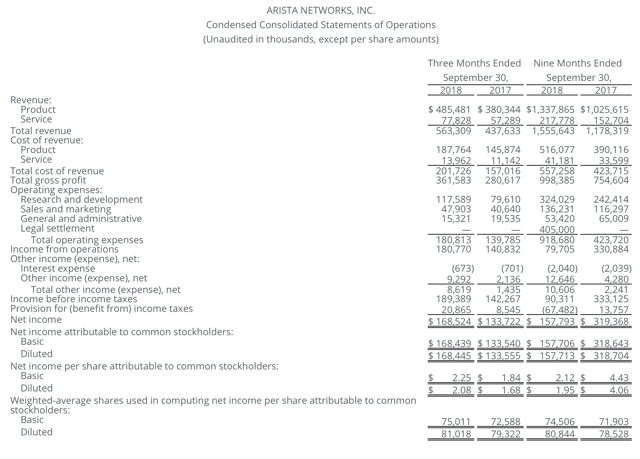 Source: Arista investor relations
Revenues grew 29% y/y to $563.3 million, actually accelerating one point over last quarter's growth rate of 28% y/y. This is a fairly wide beat over Wall Street's expectations of $548.7 million, or +25% y/y. Evidently, the consensus opinion held that Arista would decelerate growth - not the other way around.
During the third quarter, Arita launched 400 gigabit platforms - offerings which support 400G ethernet, which Arista claims delivers four times the throughput and double the power efficiency of its prior 100G products. This is a cloud-native offering that is well suited to complex, demanding applications - introduced in response to customer needs. This is an example of the type of growth-driving innovation that Arista has consistently engaged in.
It's also worth noting that Arista managed to eke up its gross margins in the quarter as well. The company achieved gross margins of 64.2% on a GAAP basis this quarter, up 10 bps relative to 64.1% in the year-ago quarter. Last quarter, too, Arista had managed a 10 bps gross margin increase. Though this is only a small bump, earlier in the year Arista was up against widespread fears that margins would fall as competition kicked into higher gear. Arista has, to the contrary, maintained its wide margin premium against Cisco - which, despite the inclusion of higher-margin software offerings, still carries a ~3-point margin deficit to Arista: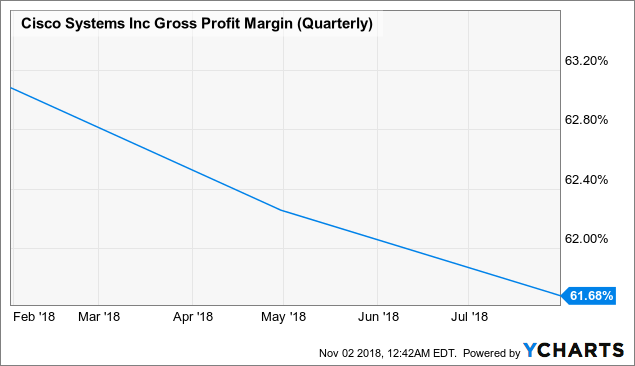 On a pro forma basis, Arista hit 64.6% gross margins, up 20 bps from the year-ago quarter. With a pro forma margin guidance of 63-65% for the fourth quarter, the company is also signaling that it continues to expect margins to come in at current elevated levels.
The only disappointing note in the quarter was that operating margins declined - largely due to a 48% y/y increase in R&D spending to $117.6 million, consuming 21% of Arista's revenues versus 18% in the year-ago quarter. Innovation has been key to Arista's continued market share gains, however, so investors should be patient with Arista as it continues to scale and gain operating efficiencies. On the plus side, general and administrative costs - the "least productive" component of operating spend - declined -21% y/y to $15.3 million. Arista still managed to grow GAAP operating income by 28% y/y to $180.8 million, but on a pro forma basis, operating margins dipped 150 bps to 37.1%, versus 38.6% in the year-ago quarter. Still, however, we must stress that Arista carries a premium margin profile relative to most hardware companies - and certainly one that connotes a value-added, non-commodity product offering.
Arista also generated $2.11 of pro forma EPS in the quarter, smashing Wall Street's expectations of $1.85 with 15% upside. Year-to-date, that takes Arista's earnings growth to 46% y/y. During these nine months, Arista has also more than doubled its operating cash flows, as shown in the table below: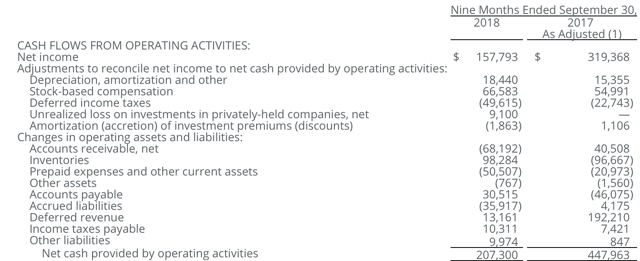 Source: Arista investor relations
How should investors react?
Arista's third-quarter results serve as a breath of relief to investors who had expected to see Arista begin to decelerate on the top-line and possibly see some near-term margin contraction. The long-term growth thesis for Arista is still very much intact: Arista is continuing a healthy pace of innovation and maintaining its premium positioning in a market that is seeing robust end-customer demand for datacenter and IT hardware.
Though investors will have to keep a close eye as competitors encroach on its space, Arista's moat seems well-defined for the near future. Even after this quarter's gains, Arista still remains ~15% off highs that it reached in the late summer. Hold on to this stock for the long term.
Disclosure: I am/we are long ANET.
I wrote this article myself, and it expresses my own opinions. I am not receiving compensation for it (other than from Seeking Alpha). I have no business relationship with any company whose stock is mentioned in this article.