General Electric (GE)shareholders capitulated Friday to a new 52 week low of $9 before recovering to close the day at $9.29. Two days ago Moody's downgraded GE's debt to three levels from Junk with a stable outlook, you can view the downgrade here.
Is the great and mighty General Electric only worth $9 a share?
That is the billion dollar question. Simple answer: It is worth a whole lot more than $9, however the market is in the find the bottom mode. At this point there will be a large contingent of bottom fishers taking a shot at GE under $10.
Technical's matter in capitulation trades.
I am going to show you a chart from an article that I wrote in January of this year on GE.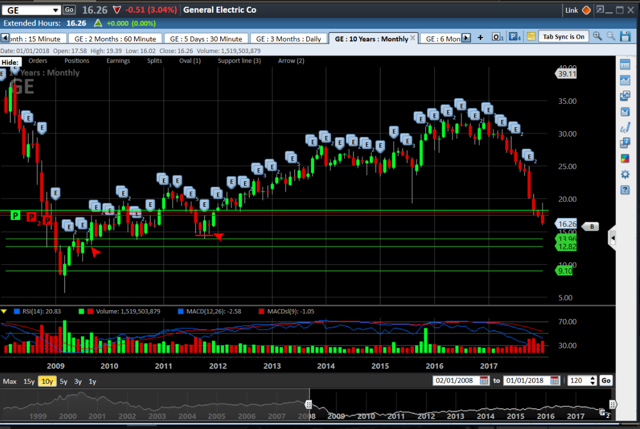 This is a little cryptic, click on the chart and notice the levels that I outlined above. All of these levels were hit over the year at different times, and some counter tend rallies occurred at these levels. Today the $9.10 level was hit on a day when Apple sold of $15 dollars and the election is 4 days away.
Fear Not the Bottom is near.
Buying stocks in capitulation takes guts and a strategy; one must realize that bottoms are formed over time with tests and retests. $9 may have marked the first hard bottom in which a rally could occur.
GE is now in the middle of a storm that reminds me of Petrobras (PBR) a couple years ago when it went from the $20"s down to $2.76, and now stands at $16.10. Here is another one for you: Vale SA (VALE) went from $27 in 2011 to $2.14 in 2016 and now sits at $15.45.
Both Petrobras and Vale had different issues, they had their own stories and analyst calling for their demise. There comes a point and time where the deep pockets with the big dollars make their stand. I believe we are nearing that point right now.
Downside risk?
At this point in the game anything can happen in a trading day for 2 minutes to an hour. Market wide sell offs like we have experienced twice this year can take every stock in the market down 10% to 20% in a day or two and it is important to remember this: Wild intra-day trading swings are designed to force margin calls and steal peoples shares. This includes hedge funds and banks using margin.
Remember this if you are one of those levered up and convicted. The market loves to create scenarios that magically dismantle your portfolio to put you in an unimaginable margin call.
Say your loaded up on Apple and it drops $15 a share or 7% on record earnings and your loaded up on margin. You are now a forced seller, this is how these dramatic lows are formed. That could have happened today forcing liquidation for some traders in GE.
That being said, GE could trade down to $7.77 on one of those 1500 point down days that everyone worries about or maybe $7.42. It is possible, we all witnessed a 900 point swing this week in one day.
GE capital is the one piece of this puzzle that could keep a lid on GE under $10. It is the one main reason I am not buying like a madman. I do not understand what is going on there and management is not helping with clarity.
Bull Case Upside
Larry Culp announces plans to split up the company and sell off the parts. In this scenario there are plenty of scholars that could tell you GE is worth $15 to $20 share. I imagine they will be out next week to do just that, stay tuned.
Dividend cut is bullish for share price and balance sheet.
You can read it in the Moody's release, they state clearly that the dividend cut will immediately help the balance sheet.
This is from Moody's
Nonetheless, the decision to eliminate substantially all of GE's $4.2 billion annual dividend signals GE's objective to prioritize financial flexibility and strengthening its balance sheet. The enhanced free cash flows would allow GE to maintain a higher cash balance, reduce intra-quarter borrowing needs and better contend with contingent liabilities that could materialize. Over time, the enhanced free cash flows would help ease financial constraints under which GE's businesses may be operating and, in conjunction with additional asset sales, could enable GE to repay more debt than the $9 billion announced in June concurrent with the planned spin-off of GE Healthcare.
Patience Grasshopper
This is going to take time, this is not a 6 month turnaround, but that doesn't mean GE is going to stay down here forever. It may languish here for a while but it might not. Investors wanting to take a stake here should have a minimum 2 year time horizon in mind.
There will be a bull rush at some point in the near future, it could come at any time and likely when you are least expecting it.
Why I bought GE at $9.25 today for a trade.
I bought GE today for a trade, I am a sucker for a good capitulation story and the stock finally came close to a price I think is under intrinsic value buy 20% at a minimum. I will be the first one to tell you that these things do not always work out well for me but I only bought a 15% position to start. I am holding out for $8.78- 8.88, if I miss it, then I miss it.
I am not convicted yet, why? Because of GE capital and the terrible timing of management doing deals. IF someone could show me that GE Capital is solvent and totally safe from needing more billions then I would change my tune.
Traders Trade
Traders love to make fast money off capitulating stocks. Look no further than Newell Brands (NWL) up 20% this week after capitulating Monday to $15.12 it closed the week near $19.
I alerted my Bargain Hunter Subscribers to this trade and shared my real time trade idea on NWL through a blog to the public on Wednesday advising to buy for the gap up on earnings Friday.
Look at this 1 year chart.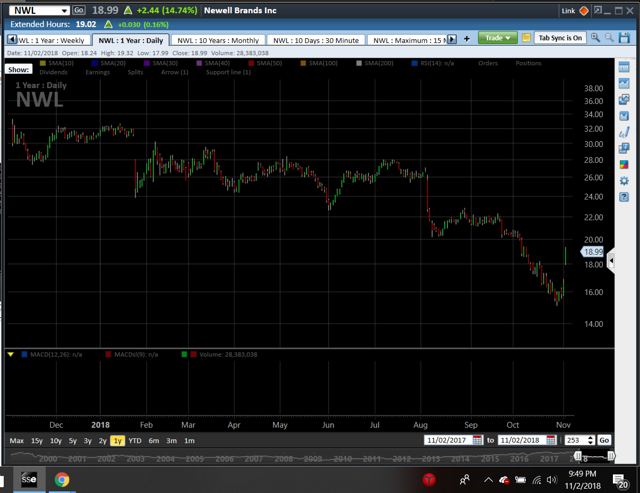 I only showed this chart because up until Wednesday this trade has been a frustrating disaster. Timing is everything in the markets.
There will be some fast money to be made in GE at some point from the long side. Up to now it has been a short sellers dream.
One last chart to see GE and where it is today.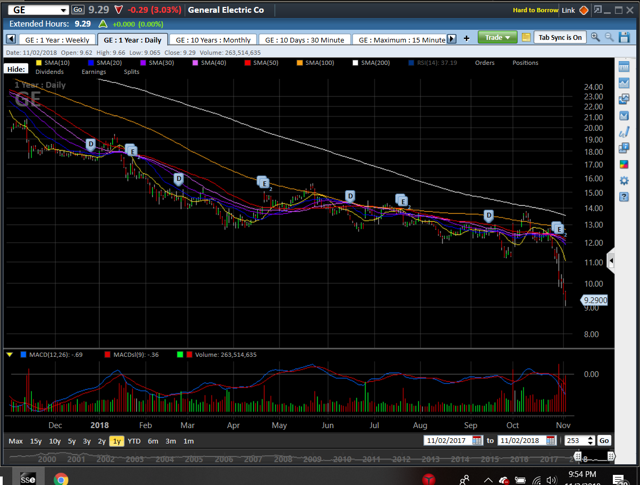 That is one ugly chart that is oversold to an extreme level. I see deep value here at this level with a 2 year time frame. I believe that the stock will rally 15% to 20% from the $9 level at some point within the next few months. It could also happen in the next few days, no one knows for sure.
Conclusion
GE is trading at a financial crisis low due to terrible judgement by management. Very few people in the markets thought GE could get to the $9 level. Behavioral finance is working its magic and weary shareholders are disgusted and tired. They want out , its depressing and there seems to be no end in sight to the dread. These are typical signs of the bottoming process reaching a climax.
Do not be afraid to hedge a new position and let the market call some of your shares away. Covered calls is a simple and effective way to mitigate some risk to the downside while defining a profit structure over a set period of time.
I think GE is very close if not at a trade-able bottom in the low $9 range. Look for that level to be tested over the coming weeks. While there are many stocks I like far better I think GE is due a 10% bounce after the election.
GE needs to provide much more clarity on GE Capital and their insurance legacy liabilities. The dividend cut will go a long way in helping GE repair the balance sheet and fund operations. Those patient investors with a long term outlook could do very well buying this ex dog of the DOW at $9.
As always have an exit strategy in place before making any trade, it can help you keep grounded in times of extreme volatility.
Disclosure: I am/we are long GE.
I wrote this article myself, and it expresses my own opinions. I am not receiving compensation for it (other than from Seeking Alpha). I have no business relationship with any company whose stock is mentioned in this article.