Chesapeake Energy (CHK) has long been plagued with a lot of debt and no cash flow to speak of. This year cash flow improved to inadequate. Along came a sale to reduce debt significantly. Now the company announces another move to increase cash flow. The acquisition of WildHorse Resources Development (WRD) should finally resolve a lot of issues that continue to challenge Chesapeake Energy management. The all stock offer, with some cash as an option goes a long way towards supplying badly needed lower cost cash flow for those inevitable lean times.
It has long been obvious that Chesapeake either needed more sales or an equity injection. This $4 billion deal only includes $900 million in debt. Although there is some preferred stock.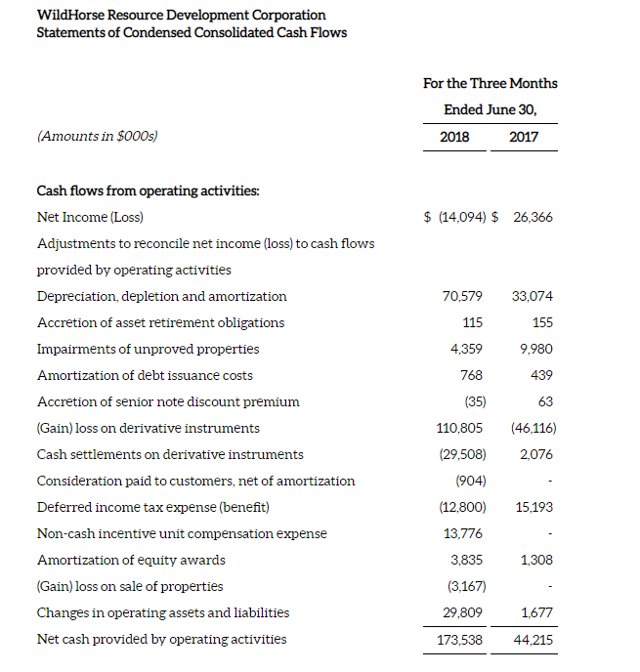 Source: WildHorse Resources Second Quarter, 2018, Earnings Press Release
As shown above, the key attraction for Chesapeake Energy is that rapidly growing cash flow as shown above. WildHorse achieved that cash flow on less than 50 KBOED. Production is rapidly climbing as the latest production figures were roughly double the year before production. Even as oil prices correct, the cash flow shown above appears to be poised to continue to rapidly grow.
More to the point the net debt to adjusted and annualized second quarter EBITDA was about 1.4. That is a figure that Chesapeake dreams about.
WildHorse was running out of cash though. Finances were not a concern as the company has more than adequate lending availability and trips to the capital market provided evidence the company could sell more bonds if needed.
Still, the recent Chesapeake sale to reduce debt provided a ready source of expansion capital without the need for another trip to the capital market. Rapid production growth could proceed without a hitch. Maybe Chesapeake management would change their mind about early debt retirements as a result of this opportunity.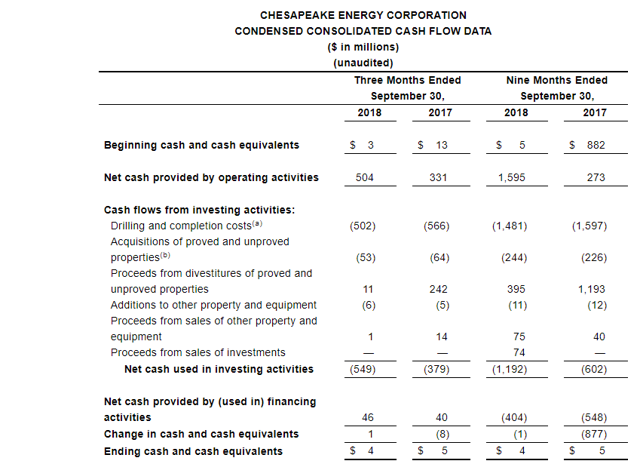 Source: Chesapeake Energy Third Quarter, 2018, Earnings Press Release
In contrast, to WildHorse, Chesapeake has nearly three times as much cash flow in the quarter. But this mainly gas producer just sold significant production that could knock about $100 million from that cash flow figure going forward. Chesapeake management had long been trying to increase the relative amount of oil produced as a percent of production to increase the cash flow. The rigs available to drill have been increasingly allocated to oil weighted leases.
Now, the acquisition jump starts the increase in oil production as a percentage of total production. This was badly needed. Chesapeake debt was roughly $10 billion at the end of the third quarter. The latest cash flow from operations would imply a long term debt to cash flow from operations of about 5:1. This is unsatisfactory to most lenders. Though it is a huge improvement over what has been reported in previous years.
The latest sale of the Utica Shale properties combined with the announced acquisiton provided a tangible move towards adequate cash flow for whatever debt management chooses to retain after this deal. WildHorse Resources Development appears to be positioned to add at least $1 billion in cash flow over the next year. Combined with Chesapeake's cash flow and the rapidly increasing production, this looks like a deal the lenders (and the capital markets) just love.
In addition, WildHorse just announced a deal to save money with a water gathering system and a company operated sand mine. These moves by WildHorse will save the combined company a lot of money compared to the WildHorse reported historical costs.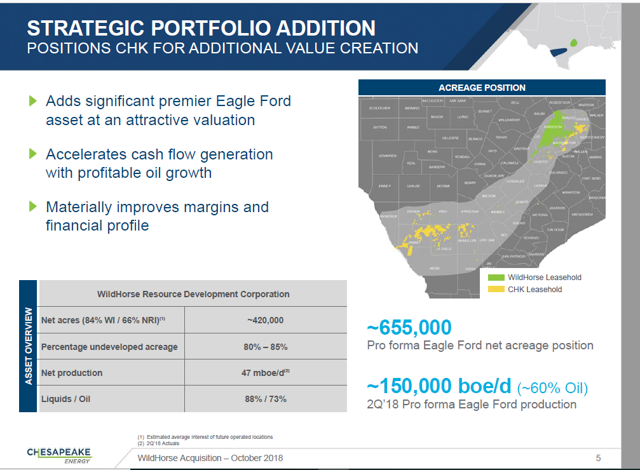 Source: Chesapeake Energy WildHorse Resource Development Acquisition Presentation October 30, 2018
Not only is the WildHorse acreage relatively favorably located, that acreage appears to be unusually cash flow rich for the Eagle Ford. Chesapeake Energy should be able to capitalize on the locations to increase profitability going forward. This is as close to a "bolt-on" acquisition as large acquisitions typically get.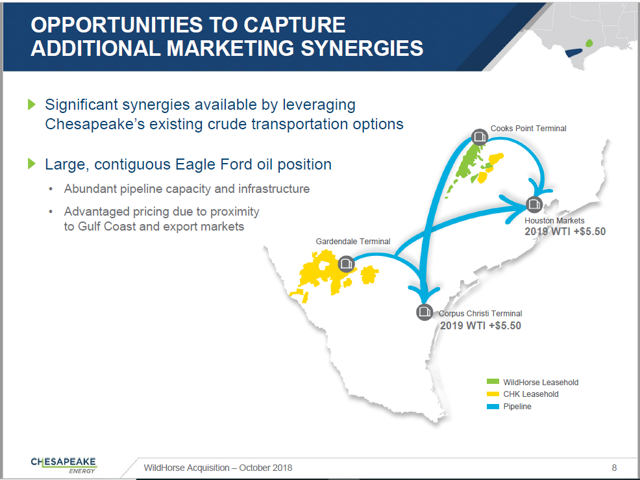 Source: Chesapeake Energy WildHorse Resource Development Acquisition Presentation October 30, 2018
In addition to the above savings. This slide shows the proximity to Chesapeake midstream operations. Chesapeake has bargaining power that a smaller company such as WildHorse generally cannot duplicate. The Eagle Ford is not currently experiencing the pipeline issues plaguing the Permian. However, continued strong oil prices could easily change that by continuing to encourage relatively high industry drilling activity. In that case, a merger with a larger company such as Chesapeake has some huge future advantages for a company like WildHorse.
Chesapeake has access to one of the largest oil terminals in the United States at Corpus Christi. This immediately gives the produced oil access to markets not otherwise available to a smaller company no matter how good the forward planning and contingency planning. The actual stated benefits of this merger to the combined company could easily be understated as a result.
SUMMARY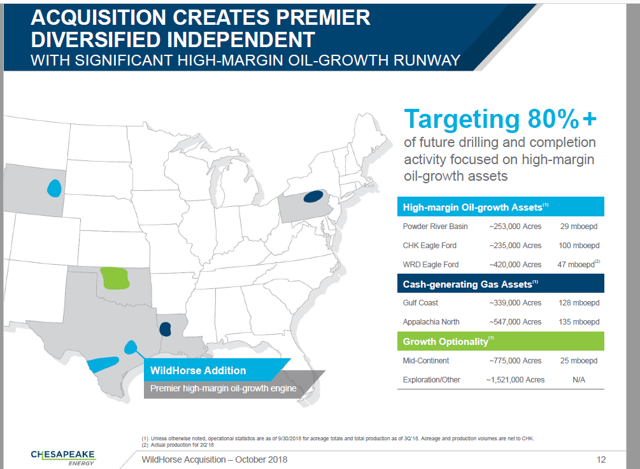 Source: Chesapeake Energy WildHorse Resource Development Acquisition Presentation October 30, 2018
This company was a diversified gas producer that was desperately trying to increase the percentage of oil produced as well as valuable liquids. The acquisition definitely accelerates the move towards more oil production as well as a faster increase in future cash flow.
Unlike the Wyoming properties, these Texas properties appear to have far more certainty and infrastructure in place. There is some upside from the revival of the Austin Chalk interval as new drilling techniques have made that interval very profitable.
Chesapeake desperately needed an equity injection. This acquisition provides a few billion of equity. Now there is about $400 million in preferred stock outstanding for WildHorse. WildHorse also has nearly $1 billion in debt outstanding. Plus the merger will use about $400 million (at most) in cash. All of those superior claims pale in comparison to the $174 million second quarter cash flow reported above. Cash flow could easily top $200 million in the soon-to-be-reported third quarter. Cash flow will definitely top $200 million in the fourth quarter as production continues to rapidly increase.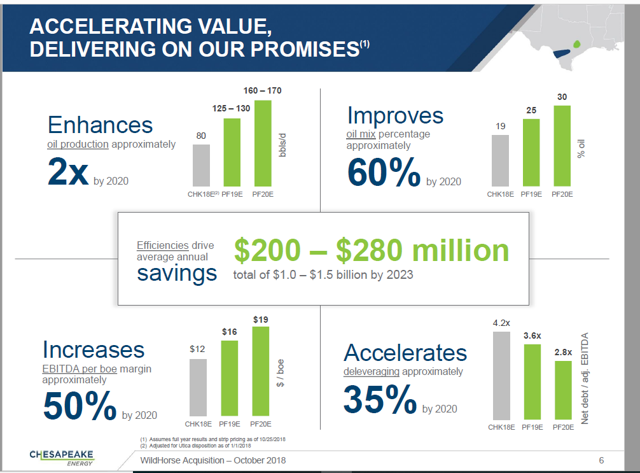 Source: Chesapeake Energy WildHorse Resource Development Acquisition Presentation October 30, 2018
Best of all the acquisition improves key financial ratios and immediately lessens the company dependency on gas production. Common shareholders will suffer dilution as a result of this transaction. But the post merger company will be on far sounder financial footing.
Generally bankers and other lenders want to see cash flow that averages at least one-third of debt. Chesapeake will now be close to those financial guidelines. There may still be some property sales to reduce debt and further accelerate the drive towards conventional investment grade financial profile. But at least the company will be out of the "desperately trying to raise cash business" while trying to publicly convince the markets everything is fine.
Financial leverage is just not the big advantage many assume. Oftentimes, financial leverage does not bring about the desired long term financial result. Hence the recent spat of leveraged companies combing with far lower leveraged companies. Here, Chesapeake Energy picked up about $1 billion or so of future cash flow while managing to incur about $2 billion in debt and preferred obligations. That is a material step forward. Chesapeake is finally getting to the point where the future is beginning to look solid.
Disclaimer: I am not an investment advisor and this is not a recommendation to buy or sell a security. Investors are recommended to read all of the company's filings and press releases as well as do their own research to determine if the company fits their own investment objectives and risk portfolios.
I analyze oil and gas companies like Chesapeake Energy and related companies in my service, Oil & Gas Value Research, where I look for undervalued names in the oil and gas space. I break down everything you need to know about these companies -- the balance sheet, competitive position and development prospects. This article is an example of what I do. But for Oil & Gas Value Research members, they get it first and they get analysis on some companies that is not published on the free site. Interested? Sign up here for a free two-week trial.
Disclosure: I/we have no positions in any stocks mentioned, and no plans to initiate any positions within the next 72 hours.
I wrote this article myself, and it expresses my own opinions. I am not receiving compensation for it (other than from Seeking Alpha). I have no business relationship with any company whose stock is mentioned in this article.