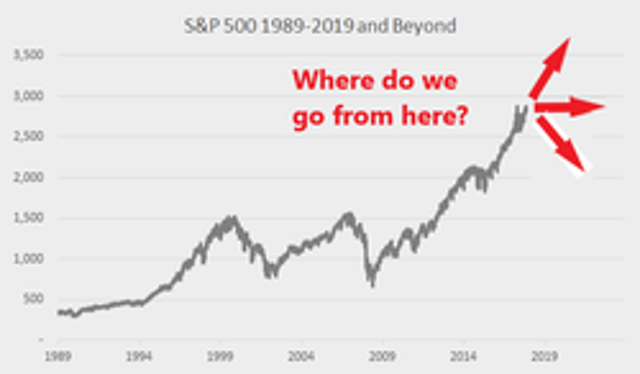 What happened last week. What we're watching for next week.
What comes next?
Nice rally, but I'm not buying it. At least not yet. I think we have a good chance of making another new high in 2018, but those chances are diminishing every week.
Chart 1. S&P periodic returns
The periodic returns have improved somewhat from last week, but when you compare them to the readings from 4 weeks ago you can see that the market is still under water. The rally of 2018 is petering out, and it's an open question whether the market can regain the high ground at 2,930 on the S&P.
This Week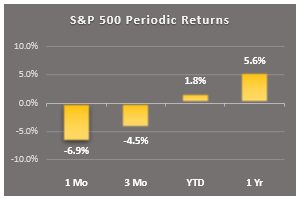 4 Weeks Ago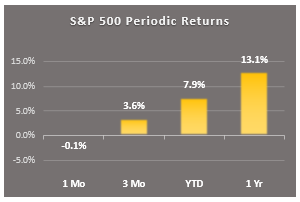 Key Markers
The two charts below are confirmation of the weakness of this market. We flirted with the correction marker of down 10% last week, but we closed above that level. The support price I'm using is 2,581 which is the low price we reached during the last correction in January-February of this year.
We sit comfortably above that level for now, but as I said, in a fluid market like the one we're in right now, anything can happen.
Chart 2. Distance from Key Markers
This Week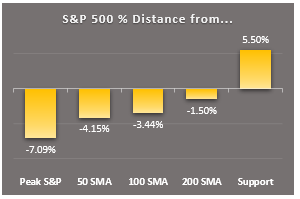 4 Weeks Ago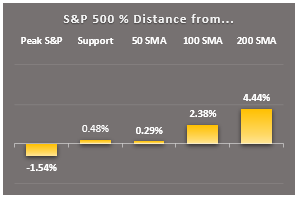 Chart 3 - Chart of the week
One of the charts I maintain is the ZOD, or Zone of Danger chart. This chart highlights where the market is in relation to two key markers. When the market drops below the 10% gain on a year-over-year basis, it enters what I call the Zone of Danger. You might think of this as the Red Zone in football.
The market is flirting with this level, and if it should drop to the 5% level, alarms will go off in my models. Keep an eye on this one.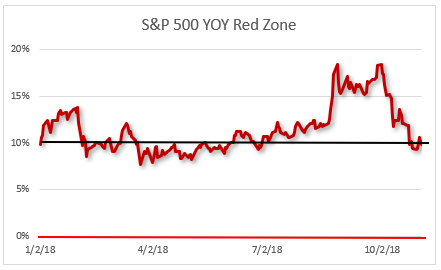 Chart 4. The Market Dashboard
You can see on the dashboard charts that we've had a nice bounce in the market. But is this just a dead cat bounce, or is this rally sustainable?
I only care about one thing: what is the probability that a bear market will arrive sometime in the next 12 months. I have a model for that, and subscribers to my monthly newsletter can track it along with other relevant indicators.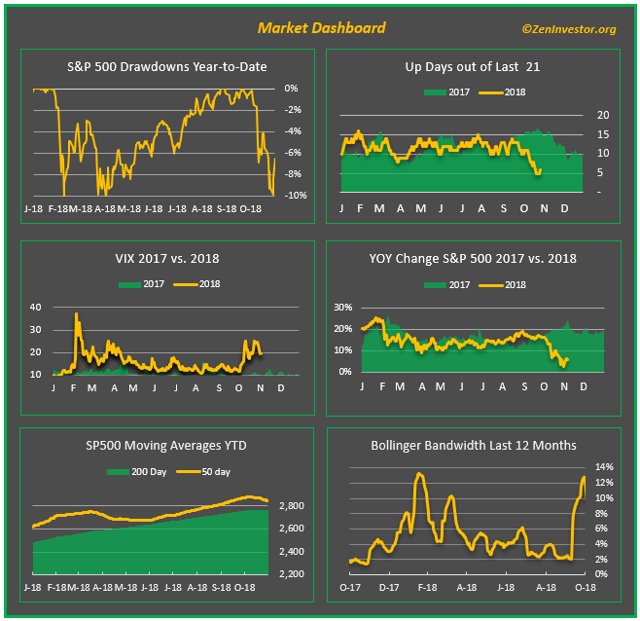 Final Thoughts
Here's my takeaway from last week's market action. It's nice to see a rally, but does it have legs? I hope it does because I'm telling my clients to stay invested and wait for a rally to new highs before things fall apart. Of course, I could be wrong about this, but my models will tell me what to do as the months go by.
This week I'll be watching the rally in the stock market to find signs that there may be more upside to come. The market has now taken a hit of 250 points on the S&P 500, and rallied 100 points from the low. It's going to be a tough slog for the dip-buyers to take back the next 150 points.
But they've done it before, and they can do it again. I wouldn't bet the ranch on it, however.