This research report was produced by The REIT Forum with assistance from Big Dog Investments.
We wanted to write 2 articles on how investors can allocate their capital in retirement for income. In an upcoming article, we will cover preferred shares in depth. If you follow us, you will be able to get an alert for our next article.
Uphill battle
Retirees today face an uphill battle. The S&P 500 (SPY) remains fairly expensive as a multiple of cyclically adjusted earnings.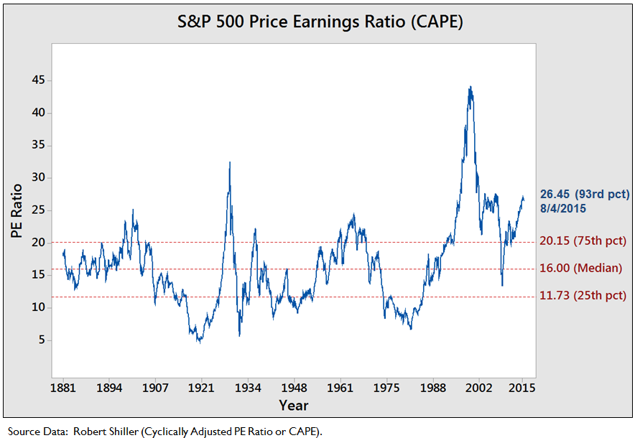 However, the CAPE ratios may decline over the next few years even if the market remains high. The CAPE ratios use the past 10 years and we are moving further away from the last recession. As the data set changes to have zero recessions, the multiple should naturally come down.
It's not all bad news for retirees. An increase in Treasury yields allows them to allocate more of their portfolio to safer instruments. We believe it is very wise to incorporate safety as a primary objective for the portfolio.
Investors can choose between using a Treasury ETF such as iShares 20+ Year Bond ETF (TLT), Vanguard Long-Term Treasury ETF (VGLT), or using short-duration options such as Vanguard Short-Term Bond ETF (BSV) for safe return. The rates available for certificates of deposit have increased materially over the last couple of years. Including certificates of deposits within the total portfolio plan is an excellent way to ensure there is always money coming in. If you stagger your CDs, you can always have a few that are coming up and giving you access to extra cash. If you don't need the cash right then, you can invest it in another short-term CD.
Getting a bigger yield
Investors won't find all of the income they need from an S&P 500 index fund and certificates of deposit. Those investments have a place within the portfolio but they won't be the primary income drivers. We find a significant allocation to REITs and preferred shares is a great way to boost income in retirement.
Let's start by discussing the benefits of equity REITs. An investment in an equity REIT is very similar to an investment in real estate. Either choice would connect the investor's future returns to the performance of the real estate portfolio. When investors are purchasing REITs, they have several advantages.
Many investors don't realize that investing in equity REITs is very similar to buying physical rental properties. REITs are generally lumped in with other stocks, but over the long-term their performance will more closely match the performance of the real estate they own. That makes sense when we think about it.
If a large investor wanted to create a publicly traded REIT, how much would it cost? There are some expenses with creating a company, but the largest expense would be buying the properties. The cost to build a REIT is very similar to the cost of acquiring those properties. At the inception, the cost of making a REIT is the value of the properties.
If a large investor were to acquire all the shares of a REIT, they would simply own the properties. It would be a portfolio of real estate acquired in one quick move. The value of the portfolio would be measured based on what investors would bid for the individual assets. Whether real estate is held directly or held through a REIT, the value of the real estate isn't impacted by the wrapper.
Over the short-term, REIT share prices can fluctuate quite a bit. Often they fluctuate more than appraised real estate values. That leads many investors to believe that the REITs are more dangerous. If you owned a condo worth $300,000 and someone offered to pay you $275,000 for it, does that mean your condo value suddenly plunged? No. You could reject their offer and continue to own the condo. Over the next year the condo value might increase to $350,000 or it might even fall to $250,000. Whether the investor accepts the offer is up to them.
If investors take that long-term view when buying REITs, they stand to be rewarded. They will see days, even months or quarters, when REITs trade at much lower prices. When REITs trade at low prices, many investors are scared to purchase them. That precise situation was present in February 2018 as the REIT indexes bottomed out. Over the next few months the fear declined and share prices climbed right back up. There are still some great deals available on REITs. The REIT Forum continues to find great dividend growth in undervalued companies.
High-quality REITs continue to pay solid dividends even as their share prices fluctuate. This is a very important aspect of investing. A long-term real estate investor is not merely speculating on the real estate value appreciating. They are earning income from the portfolio every quarter (or more). The income can come through net operating income if they own property directly or through dividends if they purchase a REIT.
Finding a great REIT
Many investors have been disappointed with REITs because they focused on yield instead of quality. It is disheartening to hear how many casual investors believe that REITs are all the same. They end up picking a REIT by the dividend yield and then being disappointed when it underperforms.
We have a better strategy.
We evaluate:
The types of properties in the portfolio

The expected income growth from those properties

The relative valuation across most REITs within the subsector

Quality of management

Safety of the balance sheet
Simon Property Group
Simon Property Group (SPG) is an example of a great REIT. They own a large portfolio of high quality malls. Many investors were terrified of purchasing a REIT with a mall portfolio, we were not.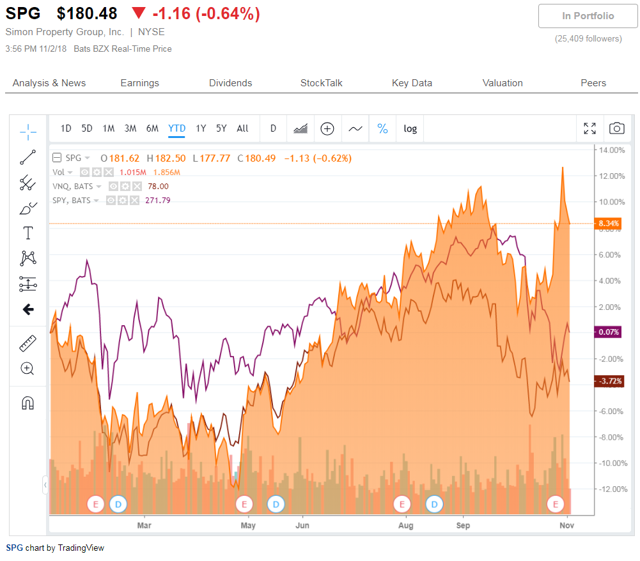 Source: Seeking Alpha
SPG was one of our top choices for performance in 2018. As you can see, SPG has outperformed Vanguard Real Estate ETF (VNQ) and SPY materially.
Maybe some investors thought the mall REIT sector had a rally. They would be wrong: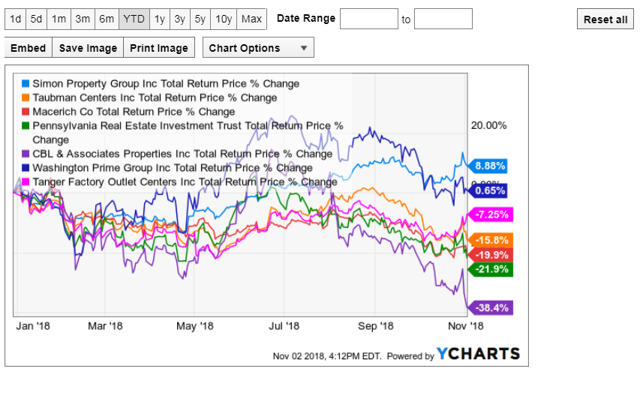 Mall REITs haven't had a good year. However, our pick to outperform this year has outperformed.
Investors believed the retail apocalypse was upon us. Simon Property Group saw a material decline in their share price. However, SPG has recovered significantly since the price bottomed out earlier in 2018. During this period, SPG's fundamentals remained solid.
Throughout the retail apocalypse, SPG continued to grow FFO per share and dividends.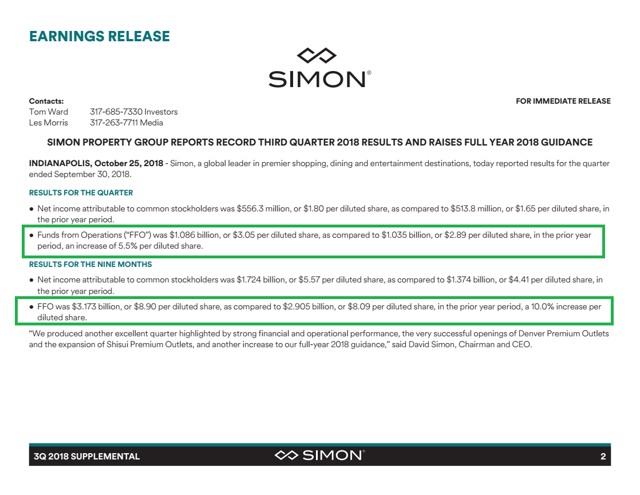 Source: SPG
Their mall properties continued to increase net operating income each year.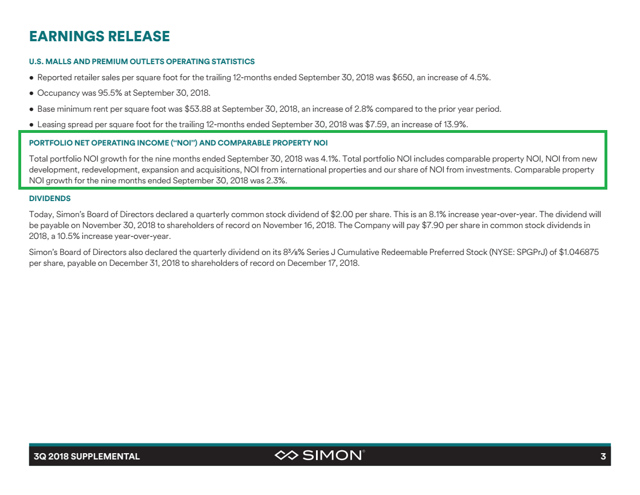 Source: SPG
The rental rates they received from tenants continued to increase each quarter. Sales per square foot for their tenants continued to increase.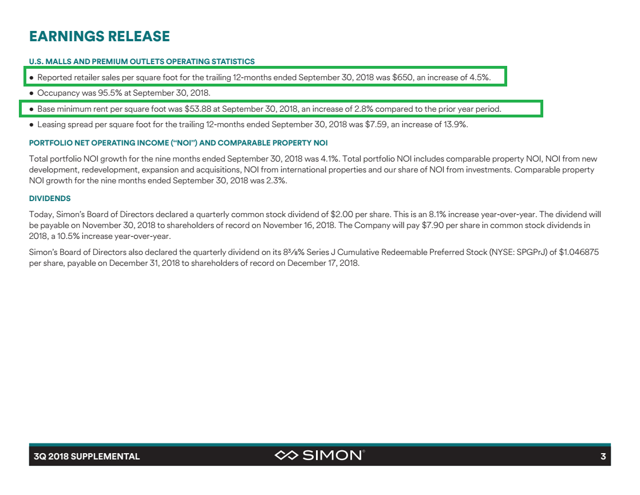 Source: SPG
Their credit rating remained at A.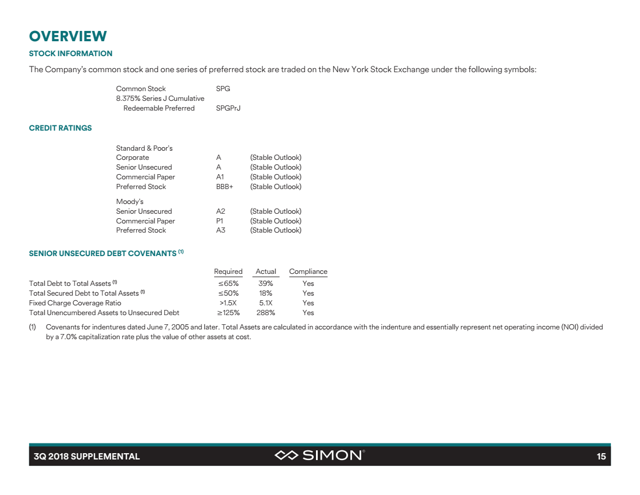 Source: SPG
It is remarkable to see the panic among retail investors during a period in which earnings and dividends continued to grow significantly with leverage remaining low.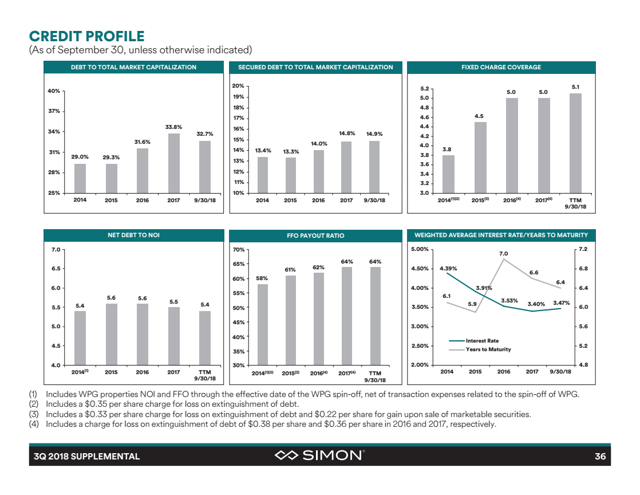 Source: SPG
SPG didn't take on more risk to continue growing earnings. They simply excelled at operating their real estate.
The market finally caught on. Shares of SPG have rallied up into our hold range. We still have several great picks for undervalued REITs, but the market finally caught on with SPG.
Why are landlords a good place for investing
REITs can be landlords in several different subsectors. The retail space has received a great deal of negative press. However, the tenants are discovering another story. When a retailer ceases to have a physical location in a market, they experience a significant decline in online sales to that market. Consequently, major retailers like Walmart (WMT), Target (TGT), Costco (COST), and Best Buy (BBY) have a major incentive to retain their physical locations.
Allow me to provide a recent real-life example.
I was looking to purchase a new mattress. Testing out the mattress in person was an important factor. During a shopping trip at Sam's Club, I decided to test their mattresses. I also searched online for reviews. After finding the reviews and trying out the mattress in person, I ordered it online. It was the same price online, but the process was simple and it included free shipping.
If Walmart did not have that Sam's Club location, they would not have the online sale. Retailers are discovering that this connection is stronger than they thought before. Several retail-focused REITs have indicated greater interest from their tenants.
These landlords include companies like Federal Realty Investment Trust (FRT), Regency Centers (REG), Weingarten Realty Investors (WRI), Kimco (KIM), and Brixmor Property Group (BRX). The strip centers they operate are home to retailers such as H&M (OTCPK:HNNMY), Sprouts Farmers Market (SFM), Ascena Retail Group (ASNA), and Dick's Sporting Goods (DKS). They also contain smaller stores within the parking lot such as AT&T (T), Verizon (VZ), and T-Mobile (TMUS).
Even as a greater portion of revenue for the retailers shifts to online sales, the physical location remains necessary to enable the sale.
A sample portfolio
The REIT Forum keeps an updated spreadsheet available for subscribers on all of CWMF's positions. We invest very heavily in REITs. That includes equity REITs, mortgage REITs, and preferred shares from REITs.
We believe it is helpful to focus investments on our area of expertise. That makes our portfolio more concentrated than if we simply used ETFs. However, that strategy has allowed us to outperform VNQ (the largest REIT ETF), the largest preferred share ETF (PFF), and SPY as shown below: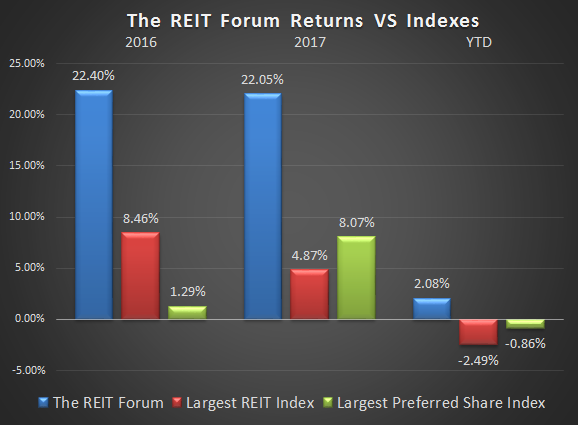 SPY had 12% returns in 2016 and 21.70% returns in 2017. The chart above is a couple weeks old and we are now up over 3% on the year. SPY is up 2.74% YTD.
This system relies on focusing on an area of expertise. We put together a sample portfolio for retirees looking for an income portfolio. This sample portfolio includes several of the REITs we have invested in.
Consumer Staples

Healthcare

Consumer Discretionary

Technology & Others

Target

(TGT)

3.03%

Gilead Sciences

(GILD)

3.28%

General Motors

(GM)

4.22%

Apple

(AAPL)

1.41%

Altria Group

(MO)

5.03%

Merck & Co Inc

(MRK)

3.04%

Ford Motor Company

(F)

7.78%

AT&T Inc.

(T)

6.55%

Walmart

(WMT)

2.05%

Eli Lilly & Co

(LLY)

2.11%

Disney

(DIS)

1.46%

Verizon

(VZ)

4.26%

Philip Morris

(PM)

5.14%

J&J

(JNJ)

2.56%

McDonald's

(MCD)

2.63%

Intel Corporation

(INTC)

2.55%
Investors can put these securities, along with some of our REIT and preferred share picks into a dividend portfolio tracker: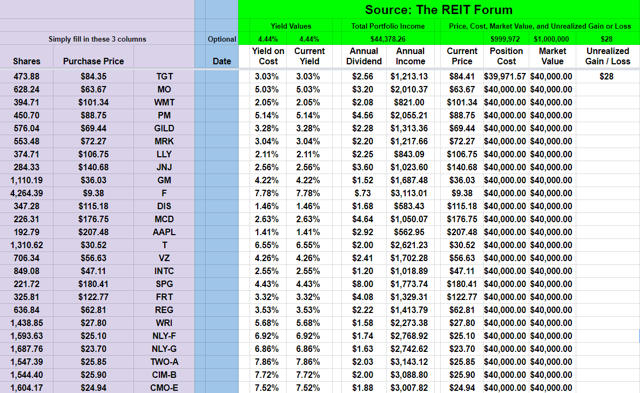 Source: The REIT Forum
The current yield on this portfolio is 4.44%. With a portfolio of $1,000,000, the investor would be getting $44,387.26 annually.
That is a very healthy source of growing income. Remember that this may be on top of certificates of deposit and income from Social Security or other pension plans. An investor who ignored the REITs and preferred shares would have a materially lower dividend yield and less diversification in their portfolio.
Final thoughts
Investors planning to retire in the near future may benefit from the higher rates available today. Whether they are looking at a Treasury ETF or certificates of deposits, the interest rates available are materially higher than they were 2 years ago. Despite the increase in interest rates, investors will need additional sources of yield to meet their expenses in retirement. Equity REITs are a great place to find that yield. The results for Simon Property Group demonstrate that the retail apocalypse has been a false narrative. They continue to grow net operating income, FFO, and dividends per share. They were able to grow those metrics because tenants have continued signing leases at higher rates. Major retailers like WMT, TGT, and COST need to maintain their physical presence to enable online sales.
We've found investors can benefit from specializing within small niches of the economy. A mix of common shares and preferred shares is an excellent way to produce a high dividend yield portfolio where the common shares can provide dividend growth to offset the impacts of inflation. In an upcoming article, we will discuss the benefits of preferred shares within a retirement portfolio. If you would like to get an email alert for the next article or you enjoyed reading this article and want to receive updates on our latest research, click "Follow" next to my name at the top of this article.
About "The REIT Forum"
The REIT Forum is the #1 rated service on Seeking Alpha. We focus primarily on defensive investments with high growth potential. With our strategy, we have returned 22% every year since the inception of our service. It is our objective to find quality investments at a discount, along with trading opportunities for the more active investors. Most of our research is on companies that are excellent investments over the long term.
Disclosure: I am/we are long TWO-A, NLY-F, NLY-G, CMO-E, FRT, MO, PM, SPG, WMT, WRI.
I wrote this article myself, and it expresses my own opinions. I am not receiving compensation for it (other than from Seeking Alpha). I have no business relationship with any company whose stock is mentioned in this article.
Editor's Note: This article discusses one or more securities that do not trade on a major U.S. exchange. Please be aware of the risks associated with these stocks.