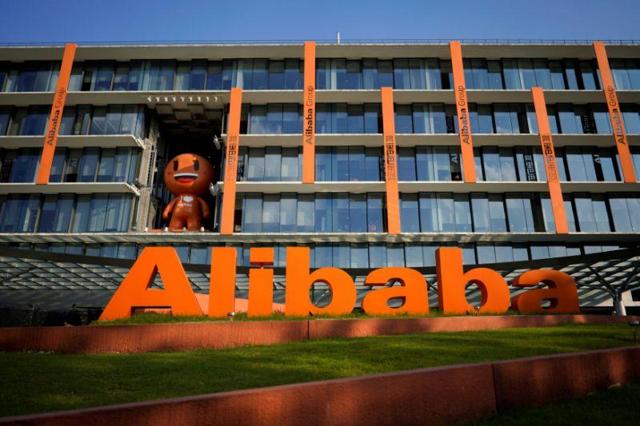 Source: finance.yahoo.com
Alibaba: A Steal At 20 Times Earnings
Alibaba (BABA) has been the victim of a vicious decline in recent months. Alibaba's stock price had collapsed from a high of $210 to a low of just $130 in recent days. This is a savage 38% decline in the span of just 4 months. In market cap terms Alibaba shed an incredible $230 billion, an unprecedented sum in a relatively short period of time.
BABA 1-Year Chart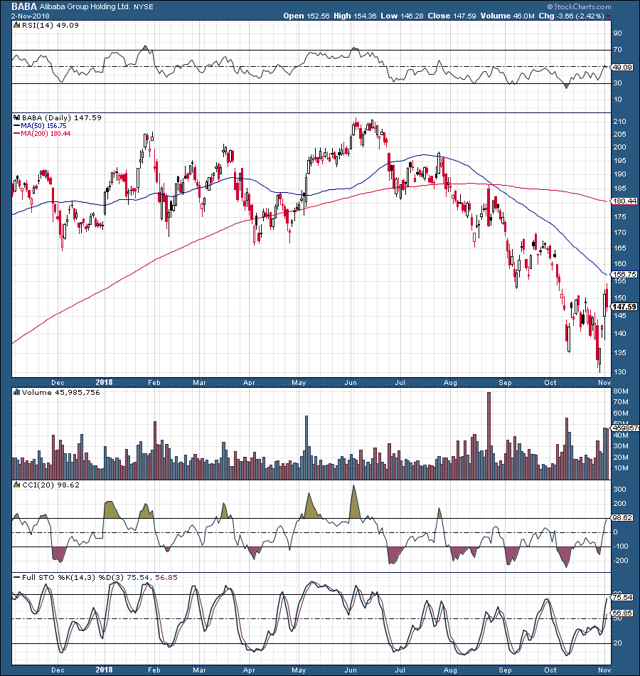 Source: StockCharts.com
You would think something extraordinary had happened to perpetuate such dramatic declines. So, did the company's revenue growth story collapse? Did earnings fall off a cliff? Were some type of fraudulent accounting irregularities uncovered at the firm? Perhaps the stock was simply drastically overbought 4 months ago?
No, none of the above. Aside from the typical Donald Trump, Xi Jinping trade skirmish, nothing out of the ordinary happened, and nothing has fundamentally changed at the company. Yet the stock is much cheaper now than it was just a few months ago.
Alibaba is currently trading at just 20 times next year's consensus estimates. The important factor to keep in mind here is that Alibaba is not a growth stock about to transition into a much slower growing value company.
To the contrary, Alibaba is set to expand revenues at over 50% this year, and at nearly 40% next year. Furthermore, due to the company's dominant market position in Asia's ecommerce segment, and the company's insatiable appetite to break into new industries, Alibaba will likely show strong double digit revenue growth for a number of years going forward.
The company's remarkable growth should enable Alibaba to increase EPS substantially in future years. Therefore, the current valuation of just 20 times forward earnings is incredibly low for Alibaba's shares, and the stock should appreciate substantially over the next several years.
Why Did Alibaba's Stock Decline by So Much?
Before we start discussing why this stock represents incredible value and is likely to go much higher let's identify why Alibaba declined in the first place. Roughly 4 months ago BABA was trading at around $210, and the stock had a forward P/E multiple of about 28. Now, this is not particularly high for a company that is set to grow revenues and EPS by 35-40% next year.
After all, Amazon (AMZN), and Netflix (NFLX) are trading at 63 and 73 times next year's consensus estimates and don't appear to have Alibaba like revenue growth momentum. Nevertheless, 28 times forward earnings turned out to be too high for BABA at the time.
This is primarily because Alibaba is a Chinese company, and Chinese stocks generally trade a discount to U.S. companies. This is somewhat puzzling considering that China's economy will likely expand at least twice as fast as the U.S.'s in future years, but due to the perceived risks associated with China, companies like BABA currently trade at a significant discount to their U.S. counterparts. This dynamic may change in the future, and I see nothing inherently risky about investing in dominant, large cap Chinese market leaders.
Another factor that caused Alibaba's shares to slide is the current situation with the China/U.S. trade skirmish. President Trump has slapped some tariffs on the Chinese economy, and Chinese stocks are generally out of favor right now.
In fact, many are getting indiscriminately oversold. All three of China's internet giants BABA, Tencent (OTCPK:TCEHY), and Baidu (BIDU) have seen their share decline by significant amounts in recent months. From peak to trough Tencent had lost 48%, and Baidu gave up the same amount as BABA 38% from its top.
(Despite the recent bloodbath a trade deal could still be achieved, which would presumably spark a substantial rally for Alibaba and other Chinese stocks)
Yet, another factor that contributed to Alibaba's recent decline is the overall risk off trade in the tech sector. Alibaba's declines began around the same time Facebook (FB), Netflix, and other high multiple tech giants peaked last summer.
So, essentially Alibaba got hit from several angles. It's a Chinese company, and it's also a tech stock. Therefore, declines were exacerbated by these factors. Paradoxically, trade tensions are likely to have an extremely limited effect on Alibaba's revenue growth and earnings potential, and the stock never had an expensive multiple to begin with. Fundamentally, nothing has changed at the company, the recent declines appear unjustified, and the stock is now trading at a significant discount.
Let's Check in With The Analysts
Remarkably out of the 18 analysts following BABA 16 have the stock as a strong buy and 2 others have a buy rating on the stock. There are no sell or hold ratings on BABA at this time. Additionally, the median 12-month price target on the stock is $220, and the PT range is from $195 to $280.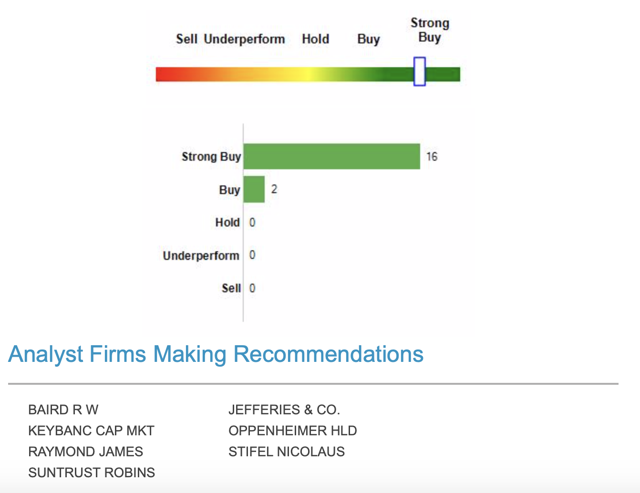 Source: Nasdaq.com
So, Alibaba is currently trading 33% below the lowest price target on Wall St. The stock is currently 50% below the median PT, and 90% below the higher end PT. I don't always agree with analysts' predictions but in this case I concur, BABA is grossly underappreciated and underpriced right now.
The Perceived China Slowdown
How big of a slowdown will China have, really? The answer is that it is difficult to tell, and it will depend on a series of factors that have not been determined yet. This is part of the reason why Chinese stocks have gotten hammered in recent months, it's the uncertainty that frightens investors most.
However, in my view the Chinese downturn is not likely going to be that great. Furthermore, whatever the downturn may be, it is likely to have a limited effect on the growth of Alibaba's business. Also, the Chinese government has enormous control over China's economy and could engineer their way out of a substantial slowdown.
In general, it does not look like it's going too bad. China's growth is only expected to slow moderately over the next several years. If we look at China's GDP figures, they're likely to go from 6.5% in 2018, to 6.3% in 2019, and down to just 6.2% in 2020 (other reputable sources offer similar projections). This is not exactly a drop off a cliff trajectory, and if we compare China's GDP to the U.S.'s figures China's "slower growth" should still be 2-3 times faster than America's.
China's GDP Annual Growth Rate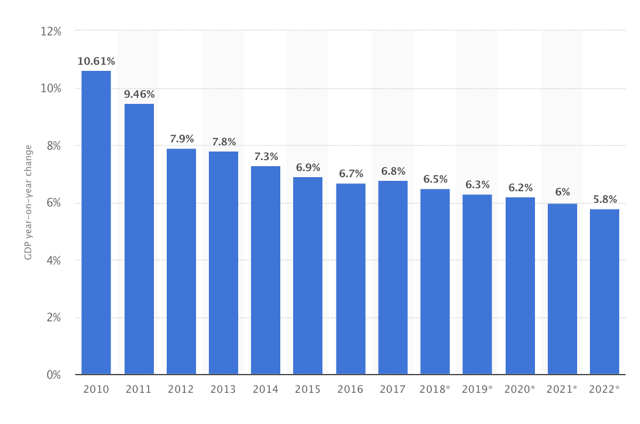 Source: Statista.com
So, why then does Alibaba trade at just 20 times forward earnings while growing forward revenues at 38%, when Amazon trades at 63 times forward earnings and growing forward revenues at just 20%? This is a tremendous gap for two very similar businesses, and this gap should narrow over time, likely with one stock appreciating and the other possibly declining within the next few years.
Earnings Results: Growth Remains Robust
EPS: $1.11 vs $1.07 consensus estimates, up 12% YoY.
Revenues: $12.4 billion vs $12.5 billion forecast, 54% YoY growth.
2019 fiscal revenue guidance: 375 billion yuan ($54.6 billion), 51% YoY increase over fiscal 2018.
Core commerce revenue: Up 56% YoY.
Cloud revenue: Up 90% YoY.
Core Commerce EBITA: 41%.
Consolidated EBITA margin: 27%.
Net income: $3.41 billion.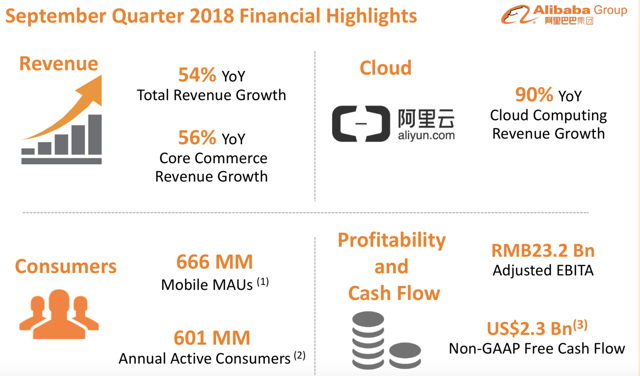 Source: Alibabagroup.com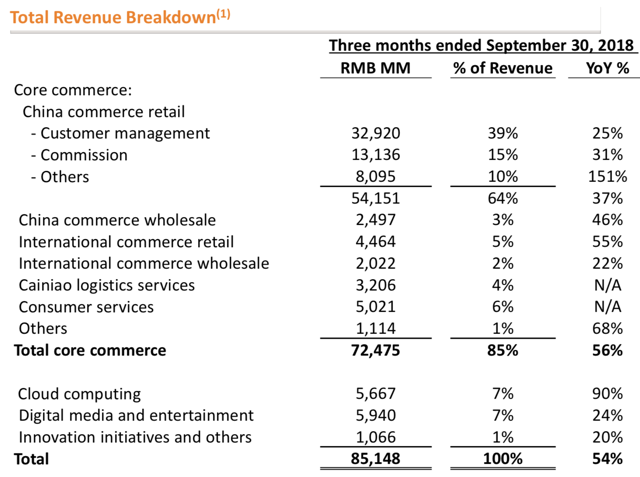 Overall the earnings report looks quite strong as revenue growth remains very robust. Alibaba's core commerce segment remains incredibly profitable with a 41% EBITA margin. Moreover, marketplace based core commerce EBITA was up an impressive 27% YoY and came in at 35.64 billion yuan ($5.2 billion).
Mobile MAUs, and annual active consumers increased by a staggering 32 and 25 million over the prior quarter.
Alibaba is currently using profits from its marketplace based core commerce segment to fund growth in all other operations including physical stores, international expansion, media operations, cloud computing, and other innovative initiatives. This is why the company's current earnings growth is lagging the company's revenue growth.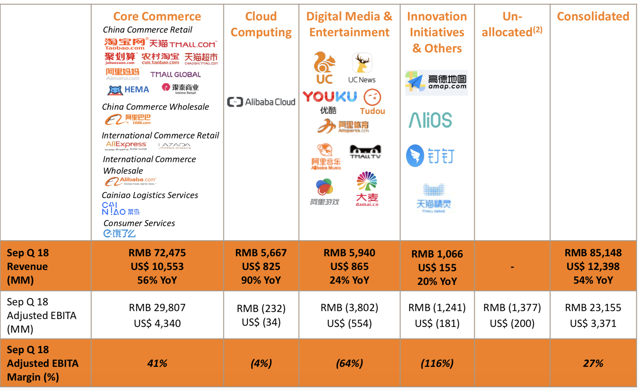 However, Alibaba should begin to monetize its multiple businesses over the next several years, and the revenue growth/earnings growth dynamic should shift. At this time Alibaba's revenue growth will likely slow, but earnings growth should increase due to monetization from maturing cloud, media, and other businesses under development now. This implies the company has incredible earnings potential, and current profitability is being masked by the various businesses Alibaba is growing under its vast umbrella.
The Bottom Line
Alibaba's stock has declined substantially in recent months. In fact, the stock crashed by nearly 40%, wiping out roughly $230 billion in market value in the process. Yet, very little if anything has changed fundamentally at the company. Growth is still extremely robust and the company has incredible earnings potential.
Many market participants may be missing the point in Alibaba's current strategy. The company is using proceeds from its profitable businesses to expand in other lucrative areas it should be able to effectively monetize in the future, like cloud, media, and other innovative solutions. The current effect shows earnings expand at a far slower rate relative to revenue growth but this dynamic should shift in the future, making Alibaba enormously profitable in the process.
Analysts seem to be agree on BABA, and price targets imply that the stock is 33 – 90% undervalued right now. The stock seems to have been unfairly punished due to trade tension jitters, temporary decreased appetite for Chinese equities, and a general selloff in tech stocks. With 50% revenue growth this year, 40% growth next year, and trading at just 20 times forward earnings Alibaba is a steal at these prices, and I expect shares to go much higher in future years.
Author's note: Alibaba is not necessarily a stock that you day trade in my view (unless you are a professional day-trader), Alibaba is a stock that you buy and lock away for 5-10 years, come back and enjoy the rewards.
Thank you for taking the time to read my article. If you enjoyed reading my work please hit the "Like" button, and if you'd like to be notified about my future ideas, hit that "Follow" link.
Disclaimer: This article expresses solely my opinions, is produced for informational purposes only, and is not a recommendation to buy or sell any securities. Investing comes with substantial risk to loss of principal. Please conduct your own research, consult a professional, and consider your investment decisions very carefully before putting any capital at risk.
Want more? Want full articles that include technical analyses, trade triggers, trading strategies, portfolio insight, option ideas, price targets, and much more? To learn how to best position yourself for a rally in BABA please consider joining Albright Investment Group.
Subscribe now and receive the best of both worlds, deep value insight coupled with top-performing growth strategies.
Enjoy access to AIG's top-performing portfolio that has outperformed the S&P 500 by 40% over the past year.
Take Advantage of the limited time 2-week free trial offer now and receive 20% off your introductory subscription pricing. Click here to learn more.
Disclosure: I am/we are long BABA, NFLX, BIDU, FB.
I wrote this article myself, and it expresses my own opinions. I am not receiving compensation for it (other than from Seeking Alpha). I have no business relationship with any company whose stock is mentioned in this article.
Editor's Note: This article discusses one or more securities that do not trade on a major U.S. exchange. Please be aware of the risks associated with these stocks.