Investment Thesis
Realty Income Corporation (O) has a long track record of paying out a monthly dividend to its shareholders and delivered 84 consecutive quarters of dividend increases. The company has delivered a 15.9% compounded average annual shareholder return since its NYSE listing in 1994.
O has demonstrated in the past that it can maintain and grow its dividend over economic cycles and provide dependable passive income to its shareholders. E-commerce giants have put pressure on some REIT stocks and rising interest rates are a major concern to investors as of late.
The most important valuation factors for O investors are cash flow growth and dividends. In this article, we will continue to focus on the financial aspects of the company by analyzing the latest Q3 '18 results and provide a business update on its operations and outlook. This will show us if rising interest rates and the general pressure from the e-commerce giants have had an impact on the results.
Financial Position Q3 2018 and Outlook
Income Statement
(Dollars in thousands, except per share amounts)
Total revenue increased to $338,081, growing +10.2% vs. SPLY (Same Period Last Year). This was driven by significantly higher rental revenues vs. SPLY. Total expenses amounted to $246,611, growing +10.5% vs. SPLY. The main expense was depreciation and amortization ($136,967, amortized over 25-35 years) followed by interest payments ($69,342, up +10.2%). The company had a gain on sales of real estate amounting to $7,813.
Net income for the company amounted to $99,283, up +12.7%. The increase in net income for the company was mainly driven by the growing top-line results (higher rental revenue), but also the sales of real estate. Net income available to common stockholders was $98,999, growing by +12.6% vs. SPLY.
Amounts available to common stockholders per common share were $0.34, up +6.3%. Weighted average common shares outstanding amounted to 290,664,368, increasing +5.5% vs. SPLY. Issuing more shares is part of O's capital philosophy in order to maintain a conservative capital structure.
In order to better understand the financial position of O and the net income development, we need to analyze the cash-flow statement, which is more relevant for O and REITs in general.
Source: Operating Results for Q3 2018, page 6
Cash Flow Statement
FFO
Funds from operations (FFO) increased to $234,550, up +11.1%, driven by a higher net income vs. SPLY. Diluted FFO amounted to $234,767, up +11.0% vs. SPLY. On a diluted common share basis, FFO amounted to $0.81 per share, representing an increase of +5.2% vs. SPLY. FFO more than offset the higher amount of weighted average common shares outstanding.
Distributions to shareholders amounted to $191,703, meaning that O paid out 81.7% of diluted FFO Q3 '18 as compared to 82.6% Q3 '17. O continues to be able to sustain its current dividend from funds from its continuing operations and there is additional room for further increases going forward. We will also take a look at AFFO to better understand the FFO results excluding one-time items in the latest quarter.
Source: Operating Results for Q3 2018, page 7
AFFO
Adjusted funds from operations (AFFO) increased to $236,195, up +10.6% vs. SPLY. Diluted AFFO amounted to $236,422, up +10.5% vs. SPLY. On a diluted per common share basis, AFFO amounted to $0.81 per share Q3 '18, representing an increase of +5.2% vs. SPLY. Distributions to shareholders amounted to $191,703, meaning that O paid out 81.1% of diluted AFFO (81.6% Q3 '17). O's AFFO available to common stockholders in excess of distributions amounted to $44,492, up +14.1%. This also confirms that O is able to sustain its current dividend from funds from its continuing operations and there is room for further increases going forward.
Source: Operating Results for Q3 2018, page 8
Historical Development
The stock price has recovered after the sell-off at the beginning of the year and currently generates a dividend yield of 4.29%.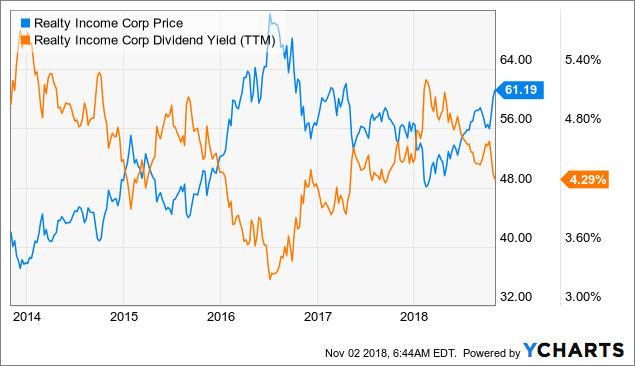 The historical development each Q3 for the past 5 years also shows the financial strength of this enterprise. FFO has grown at a +13.3% CAGR (compound annual growth rate) and AFFO has grown at a +13.5% CAGR.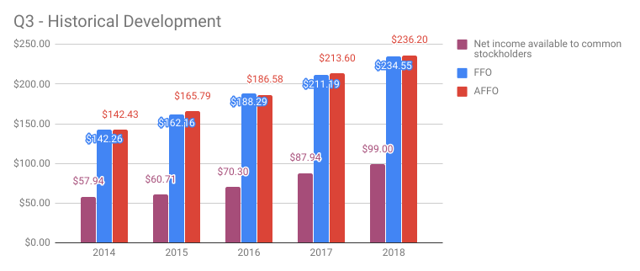 On a per share basis, FFO has grown +6.1%, AFFO +6.1% and cash dividends paid per share +4.7% CAGR.
Source: SEC filing, 10Q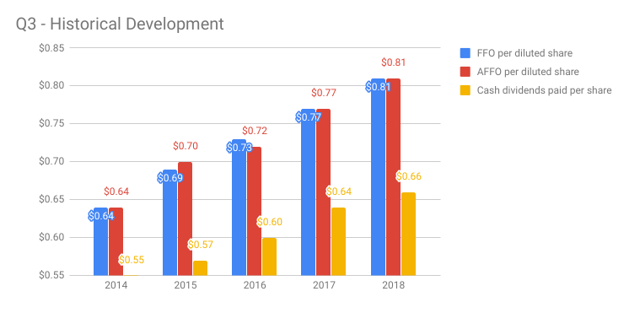 Source: SEC filing, 10Q
Competitive Advantages and Business Update
S&P Global raised O's credit rating to 'A' during the quarter, making the company one of a few REITs with two 'A' ratings. This strengthens O's competitive advantages as it enables the company to access capital markets and borrow at lower rates vs. its competitors.
The company entered a new $3.25-billion unsecured credit facility to amend and restate its previous $2.25-billion unsecured facility. The new revolving credit facility matures in 2023 with all-in drawn pricing of 0.90% over LIBOR.
O's market cap and track record of dividend increases are not only good for current shareholders, but it also enables O to issue more shares at favorable terms. This allows O to expand its real estate portfolio further in order to grow its free cash flow long term. O raised $293 MM (Millions) from the sale of common stock at a weighted average price of $57.53 per share this quarter.
O invested $609 MM in property acquisitions for the quarter that were leased to investment grade rated tenants. The company continued to show a strong occupancy rate of 98.8%, which is one of the highest quarter-end occupancy rates in over 10 years.
During the quarter, same-store rents under lease increased by 1.0% amounting to $272.9 MM. O also added 228 new properties leased to 100% with a weighted average lease term of 15.3 years and an initial average cash lease yield of 6.3%.
The company raised its lower end AFFO per share guidance for the FY2018 to be between $3.18 and $3.21 (previous guidance '18 was $3.16- $3.21).
Source: Press Release Details, Q3 2018
Conclusions
The business fundamentals for O remain solid and there is room to grow its dividend based on current FFO and AFFO. Long-term financing is secured at very favorable conditions.
The share is currently trading at $61.19, which translates to an AFFO multiplier of 19.2 based on the lowest per share guidance figure provided by O. The dividend yield is currently at 4.3%, based on the latest share price.
Current investors are recommended to hold O as a reliable passive income investment that generates a monthly cash flow. Dividends should be reinvested in other stocks showing more growth potential. New investors should wait for a possible downturn in the market that impacts O before investing in O in order to get a sufficient margin of safety and better dividend yield. An AFFO multiplier below 15 would motivate a strong buy recommendation of the stock.
Disclosure: I am/we are long O.
I wrote this article myself, and it expresses my own opinions. I am not receiving compensation for it (other than from Seeking Alpha). I have no business relationship with any company whose stock is mentioned in this article.